HAYLOU LS05 Smart Watch 2 User Manual
01 Overview

What's in the Box
Smart watch, charging cable and user manual.
02 How to Wear
Please put on the watch and move it about one finger distance from your carpus. Please adjust tightness of watch band to fit yourself.Note: Too loose of the band may impact performance of heart rate sensor.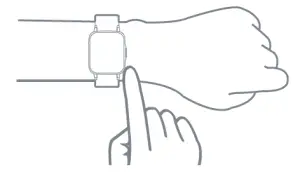 03 How to Link
 Hold function button to power on the watch and a QR code will be displayed. Use your phone to scan the QR code to install APP. Youmay also scan the QR code below to install.Note: The instruction below is for reference only.For actual installation, please follow the instruction in APP.
Open Haylou Fit APP and add device in the page ( pictured ).
Note:
Please do not turn off Bluetooth faculty when linking.
If you fail to add device or the watch disconnects with device, please hold function button for 3s and choose factory setting on the watch. Then re-link the watch to device.
04 How to Use
In Home Page, slide down from the top of the watch face to open Quick Setting.
In Home Page, slide up from the bottom of the watch face to open Control Panel.
In Home Page, slide right/left to skip to previous/next page.
When it's not in Home Page, slide from left edge to right edge to return to previous page.
In Home Page, keep touching screen for 3s to enter Watch Face Change.
Hold function button for 3s to power on/off.
Press function button to return to Home Page (only open one page).
Press function button to skip to previous page (open two pages).
Press function button to pause/resume your workout (during workout).
05 Functions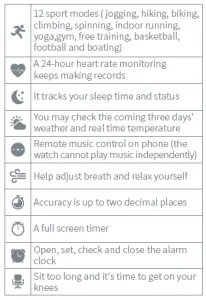 06 How to Charge
Charge the watch via charging cable and make sure pogo pins are well-contacted.
Use qualified adapter with output voltage of 5V and output current of 0.5A or above.
If you do not use the watch for a long time, charging icon may not show up until you charge the watch over 1 minute.
Please always keep pogo pins dry.
Note:
We hold rights to revise the User Manual without any notice to you. Parts of the functions may be different in certain softwares.
Please charge the watch more than 2 hours before use.
This product is within IP68 waterproof, yet do not soak it into hot water or other corrosive liquid, or wear it for a dive to a depth over 3m. Any defects caused by the above practiceswill not be covered by warranty.
Please do not get the band too tight. Keep contact parts of the watch dry and clean the band periodically. For any allergy, please take off the watch at once and consult doctor.
Function button and touch screen are not available for use under water. If the watch gets wet, please dry it before use.
Basic Parameters
Product name: Haylou Smart Watch 2Product model: Haylou LS02Main body size: 40.9 x 35.7 x 11.6mmBand size: 20mmWeight ( with band ): 54gDisplay: 1.28 inch TFT LCDDefinition: 240*240Bluetooth version: V5.0Sensor: heart rate sensor, accelerometer sensorBattery capacity: 210mAhBattery life: 15 days ( with 24-hour heart ratemonitoring on)Dust, water proof: IP68Working temperature: -20℃~45℃Data sync platform: Haylou FitCompatibility: Android 4.4 or IOS 8.0 and later
Warranty Card
Warranty Period12 months after you purchase this item. ( or you may inquire your local shopperfor more details.) Free ServiceSupposing any defects caused by quality issues occur within the warranty period, please take this warranty card and purchase receipts to your distributor for free exchange service.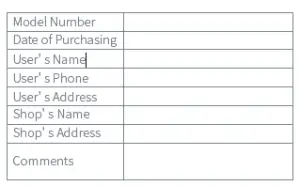 Free exchange service will not be accessed under following circumstances:
Damages caused unauthorized disassembly.
Defects or physical damages caused by leaking or dropping off.
Damages by act of God.Supposing your item is within any damages or defects except the above circumstances, please return to us or your distributor for free repairing.
FCC statement
This device complies with Part 15 of the FCC rules. Operation is subject to the following two conditions:1) this device may not cause harmful interference, and 2) this device must accept any interference received, including interference that may cause undesired operation.This equipment has been tested and found to comply with the limits for a Class B digital device, pursuant to Part 15 of the FCC rules. These limits are designed to provide reasonable protection against harmful interference in a residential installation. This equipment generates, uses and can radiate radio frequency energy and if not installed and used in accordance with the instructions, may cause harmful interference to radio communications. However, there is no guarantee that interferencewill not occur in a particular installation. If this equipment does cause harmful interference to radio ortelevision reception, which can be determined by turning the equipment off and on, the user is encouraged to try correct the interference by one or more of the following measures:
-Reorient the receiving antenna.-Increase the separation between the equipment and receiver.-Connect the equipment into and outlet on a circuit different from that to which the receiver is connected.-Consult the dealer or an experienced radio/TV technician for help.Changes or modifications not expressly approved by the party responsible for compliance could void your authority to operate the equipment.
Read More About This Manual & Download PDF:
[xyz-ips snippet="download-snippet"]