Body Shaping Massager Instruction Manual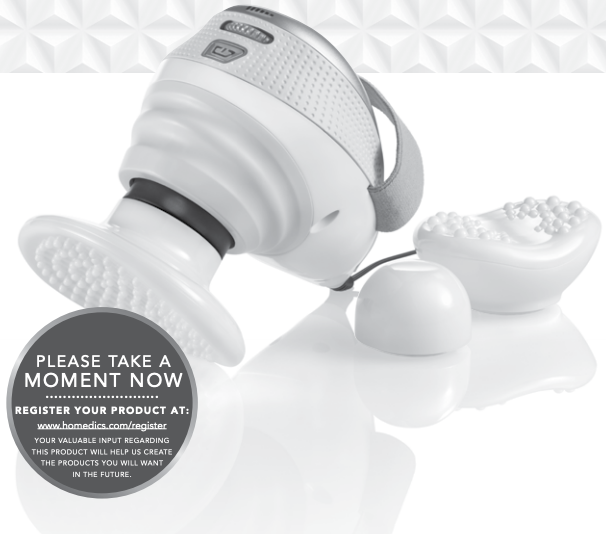 INSTRUCTION MANUALCELL-200
IMPORTANT SAFETY INSTRUCTIONS
WHEN USING ELECTRICAL PRODUCTS, ESPECIALLY WHEN CHILDREN ARE PRESENT, BASIC SAFETY PRECAUTIONS SHOULD ALWAYS BE FOLLOWED, INCLUDING THE FOLLOWING:
READ ALL INSTRUCTIONS BEFORE USING
DANGER – TO REDUCE THE RISK OF ELECTRIC SHOCK:
Always unplug the appliance from the electrical outlet immediately after using and before cleaning.
DO NOT reach for an appliance that has fallen into water. Unplug immediately.
DO NOT use while bathing or in a shower.
DO NOT place or store appliance where it can fall or be pulled into a tub or sink.
DO NOT place in or drop into water or other liquid.
WARNING – TO REDUCE THE RISK OF BURNS, ELECTRIC SHOCK, FIRE OR INJURY TO PERSONS:
This appliance has heated and cold attachments. Persons insensitive to heat or cold must be careful when using this appliance.
An appliance should NEVER be left unattended when plugged in. Unplug from outlet when not in use and before putting on or taking off parts or attachments.
Not for use by children.
Close supervision is necessary when this appliance is used by, on or near children, invalids, or disabled persons.
Use this appliance only for its intended use as described in this manual. DO NOT use attachments not recommended by HoMedics; specifically any attachments not provided with the unit.
NEVER operate this appliance if it has a damaged cord or plug, if it is not working properly, if it has been dropped or damaged, or dropped into water. Return this appliance to HoMedics Service Center for examination and repair.
Keep the cord away from heated surfaces.
NEVER drop or insert any object into any opening.
Never use pins or other metallic fasteners with this appliance
DO NOT operate where aerosol (spray) products are being used or where oxygen is being administered.
DO NOT operate under a blanket or pillow. Excessive heating can occur and cause fire, electric shock, or injury to persons.
DO NOT carry this appliance by the supply cord or use cord as handle.
To disconnect, turn all controls to the "off" position, then remove plug from outlet.
DO NOT use outdoors.
NEVER operate the appliance with the air openings blocked. Keep the air openings free of lint, hair, and the like.
NEVER operate on a soft surface such as a bed or couch where the air openings may be blocked.
Use heated surfaces carefully. May cause serious burns. DO NOT use over insensitive skin areas or in the presence of poor circulation. The use of heat by children or incapacitated persons may be dangerous.
Keep long hair away from massager while in use.
DO NOT use massager in close proximity to loose clothing or jewelry.
SAVE THESE INSTRUCTIONS
CAUTION—PLEASE READ ALL INSTRUCTIONS CAREFULLY BEFORE OPERATING.
This massager is not intended for medical use. It is intended only to provide a luxurious massage.
Consult your doctor prior to using this product, if – You are pregnant – You have a pacemaker – You have any concerns regarding your health
Not recommended for use by Diabetics.
Never leave the appliance unattended, especially if children are present.
Never cover the appliance when it is in operation.
Do not use this product for more than 15 minutes at a time.
Extensive use could lead to the product's excessive heating and shorter life. Should this occur, discontinue use and allow the unit to cool before operating.
Never use this product directly on swollen or inflamed areas or skin eruptions.
DO NOT use this product as a substitute for medical attention.
NEVER use this product while in bed.
This product should NEVER be used by any individual suffering from any physical ailment that would limit the user's capacity to operate the controls or who has sensory deficiencies in the lower half of their body.
NEVER use this product in automobiles.
This appliance is intended for household use only.
PLEASE NOTE: THE SOOTHING HEAT OPTION WILL ONLY WORK WHILE A MASSAGE FEATURE IS SELECTED.
BODY SHAPING MASSAGER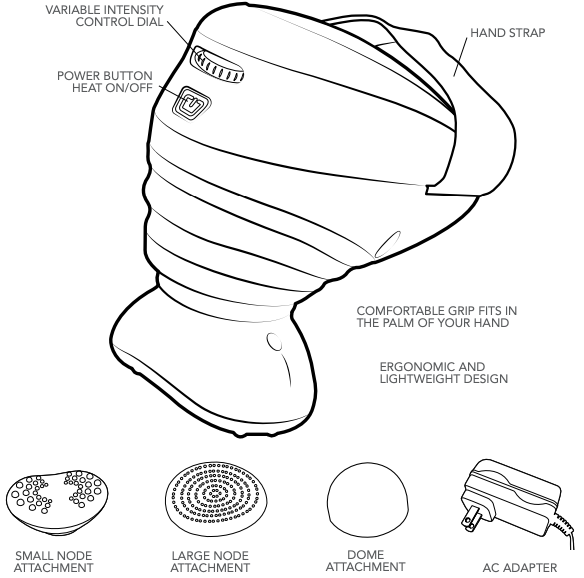 UNIQUE FEATURES & SPECIFICATIONS
VARIABLE INTENSITY PERCUSSION MASSAGE
Shapes, firms and smooths different areas of your body
OPTIONAL HEAT
Soothes and boosts effectiveness of targeted massage
3 ATTACHMENTS
Designed to target different areas of the body:
Dome – Spot massage relief
Small Node – Massage of smaller areas, ie, arms
Large Node – Massage of larger areas, ie, legs
HAND STRAP
Fits to the palm of your hand for easy operation
AC ADAPTER INCLUDED
HOW TO USE
BEFORE TURNING THE UNIT ON
Make sure that the unit is set to the OFF position before plugging into the outlet.
Select the desired attachment and install it on the unit prior to use.
CHANGING THE ATTACHMENTS
Be sure the unit is OFF and unplugged prior to changing the attachment. Remove the attachment head from the massager by twisting it counter-clockwise and set aside.
Attach the desired attachment head to the massager by twisting it clockwise until secure.
TURNING ON THE MASSAGER
Plug unit into a household AC electrical outlet. Slide your hand into the elastic hand strap with fingers outstretched until the massager rests comfortably in the palm of your hand.
Press the POWER button once to turn the massager ON. The button will illuminate BLUE
Adjust the massage intensity by rotating the dial to the right for higher intensity, and to the left for a lighter massage.
To activate HEAT, press the POWER button again. It will illuminate RED to indicate that the heat setting is on. The center of the attachment will begin to heat up.NOTE: To eliminate the risk of being burned, never use the heat function without the attachments. Do not use the heat function continuously for more than 15 minutes. Do not use the heat function if you have sensitive skin, poor circulation, discolored areas, swelling, burning and inflammation, or where skin eruptions or sores are present. Heat should be pleasant and comfortable. Should pain or discomfort result, discontinue use and consult your physician.
Touch the massager to the area you wish to treat. Move the unit slowly, holding it over the targeted area. Massage in a firm circular motion, concentrating on targeted problem areas of the body. Treat the area for a short period of time and move to another area. DO NOT treat the same area for longer than 3 minutes.To turn the unit OFF, press the POWER button a third time. For your safety the device will automatically turn off after 15 minutes of continuous use.
CLEANING AND CARE
CAUTION: before cleaning the unit, turn power off and unplug, allowing the unit to cool before cleaning.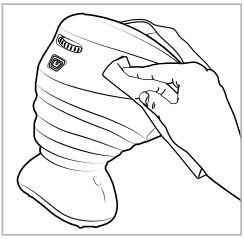 TO CLEAN THE SURFACE
Clean the surface of the unit with a clean, damp, soft cloth.
NOTE: Never allow water or any other liquids to come in contact with the unit.
Do not immerse in any liquid to clean
Never use abrasive cleaners to clean the unit.
TO STORE
Place components into its box and store in a safe, dry place. DO NOT wrap the power cord around the unit. DO NOT hang the unit by the cord.
TROUBLESHOOTING

FCC STATEMENT
This device complies with Part 15 of the FCC Rules. Operation is subject to the following two conditions: (1) this device may not cause harmful interference, and (2) this device must accept any interference received, including interference that may cause undesired operation.
The manufacturer is not responsible for any radio or TV interference caused by unauthorized modifications to this equipment. Such modifications could void the user authority to operate the equipment.
This equipment has been tested and found to comply with the limits for a Class B digital device, pursuant to Part 15 of the FCC Rules. These limits are designed to provide reasonable protection against harmful interference in a residential installation. This equipment generates, uses, and can radiate radio frequency energy and, if not installed and used in accordance with the instructions, may cause harmful interference to radio communications. However, there is no guarantee that interference will not occur in a particular installation. If this equipment does cause harmful interference to radio or television reception, which can be determined by turning the equipment off and on, the user is encouraged to try to correct the interference by one or more of the following measures:
Reorient or relocate the receiving antenna.
Increase the separation between the equipment and receiver.
Connect the equipment into an outlet on a circuit different from that to which the receiver is connected.
Consult the dealer or an experienced radio/TV technician for help.
This class B digital device complies with Canadian ICES-003.
Homedics CELL-200 Body Shaping Massager Instruction Manual and Warranty Information – Homedics CELL-200 Body Shaping Massager Instruction Manual and Warranty Information –
[xyz-ips snippet="download-snippet"]