IB-ILSWMODELS: ILS-NPA, ILS-HMY, ILS-ASN
Warnings
Failure to follow these directions could result in an unexpected fire hazard or personal injury.
Use common sense when using your Illumine Tabletop Flame Sculpture.
Use with extreme care and at your own risk.
Place the Illumine Tabletop Flame Sculpture on a level, stable surface. Be certain that your Illumine is placed on a protective mat or surface. Spilled oil or heat from the base can damage surfaces.
NEVER burn while unattended.
Keep children and pets away from the Illumine Tabletop Flame Sculpture at all times.
Make sure the fire is completely extinguished before leaving the room or going to bed. Allow your Illumine to cool completely before refilling or storing it.
For use ONLY with the Illumine Oil and Illumine Wicks. NEVER use gasoline, lighter fluid, alcohol or any other fuel that is not provided or recommended.
Due to the open flame, children and adults should be alerted to the potential hazards and should stay away to avoid burns or the possibility of clothing catching on fire.
Children should never attempt to light the Flame Sculpture.
NEVER burn or attempt to cook anything in the Flame Sculpture.
DO NOT move the Flame Sculpture when lit. Extinguish the flame and wait for the unit to cool completely before moving.
ALWAYS use the Flame Sculpture in an adequately ventilated area.
Wipe away any oil spillages immediately. Wash your hands before handling food or other objects.
Before use, carefully inspect parts for leaks, blockages or damage.
DO NOT use Flame Sculpture if it is broken or has been dropped.
DO NOT blow out the flame. Use snuffer (included) to extinguish.
DO NOT touch any metal or glass parts when lit. They may become hot.
DO NOT use water to extinguish the flame.
DO NOT trim or dismantle wick in any way.
It is recommended that you use either a long fireplace match or long-tip lighter to light your Illumine.
DO NOT use more than on Illumine at a time per room.
FIRE HAZARD: Do not store or use gasoline or other liquids with flammable vapors in the vicinity of this or any other appliance. Do not store near high heat, open flames, pilot lights, direct sunlight, or other ignition sources or where temperatures exceed 120 ºF (49 ºC).
We cannot foresee every use which may be made of our products. Check with your local fire safety authority if you have questions about use.
Never use as a space heater.
Always use in the intended upright position.
COMPONENTS
Before assembling, check to see that all parts are included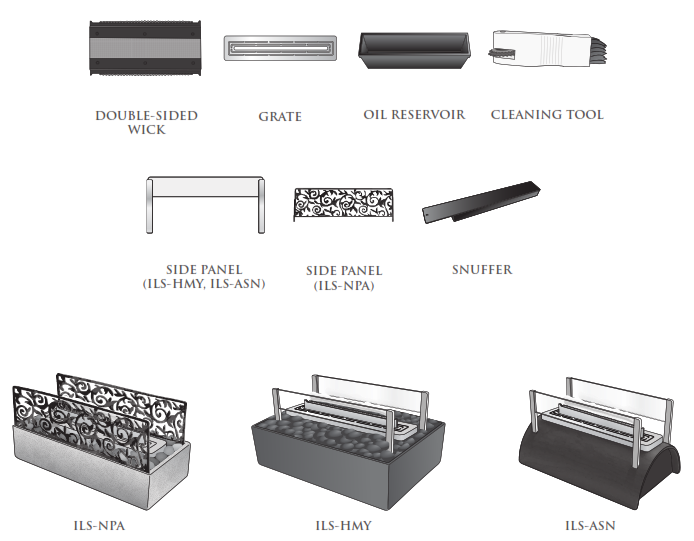 ILLUMINE ASSEMBLY
Place your Illumine Tabletop Flame Sculpture where you intend to use it. Make certain the surface is stable, flat and free of debris.
Remove the grate and set aside. (Fig 1)
Uncap the Illumine Oil and carefully fill the oil reservoir to the fill line. Fill line is marked halfway up the reservoir wall. (Fig 2) – DO NOT OVERFILL.NOTE: Oil reservoir is designed to fill to fill line only. Filling above line will cause spillover.
Replace the grate on the top of the oil reservoir.
Gently place the wick in the center slot of the grate. (Fig 3)
Wipe away any Illumine Oil that may have spilled outside the reservoir before continuing with assembly
Carefully insert the glass side panels into the slots. (Fig 4 )
Place rocks decoratively as desired (if included).
ILLUMINE EXPERIENCE
Enjoying your Illumine
When using a wick for the first time, allow 10 minutes before lighting to ensure even oil absorption.
Light the Illumine Tabletop Sculpture by simply touching a match or lighter to one end of the wick. In less than a minutes time, the flame will slowly crawl across the length of the wick until it is fully illuminated.
When oil reservoir is full, your Illumine will run from approximately 3.5 hours. You will use approximately 8 oz (210 ml) upon your first use.
NOTE: Due to the ever-changing beauty of natural flame, the flame height will change over time while burning and with each consecutive use. First time use of a new wick may result in a higher flame that settles into a steady, beautiful flame in about 30 minutes.
Extinguishing the flame
Illumine Tabletop Flame Sculptures can to extinguished in one of two ways:– Snuffer Method (preferred): Carefully place the snuffer over the length of the wick, making certain that the grate holes are completely covered (Fig 5). Leave the snuffer in place and allow to cool. It is normal and expected for some smoke to escape from under the snuffer. Keep snuffer in place on top of the rate until next use (Fig 6).– Self-Extinguish Method: When your Illumine Tabletop Flame Sculpture runs out of oil it will extinguish on it's own.Be CERTAIN the flame is completely extinguished before leaving your Illumine unattended. Place snuffer on top of grate until next use.NOTE: DO NOT blow out your Flame Sculpture or use water to extinguish.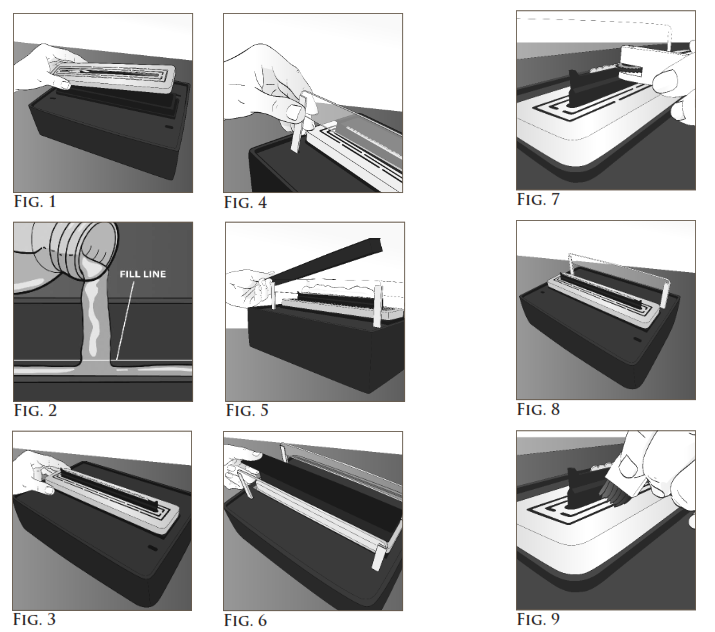 About the patent-pending Illumine wickYour Illumine Wick is double-sided and has been carefully constructed to provide superior safety and long life. Due to the properties of the all-natural, botanical oil, it is expected that a slight residue of organic material will build up on the edge of the wick. Please follow the instructions below carefully to realize up to 60 hours of optimal wick performance.Cleaning the wickTo maximize the life of your wick, we recommend cleaning the wick after each use. Clean wick using the cleaning tool, while the unit is fully assembled. It is not necessary to remove an Illumine wick when cleaning.• Steps:– Once the wick is completely cooled, remove the glass or metal sides from your Illumine and gently place to the side. (Fig 4)– Gripping the cleaning tool tightly between your thumb and forefinger, press the plastic edge of the tool against the exposed metal edge of the wick, so the spiked cleaning blades are in direct contact with the fiberglass wick material. (Fig 7)– With firm pressure, glide the cleaning tool's roller edge over the complete length of the wick and back (1-2 times) . Repeat process on the opposite side of the wick.– Replace the glass or metal sides. (Fig 8)– Using a soft cloth or paper towel, gently wipe any remaining debris from the wick. Use brush tip of cleaning tool to gently brush away any remaining debris. (Fig 9)Flipping the wick
After approximately 30 hours of use on one side, the wick will need to be flipped to the fresh, unused side for up to another 30 hours of use. You will know it is time to flip the wick when the exposed side is no longer sustains a flame or is unable to be lit.
Make certain your Illumine is COMPLETELY COOL before attempting to flip the wick.
Remove the grate.
Check to see that the oil reservoir is empty. If not, carefully pour any remaining Illumine Oil back into a glass or metal container and save for future use. Immediately wipe up any oil that may have spilled.
Carefully remove the wick, pulling up slowly until the wick is free from the wick holders at the base of the reservoir.
Refill the reservoir with Illumine Oil, up to the fill line.
Replace the grate.
Gently flip the wick over and insert back into the reservoir.
Allow 10 minutes for proper oil absorption before lighting.
TROUBLESHOOTING
Wick will not relight / Flame too low Wick has dead spots:
Oil reservoir is empty

: Make certain your Illumine is completely cool. Lift the grate and verify that the unit is out of oil (the reservoir may not be completely empty- there may be a tiny amount of oil left behind that did not wick up, this is normal and expected). If the oil reservoir is empty, refill with Illumine Oil up to the fill line. Wait 10 minutes and relight.

Wick needs cleaning

: Use cleaning tool to clean wick according to directions on page 4.

Wick needs to be flipped:

After approximately 30 hours of use on one side, the fiberglass portion of the wick will no longer light. Please follow the "Flipping the Wick" directions found on page 4.

Unit is running out of oil:

Extinguish, wait to cool and refill.

Wick needs to be replaced

: Once the Illumine wick has reached the end of its life-span (approximately 60 burn hours total), you will need to purchase a replacement wick at your nearest Illumine retailer or visit www.illuminefire.com
Flame higher than sides / Lots of black smoke:
Your Illumine has been designed to display a low, consistent flame in an average household atmosphere. If the flame ever appears blowing and smoky for more than 5 minutes, the cause is most likely rapid air flow around your Illumine. Your Illumine should never be lit under (or next to) a ceiling fan, floor fan, heating vent, open window or any other blowing air. Like a candle, the presence of a constant blowing wind is not recommended for optimal performance. If the air around your Illumine is disturbed briefly, the flame may appear erratic for a minute or so and then settle.
Smoke visible when extinguishing with snuffer:
Visible smoke under the snuffer is normal and expected. Flame visible under grate:
If the flame is visible UNDER the grate (in the oil reservoir) at any time, extinguish using the snuffer and leave snuffer in place. Do not attempt to relight. Call Illumine Consumer Relations immediately for assistance.
LIMITED ONE YEAR WARRANTY
Illumine™ is a registered trademark of HoMedics, Inc. HoMedics sells its products with the intent that they are free of defects manufacture and workmanship for a period of one year from the date of original purchase, except as noted below. HoMedicswarrants that its products will be free of defects in material and workmanship under normal use and service. This warranty extends only to consumers and does not extend to Retailers. To obtain warranty service on your HoMedics product, mail the product and your dated sales receipt (as proof of purchase), postpaid, to the following address:HoMedics Consumer RelationsService Center Dept. 168 Suite 343155 West Nine Mile RdNovi, MI 48375e-mail: Monday – Friday • 8:30 am – 7:00 pm (EST)1-800-466-3342No COD's will be accepted.HoMedics does not authorize anyone, including, but not limited to, Retailers, the subsequent consumer purchaser of the product from a Retailer or remote purchasers, to obligate HoMedics in any way beyond the terms set forth herein. This warranty does not cover damage caused by misuse or abuse; accident; the attachment of any unauthorized accessory; alteration to the product; improper installation; unauthorized repairs or modifications; improper use of electrical/power supply; loss of power; dropped product; malfunction or damage of an operating part from failure to provide manufacturer's recommended maintenance; transportation damage; theft; neglect; vandalism; or environmental conditions; loss of use during the period the product is at a repair facility or otherwise awaiting parts or repair; or any other conditions whatsoever that are beyond the control of HoMedics.This warranty is effective only if the product is purchased and operated in the country in which the product is purchased. A product that requires modifications or adoption to enable it to operate in any other country than the country for which it was designed, manufactured, approved and/or authorized, or repair of products damaged by these modifications is not covered under this warranty.THE WARRANTY PROVIDED HEREIN SHALL BE THE SOLE AND EXCLUSIVE WARRANTY. THERE SHALL BE NO OTHER WARRANTIES EXPRESS OR IMPLIED INCLUDING ANY IMPLIED WARRANTY OF MERCHANTABILITY OR FITNESS OR ANY OTHER OBLIGATION ON THE PART OF THE COMPANY WITH RESPECT TO PRODUCTS COVERED BY THIS WARRANTY. HOMEDICS SHALL HAVE NO LIABILITY FOR ANY INCIDENTAL, CONSEQUENTIAL OR SPECIAL DAMAGES. IN NO EVENT SHALL THIS WARRANTY REQUIRE MORE THAN THE REPAIR OR REPLACEMENT OF ANY PART OR PARTS WHICH ARE FOUND TO BE DEFECTIVE WITHIN THE EFFECTIVE PERIOD OF THE WARRANTY. NO REFUNDS WILL BE GIVEN. IF REPLACEMENT PARTS FOR DEFECTIVE MATERIALS ARE NOT AVAILABLE, HOMEDICS RESERVES THE RIGHT TO MAKE PRODUCT SUBSTITUTIONS IN LIEU OF REPAIR OR REPLACEMENT.This warranty does not extend to the purchase of opened, used, repaired, repackaged and/or resealed products, including but not limited to sale of such products on Internet auction sites and/or sales of such products by surplus or bulk resellers. Any and all warranties or guarantees shall immediately cease and terminate as to any products or parts thereof which are repaired, replaced, altered, or modified, without the prior express and written consent of HoMedics.This warranty provides you with specific legal rights. You may have additional rights which may vary from country to country. Because of individual country regulations, some of the above limitations and exclusions may not apply to you. For more information regarding our product line in the USA,please visit: www.homedics.com or www.illuminefire.com
Homedics ILS-HMY illumine Oil Fire Magic User Manual – Homedics ILS-HMY illumine Oil Fire Magic User Manual –
[xyz-ips snippet="download-snippet"]