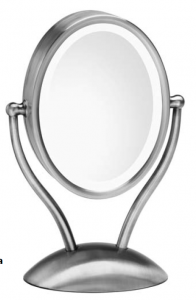 Instruction Manual and
Warranty Information

Give Your Face the Attention It Deserves
Thank you for purchasing the Spa Reflectives™ Illuminated BeautyMirror. This, like the entire line of HoMedics products, is built withhigh quality craftsmanship to ensure years of dependable use.
IMPORTANT SAFETY INSTRUCTIONSTHIS APPLIANCE IS INTENDED FOR HOUSEHOLD USE.WHEN USING ELECTRICAL PRODUCTS, ESPECIALLYWHEN CHILDREN ARE PRESENT, BASIC SAFETYPRECAUTIONS SHOULD ALWAYS BE FOLLOWED,INCLUDING THE FOLLOWING:
WARNING—TO REDUCE THE RISK OF BURNS,ELECTROCUTION, FIRE OR INJURY TO PERSONS:
Read all instructions before using.
To protect against electrical hazards, do not use while bathingor in the shower.
Close supervision is necessary when any appliance is used byor near children or by invalids.
Unplug the appliance from outlet when not in use and beforecleaning.
Do not leave appliance unattended when it is plugged in.
Keep cord away from heated surfaces.
Do not operate this appliance with a damaged cord or plug or ifthe appliance malfunctions or has been dropped or damaged inany manner. Return appliance to a HoMedics Service Center forexamination, electrical or mechanical adjustment, or repair. Norepairs should be attempted by the consumer.
Use appliance only for intended use as described in thisinstruction book. The use of attachments not recommended orsold by HoMedics may cause hazards.
Do not use outdoors or operate where aerosol (spray) productsare being used, or where oxygen is being administered.
Be sure mirror is not in a position where it can reflect sunlight;reflected sunlight can cause fire.
Do not use on a soft surface such as a bed, where openings maybe blocked.
Turn switch to "OFF" position and unplug cord before replacinglight bulbs.
Do not place or store appliance where it can fall or be pulled intoa tub or sink.
Do not place in or drop into water or other liquid.
If an appliance falls into water, unplug it immediately. Do notreach into the water.
Bulb gets HOT quickly. Touch only the base when turning off.
DO NOT touch hot bulb, guard, or enclosure.
Use on any 120 volt 60 hertz AC electric outlet (ordinary housecurrent). Do not use it on any other electrical outlet.
SAVE THESE INSTRUCTIONS
SPECIAL WARNINGS
DO NOT reach for an appliance that has fallen into water. Unplugit immediately.
DO NOT place in or drop into water or other liquid.
Use appliance on a sturdy or level surfaceTo reduce the risk of electric shock, this appliance has a polarizedplug (one blade is wider than the other). This plug will fitin a polarized outlet only one way. If the plug does not fit fullyin the outlet, reverse the plug. If it still does not fit, contact aqualified electrician to install the proper outlet. Do not changethe plug in any way.
Illuminated Beauty Mirror Features
Illumi-Touch™ Control – Select from 3 light settings witha gentle touch of the mirror base
Variable Light Setting – Choose from day, office orevening illumination
Incandescent Light – Soft glare-free & shadow-free viewing
5x/1x Magnification – Two-sided mirror with normaland 5x magnification
9.75" x 7.5" Oval
Stable, non-slip base
Fog free
Mirror Measures 9.5"L x 5.5"W x 14.75"H
Antique bronze finish
Extra outlet included in plug
Includes one replacement light bulb
Instructions for Use
Carefully remove all contents from the packaging and inspectthe product to make sure all components have been received(Fig. 1).
Remove protective plastic coating from mirror face.
Place mirror on an even surface.
Adjust the mirror to either normal or magnified viewing.To do so, swivel the mirror to the viewing side of yourpreference while firmly holding down the base.
Plug unit into a 120V household outlet.
Select the light setting of your preference with the Illumi-Touchcontrol feature. Touch the base of the mirror to activate:•Touch once for evening (Low)•Touch a second time for office (Medium)•Touch a third time for day (High)•Touch a fourth time to turn offNote: The mirror casing may be hot after prolonged use. Becautious when adjusting the mirror face.
To use the extra outlet (Fig. 1), simply plug in the appliance of yourchoice. NOTE: Never leave a plugged-in appliance unattended.DO NOT exceed 12 amps on the electrical outlet.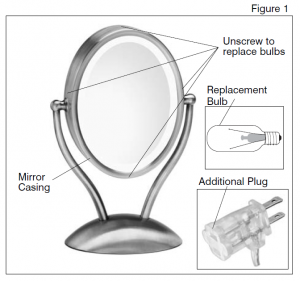 To Replace Bulb:Caution: Before replacing the bulb, always turn mirror off andallow it to cool for at least 5 minutes.
Remove the four screws on the side of the mirror with aPhillips screwdriver (Fig. 1).
Take off the mirror casing by gently pulling apart at the seam.
Unscrew light bulb and replace with a new one. Light bulb is120v, 25 Watt Type T. For your convenience, one replacementbulb is included.
Replace the mirror casing and line up the screw holes.Screw back into place.
MaintenanceTo StoreYou may leave the mirror on display or store in its box in a cool,dry place.
If you choose to leave it on display, NEVER leave the mirror ina position where it can reflect direct sunlight. This may causea fire.
Allow to cool to room temperature before storing.
Do not wrap cord around the mirror.
To CleanAlways unplug before cleaning the mirror. Never use liquids orabrasive cleaners to clean, use only a damp cloth with a mildcleanser.
Clean the mirror with only a commercial glass cleaner orwater. Do not submerge the mirror or use excessive waterwhile cleaning.
Do not plug mirror in until it is completely dry.
Dirección postal:HoMedicsService Center Dept. 1683000 Pontiac TrailCommerce Township, MI 48390
Read More About This Manual & Download PDF:
Homedics M-9003 illuminated beauty mirror spa REFLECTIVES Instruction Manual and Warranty Information – Homedics M-9003 illuminated beauty mirror spa REFLECTIVES Instruction Manual and Warranty Information –
[xyz-ips snippet="download-snippet"]