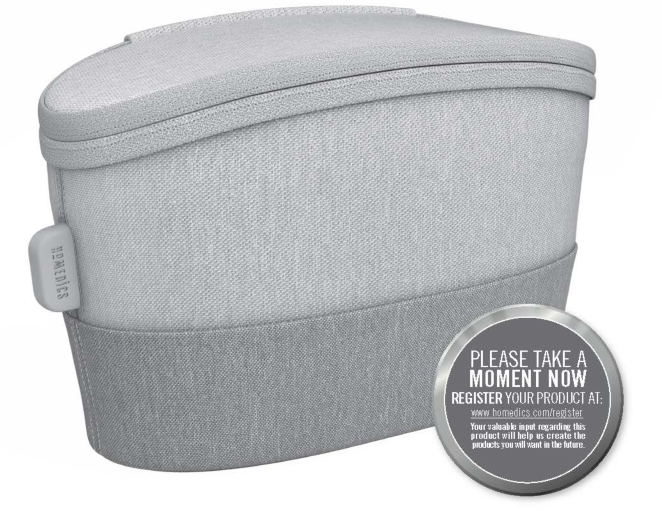 UV-CLEANPORTABLE SANITIZER BAGINSTRUCTION MANUAL AND WARRANTY INFORMATION1- YEAR LIMITED WARRANTY
IMPORTANT SAFETY INSTRUCTIONS
WHEN USING ELECTRICAL PRODUCTS, BASIC SAFETY PRECAUTIONS SHOU LD ALWAYS BE FOLLOWED, INCLUDING THE FOLLOWING: READ ALL INSTRUCTIONS BEFORE USING.DANGER – TO REDUCE THE PISKOF ELECTRIC SHOCK
DO NOT place or store appliance where it can fall or be pulled into a tub or sink
DO NOT place in or drop into water or other liquids.
WARNING – INJURYTO TO REDUCETHE RISK OF BURNS, FIRE, ELECTRIC SHOCK OR PERSONS:
THIS PRODUCT IS PROVIDED WITH A SAFETY MECHANISM TO REDUCE THE RISK OF EXPOSURE TO ULTRAVIOLET RADIATION. DO NOT DEFEAT ITS PURPOSE. USE THE DEVICE WITH THE ZIPPER COMPLETELY CLOSED.
DO NOT attempt to look directly at the UV LEDs while the unit is on. UV light can be irritating to the eyes and skin.
DO NOT attempt to modify this product. It has been designed to contain UV exposure.
SAVE THESE INSTRUCTIONS CAUTION – PLEASE READ ALL INSTRUCTIONS CAREFU LLY BEFORE OPERATING
DO NOT expose the device to fire or excessive temperature. Exposure to fire or tern peratu re above 265°F may cause explosion.
Follow all charging instructions and do not charge the device outside of the temperature range specified. Charging improperly or at temperatures outside of the specified range may damage the battery and increase the risk of fire. Product operating and charging range: 32°F – 104°F/0°C – 40°C.
UNIQUE FEATURES & SPECIFICATIONS
UV-C TECHNOLOGYUltraviolet (UV) light is a short wavelength light invisible to the human eye. It kills bacteria and viruses There are cold-, heat-, and drug-resistant germs There are no common UV-C resistant germsREVOLUTIONARY LED TECHNOLOGYFree of mercury and chemicals.RECHARGEABLEThis battery-powered sanitizer can run u p to 18 sanitizing cycles per charge, all while you're on the go!MAXIMUM EFFICACYThrough research, simulations and third-party lab testing, we've derived the maximum sanitization efficacy between light dispersion angle and UV-C intensity to ensure optimal ultraviolet light exposure across both sides of your device.FITS MOST PHONES AND OTHER ITEMSFits a variety of items, including phones, jewelry, keys, remotes, tweezers, and more.ULTRAFAST SANITIZATIONSanitizes in Just "I minute. SAFE Safety lock ensures device can only be used when it is fully zipped and the zipper pull is positioned magnetically in the on position.PORTABLE DESIGNPerfect for travel or on the go.
UV-CLEANPORTABLE SANITIZER BAG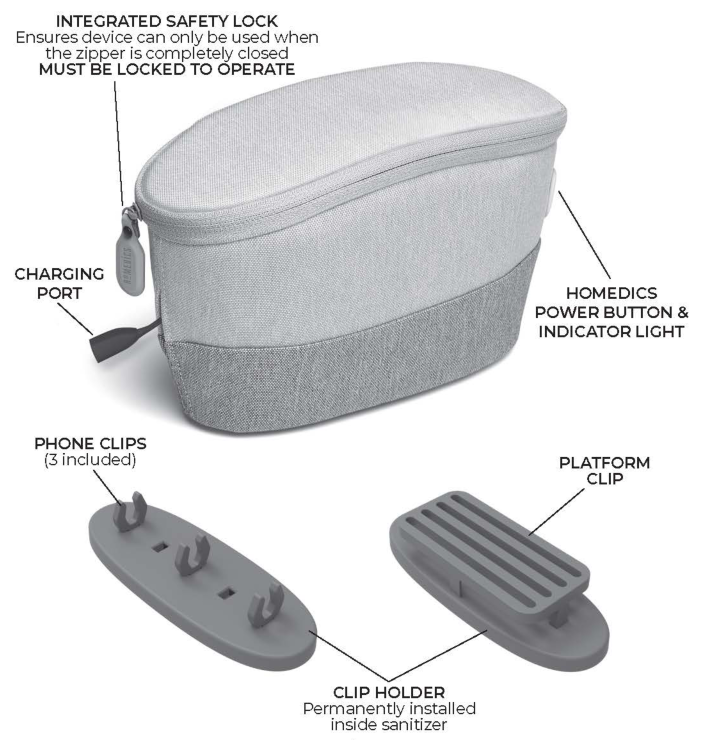 CHARGING YOUR PORTABLE SANITIZER BAG
Charging takes 2-3 hours for a full charge.
To charge your portable sanitizer bag, use the included charging cable. Plug the small end (micro USB) into the portable sanitizer bag charging port. Plug the USB end into a computer or USB wall charger.
The HoMedics icon of the portable sanitizer bag will flash green when charging.
When the portable sanitizer bag is fully charged, the HoMedics LED will turn solid green.
LED INDICATORS
| | |
| --- | --- |
| • Solid red | • Solid red for 3 seconds at the end of the sanitizing cycle and then off 20%-30% battery left and can sanitize phone• Solid red for 3 seconds when the power button is pressed: <20% battery left and cannot sanitize phone |
| • Flashing red for 3 seconds | • Bag not zipped closed properly |
| • Solid green | • Fully charged |
| • Flashing blue | • in sanitizing mode |
| • Flashing green | • Charging |
HOW TO USE
Unzi p the portable sanitizer bag (Fig. 1).
Place your phone in the center of the portable sanitizer bag using the phone clips (Fig. 2) or place other items in the center of the portable sanitizer bag using the platform clip (Fig. 3).
For larger items, place directly on the platform clip.
Zip the portable sanitizer bag corn pletely closed (Fig. 4).
Make sure the zipper pull is positioned magnetically in the on position (Fig. 5).
Squeeze the HoMedics button to turn on the sanitizing cycle (Fig. 6). The HoMedics LED indicator will flash blue, indicating sanitizing is in progress (Fig. 6).
When the blue light turns oft the sanitizing cycle is complete. Unzip and remove itemsNOTE The portable sanitizer bag will only work if it is completely closed and the zipper pull is situated magnetically in the on position (Fig. 5)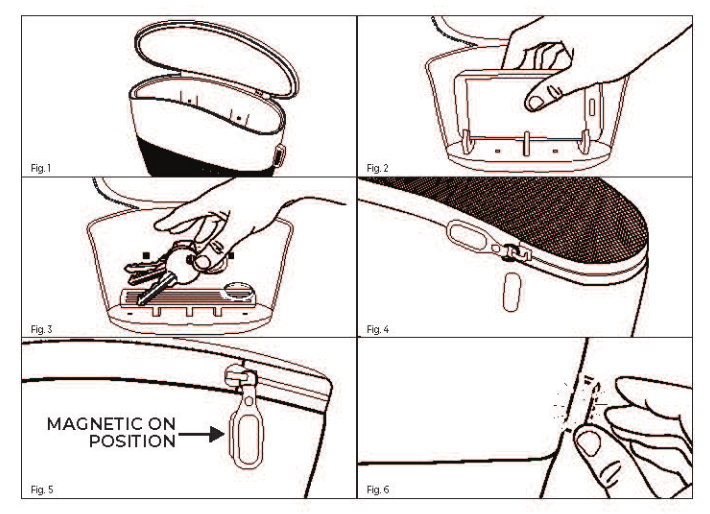 TROUBLESHOOTING
| | | |
| --- | --- | --- |
| PROBLEM | POSSIBLE CAUSE | SOLUTION |
| • Doesn't work | • Not charged• Zipper not closed, and zipper pull not placed in the mag neti c on position• Charging cable plugged in | • Charge following the "Charging your portable sanitizer bag' instructions• Zip completely and ensure zipper pull is placed in the magnetic on position• Unplug charging cord to sanitize your phone |
| • Indicator flashes red and blue | • UV-C LEDs are damaged | • Do not atternpt to use again. Contact H oM adios Consumer Relations |
FAQS
HOW DO I KNOW IF THE PORTABLE SANITIZER BAG IS WORKING?The HoMedics LED will flash blue indicating the UV-C LEDs are on and sanitizing.LED INDICATOR KEEPS FLASHING RED. WHAT DOES IT MEAN?Flashing red means the portable sanitizer bag is not properly closed. Please make sure to completely zip the portable sanitizer bag, and ensure the zipper pull is situated magnetically in the on position.IS THIS SAFE FOR MY PHONE?Yes, UV-CLEAN uses UV-C light, not water or chemicals. UV-C light kills germs and is completely safe for your phone. Safety features ensu re no UV-C light can escape and anything placed inside the portable sanitizer bag is not harmed.CAN IT CLEAN ANYTHING ELSE?Yes, UV-CLEAN can be used to sanitize just about anything. If it's inside, UV-CLEAN will sanitize it. For more information about how UV-C works, please visit www.homedics.com.CAN I RUN MULTIPLE CONSECUTIVE SANITIZING CYCLES?Yes, you can! Though the first cycle will have sanitized your device, there is no harm to your device to run another cycle if you wish.
CAPE AND MAINTENANCE
• Clean surface with soft, damp cloth.• DO NOT use harsh chemicals.WARNING: This product has an internal, nonreplaceable lithium battery. Please dispose in accordance with your local, state, province, and country guidelines. Batteries (battery pack or batteries installed) should not be exposed to excessive heat such as sunshine, fire, or the like,WEE EXPLANATION

This marking indicates that this product should not be disposed of with other household wastes throughout the EU. To prevent possible harm to the environment or human health from uncontrolled waste disposal, recycle it responsibly to promote the sustainable reuse of material resources. To return your used device, please use the return and collection systems or contact the retailer where the product was purchased. They will accept this product for environmentally safe recycling.
BATTERY DIRECTIVE

This symbol indicates that batteries must not be disposed of in domestic waste as they contain su bstances which can be damaging to the environment and our health. Please dispose of batteries in designated collection points.
[xyz-ips snippet="download-snippet"]