Honeywell Speed Sensors SNDH-H Series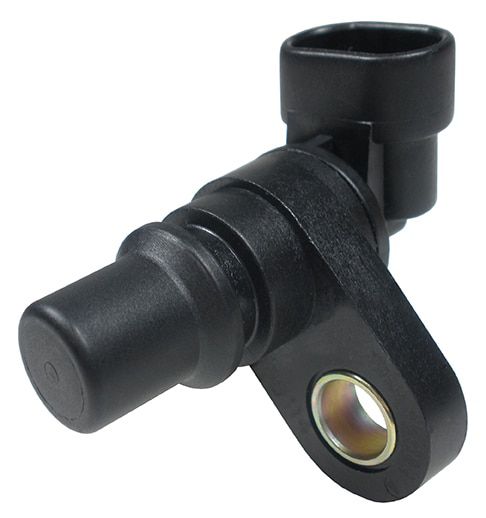 GENERAL SPECIFICATIONS
The SNDH-H Series Hall-Effect Speed Sensors uses a magnetically biased Hall-effect integrated circuit to accurately sense movement of ferrous metal targets. The specially designed IC (integrated circuit) and a permanent magnet are sealed in rugged, probe-type packages. The flux density of the permanent magnet alters when approached by ferrous metal.
This is detected by the Hall ICs. If the sensor is positioned at the circumference of a revolving gear wheel, for example, it detects the teeth and tooth spaces, supplying a digital pulse output with frequency proportional to gear wheel speed. Optimum performance is dependent upon variables which must be considered in combination: target material, geometry and speed, sensor/target gap, and environmental temperature.
TABLE 1. SPECIFICATIONS
CHARACTERISTIC
SNDH-H3L-G01
SNDH-H3C-G04
SNDH-H3P-G01
Supply voltage range
4 Vdc to 24 Vdc
6.5 Vdc to 24 Vdc
Output
digital current sinking (open collector)
Supply current
6 mA max.
14 mA max.
Output current
30 mA1
20 mA sinking
Output leakage current
10 mA
Reverse output voltage
−
-0.5 V
 
Rise time (10% to 90%)
400 ns
1 ms
1 ms
Fall time (90% to 10%)
400 ns
0.6 ms
0.6 ms
Target orientation
omnidirectional
alignment required
Zero speed
yes
Operating frequency range
0 kHz to 15 kHz
0 kHz to 12 kHz
Operating temp. range
-40°C to 100°C
-40°C to 125°C
Dielectric
200 Vdc
—
Housing material
stainless steel
plastic
Sensing air gap
up to 2,5 mm [0.098 in]
Target tooth width
2 mm
3 mm
Target slot width
2 mm
>2 mm
Tooth height
5 mm
>2 mm
Target width
>3 mm
>2 mm
Sensor misposition to target
dependent on target geometry
Probe length
40 mm
27,5 mm
20,3 mm
Probe diameter
9,53 mm
18,6 mm
15,37 mm
Connector
leaded3
Delphi-Packard Metripak

150.2 Type 101

Deutsch DT06-3S
SPEED SENSORS, SNDH-H SERIES
FIGURE 1. MOUNTING DIMENSIONS (FOR REFERENCE ONLY: MM.)SNDH-H3L-G01

SNDH-H3C-G04

SNDH-H3P-G01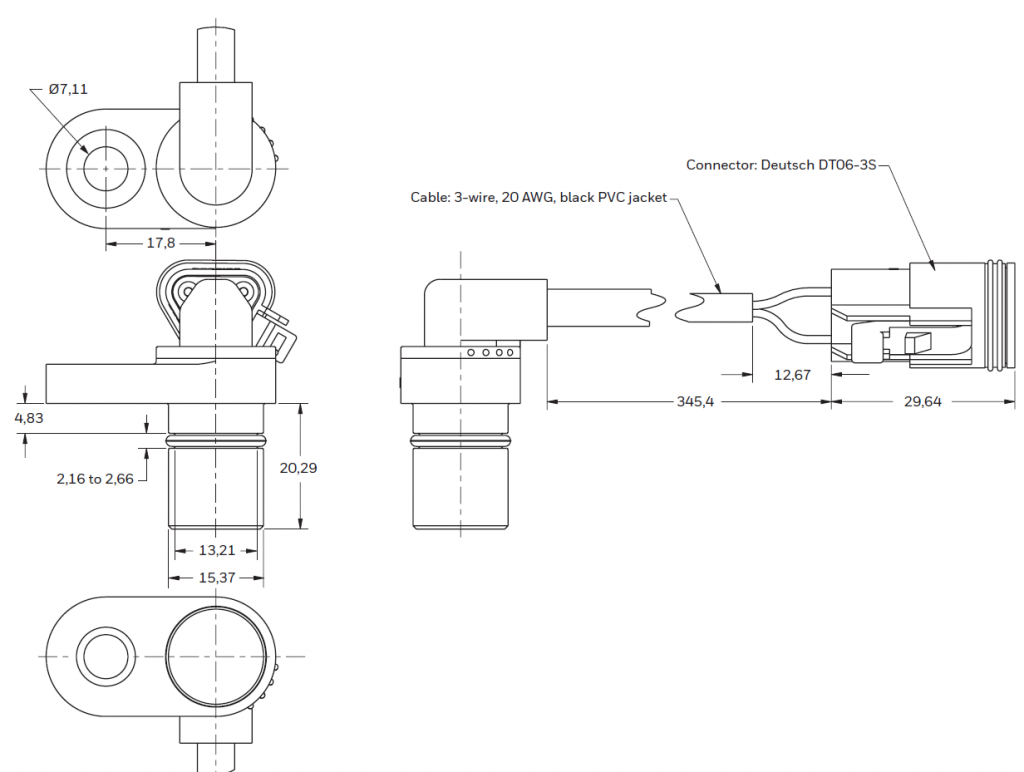 WARRANTY/REMEDY
Honeywell warrants goods of its manufacture as being free of defective materials and faulty workmanship during the applicable warranty period. Honeywell's standard product warranty applies unless agreed to otherwise by Honeywell in writing; please refer to your order acknowledgement or consult your local sales office for specific warranty details. If warranted goods are returned to Honeywell during the period of coverage, Honeywell will repair or replace, at its option, without charge those items that Honeywell, in its sole discretion, finds defective. The foregoing is buyer's sole remedy and is in lieu of all other warranties, expressed or implied, including those of merchantability and fitness for a particular purpose. In no event shall Honeywell be liable for consequential, special, or indirect damages.
While Honeywell may provide application assistance personally, through our literature and the Honeywell web site, it is buyer's sole responsibility to determine the suitability of the product in the application.Specifications may change without notice. The information we supply is believed to be accurate and reliable as of this writing. However, Honeywell assumes no responsibility for its use.
FOR MORE INFORMATION
Honeywell Advanced Sensing Technologies services its customers through a worldwide network of sales offices and distributors. For application assistance, current specifications, pricing, or the nearest Authorized Distributor,visit our website or call:
USA/Canada          +302 613 4491
Latin America        +1 305 805 8188
Europe                    +44 1344 238258
Japan                     +81 (0) 3-6730-7152
Singapore               +65 6355 2828
Greater China        +86 4006396841
WARNING:PERSONAL INJURYDO NOT USE these products as safety or emergency stop devices or in any other application where failure of the product could result in personal injury.Failure to comply with these instructions could result in death or serious injury.
HoneywellAdvanced Sensing Technologies 830 East Arapaho Road Richardson, TX 75081sps.honeywell.com/ast

References
[xyz-ips snippet="download-snippet"]