Hoover ONE PWRSpotless Go Carpet Cleaner
MODEL: BH12000, BH12010, BH12001, BH12001CDI, BH12003, BH12004, BH12051
User Manual
Please visit Hoover.com for video instructions and FAQ's for this Carpet Cleaner.
IMPORTANT: READ ALL INSTRUCTIONS CAREFULLY BEFORE ASSEMBLY AND USE.This product is intended for Household use only. If used Commercially warranty is VOID.Questions or concerns? For assistance, please call Customer Service at 1-800-406-2005 Mon-Fri 9am-6pm EST.PLEASE DO NOT RETURN THIS PRODUCT TO THE STORE.
IMPORTANT SAFETY INSTRUCTIONS
SAVE THESE INSTRUCTIONS
READ ALL SAFETY WARNINGS AND INSTRUCTIONS BEFORE USING THIS PRODUCT.
WARNING: When using an electrical product, basic precautions should always be followed to avoid electric shock, fire, and/or serious injury, including the following:
Fully assemble prior to use.
Do not store or charge battery outdoors or on wet surfaces. Do not allow charger to get wet.
DO NOT expose to rain, Store indoors.
Do not allow to be used as a toy. Not intended for use by children age 12 and under. Close supervision is necessary when usedby or near children. To avoid injury or damage, keep children away from product, and do not allow children to place fingers or other objects into any openings.
Use only as described in this manual. Use only HOOVER® recommended attachments and products.
Do not use charger with damaged cord or plug. If appliance or charger is not working as it should, has been dropped, damaged, left outdoors, or dropped into water, take it to a service center prior to continuing use, call customer service at 800-406-2005.
Do not pull or carry charger by cord, use cord as a handle, close a door on cord, or pull cord around sharp edges or corners. Do not place product on cord. Do not run appliance over cord. Keep cord away from heated surfaces.
Do not unplug charger by pulling on cord. To unplug charger, grasp the plug, not the cord.
Do not handle charger including charger plug and charger terminals, or appliance with wet hands.
Do not put any object into openings. Do not use with any opening blocked; keep free of dust, lint, hair, and anything that may reduce air flow.
Keep hair, loose clothing, fingers, and all parts of body away from openings and moving parts.
Use extra care when cleaning on stairs. To avoidpersonal injury or damage, and to prevent the cleaner from falling, always place cleaner at bottom of stairs on floor. Do not place cleaner on stairs or furniture, as it may result in injury or damage.
Do not use to pick up flammable or combustible liquids, such as gasoline, or fine wood sandings, or use in areas where they may be present.
Do not pick up anything that is burning or smoking, such as cigarettes, matches, or hot ashes.
Do not use without Filters and/or Tanks in place.
Do not clean over floor electrical outlets.
Due to internal component damage, use only HOOVER® cleaning products intended for use with this machine. See the cleaning products section of this manual.
Do not incinerate the charger, battery, or the appliance even if is severely damaged. The batteries can explode in a fire.
WARNING: RISK OF FIRE, PROPERTY DAMAGE, AND INJURY. NEVER EXPOSE YOUR BATTERY PACK OR CHARGER TO WATER, MOISTURE, OR FLUIDS, INCLUDING BUT NOT LIMITED TO CORROSIVE OR CONDUCTIVE FLUIDS, OR ALLOW FLUIDS TO FLOW INSIDE THESE ITEMS.
Corrosive or conductive fluids, such as salt water, chlorine, certain industrial chemicals, and bleach or bleach containing products, etc., can cause a short circuit in the battery pack. If your battery pack is exposed to a corrosive or conductive fluid, do not attempt to use or charge the battery pack and immediately perform the following steps:
Wear appropriate personal protective equipment, including eye protection and rubber gloves.
Place your exposed battery pack in a large bucket, such as a 5 gallon or similar bucket, and fill the bucket with regular tap water. Do not place more than two packs in the bucket.
Locate the bucket outdoors in an area inaccessible to children and pets and away from all buildings, garages/sheds, structures, vehicles, and combustible/flammable materials.
Leave the battery pack(s) in the bucket filled with tap water and call Customer Service at 1-800-406-2005 foradditional instructions on the proper disposal of the exposed battery pack(s).
Prevent unintentional starting. Ensure the switch is in the off-position before connecting to battery pack, picking up or carrying the appliance. Carrying the appliance with your finger on the switch or energizing appliance that has the switch on invites accidents.
Recharge only with the charger specified by the manufacturer. A charger that is suitable for one type of battery pack may create a risk of injury and fire when used with another battery pack.
Use appliance only with specifically designated battery packs. Use of any other packs may create a risk of injury and fire.
Use battery only with charger listed. For use with HOOVER® ONEPWR Lithium-ion Batteries.
The charger is for indoor use only. Be sure to always keep the battery and charger in a dry place.
Unplug the charger from the outlet before any routine cleaning or maitenance.
Disconnect the battery pack from the appliance before making any adjustments, changing accessories, or storing appliance. Such preventative safety measures reduce the risk of starting the appliance accidentally.
When battery pack is not in use, keep it away from other metal obejcts, like paper clips, coins, keys, nails, screws or other small metal objects, that can make a connection from one terminal to another. Shorting the battery terminals together may cause burns or a fire.
Under abusive conditions, liquid may be ejected from the battery; avoid contact. If contact accidentally occurs, flush with water. If liquid contacts eyes, additionally seek medical help. Liquid ejected from battery may cause irritation or burns.
Do not use a battery pack or appliance that is damaged or modified. Damaged or modified batteries may exhibit unpredictable behavior resulting in fire, explosion or risk of injury.
Do not expose a battery pack or appliance to fire or excessive temperatures. Exposure to fire or temperature above 265°F may cause explosion.
Follow all charging instructions and do not charge the battery pack or appliance outside of the temperature range specified in the instructions. Charging improperly or at temperatures outside of the specified range may damage the battery and increase the risk of fire.
Do not modify or attempt to repair the appliance or the battery pack except as indicated in the instructions for use and care.
Put product away after use to prevent tripping accidents.
CAUTION: TO REDUCE THE RISK OF DAMAGE:
Avoid picking up hard, sharp objects with this product, as they may cause damage.
Store appropriately indoors in a dry place. Do not expose machine to freezing temperatures.
Do not use sharp objects to clean out hose as they can cause damage.
To assist in reducing drying time, be certain the area is well ventilated when using detergents and other cleaners with this machine.
Do not store extractor with solution in tanks.
BATTERY DISPOSAL WARNING – RISK OF EXPLOSION OR EXPOSURE TO TOXIC MATERIAL LITHIUM-ION BATTERIES: The battery must be collected, recycled or disposed of in an environmentally sound manner.
The EPA certified RBRC Battery Recycling Seal on the lithium-ion [Li-ion] battery indicated Techtronic Industries, a corporate affiliate of HOOVER, Inc., is voluntarily participating in an industry program to collect and recycle these batteries at the end of their useful life, when taken out of service in the United States or Canada. The RBRC program provides a convenient alternative to placing used Li-ion batteries into the trash or the municipal waste stream, which may be illegal in your area. Please visit www.rbrc.org/call2recycle/ for information on Li-ion battery recycling and disposal bans/ restrictions in your area. HOOVER's involvement in this program is part of our commitment to preserving our environment and conserving our natural resources.
WARRANTY
LIMITED WARRANTY FOR HOOVER® ONEPWR™ PRODUCTTHREE YEAR LIMITED WARRANTY (DOMESTIC USE)
If this product is not as warranted, contact TTI Floor Care North America Customer Service at 1-800-406-2005. Please have available the proof of purchase and model number for the warranted product.
WHAT THIS LIMITED WARRANTY COVERS: This limited warranty provided by Royal Appliance Mfg. Co., doing business as TTI Floor Care North America (referred to hereafter as "Warrantor") applies only to products purchased in the U.S. (including its territories and possessions), a U.S. Military Exchange, or Canada. When used and maintained in normal household use and in accordance with the Owner's Guide, this product is warranted against original defects in material and workmanship for THREE years from the date of original purchase (the "Warranty Period"). If Warrantor determines that the issue you are experiencing is covered under the terms of this warranty (a "covered warranty claim"), we will, at our sole discretion and free of charge (subject to the cost of shipping), either (i) repair your product; (ii) ship you a replacement product, subject to availability; or (iii) in the event that the applicable parts or replacement are not reasonably available, ship you a similar product of equal or greater value. In the unlikely event that we are unable to repair your product or ship a replacement or similar product, we reserve the right, at our sole discretion, to issue you a refund or store credit (if applicable) of the actual purchase price at the time of the original purchase as reflected on the original sales receipt. Parts and replacements may be new, refurbished, lightly used, or remanufactured, in Warrantor's sole discretion.
WHO THIS LIMITED WARRANTY COVERS: This limited warranty extends only to the original retail purchaser, with original proof of purchase from Warrantor or an authorized dealer of Warrantor products, in the U.S., U.S. Military Exchanges, and Canada.
WHAT THIS LIMITED WARRANTY DOES NOT COVER: This warranty does not cover use of the product in a commercial operation (such as maid, janitorial, and equipment rental services, or any other income-generating activity); improper maintenance of the product; the product if it has been subject to misuse, negligence, neglect, vandalism, or the use of voltages other than that on the data plate of this product. This warranty does not cover damage resulting from an act of God, accident, owner's acts or omissions, service of this product by other than Warrantor or a Warrantor authorized service provider (if applicable), or other acts beyond the control of Warrantor. This warranty also does not cover use outside the country in which the product was initially purchased, or resale of the product by the original owner. Pick-up, delivery, transportation, and house calls are not covered by this warranty. In addition, this warranty does not cover any product that has been altered or modified, or repairs made necessary by normal wear or the use of other products, parts, or accessories which are either incompatible with this product or adversely affect this product's operation, performance, or durability. Normal wear items are not covered under this warranty. Depending on the product, normal wear items may include, but are not limited to, belts, filters, brush rolls, blower fans, blower and vacuum tubes, and vacuum bags and straps.
OTHER IMPORTANT TERMS: This warranty is not transferable and may not be assigned; any assignment made in contravention of this prohibition is void. This warranty shall be governed and construed under the laws of the state of North Carolina. The Warranty Period will not be extended by any replacement of batteries, parts, or products or by virtue of any repair performed under this warranty.
THIS LIMITED WARRANTY IS THE EXCLUSIVE WARRANTY AND REMEDY, AND ALL EXPRESS AND IMPLIED WARRANTIES OTHER THAN THE LIMITED WARRANTY SET FORTH ABOVE, INCLUDING IMPLIED WARRANTIES OF MERCHANTABILITY AND FITNESS FOR A PARTICULAR PURPOSE, ARE EXPRESSLY DISCLAIMED. IN NO EVENT WILL WARRANTOR BE LIABLE FOR ANY SPECIAL, INDIRECT, INCIDENTAL OR CONSEQUENTIAL DAMAGES OF ANY KIND OR NATURE TO OWNER OR ANY PARTY CLAIMING THROUGH OWNER, WHETHER BASED IN CONTRACT, NEGLIGENCE, TORT, OR STRICT PRODUCTS LIABILITY OR ARISING FROM ANY CAUSE WHATSOEVER, EVEN IF THIS WARRANTY FAILS OF ITS ESSENTIAL PURPOSE. TO THE EXTENT PERMITTED BY APPLICABLE LAW, NO WARRANTIES THAT ARISE BY OPERATION OF LAW, IF APPLICABLE, SHALL EXCEED THE DURATION OF THE LIMITED WARRANTY PROVIDED HEREIN.
Warrantor's liability for damages to you for any costs whatsoever arising out of this statement of limited warranty shall be limited to the amount paid for this product at the time of original purchase.
Some states do not allow the exclusion or limitation of incidental or consequential damages, disclaimers of implied warranties, or limitations on the duration of implied warranties, so the above exclusions, disclaimers, and/or limitations may not apply to you. This warranty gives you specific legal rights, and you may also have other rights, which vary from state to state.
GENUINE PARTS AND ACCESSORIES: We recommend using only with genuine HOOVER® solutions (for carpet and spot cleaners), parts, and accessories. Damage caused by use with other than genuine HOOVER® solutions, parts, and accessories is not covered by and may void your warranty.
For assistance, please call Customer Service:1-800-406-2005 Mon-Fri 9am-6pm EST
Please visit Hoover.com for video instructions and FAQ's for this Carpet Cleaner
Replacement parts and accessories such as solutions available at Hoover.com.
CHARGING YOUR PRODUCT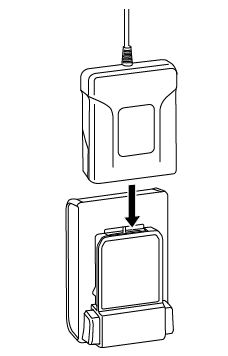 Plug in the charger, then attach the battery pack to the charger by aligning the ribs on the battery pack to the grooves in the charger.
Slide the battery pack into the charger.NOTE: The lights on the battery will show the state of charge. If the light on the charger flashes red, there is an error with the battery or the charger. If this occurs, disconnect and reconnect the battery or call customer service for support. Once charge is complete, lights on the battery and charger will turn off.
To remove the battery pack, press the latches and pull up.NOTE: During charging, the pack and ambient temperature should be between 32 to 86° F (5 and 30° C). The charger will sense if the pack, or ambient temperature, is too cold or too hot, and will return an error code (red LED will be on) and not charge the pack.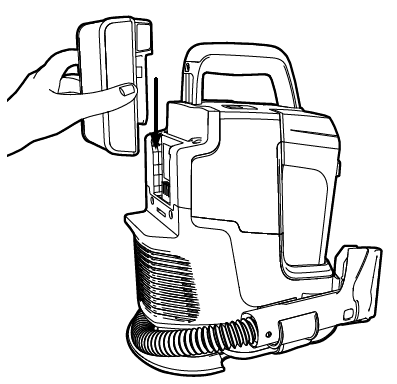 4. ONEPWR™ Battery insertion. Battery kit sold separately for select models.
GETTING STARTED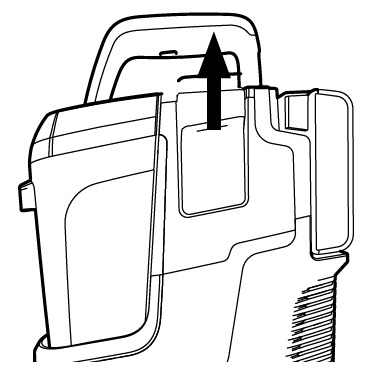 Remove Solution Tank from the side of the unit, then remove the cap.
Add HOOVER® ready-to-use premix formula to the Solution Fill Line. If using  concentrate, follow suggested ratio to mix with water to the Solution Fill Line.
Replace and tighten cap. Slide the Tank back into the unit to secure the tank.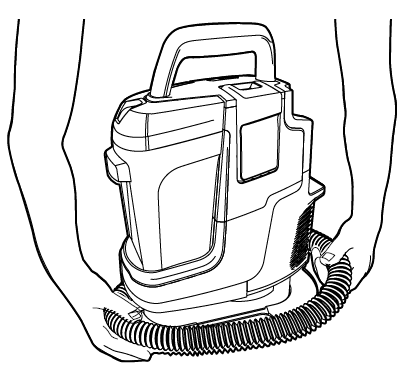 4. Unwrap hose from unit. Select preferred tool and make sure it is attached securely.
NOTE: Read the directions on the HOOVER® Carpet Cleaning fluid prior to use.
CLEANING FLUID: SEE THE HOOVER SOLUTION GUIDE insert or visit Hoover.com/cleaning-solutions.
CAUTION: Not to be used for grooming a pet.
CAUTION: DO NOT USE THIS EXTRACTOR ON HARD FLOORS. USING THIS PRODUCT ON HARD FLOORS MAY SCRATCH OR DAMAGE YOUR FLOOR.
Before You Begin Cleaning
Use your Hoover upholstery and spot cleaner only if upholstery fabric is marked with a "W" (for "wet" clean) or "S/W" (for "solvent/dry" or "wet" clean). Don't clean fabric marked "S" ("solvent/ dry" clean only).
Test for colorfastness in a small, hidden area. Gently rub surface with a dampened white cloth. Wait ten minutes and check for color removal or bleed with a white paper towel.
NOTE: To prevent staining, use plastic or aluminum foil to protect wood or metal surfaces from possible water spray.
NOTE: To avoid damage to wood floors underneath area rugs or carpet, place waterproof material (e.g. plastic) underneath them before cleaning.
OPERATION
CAUTION: Do not clean over floor electrical outlets. Water will drip from the tool after use and may puddle. To avoid damage to wood and laminate flooring and to avoid potential slip hazard, after use (a) do not leave the product on wood and laminate surfaces and move to a hard surface and (b) place unit on an absorbent material (such as a towel) to soak up drips.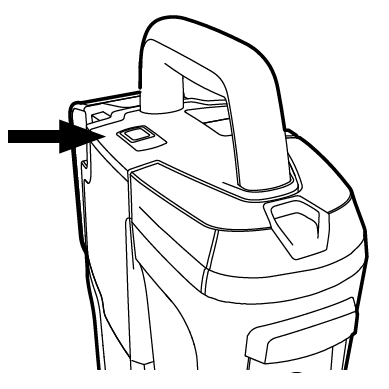 Press Button on top of unit to turn ON.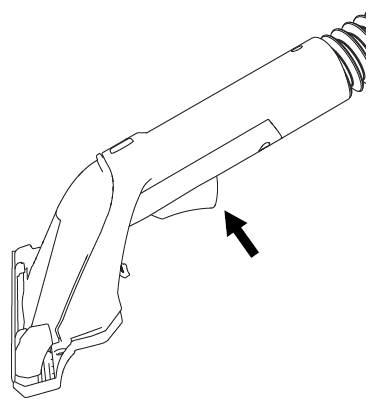 2. Spray a generous amount of cleaning solution over the soiled area by pressing the trigger behind the tool and scrub the stain in a back and forth motion.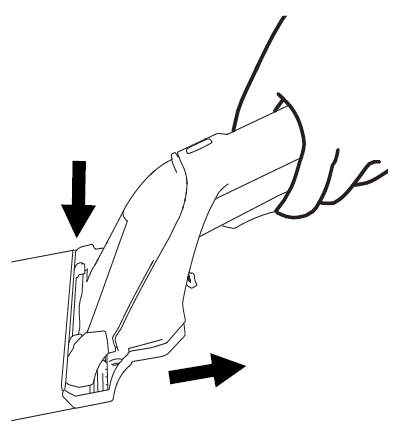 To lift the stain, suction up the dirt and  cleaning solution by applying downward pressure on the front of the cleaning tool and pulling towards you. Repeat as needed.
IMPORTANT: Empty Dirty Water Tank when you hear an audible change. Ensure the tank is secured before cleaning.
For best results, pretreat stains with a HOOVER® spot treatment (see HOOVER® Cleaning Solution Guide) to help loosen and remove even the most stubborn stains. Distribute a generous amount of pretreat spray on spot, stain, or high traffic area. Always follow specific directions found on solution label.
Wait 5-10 minutes before using machine.
STORAGE: We recommend leaving the product out to dry while sitting on an absorbent cloth prior to storage.
LUBRICATION: The motor is equipped with bearings which contain sufficient lubrication for their lifetime. The addition of lubricant could cause damage. Do not add lubricant to motor bearings.
MAINTENANCE
WARNING: Risk of personal injury Turn power switch off and remove battery before cleaning or servicing.
WARNING: To reduce risk of fire and electric shock due to internal component damage, use only HOOVER® cleaning products intended for use with the appliance as noted.
This product contains no serviceable parts. If appliance is not working as it should, has been dropped, damaged, left outdoors, or dropped into water, call customer service at 1.800.406.2005 prior to continuing use.
HOW TO CLEAN THE DIRTY WATER TANK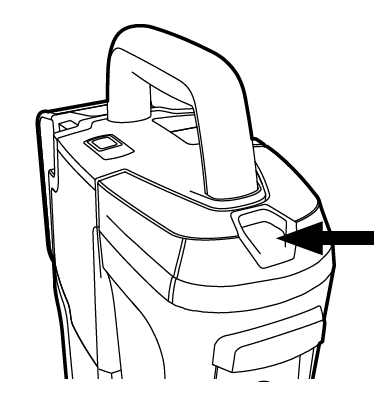 Press TANK RELEASE button then lift lid off for emptying and rinsing.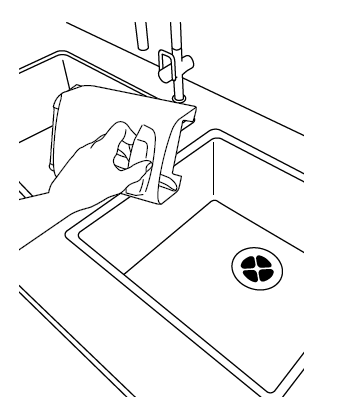 2. Clean water will help remove dirt & debris from the tank. Let air dry before reinstalling.
HOW TO CLEAN NOZZLE
Rinse hand tool under faucet. Remove nozzle cover by pressing release button on top.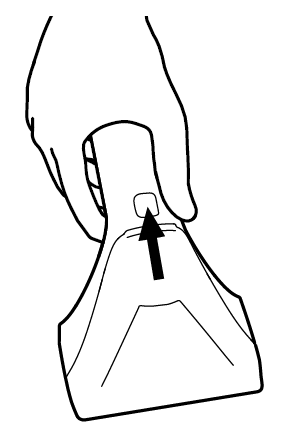 2. Remove Insert and rinse under faucet.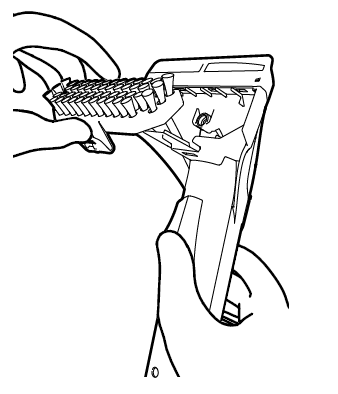 3. Access the hose for cleaning by removing the three screws on the bottom of the carpet cleaner. Once removed, slide the piece away and rinse.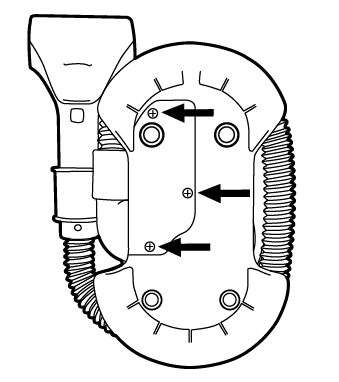 Tools and formula may vary by model.
TROUBLESHOOTING
WARNING: Risk of personal injury – Turn power switch off and remove battery before cleaning or servicing.
REPLACEMENT PARTS AND ACCESSORIES SUCH AS SOLUTIONS AVAILABLE AT HOOVER.COM.IF APPLIANCE IS NOT WORKING AS IT SHOULD, HAS BEEN DROPPED, DAMAGED, LEFT OUTDOORS, OR DROPPED INTO WATER, CALL CUSTOMER SERVICE AT 1-800-406-2005 PRIOR TO CONTINUING USE.
ALWAYS IDENTIFY YOUR CLEANER BY THE COMPLETE MODEL NUMBER. (THE MODEL NUMBER APPEARS ON THE BOTTOM OF THE CLEANER.)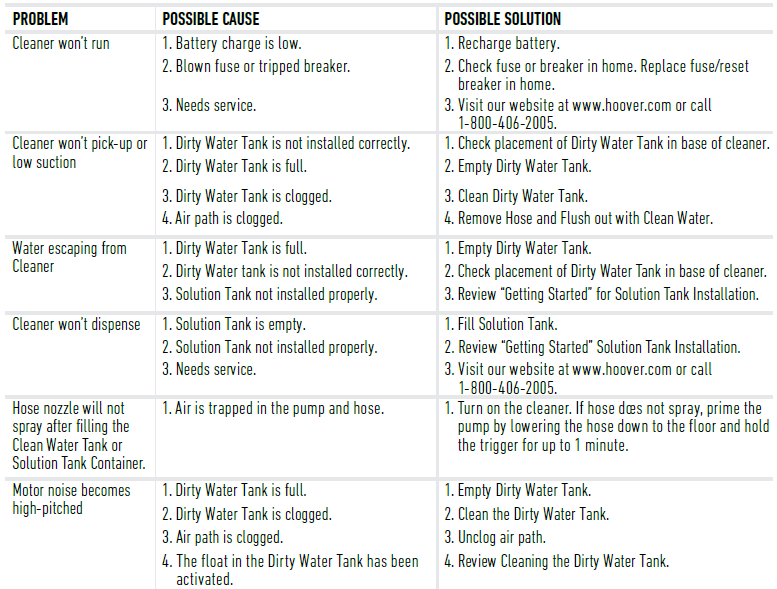 References
[xyz-ips snippet="download-snippet"]