www.axialracing.com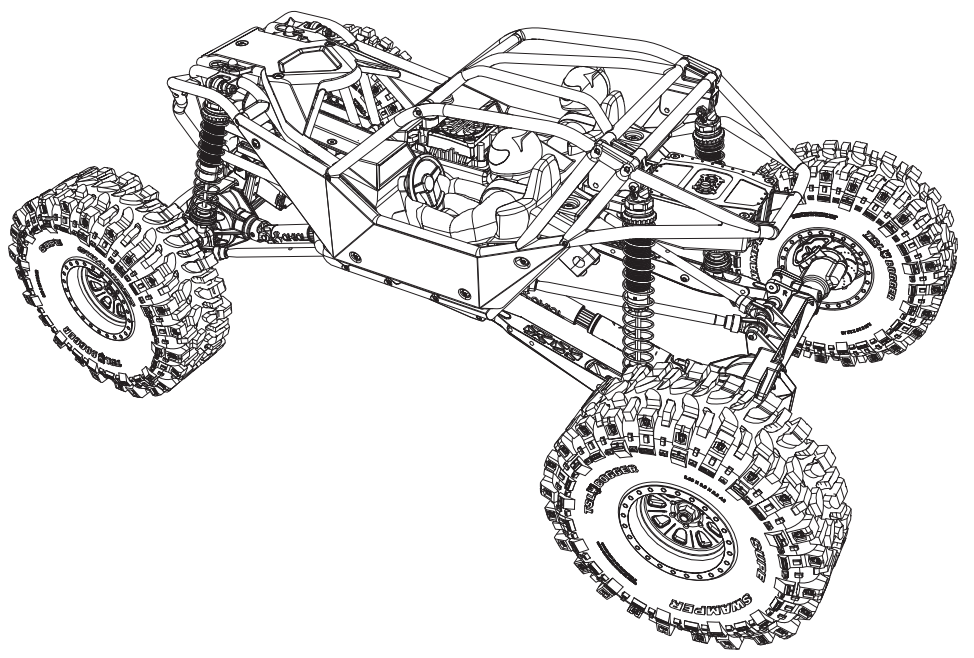 INSTRUCTION MANUAL
Before operating this vehicle, please read all printed materials thoroughly.Horizon Hobby is not responsible for inadvertent errors in this manual.
NOTICEAll instructions, warranties and other collateral documents are subject to change at the sole discretion of Horizon Hobby, LLC. For up-to-date product literature, visit www.horizonhobby.com or www.towerhobbies.com and click on the support or resources tab for this product.Meaning of Special LanguageThe following terms are used throughout the product literature to indicate various levels of potential harm when operating this product:WARNING: Procedures, which if not properly followed, create the probability of property damage, collateral damage, and serious injury OR create a high probability of superficial injury.CAUTION: Procedures, which if not properly followed, create the probability of physical property damage AND a possibility of serious injury.NOTICE: Procedures, which if not properly followed, create a possibility of physical property damage AND little or no possibility of injury.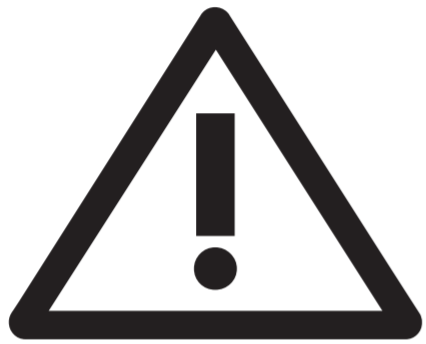 WARNING: Read the ENTIRE instruction manual to become familiar with the features of the product before operating. Failure to operate the product correctly can result in damage to the product, personal property and cause serious injury. This is a sophisticated hobby product and NOT a toy. It must be operated with caution and common sense and requires some basic mechanical ability. Failure to operate this Product in a safe and responsible manner could result in injury or damage to the product or other property. This product is not intended for use by children without direct adult supervision. Do not use incompatible components or alter this product in any way outside of the instructions provided by Horizon Hobby, LLC. This manual contains instructions for safety, operation, and maintenance. It is essential to read and follow all the instructions and warnings in the manual, prior to assembly, setup or use, in order to operate correctly and avoid damage or serious injury.Age Recommendation: Not for Children under 14 years. This is not a toy.
SAFETY PRECAUTIONS AND WARNINGS
Read and follow all instructions and safety precautions before use. Improper use can result in fire, serious injury and damage to property.As the user of this product, you are solely responsible for operating in a manner that does not endanger yourself and others or result in damage to the product or property of others.This model is controlled by a radio signal subject to interference from many sources outside your control. This interference can cause momentary loss of control, so it is advisable to always keep a safe distance in all directions around your model as this margin will help avoid collisions or injury.
Never operate your model with low transmitter batteries.
Always operate your model in open spaces away from full-size vehicles, traffic, and people.
Never operate the model in the street or in populated areas for any reason.
Carefully follow the directions and warnings for this and any optional support equipment (chargers, rechargeable battery packs, etc.) you use.
Keep all chemicals, small parts and anything electrical out of the reach of children.
Never lick or place any portion of the model in your mouth as it could cause serious injury or even death.
Exercise caution when using tools and sharp instruments.
Take care during maintenance as some parts may have sharp edges.
Immediately after using your model, do NOT touch equipment such as the motor, electronic speed control, and battery, because they generate high temperatures. You may burn yourself seriously touching them.
Do not put fi fingers or any objects inside rotating and moving parts, as this may cause damage or serious injury.
Always turn on your transmitter before you turn on the receiver in the car. Always turn off the receiver before turning your transmitter off.
Keep the wheels of the model off the ground when checking the operation of the radio equipment.
KIT/MANUAL ORGANIZATION
The kit is composed of different bags marked A through I, Manual, and Options/Tool. It is essential that you open only one bag at a time and follow the correct assembly sequence.
COMPLETED KIT SPECIFICATIONS
| | |
| --- | --- |
| 12.5 in (317.5mm) | Wheelbase |
| 8.75 in (222.25mm) | Front Track Width |
| 8.75 in (222.25mm) | Rear Track Width |
| 9.6 in (245.0mm) | Overall Height |
| 17 in (431.8mm) | Overall Length with Tires |
NEEDED TO COMPLETE
RADIO GEAR
You will need a 3-Channel radio system with one (1) Servo and one (1) Micro servo to operate all features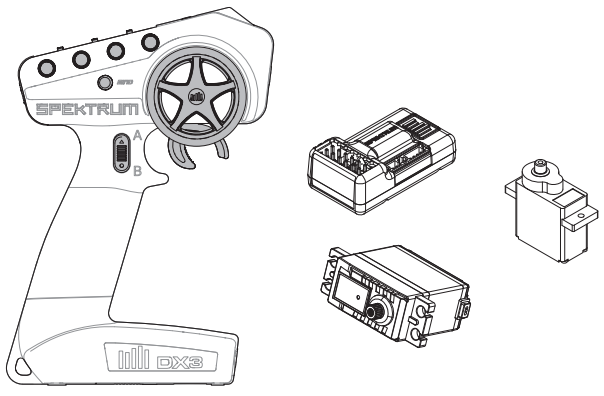 MOTORRecommended Motor: FIRMA 2200Kv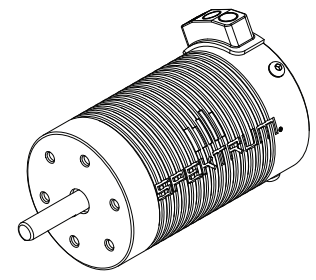 ELECTRONIC SPEED CONTROLRecommended ESC: FIRMA 130A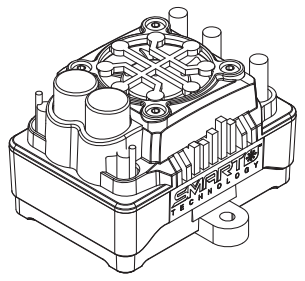 BATTERYRecommended Battery: Standard 3S–4S LiPo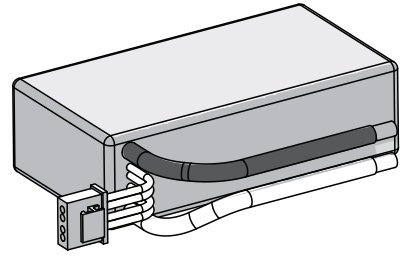 RECOMMENDED TOOLSScrewdriver: 2.5mm, 2.0mm, 1.5mm (DYN2819)Nut Driver: 8.0mm, 7.0mm, 5.5mm (DYN2806)
ICON KEY
| | | | |
| --- | --- | --- | --- |
| | Apply Threadlock | | Ensure Free Rotation |
| | Apply High-Pressure, Black Grease (TLR77000) | | Ensure Proper Orientation |
| | Apply CA Glue | | Push Firm |
| | Apply Clear Grease | | Side Shown |
| | Degrease with Motor Spray(DYN5500) | | Assemble Other Side the Same |
| | Fill With Silicone Oil | | Repeat/Build Multiple |
| | Pay Special Attention | | Screw Partially |
| | Cut/Trim | | DO NOT OverTighten/Snug Tight |
| | Ensure Free Movement | | Tighten |
kip to Step 4 if assembling using included optional Spool (AXI332002) in one of the differentials.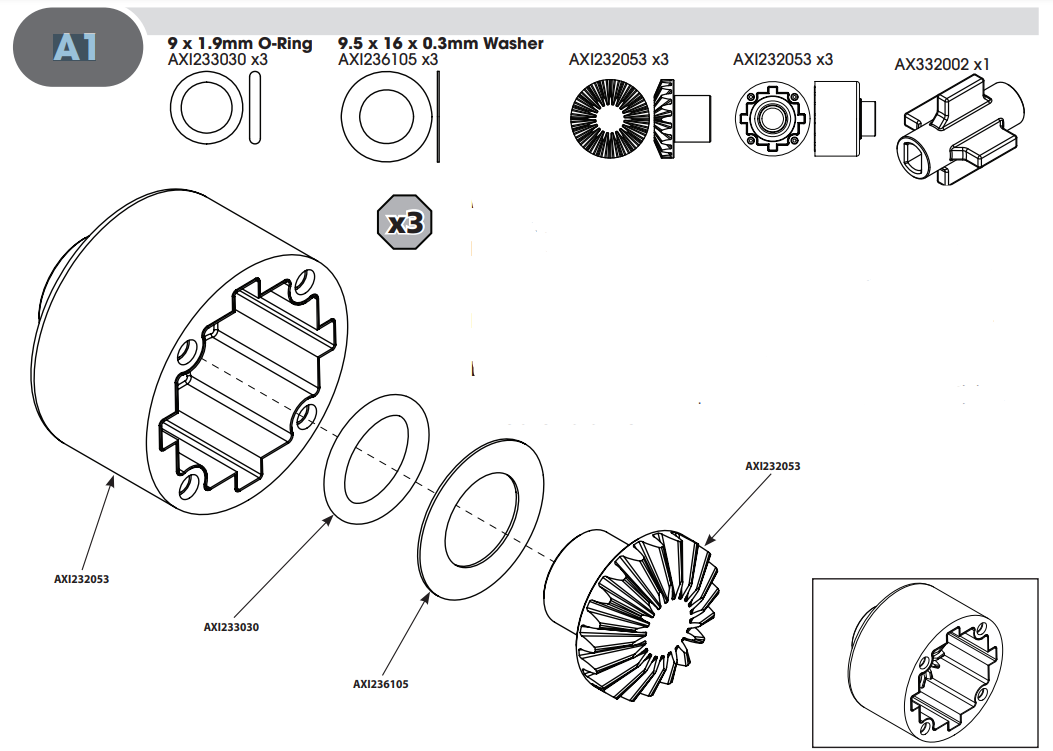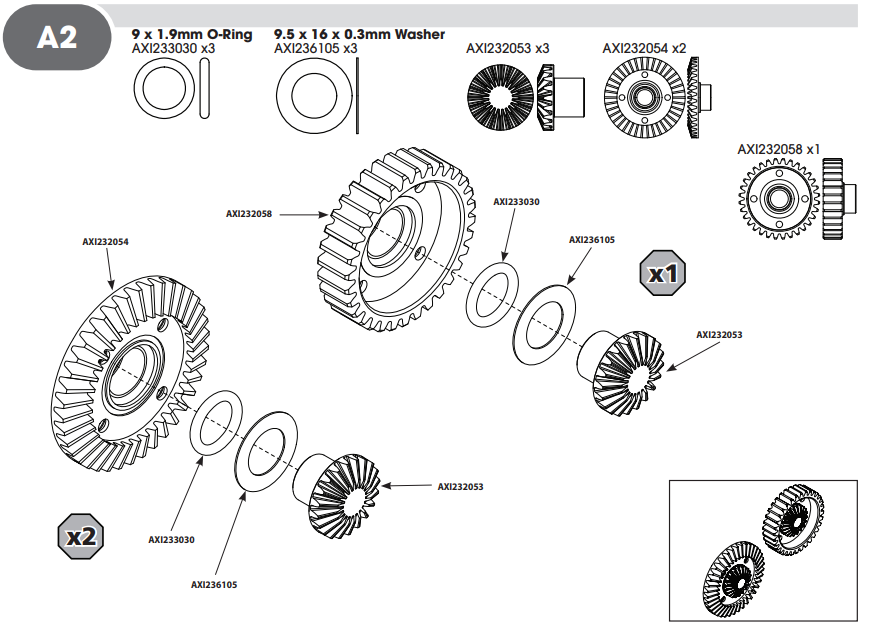 Fill differential completely with 1,000,000 weight oil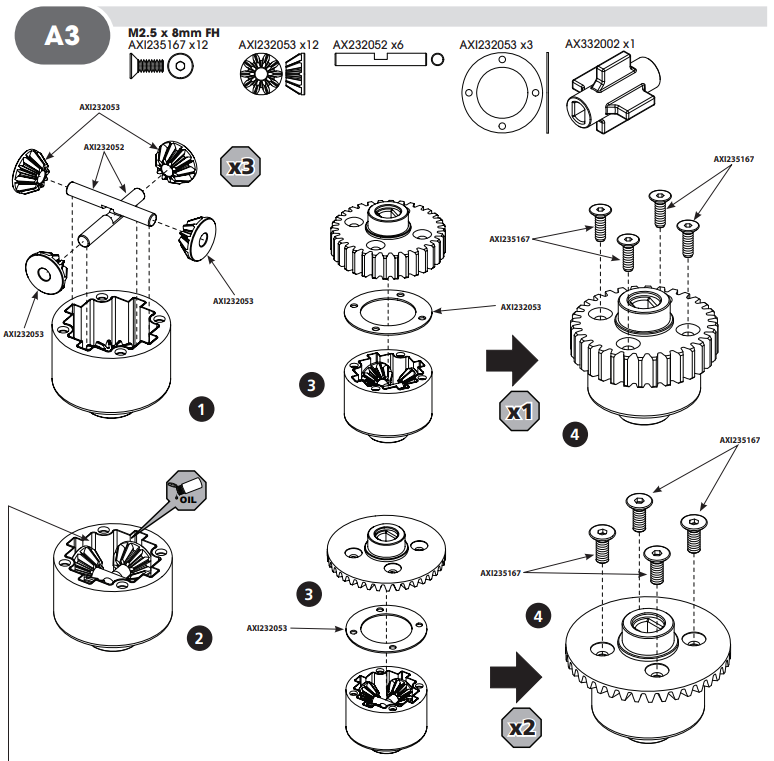 | | |
| --- | --- |
| Use in Steps B2 and C8 | Use in Step D3 or D7 |
| | |
Skip this step if using gear differentials.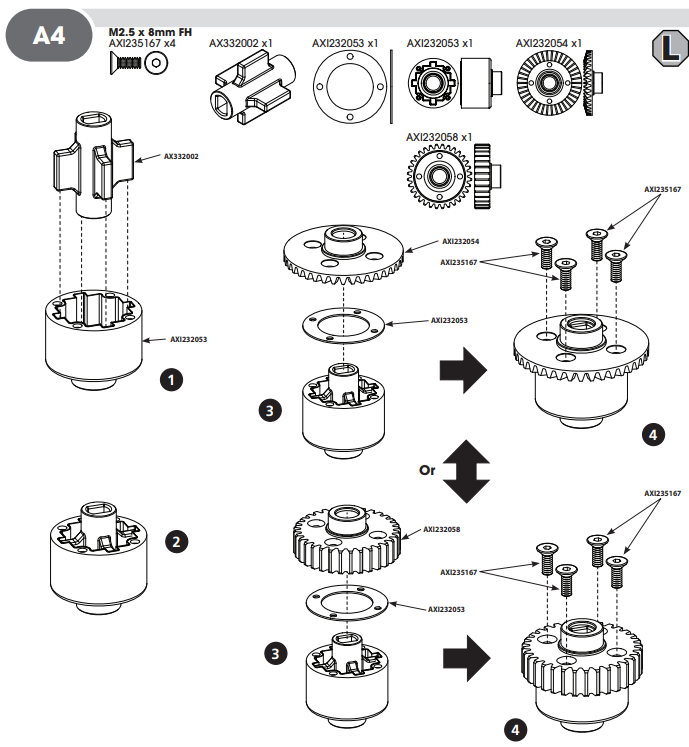 | | |
| --- | --- |
| Use in Steps B2 and C8 | Use in Step D3 or D7 |
| | |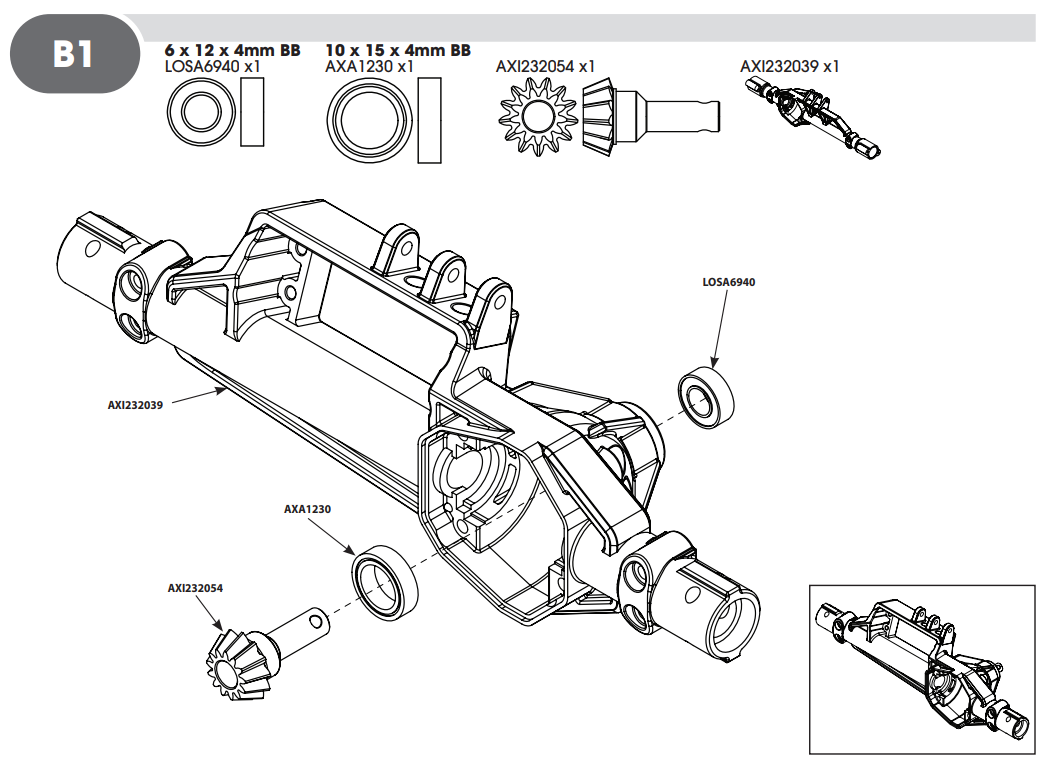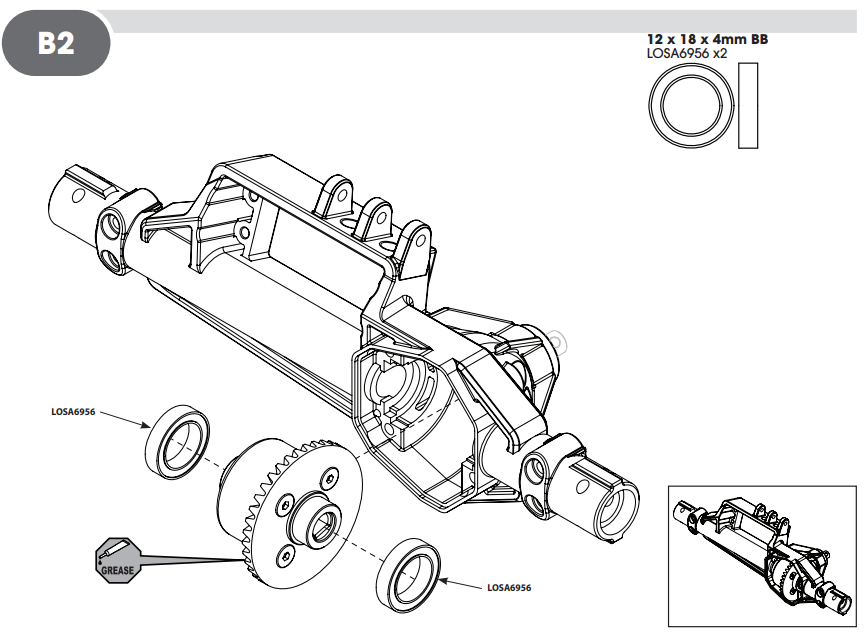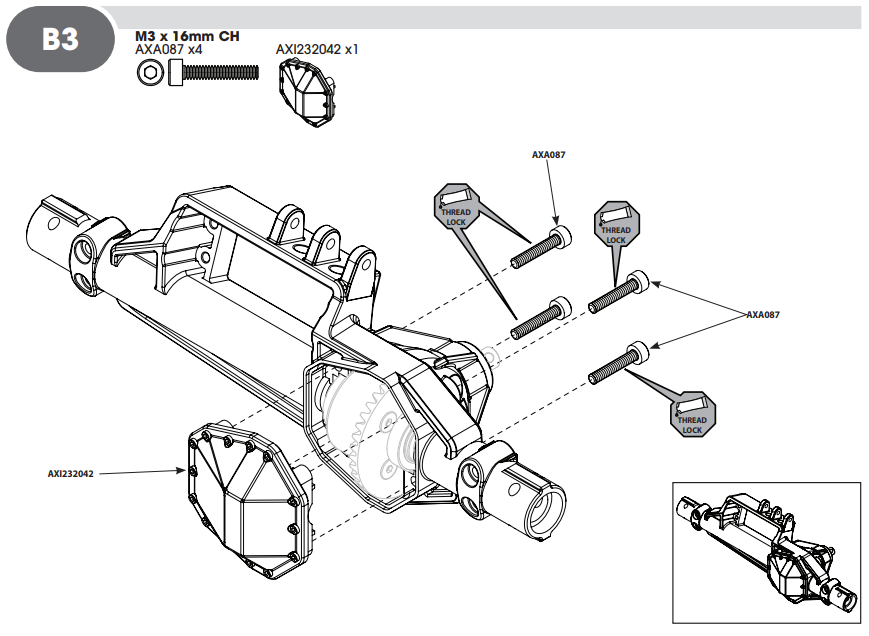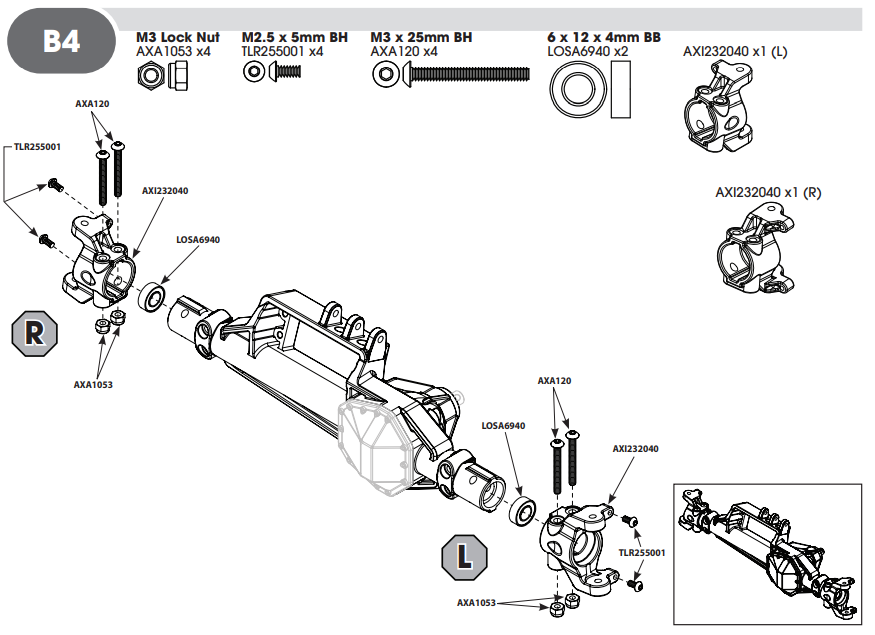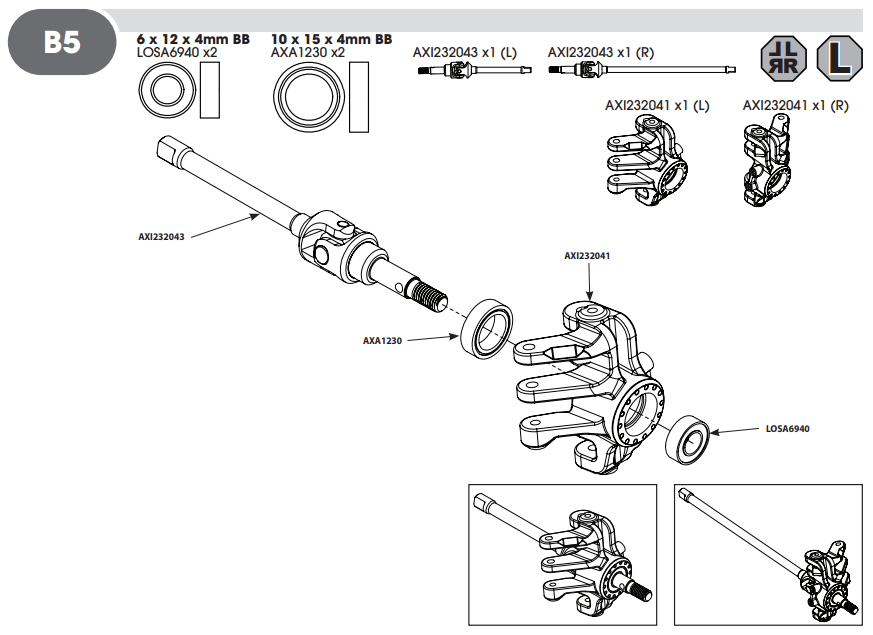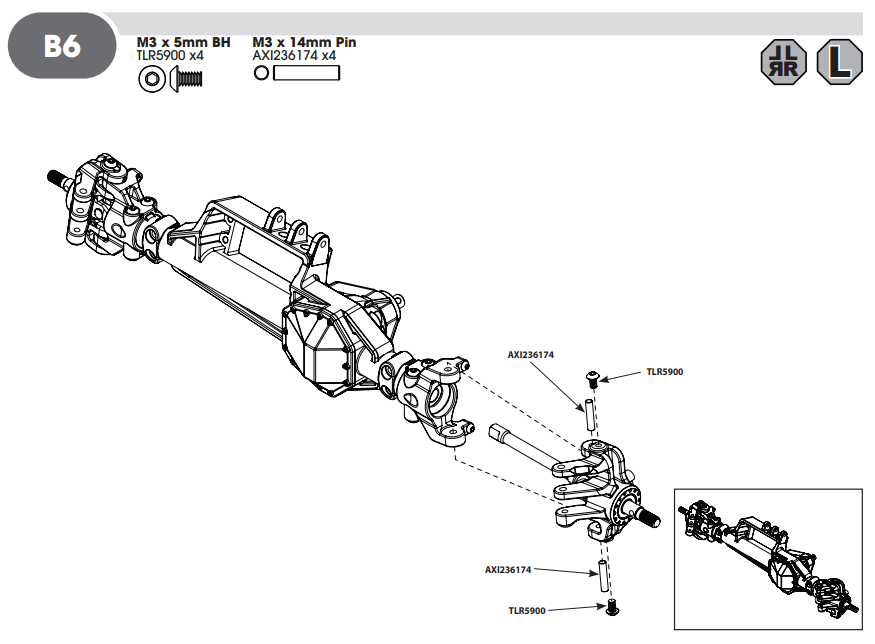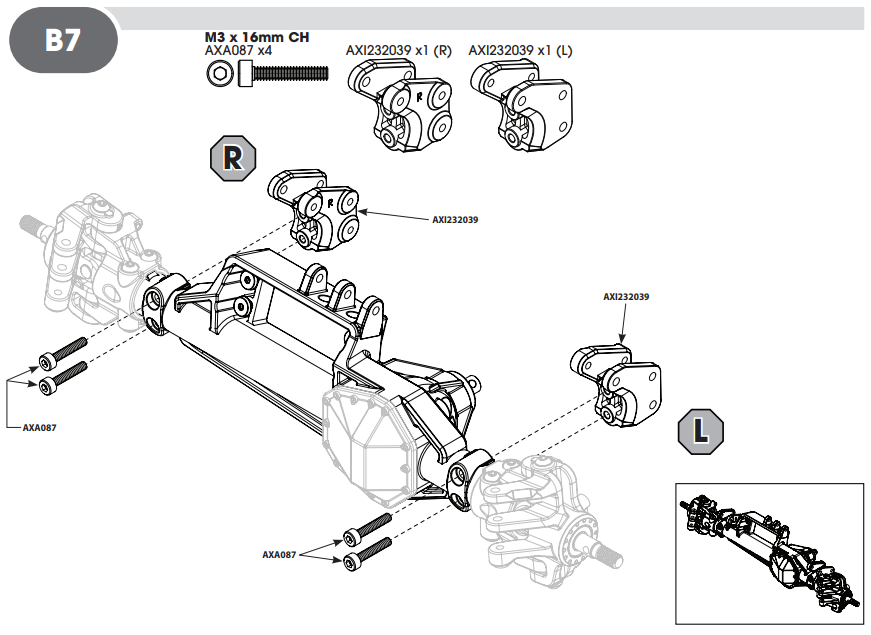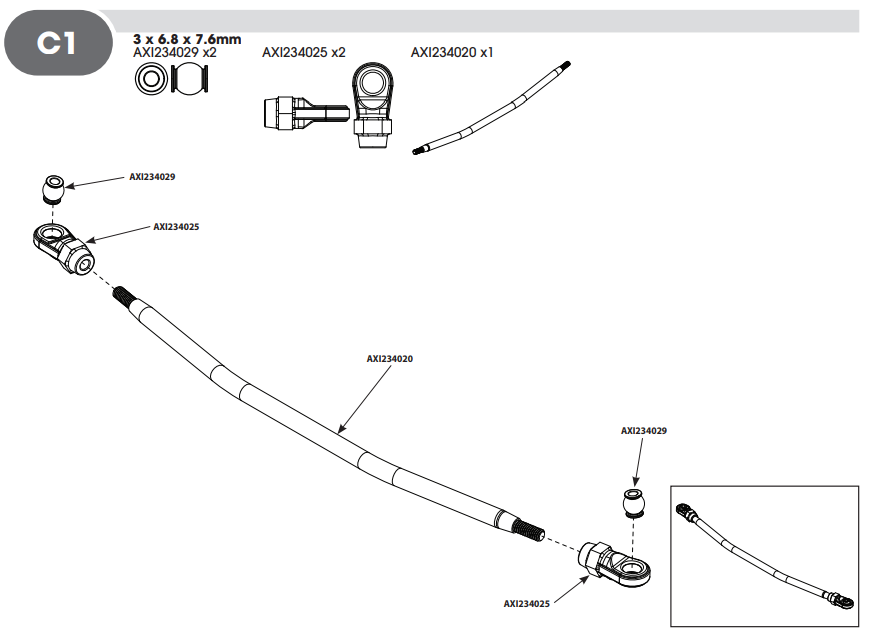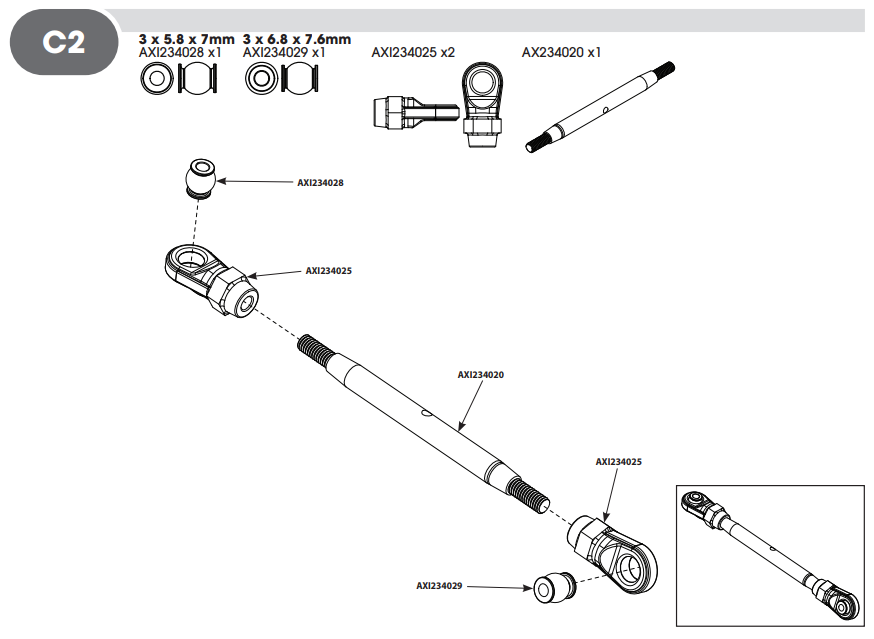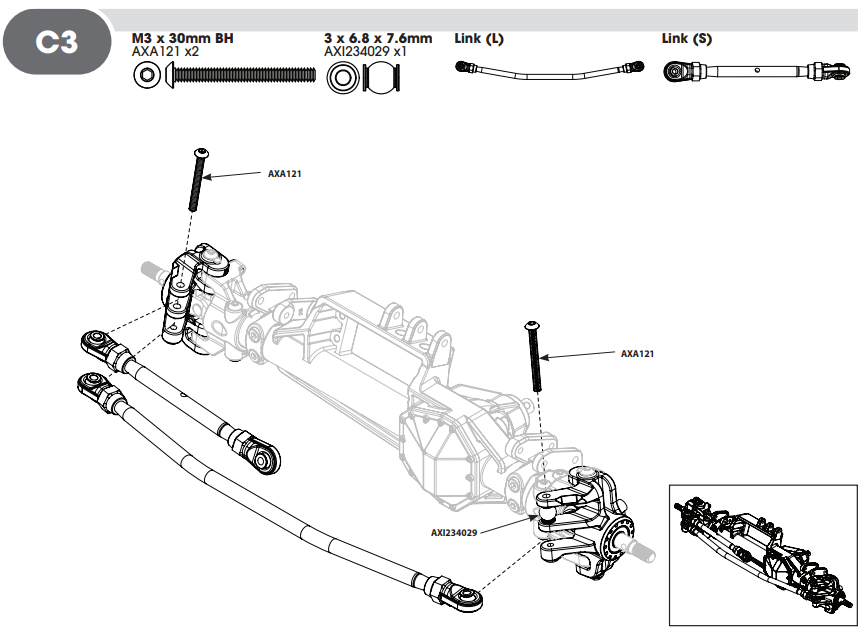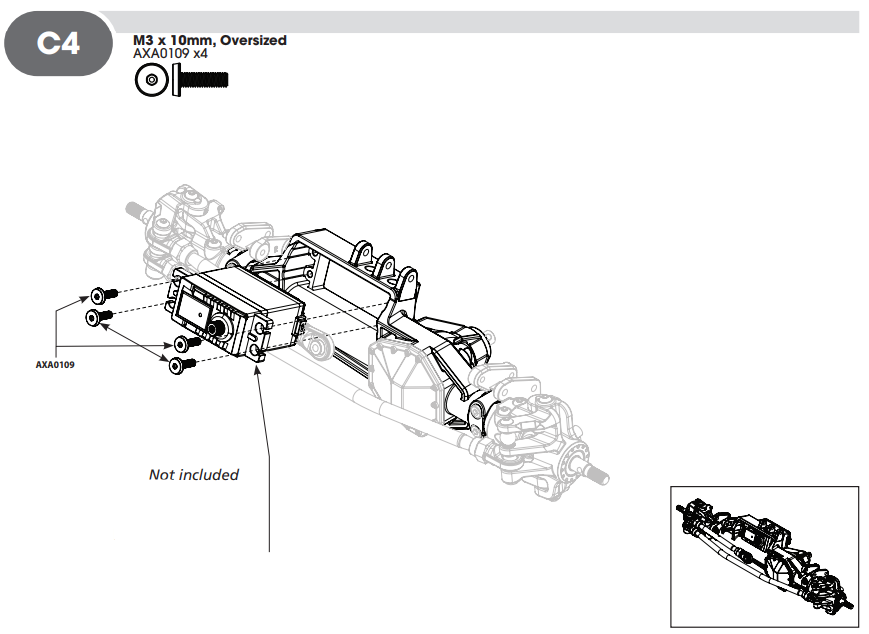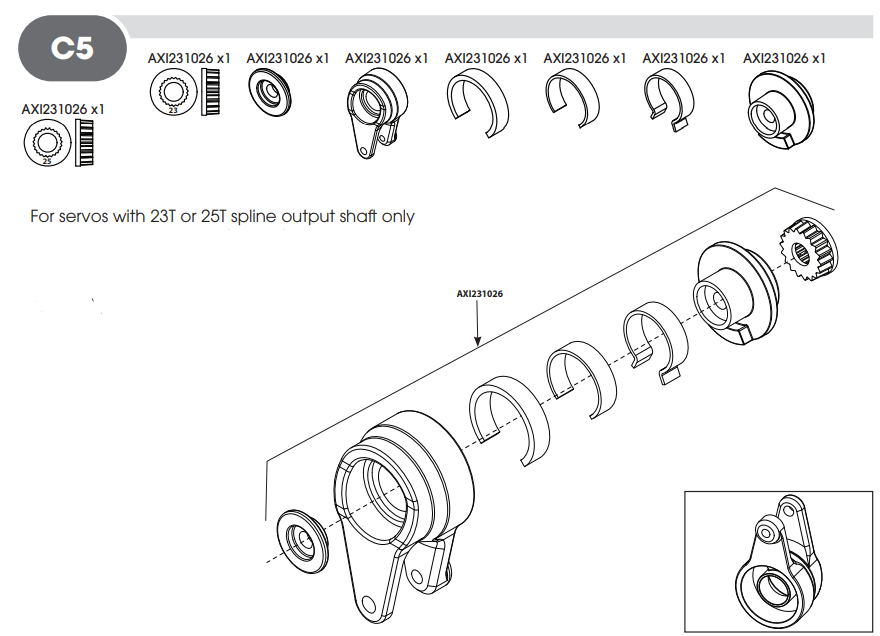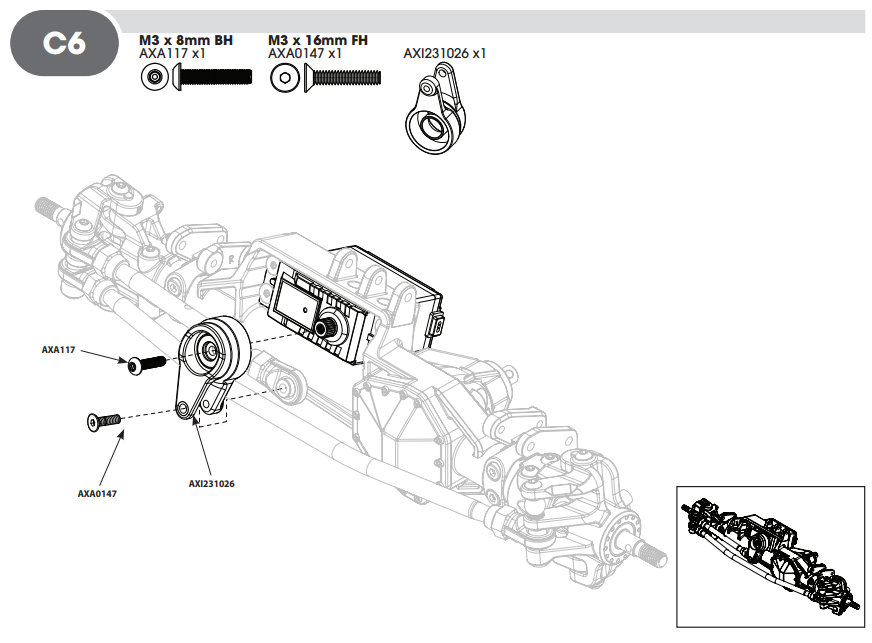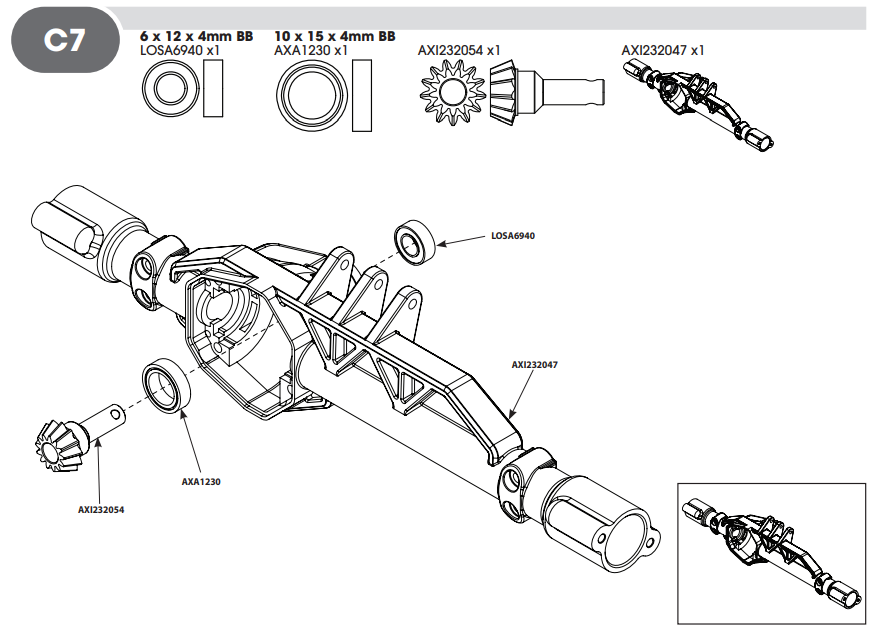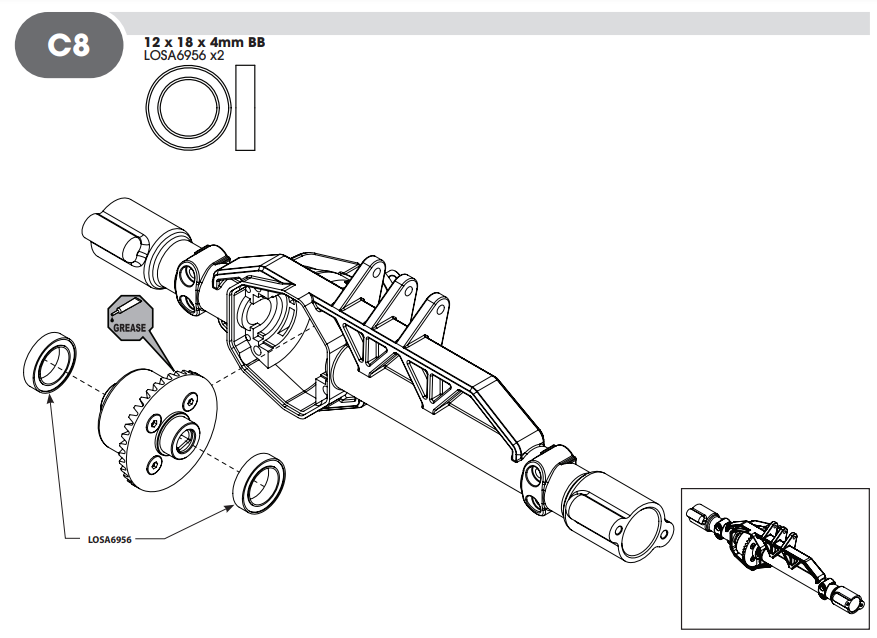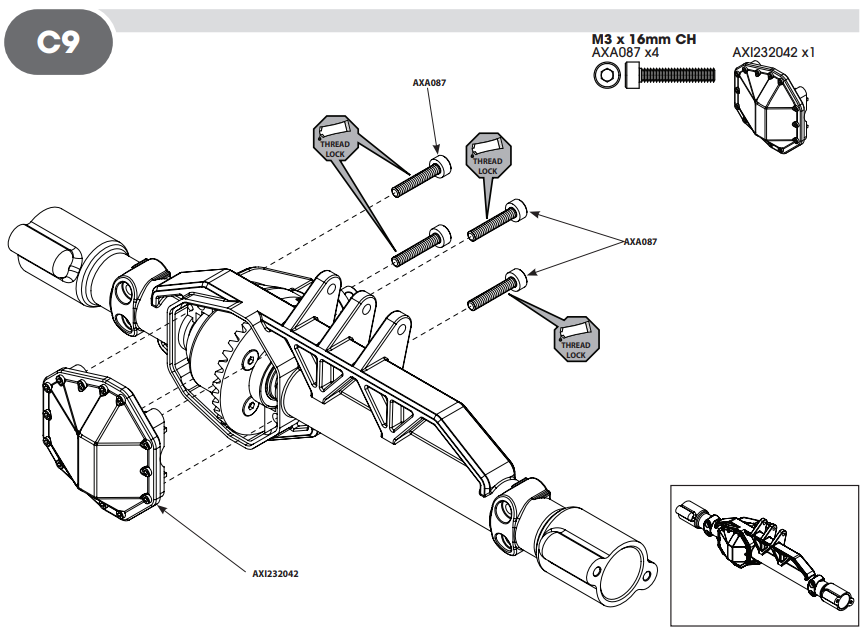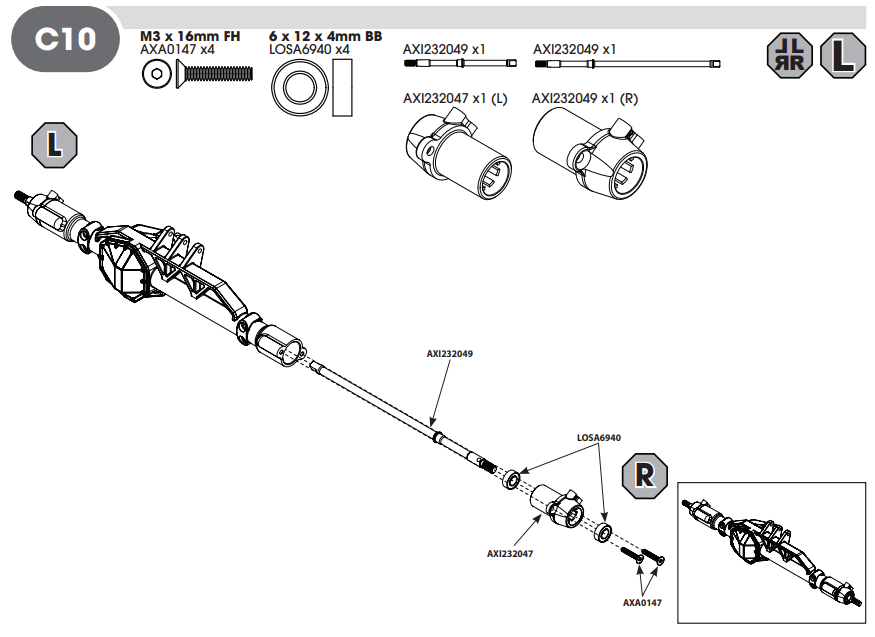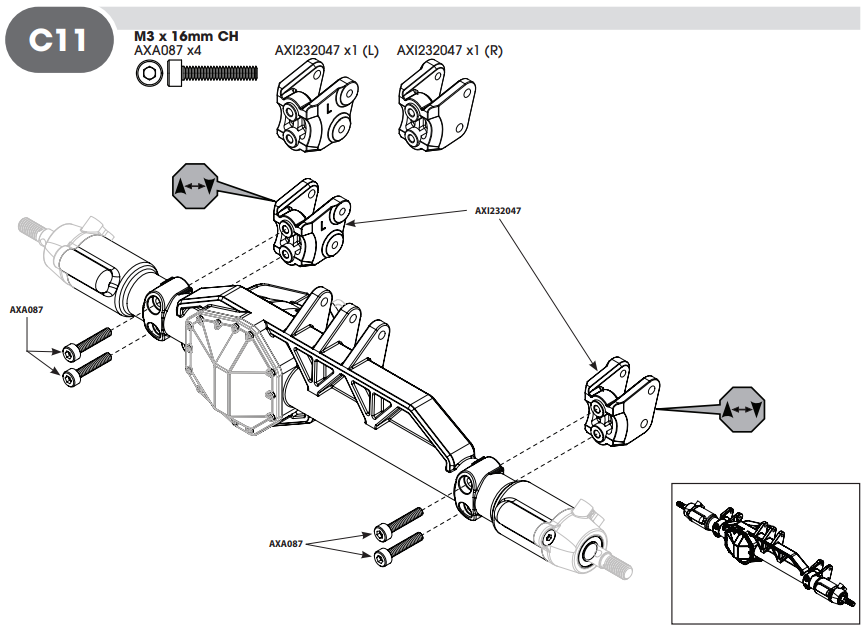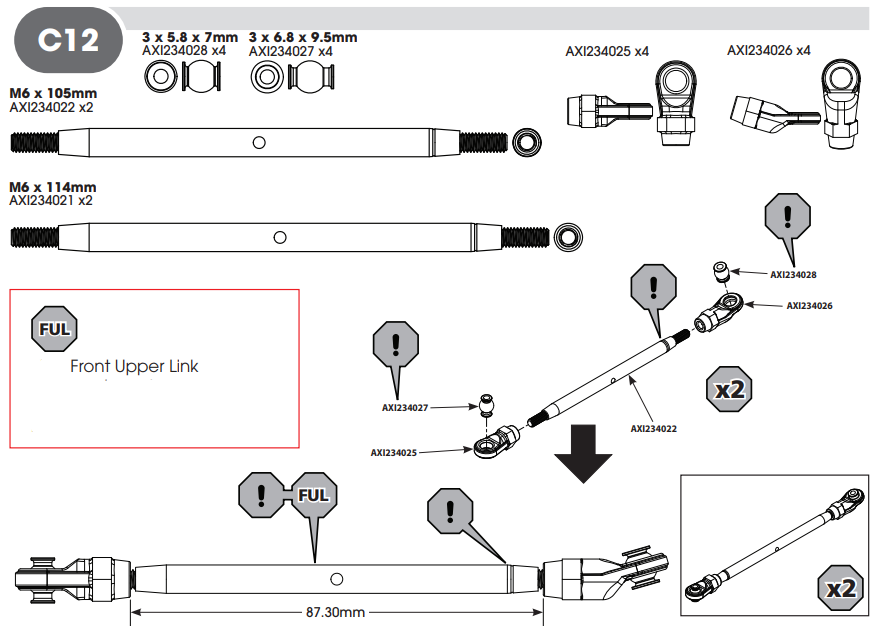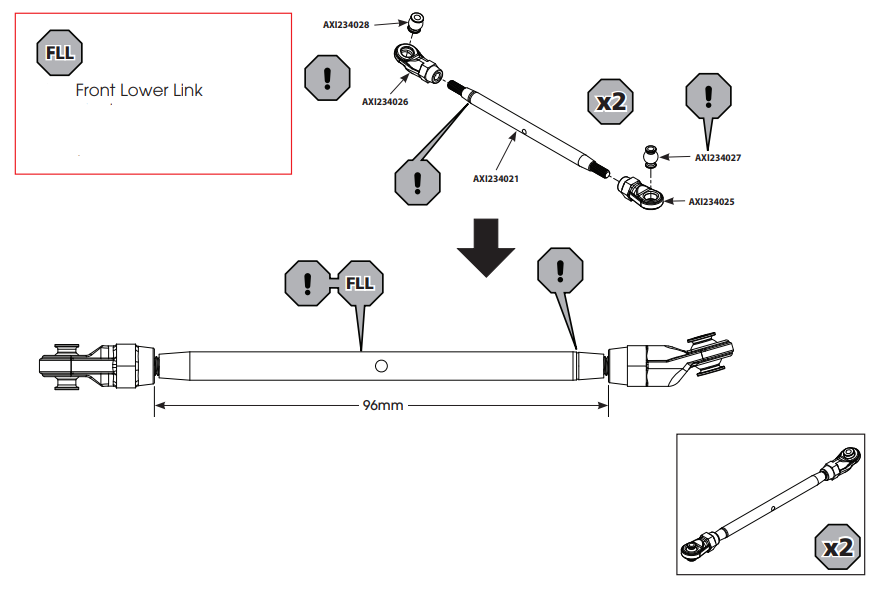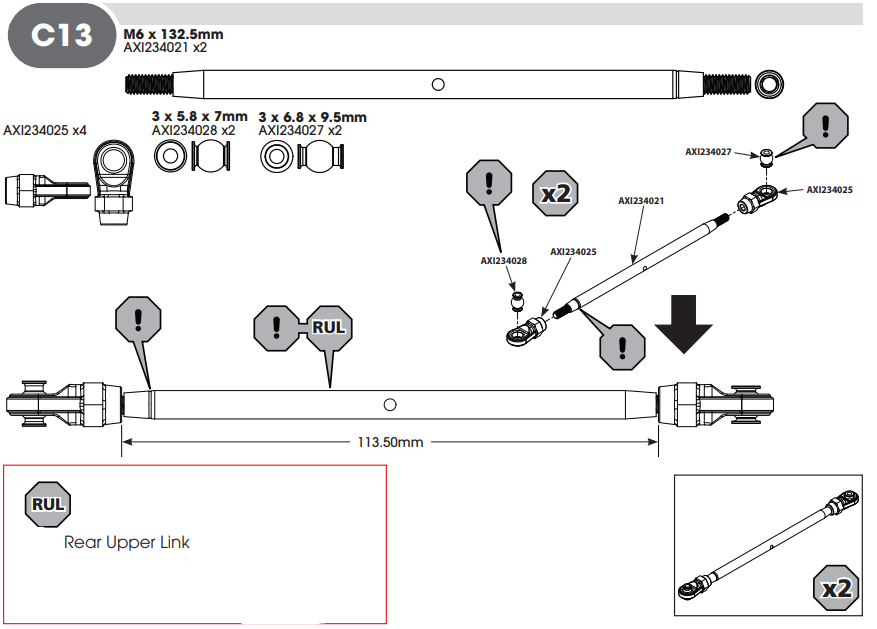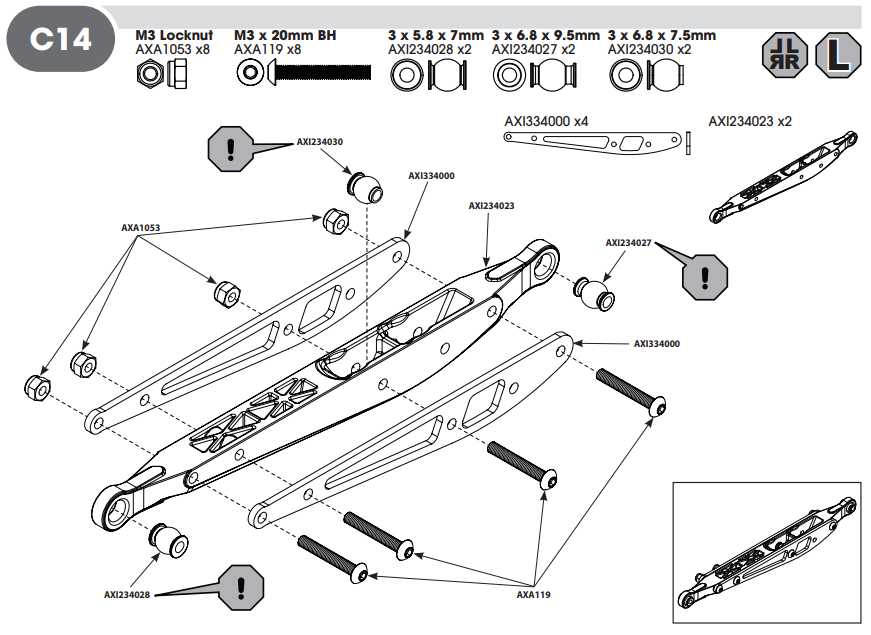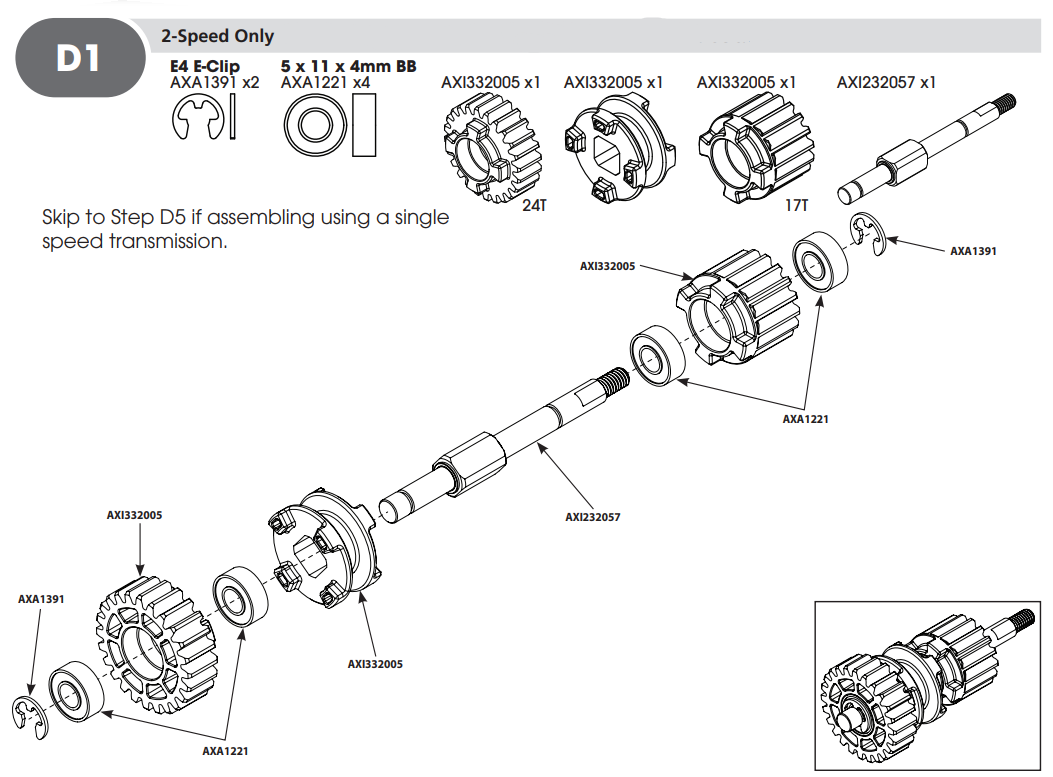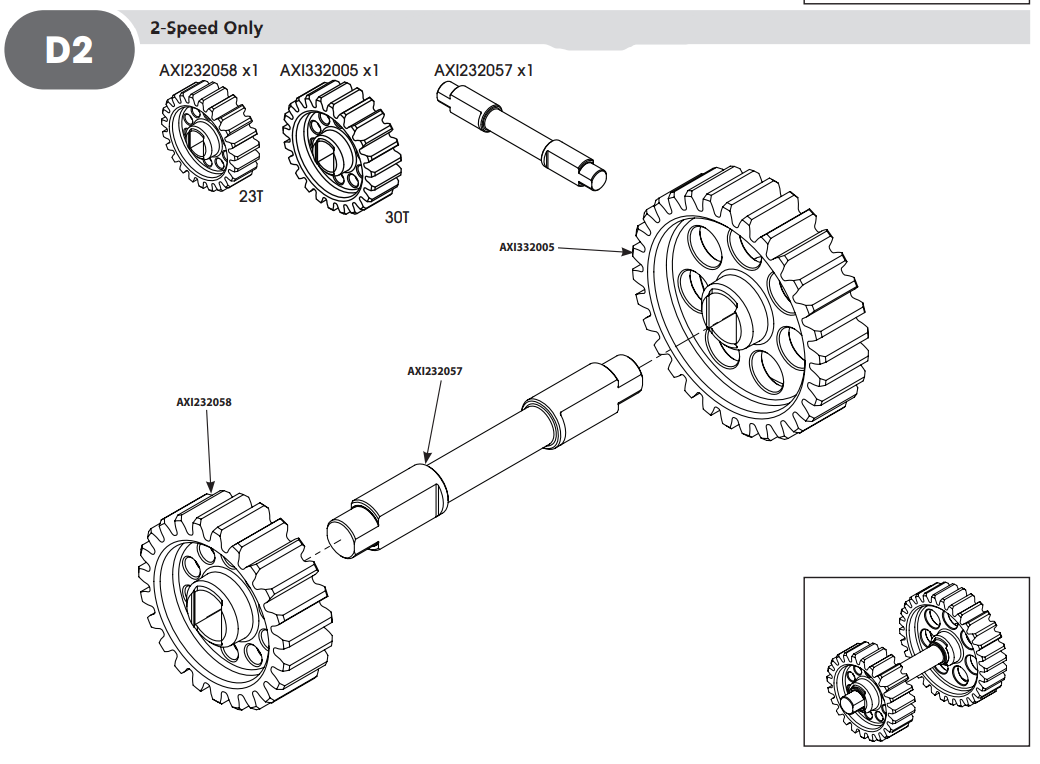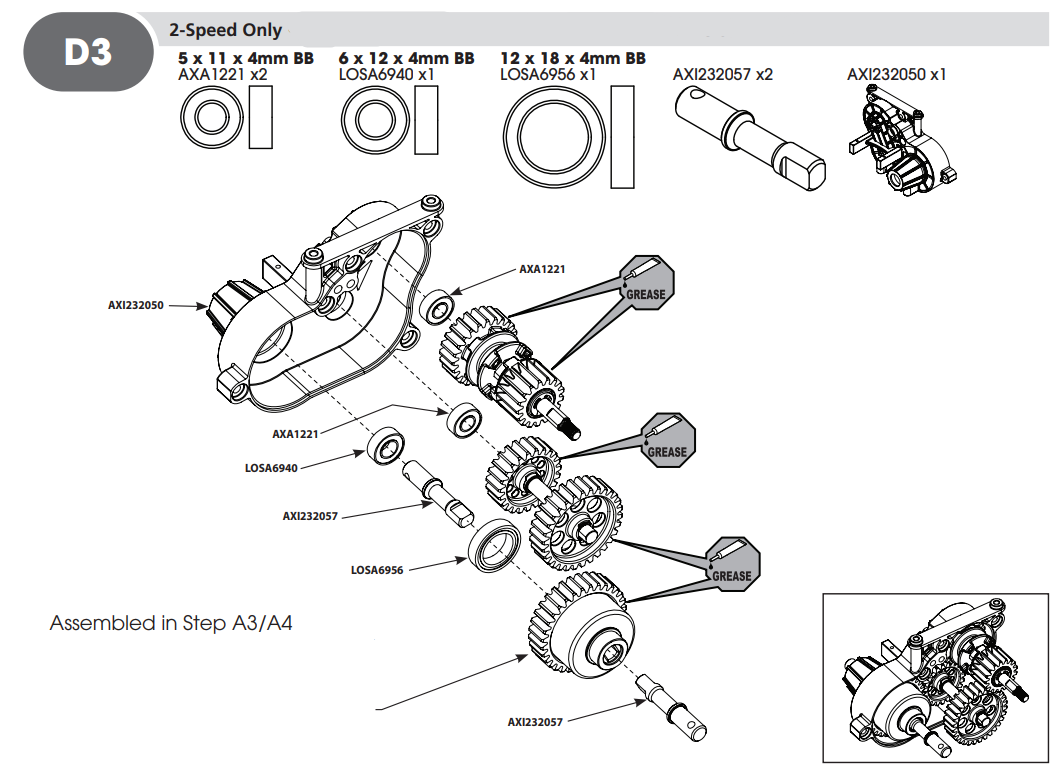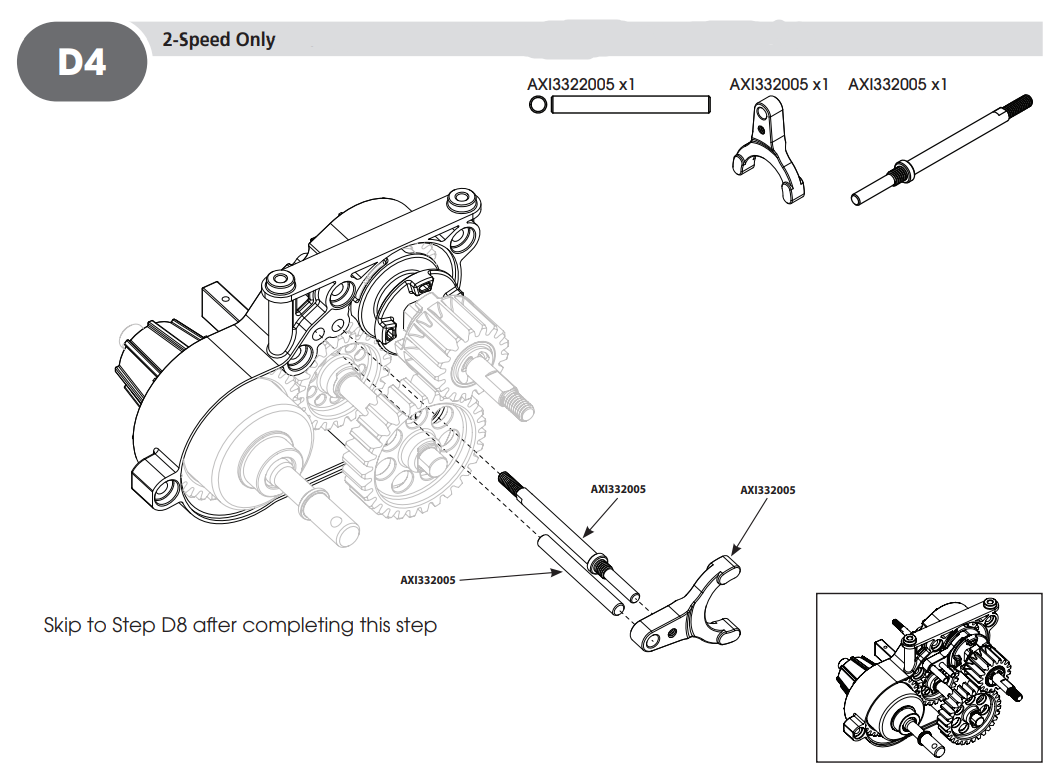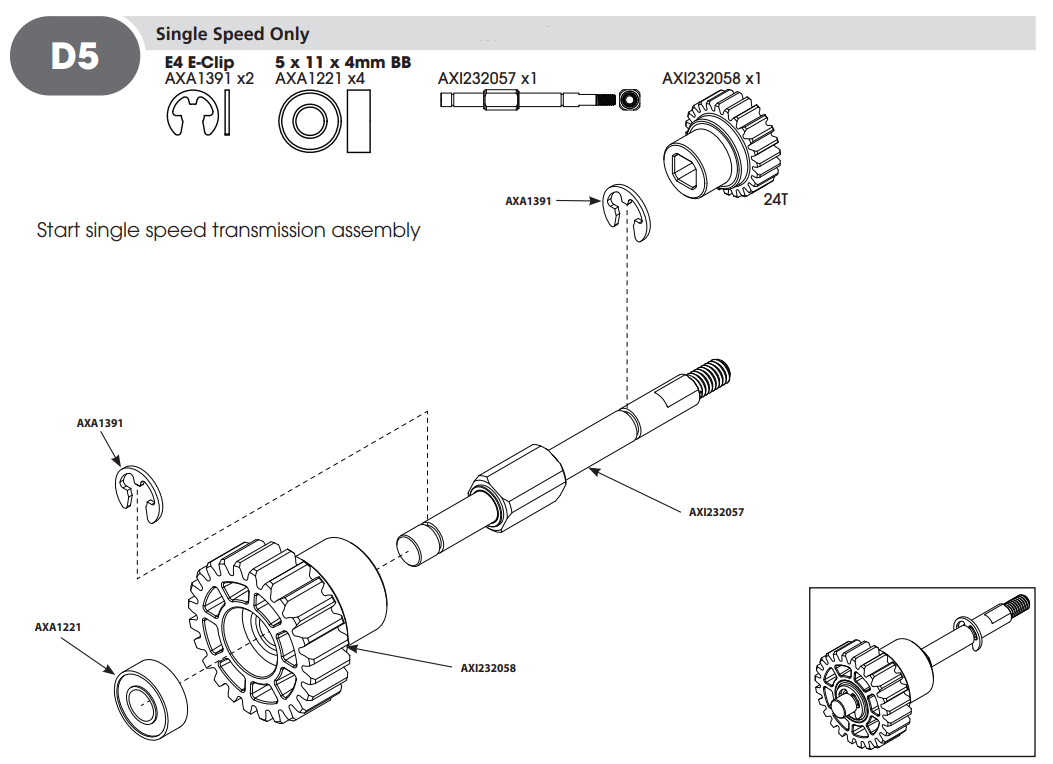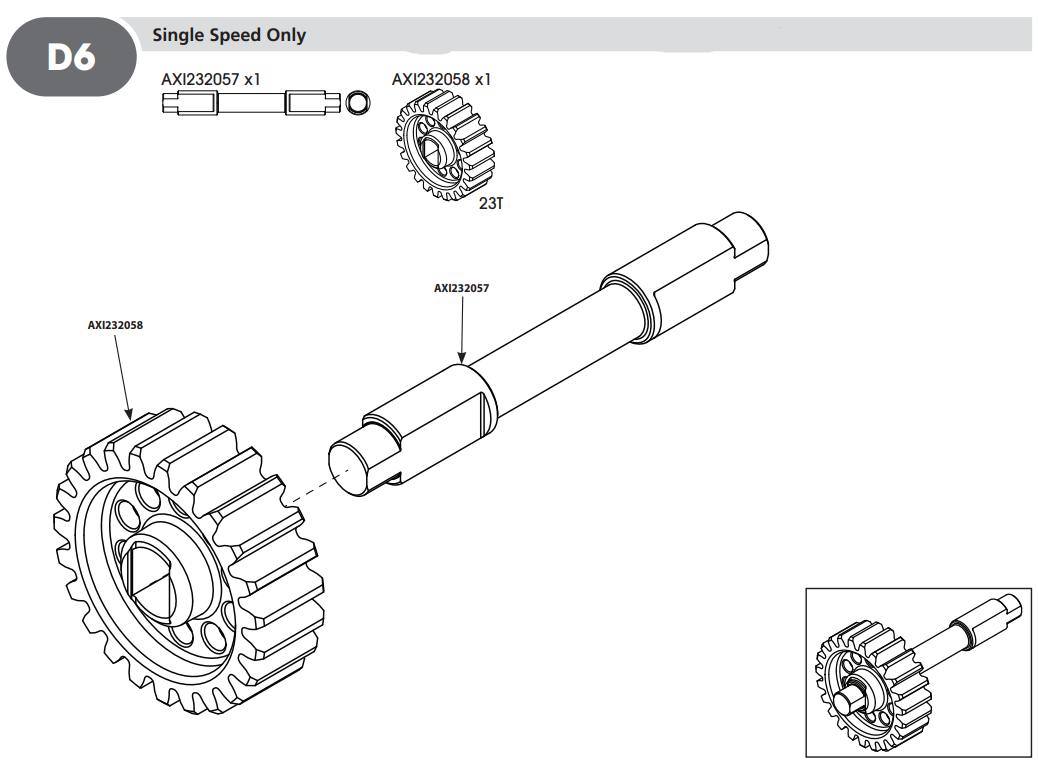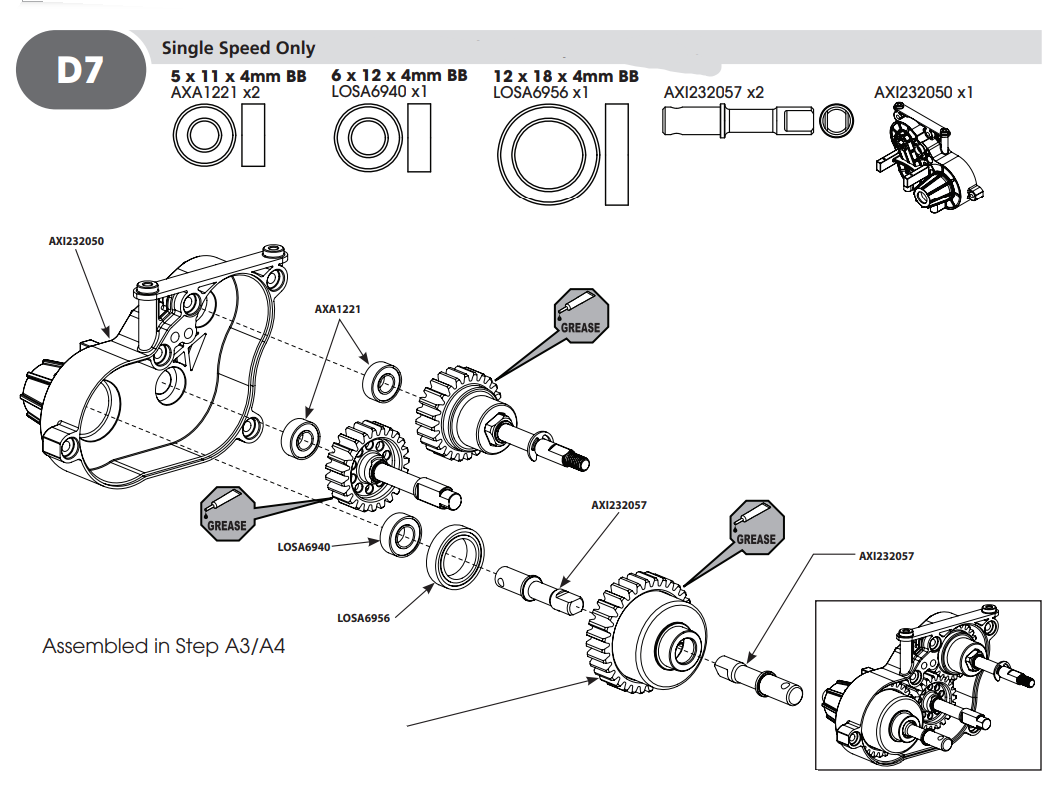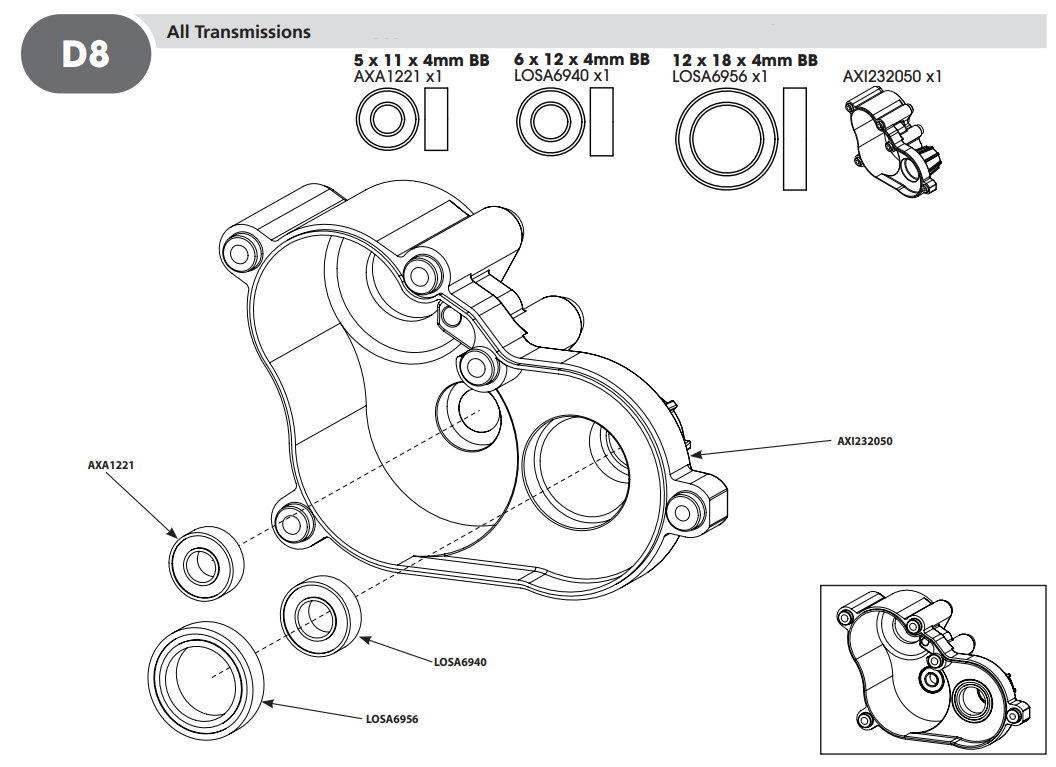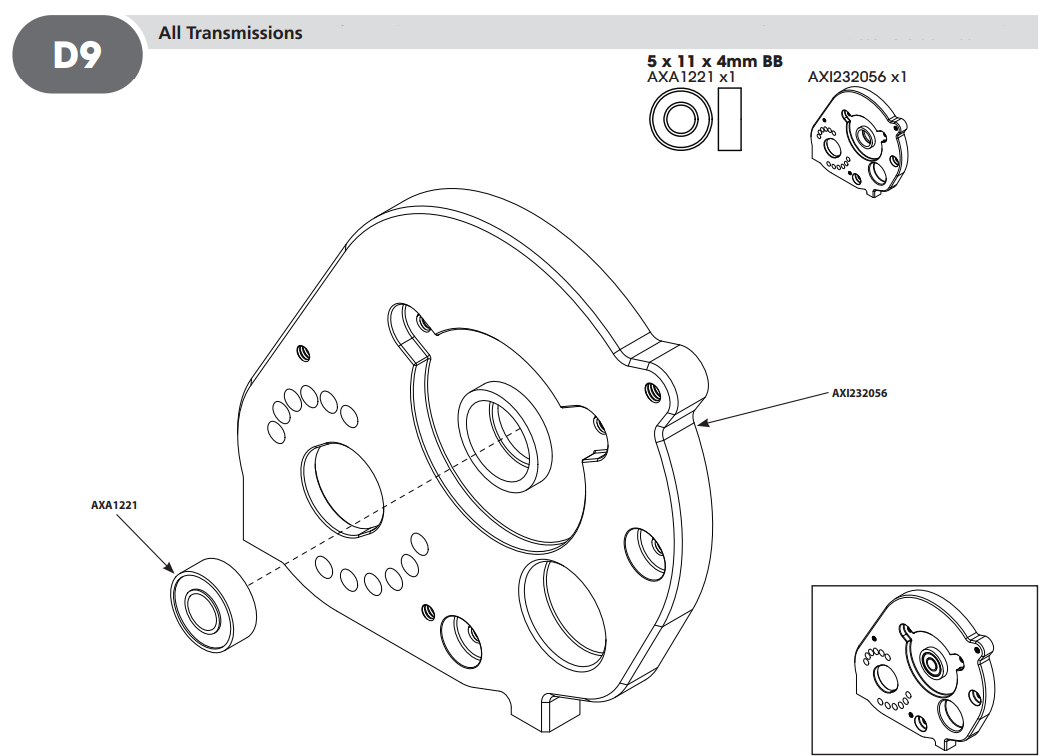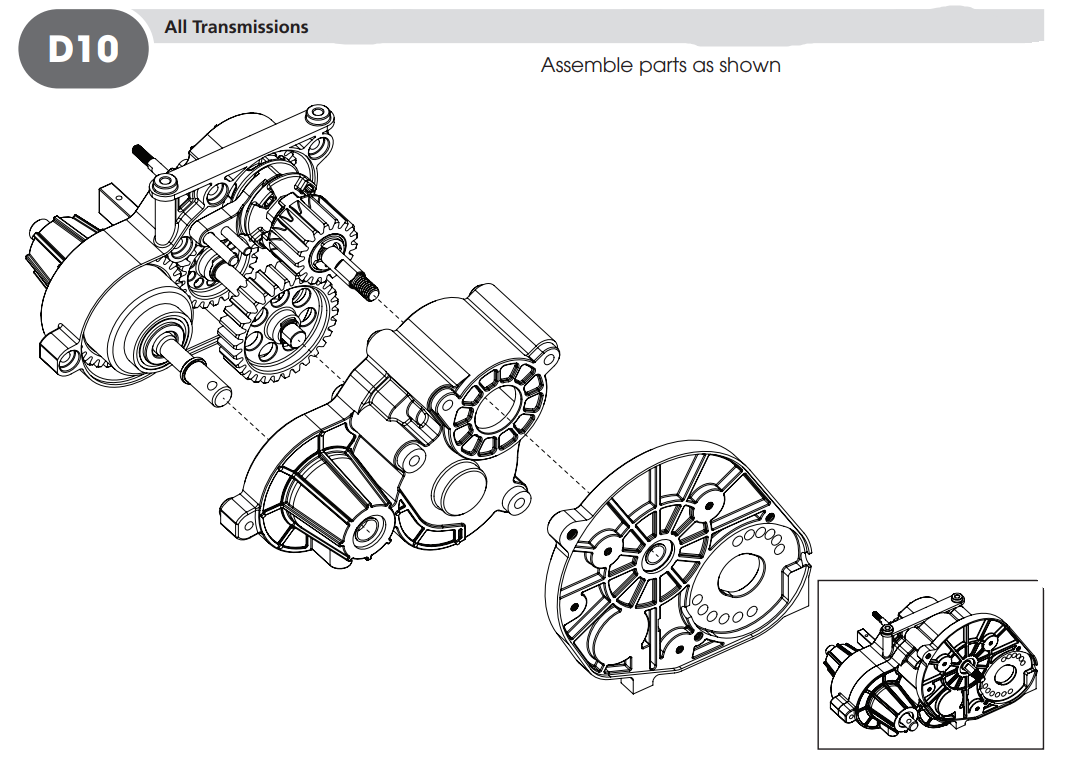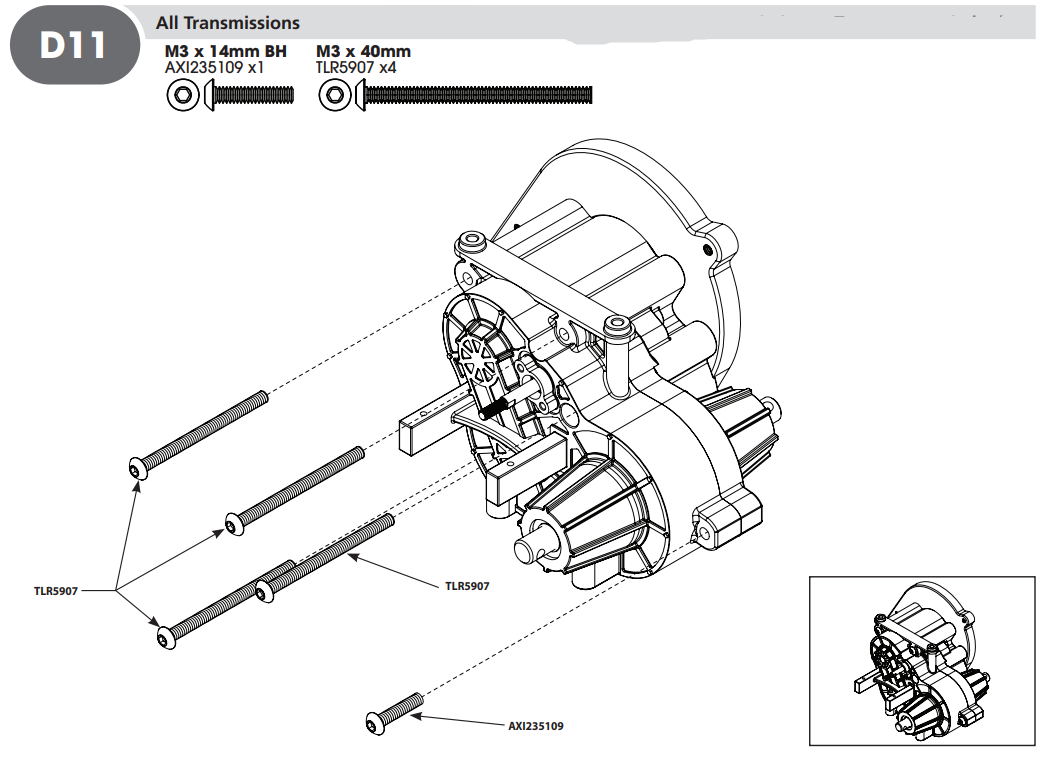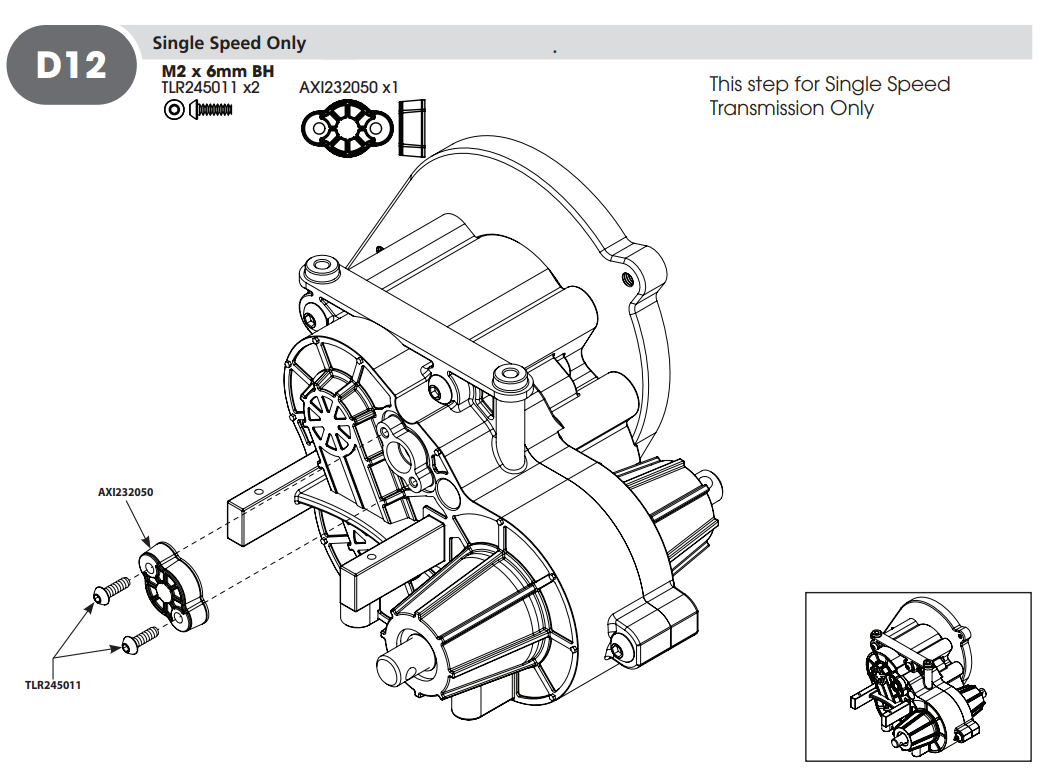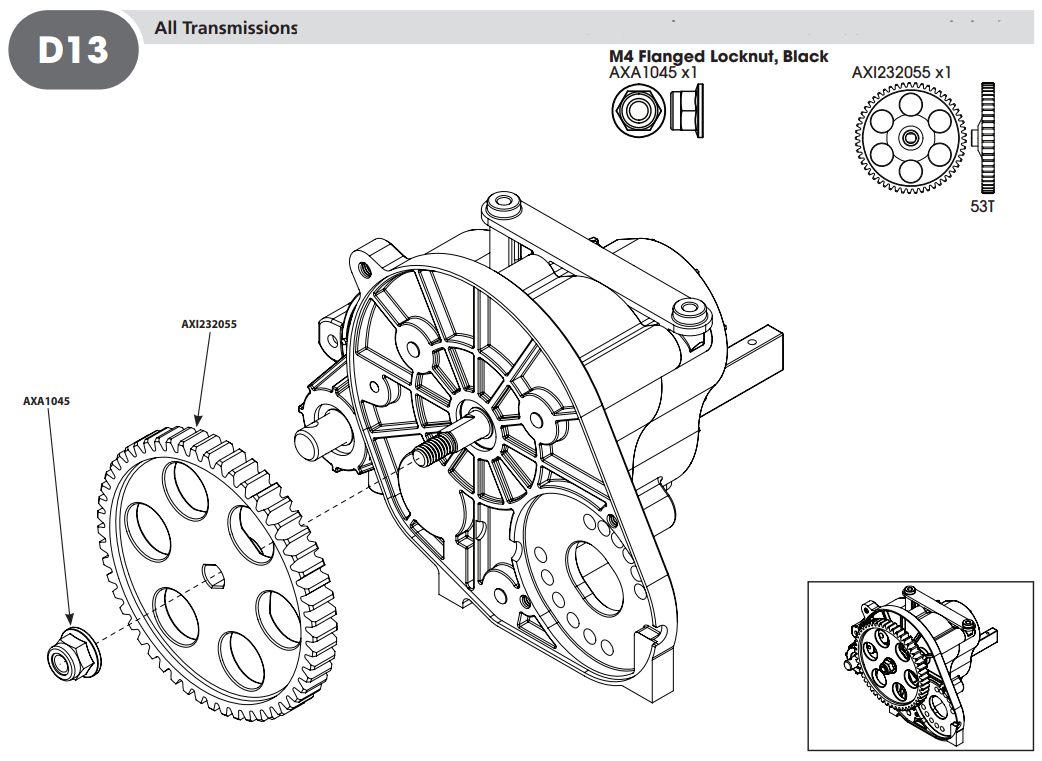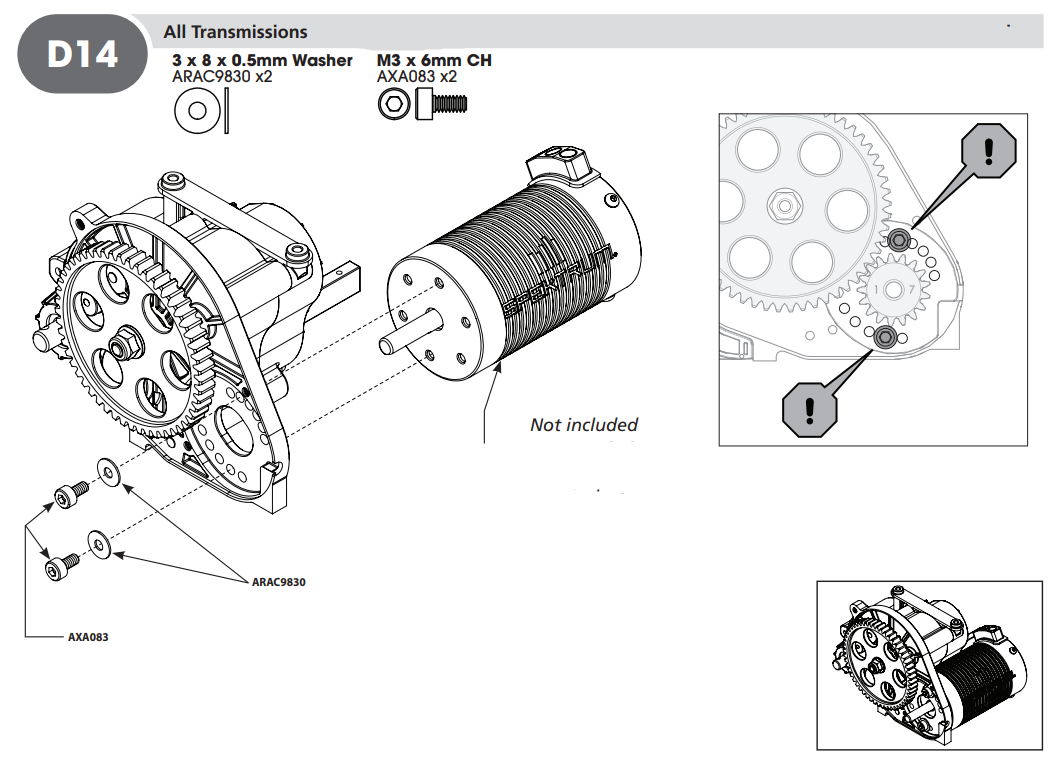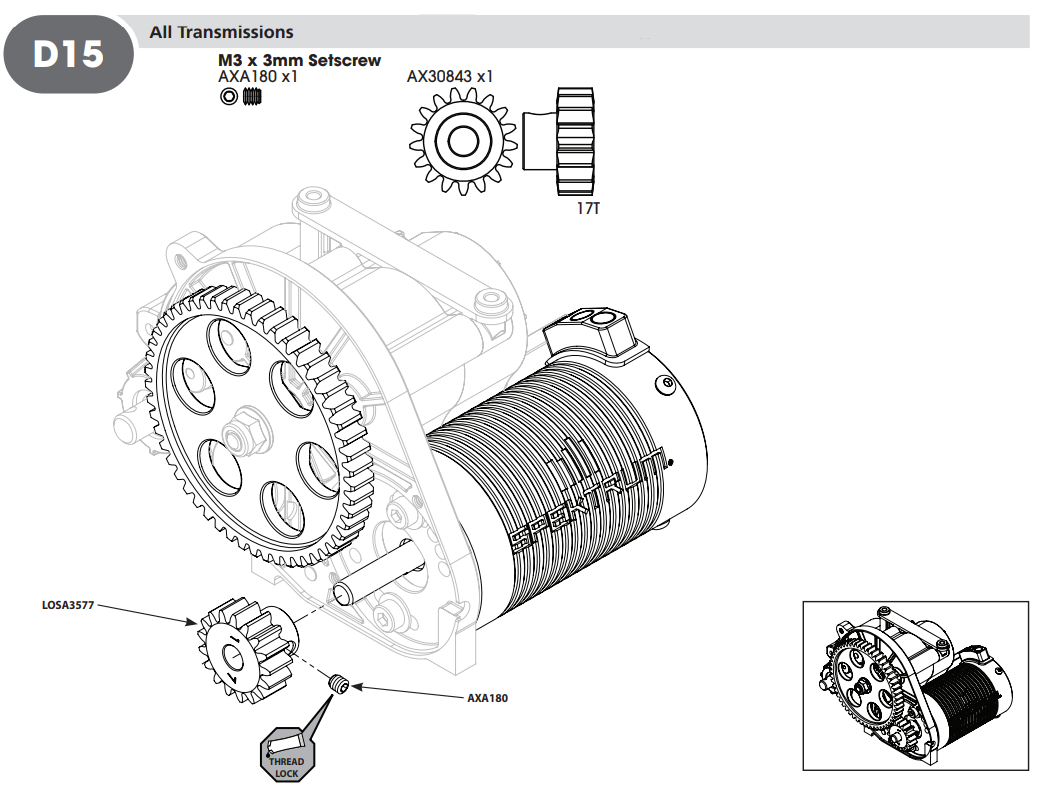 Your vehicle has been equipped with the optimal gearing installed for the use of a 3 or 4S battery. It offers an ideal balance between speed, power, and efficiency. Installing a  pinion gear with fewer teeth or a spur gear with more teeth will provide greater torque but will reduce top speed. Likewise, a pinion gear with more teeth or a spur gear with fewer teeth will reduce torque and increase top speed. Care should be taken when installing larger pinion gears as this can "overhear" the vehicle, resulting in overheating of the motor and ESC. When testing different gearing options, pay close attention to the temperature of the motor and speed control to ensure you are operating within the temperature range of the components. The motor or ESC should never be so hot that it cannot be touched. If temperatures are too hot, a different gearing combination withlower pinion gear and/or higher spur gear is suggested.Adjusting the gear mesh
Remove the two screws holding the motor to the mount.
With your chosen gear installed on the motor shaft, select the pair of motor mounting holes that allow for the tightest gear mesh without having to force the gears together or forcing the motor holes to line up with the mount.
Install the two motor mounting screws and washers. There should be just enough space between the pinion and spur gears that a small piece of paper can be rotated between the gears easily. If the paper is difficult to rotate into the gears, remove the mounting screws and rotate the motor to the next set of mounting holes. Re-install the mounting screws.
Remove the paper. Check the mesh at 3–5 different locations around the spur gear for a small amount of movement.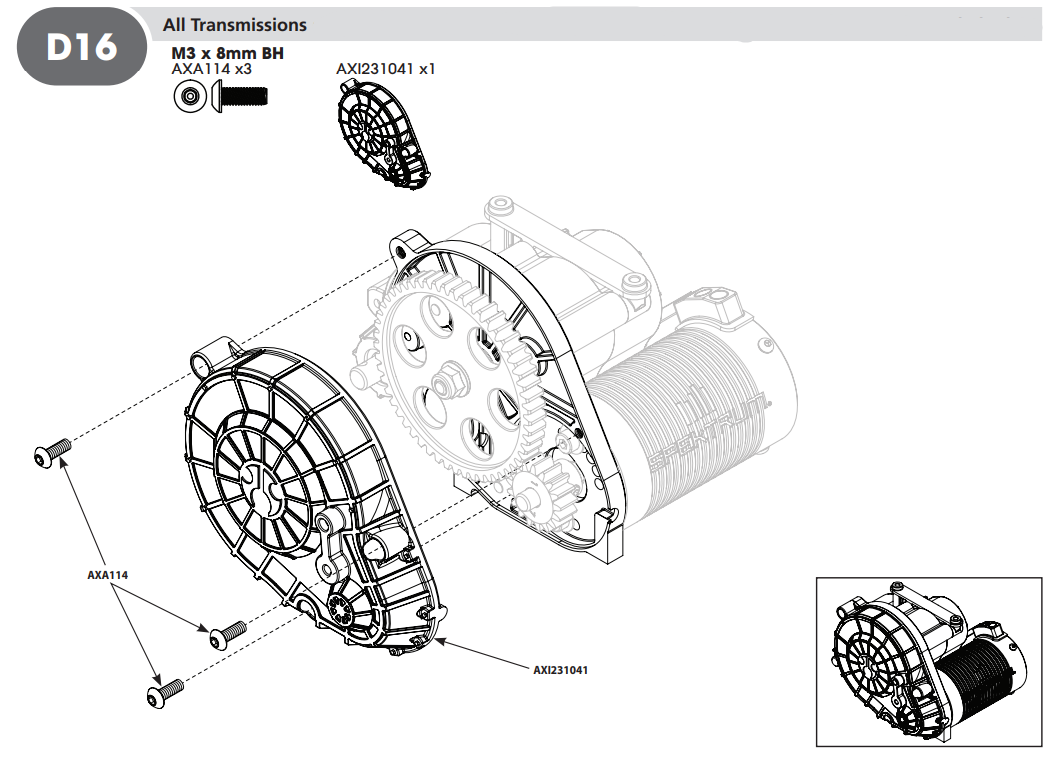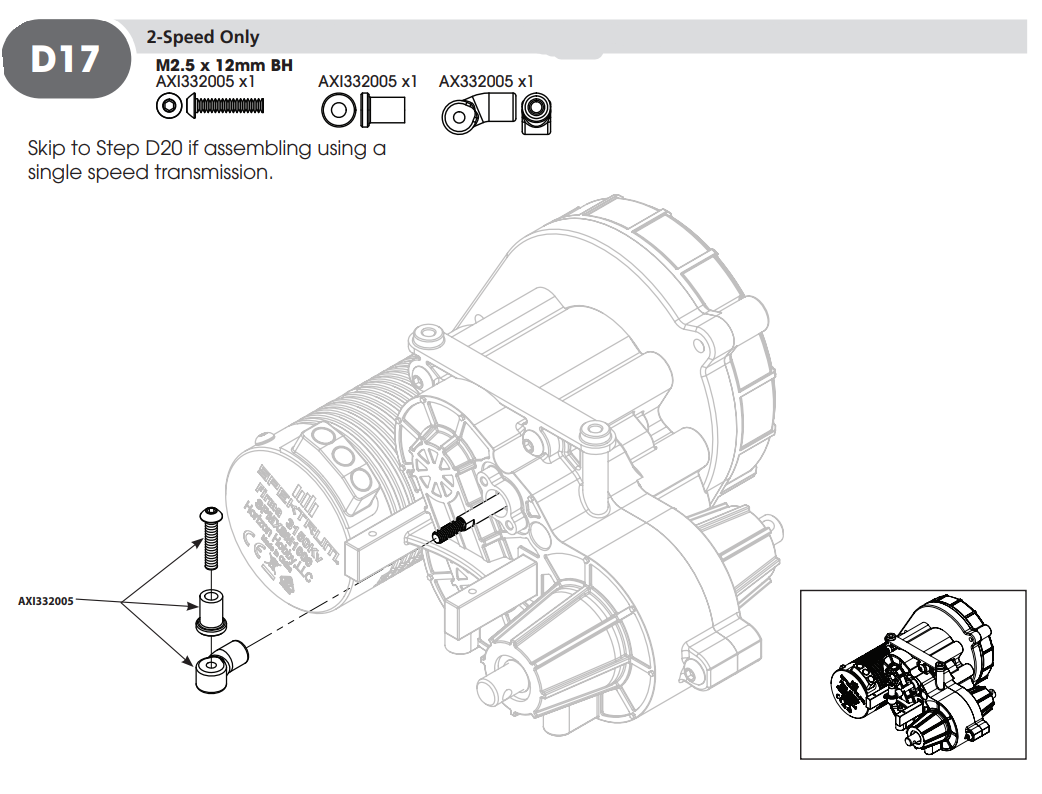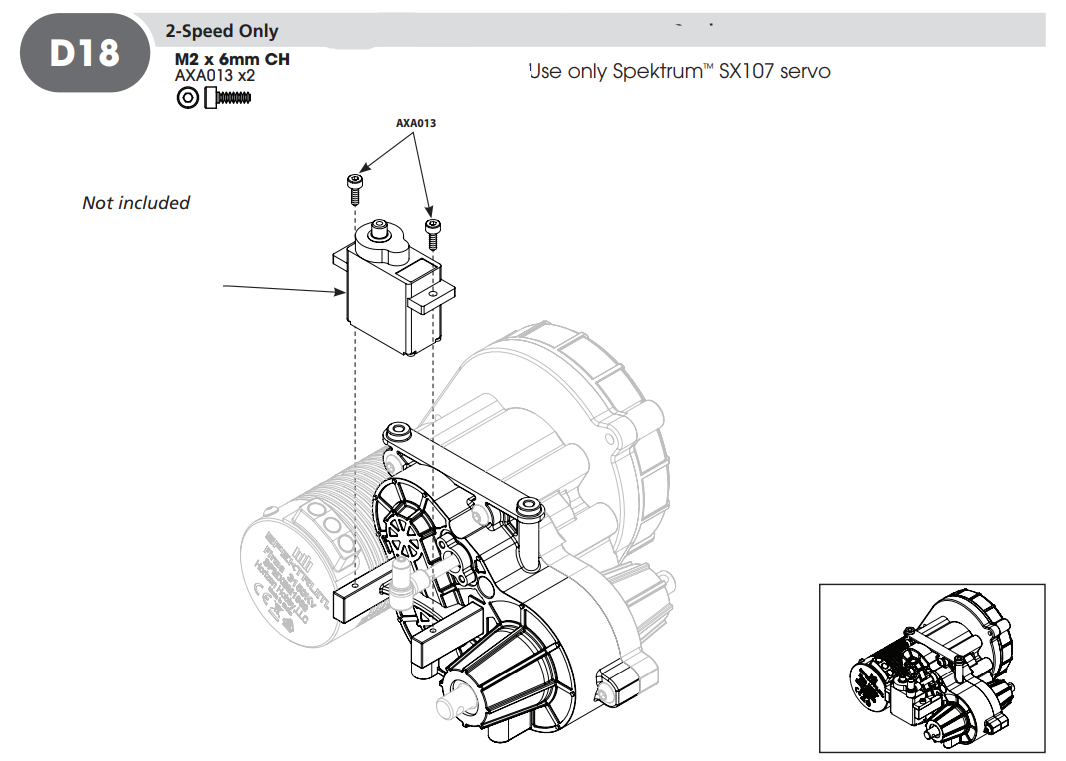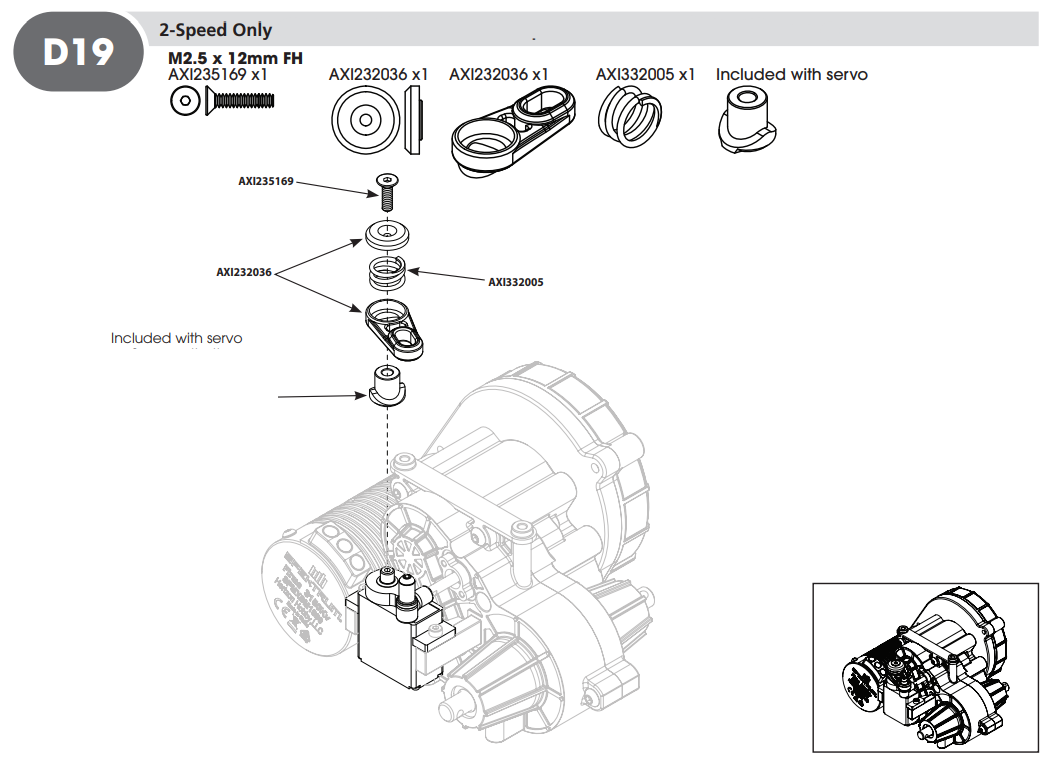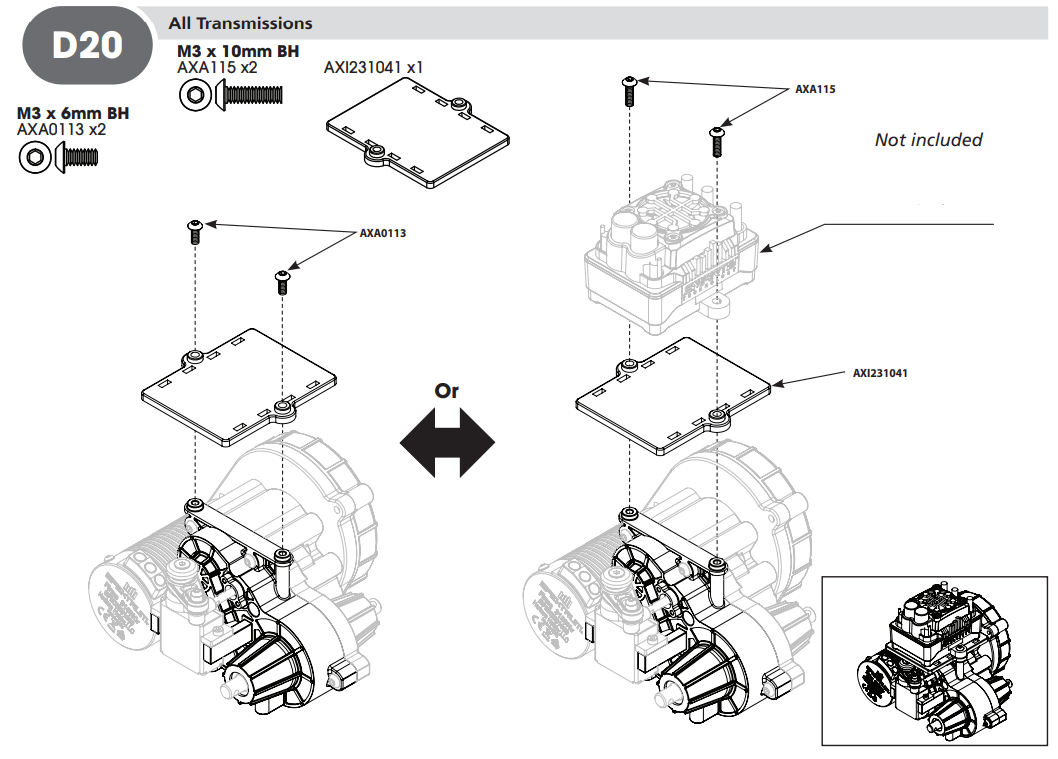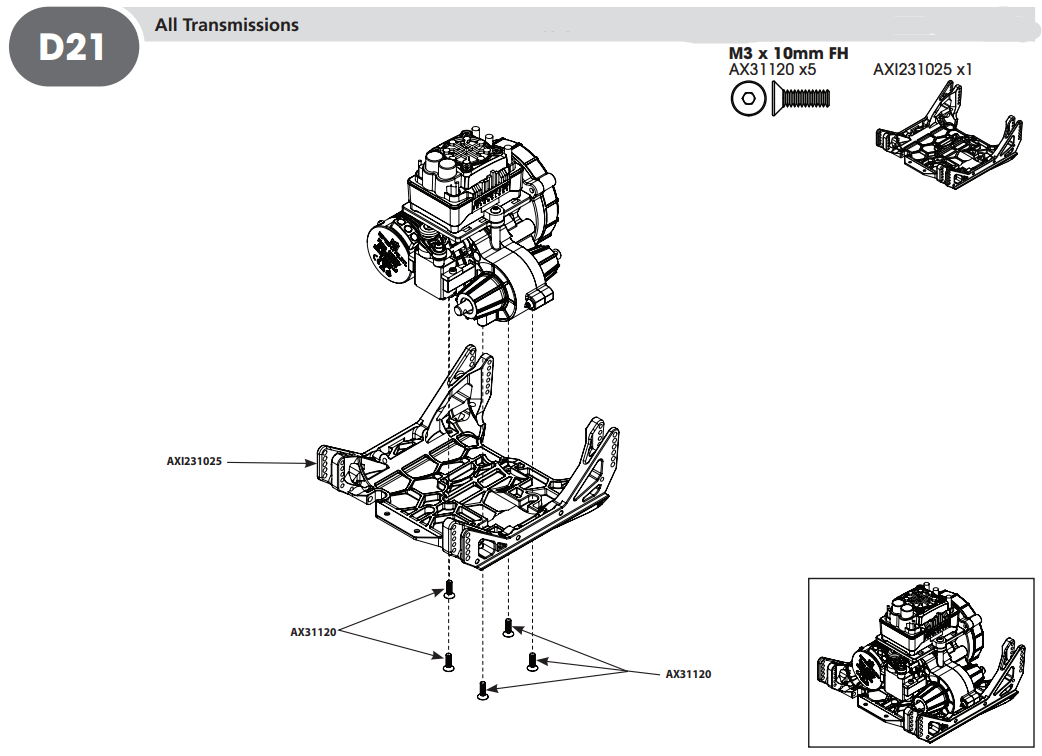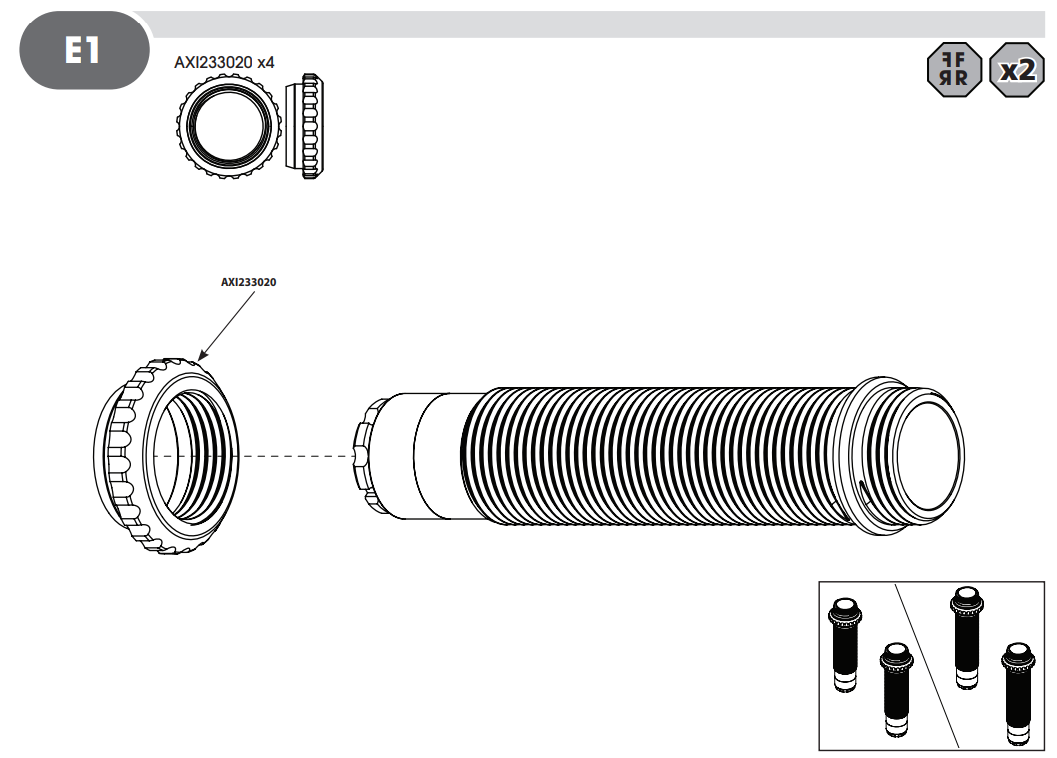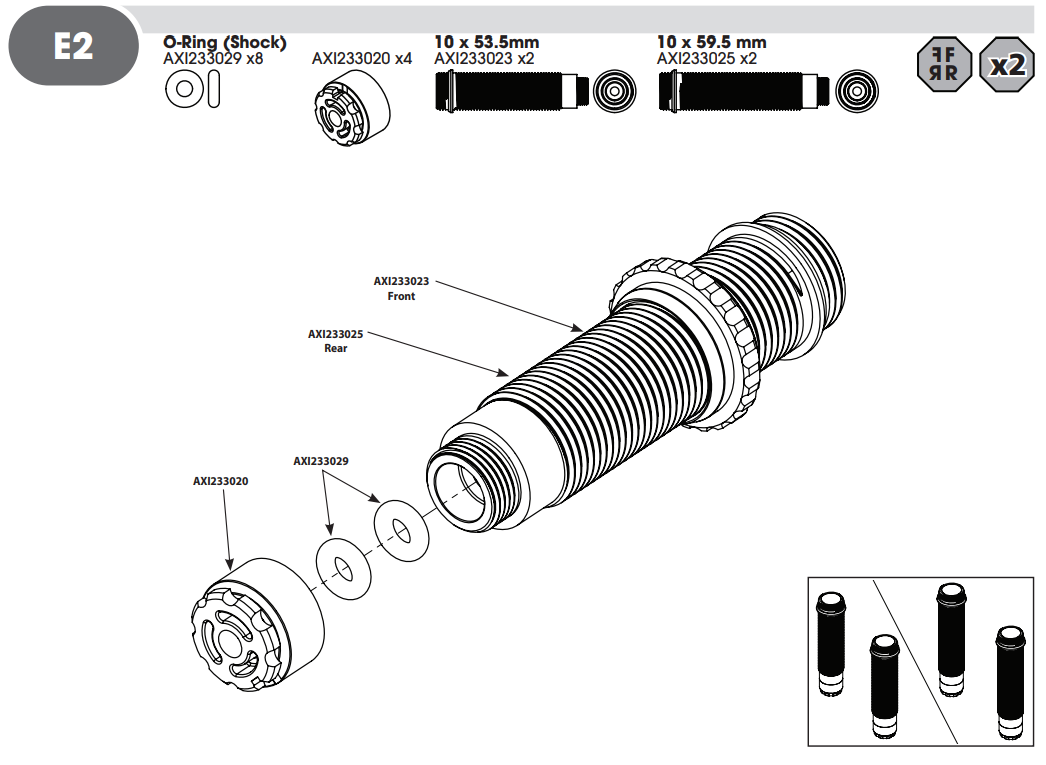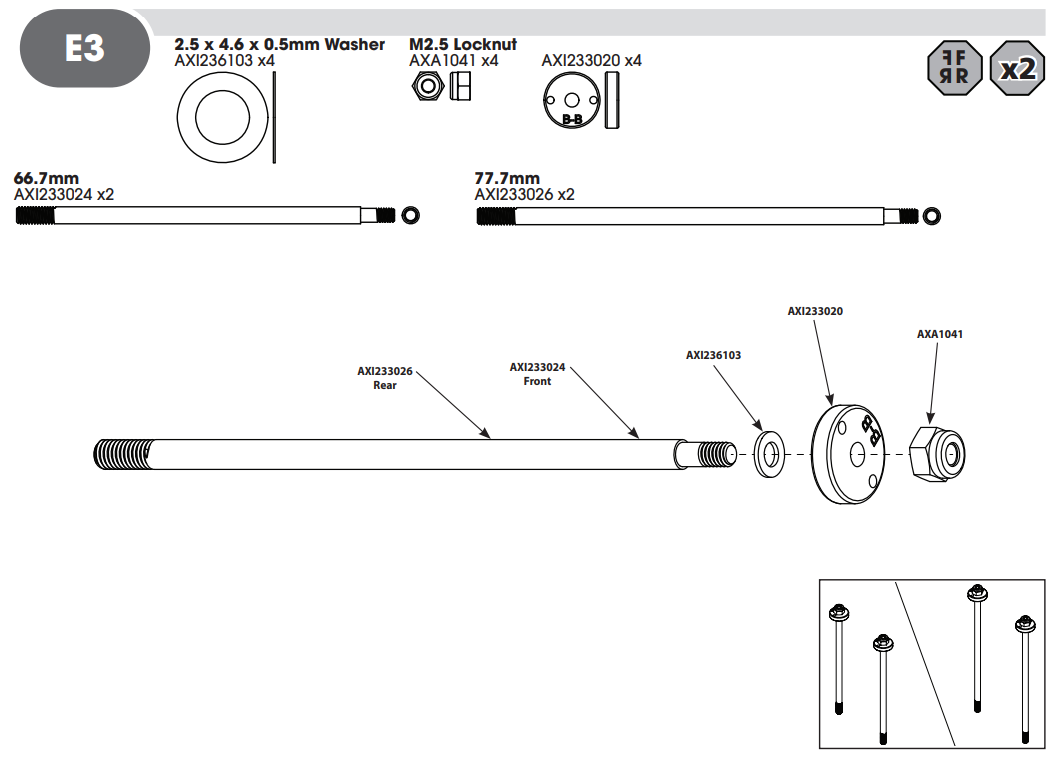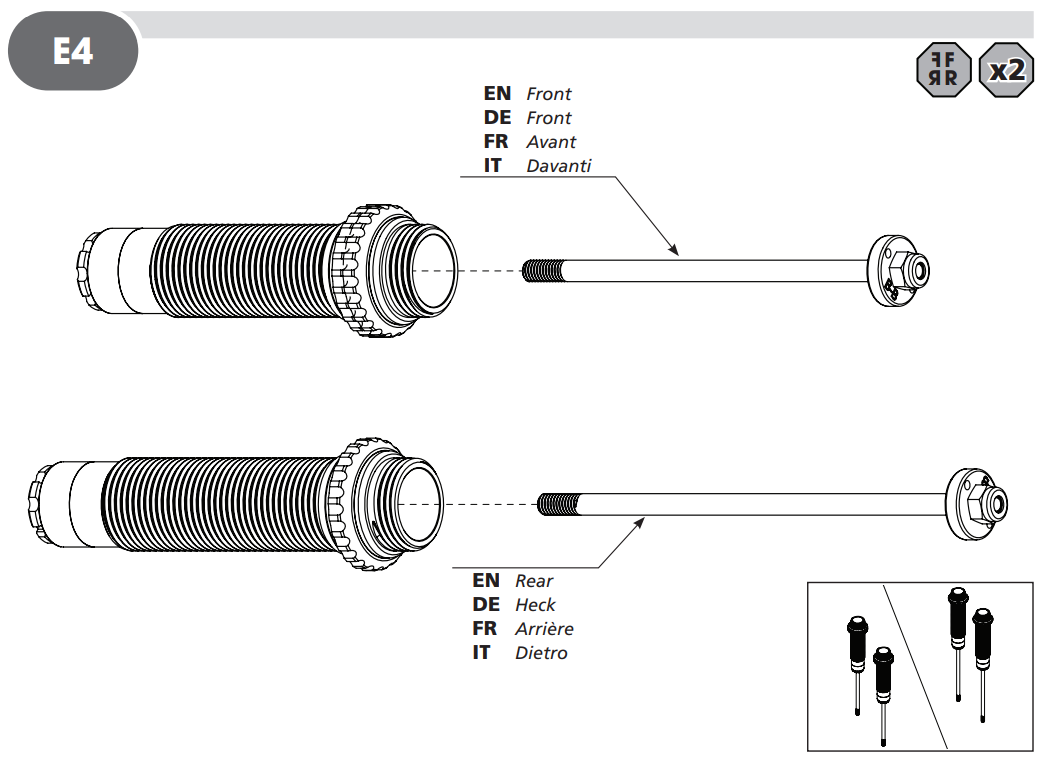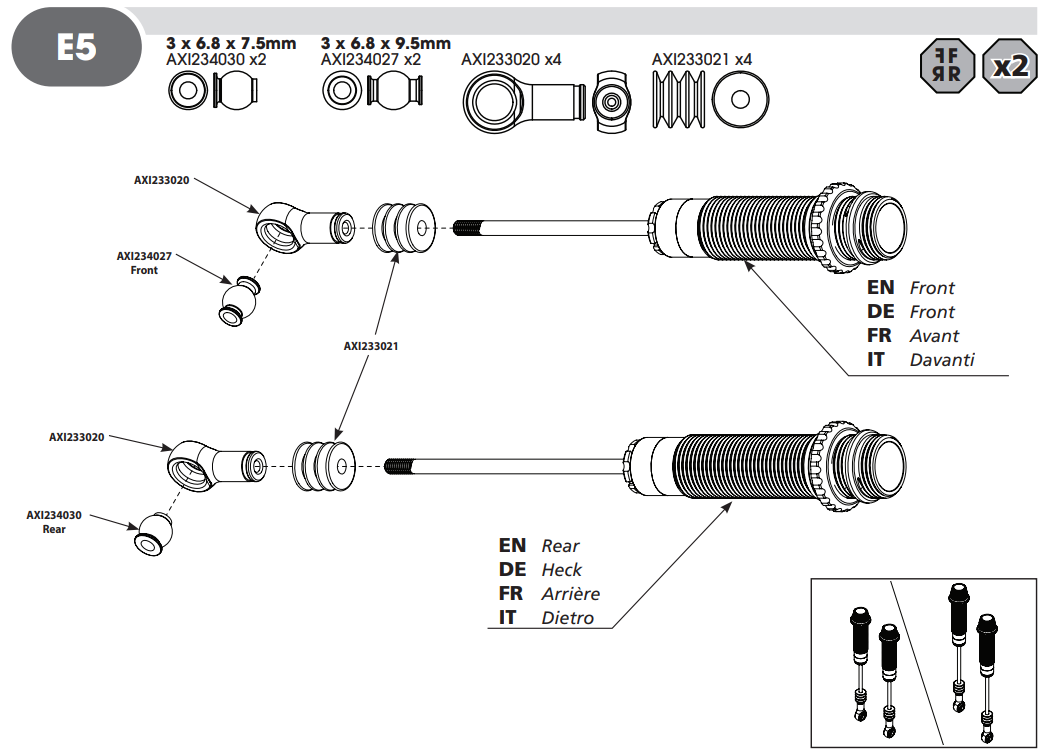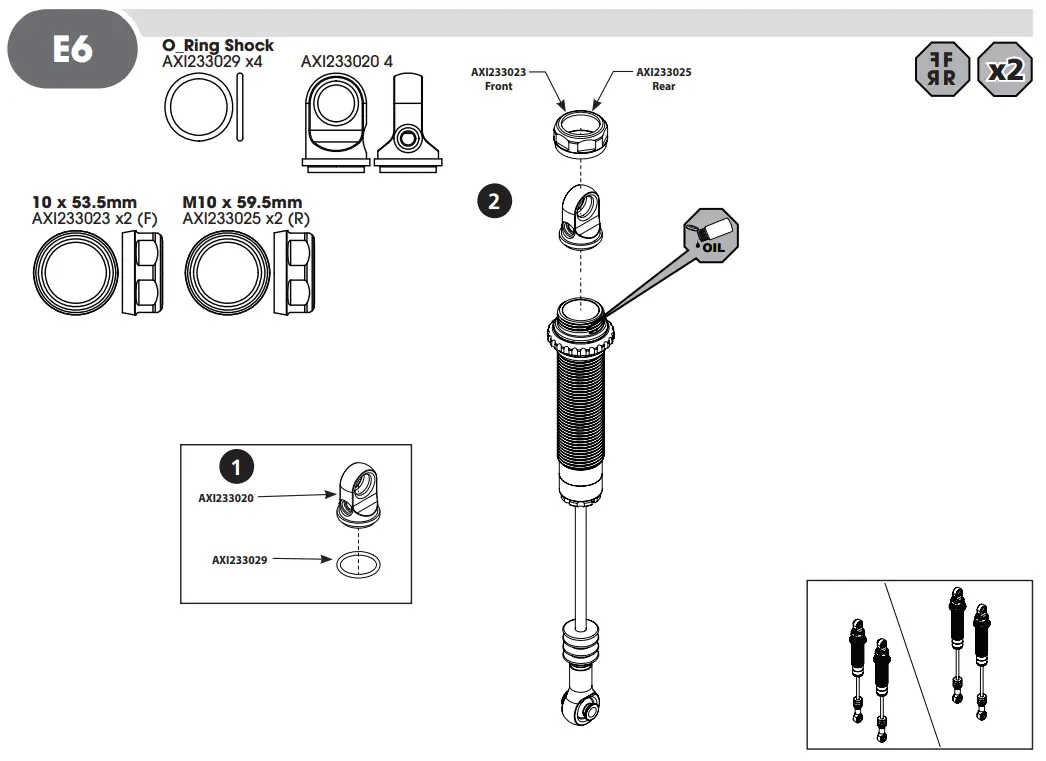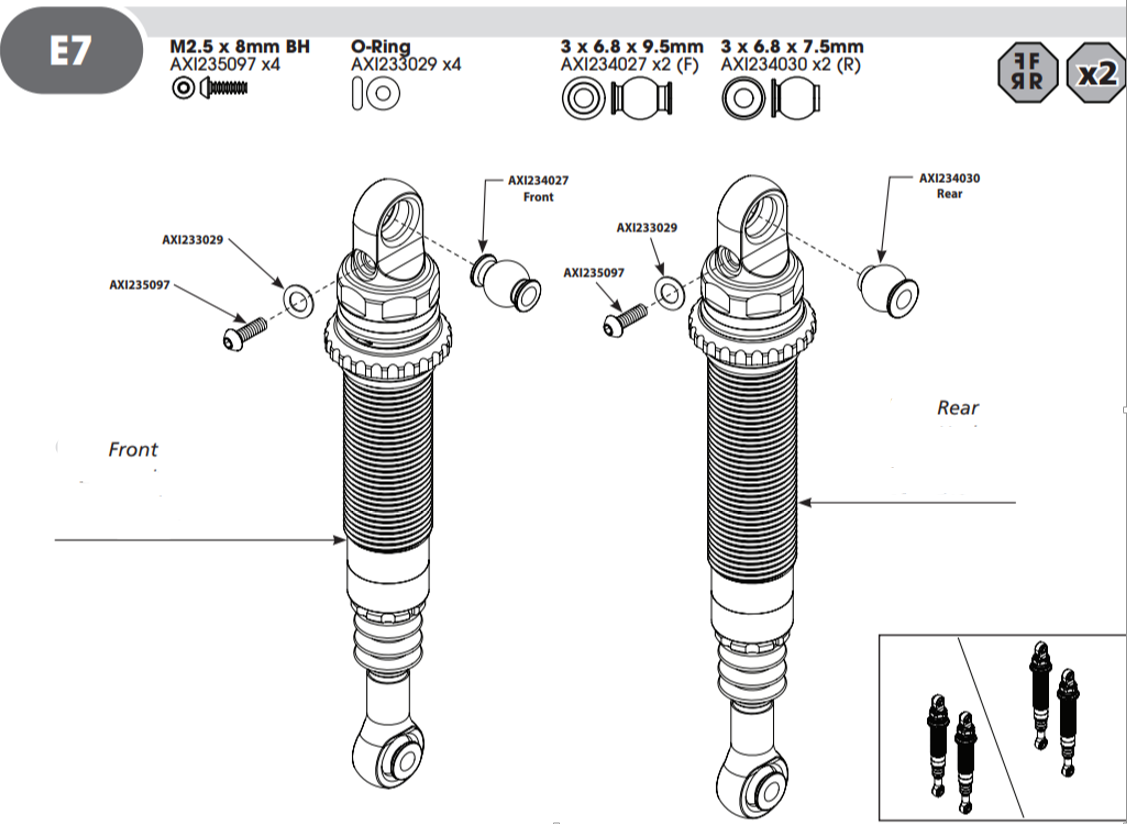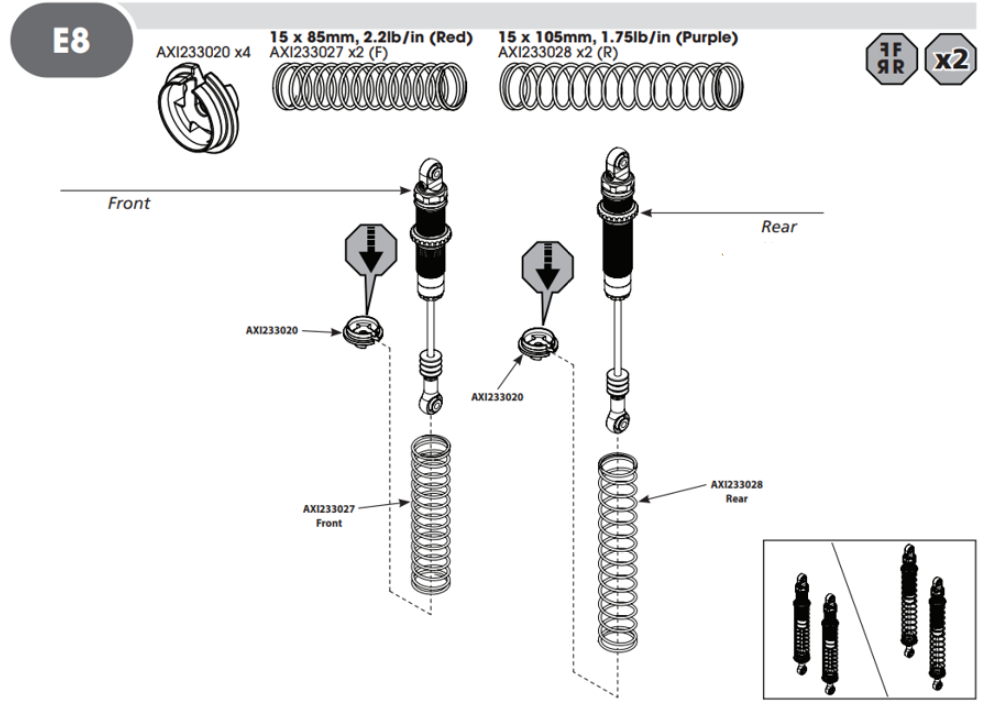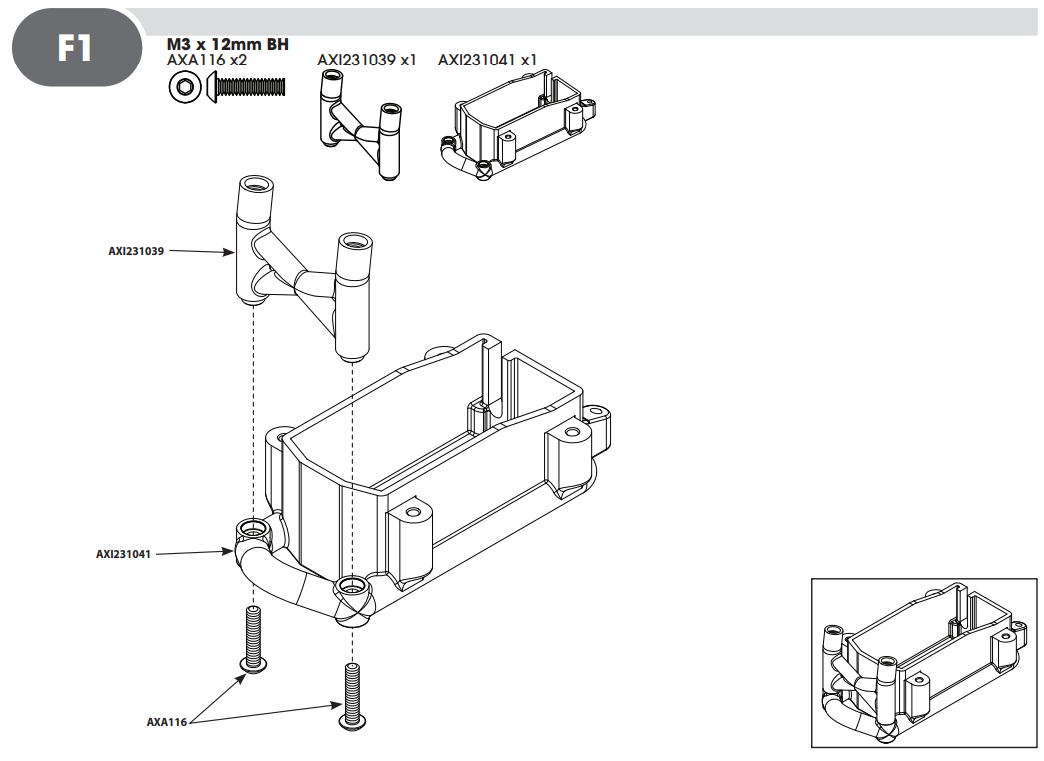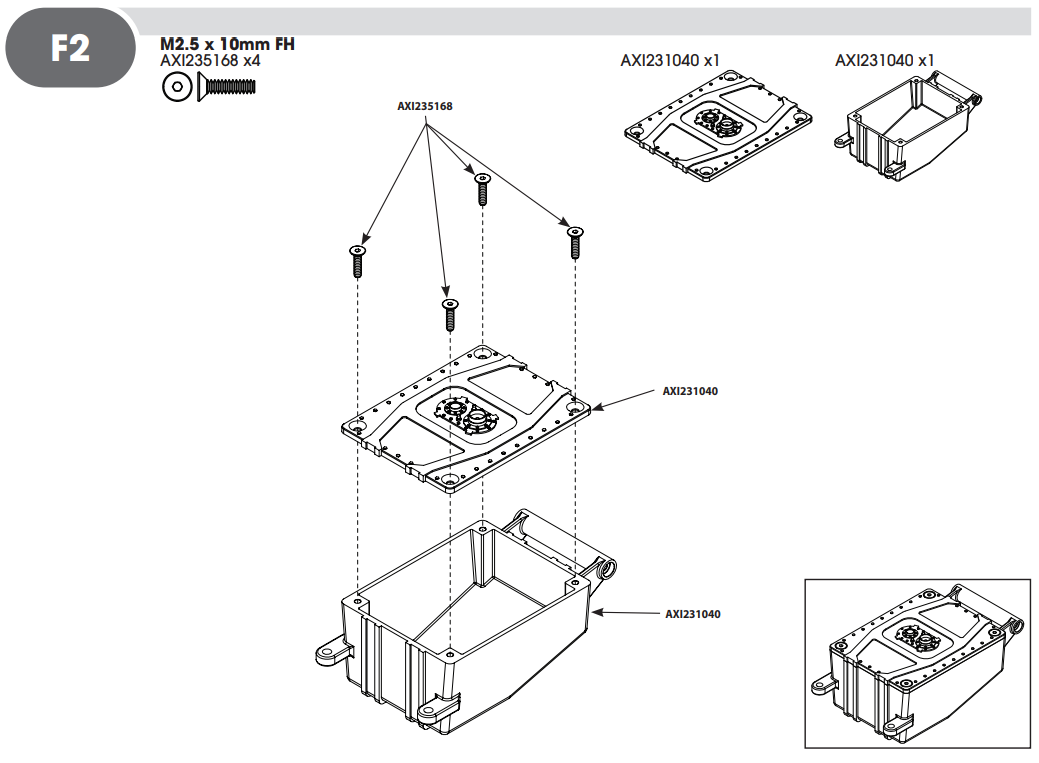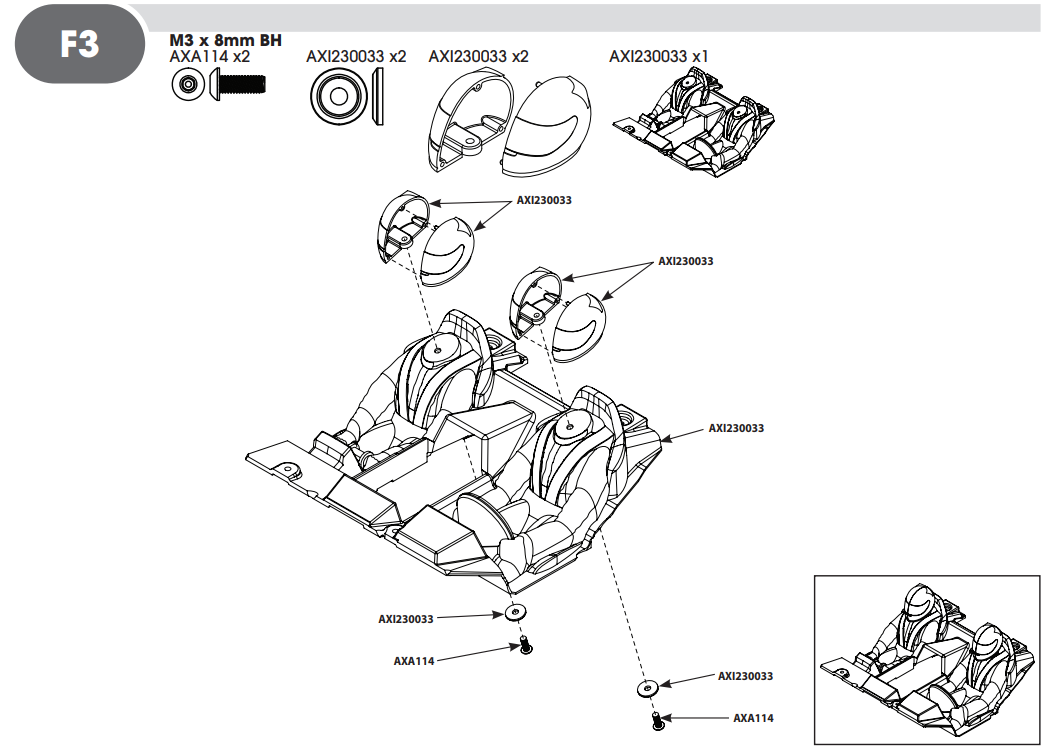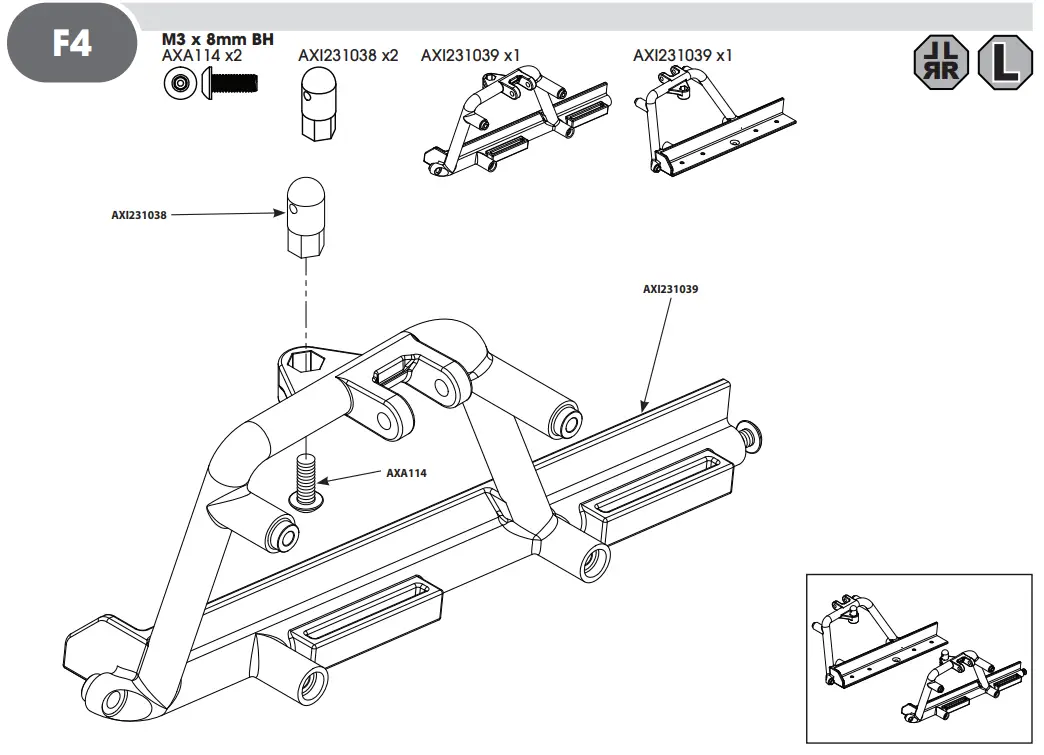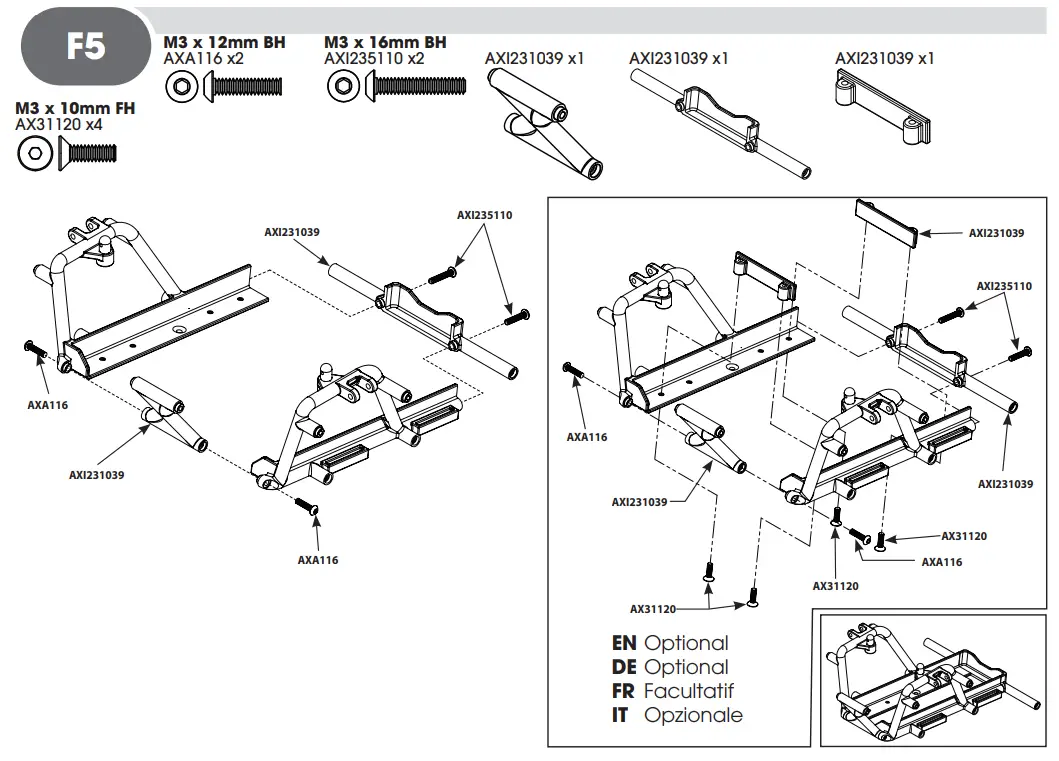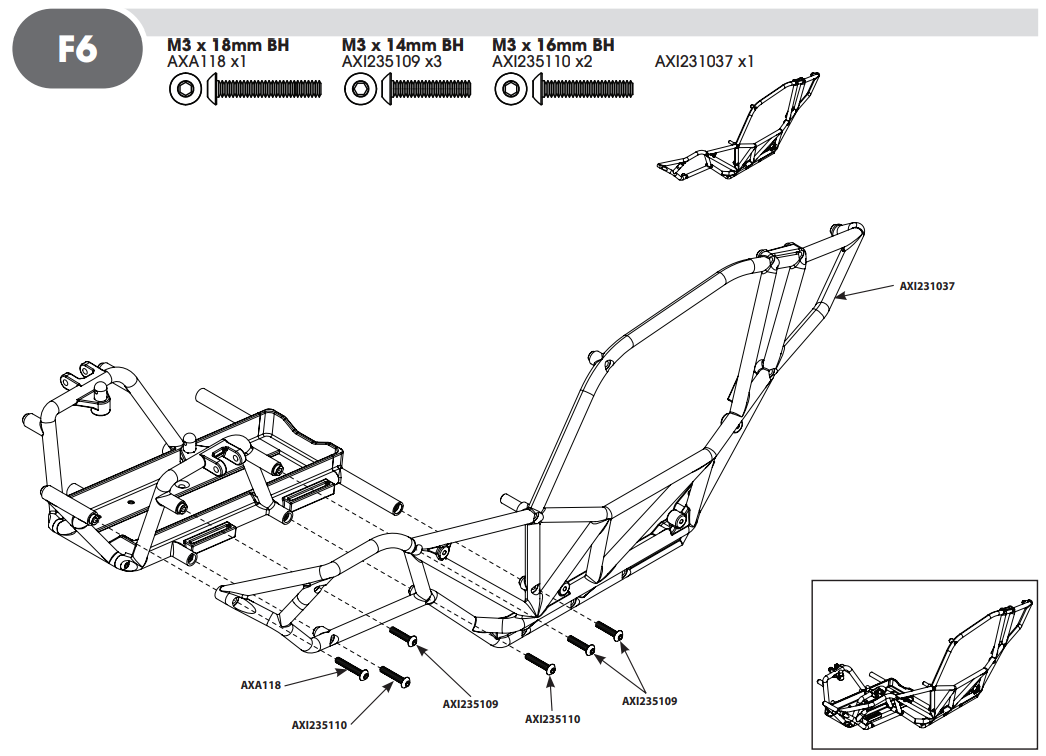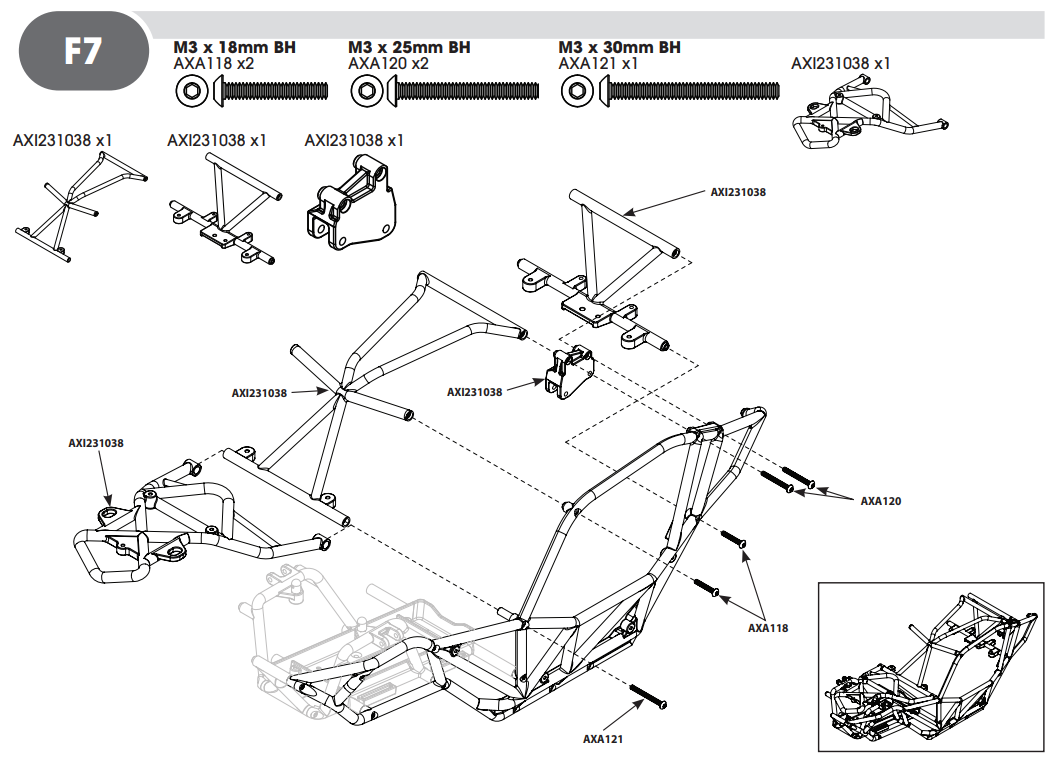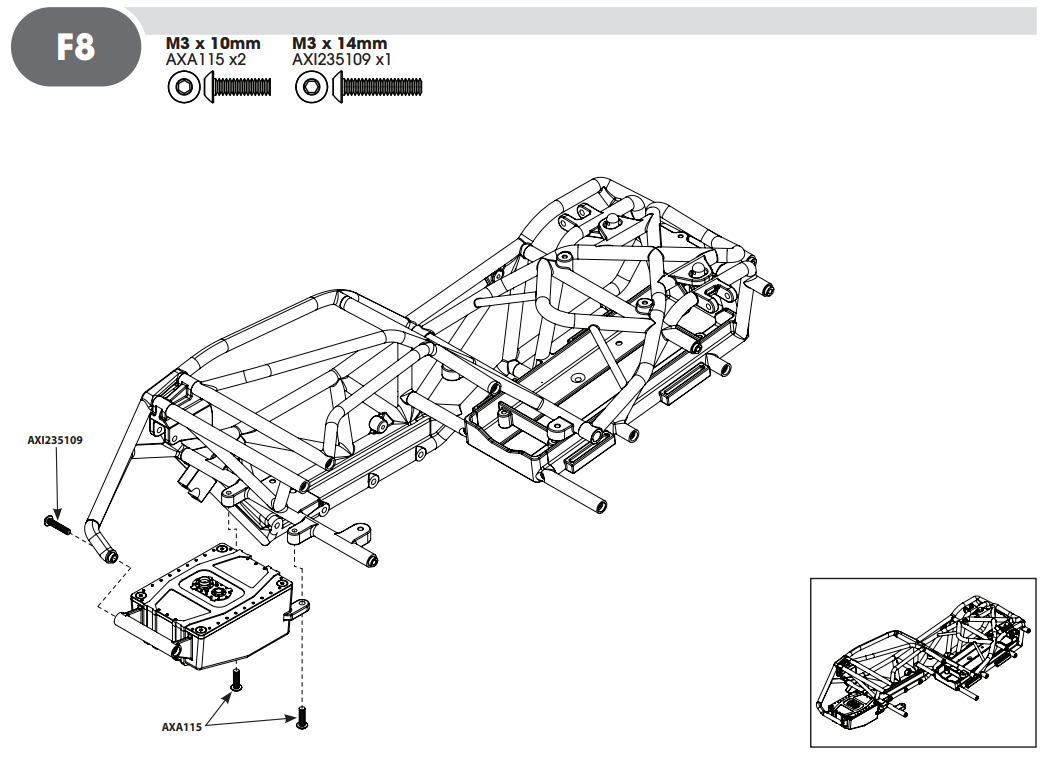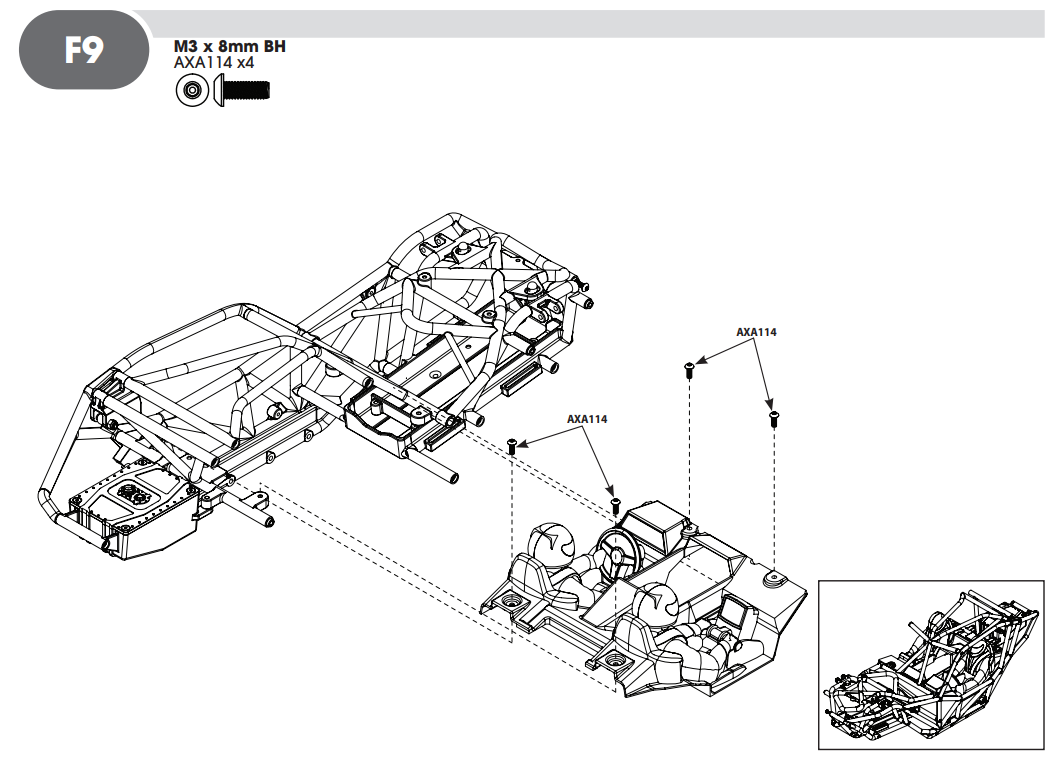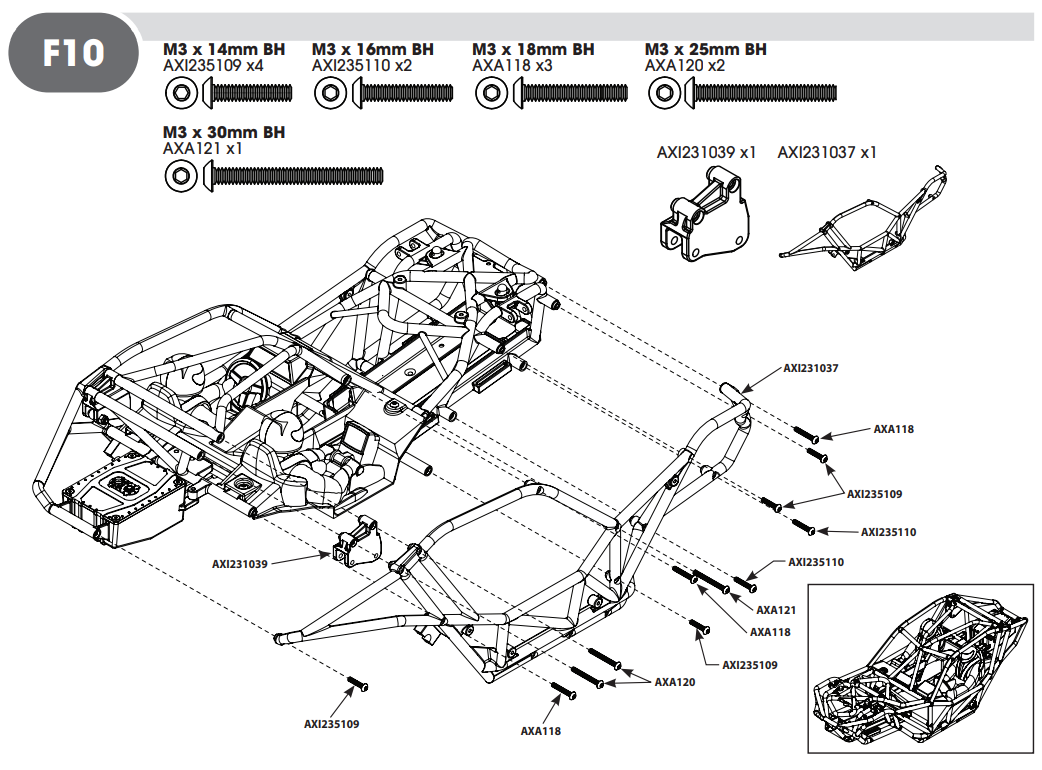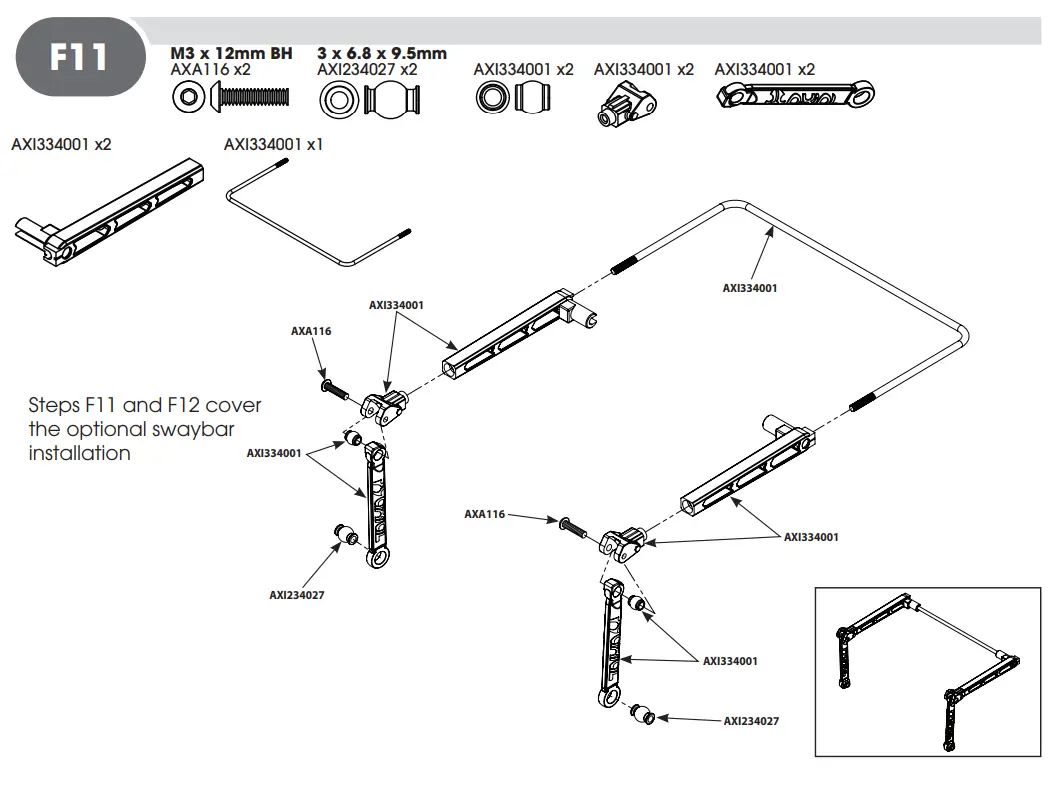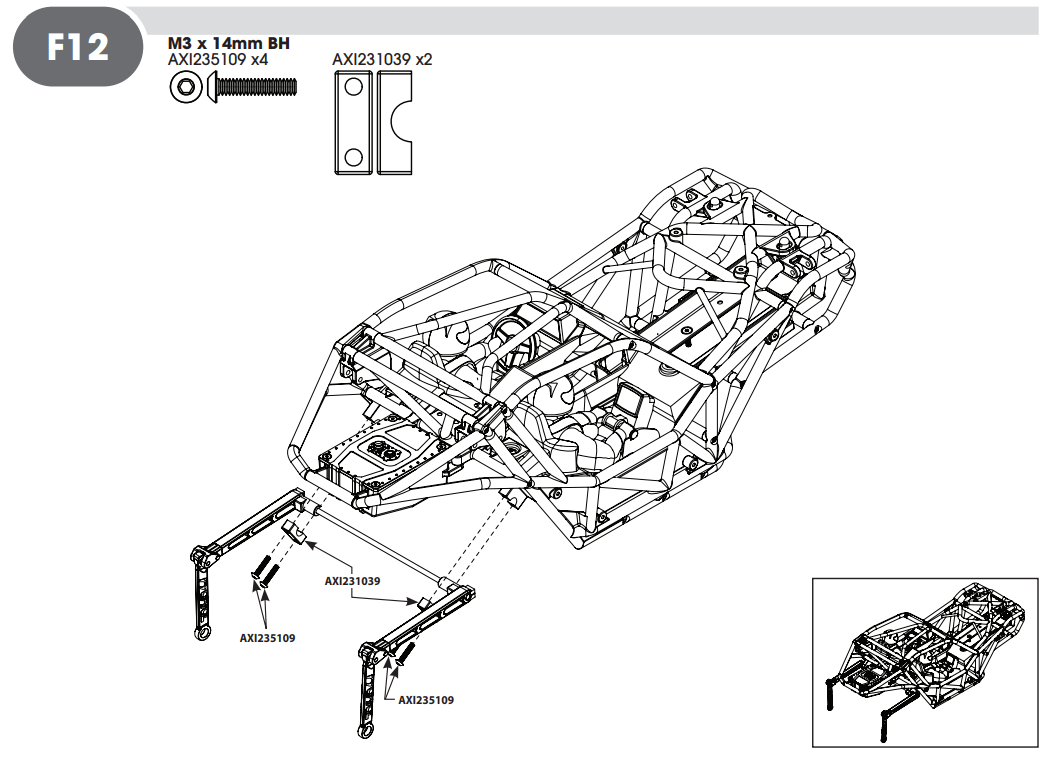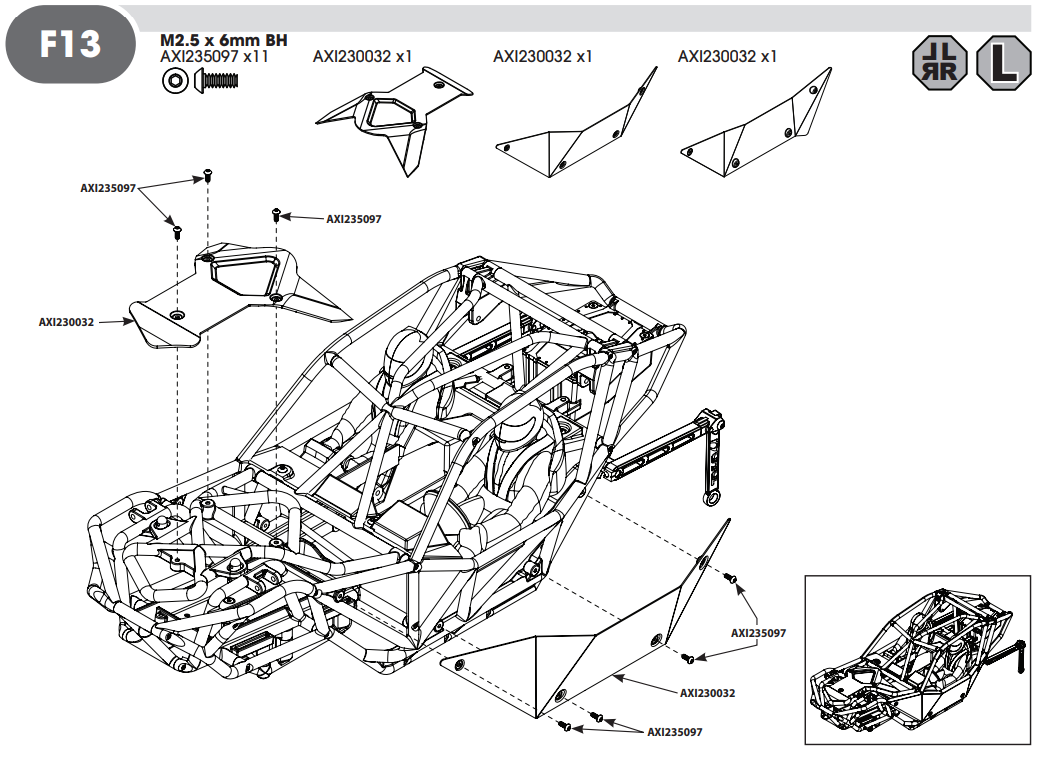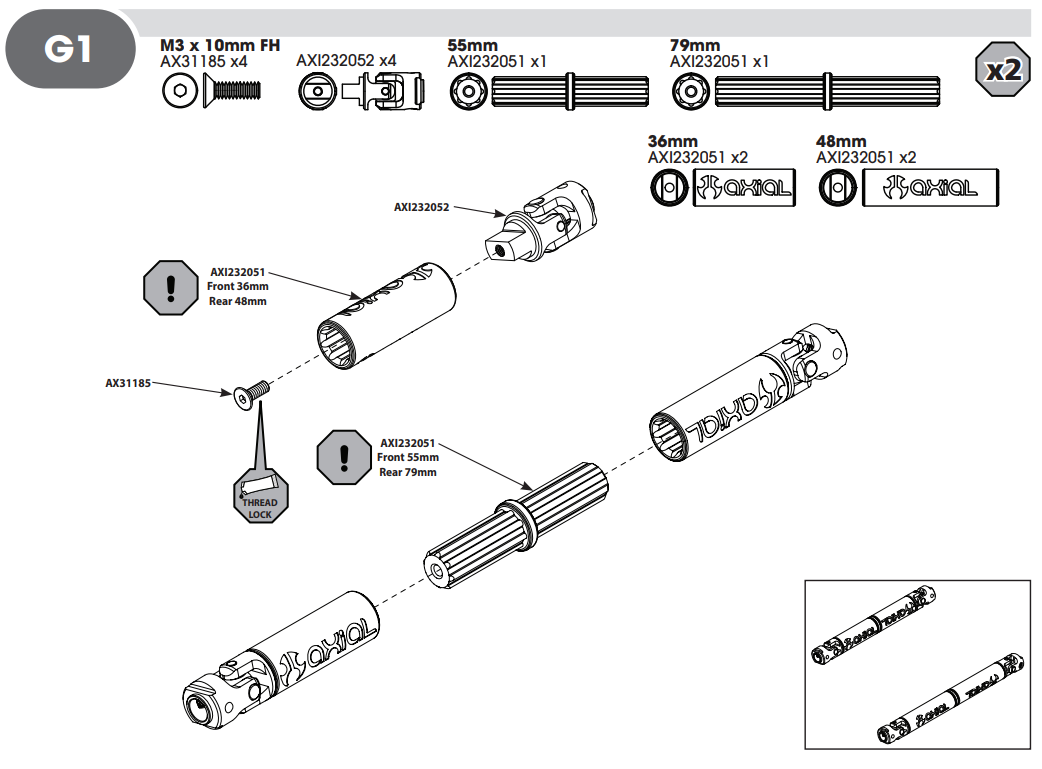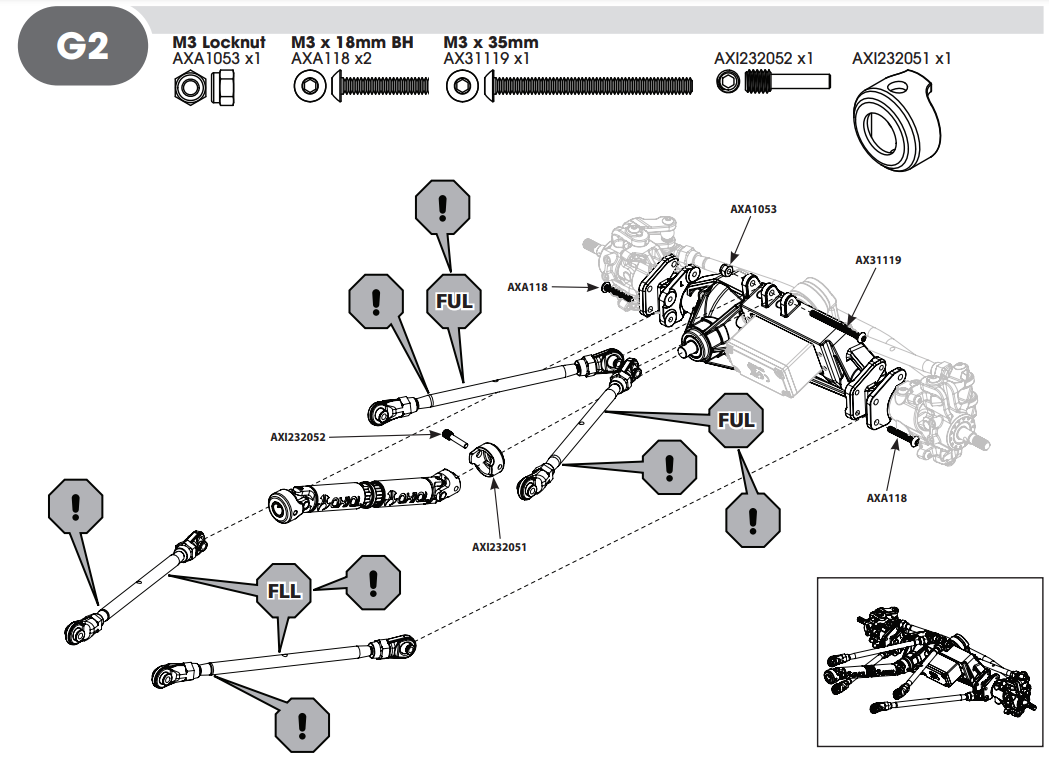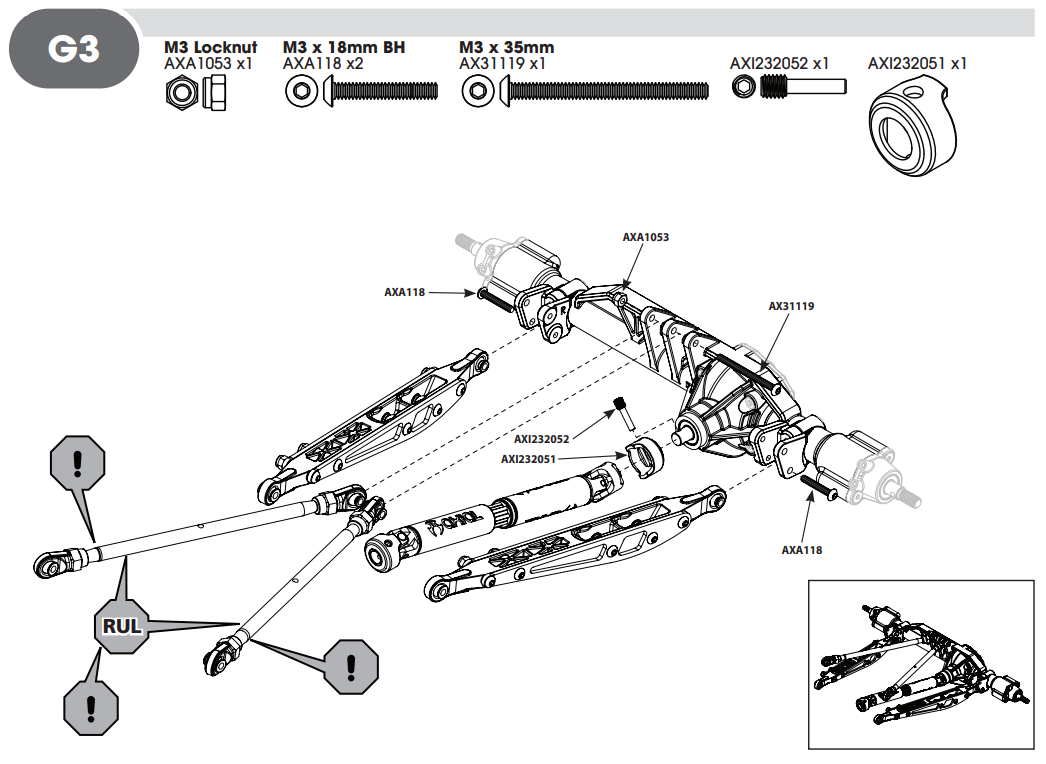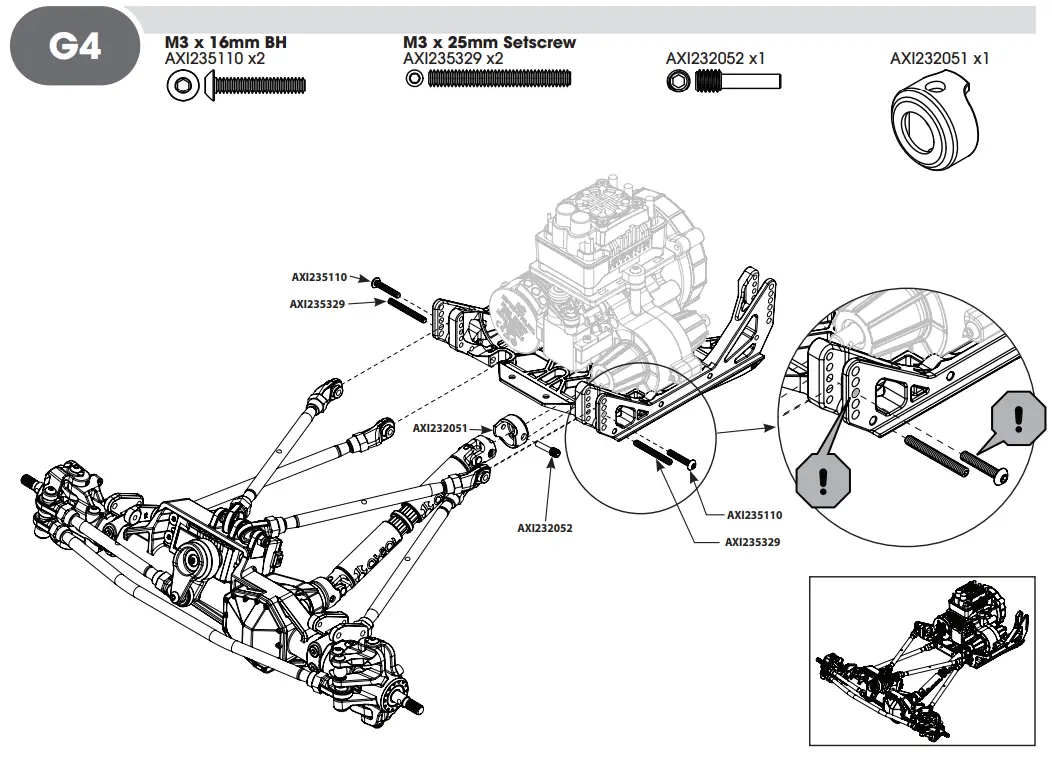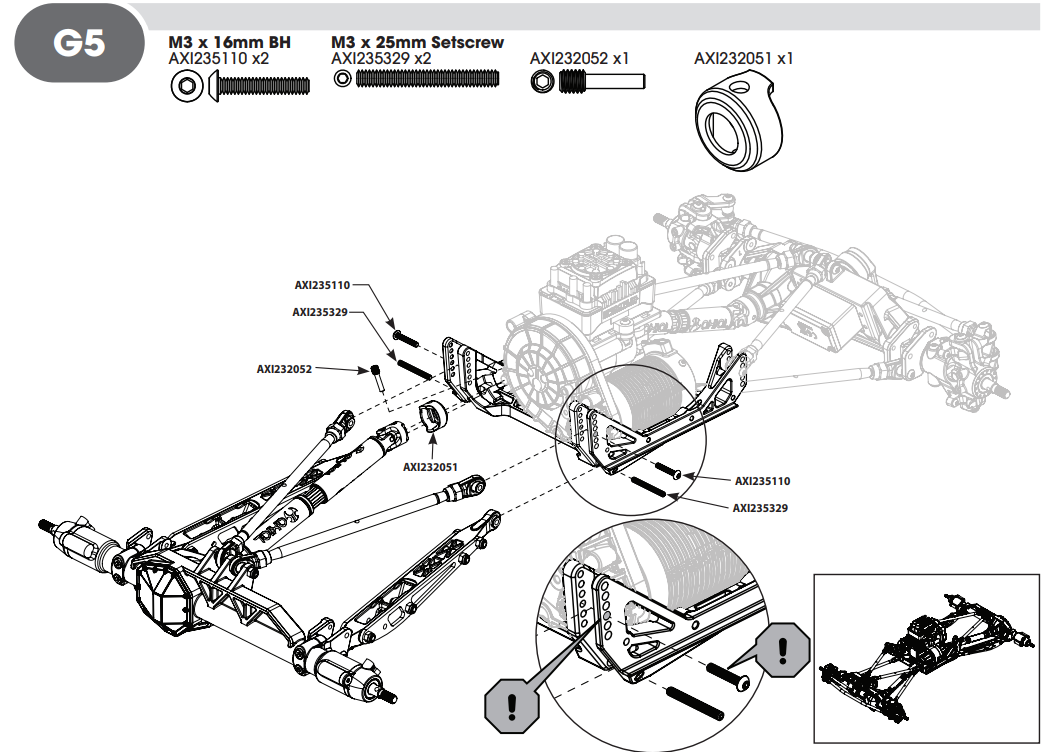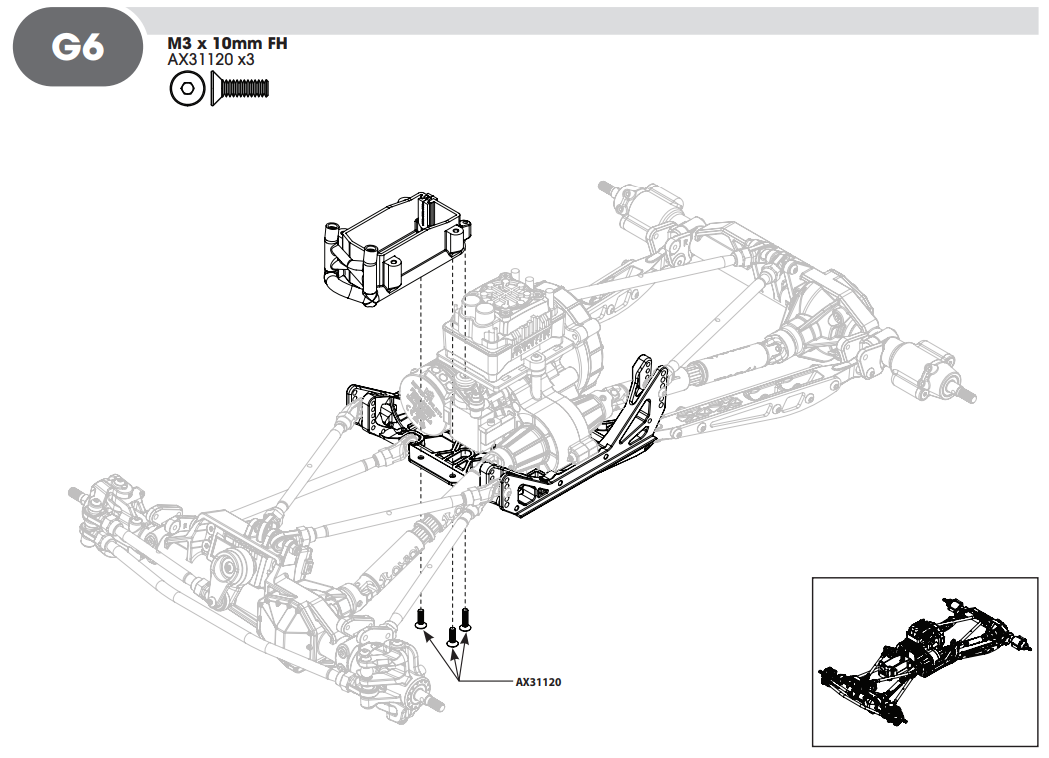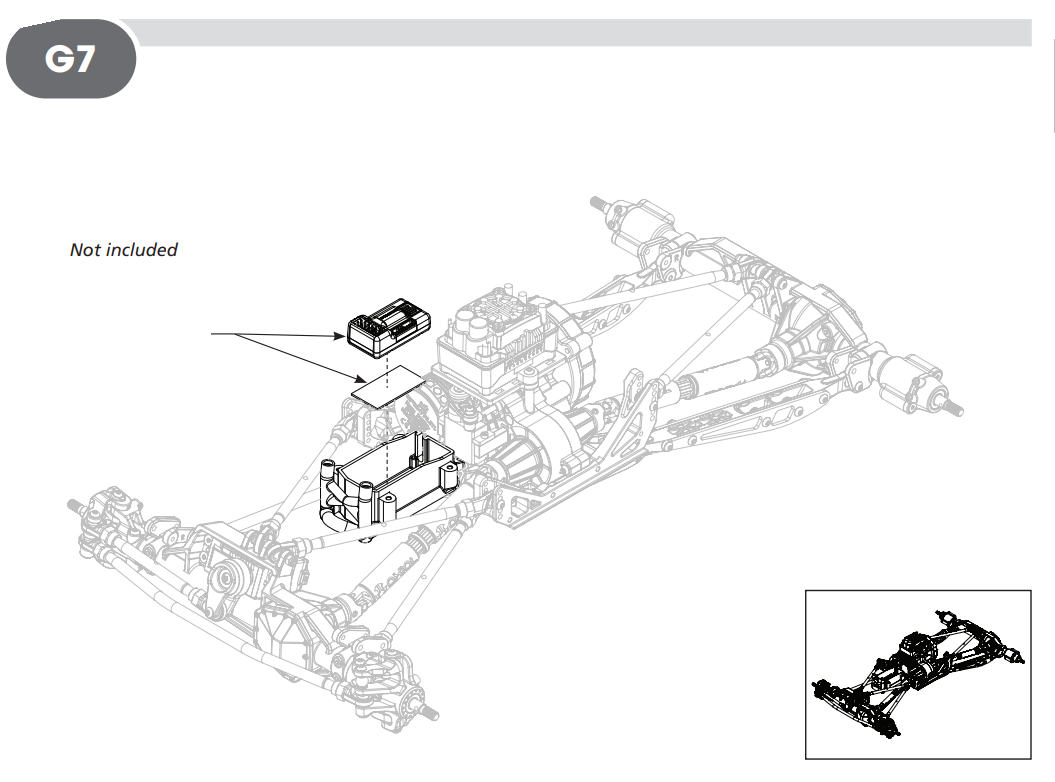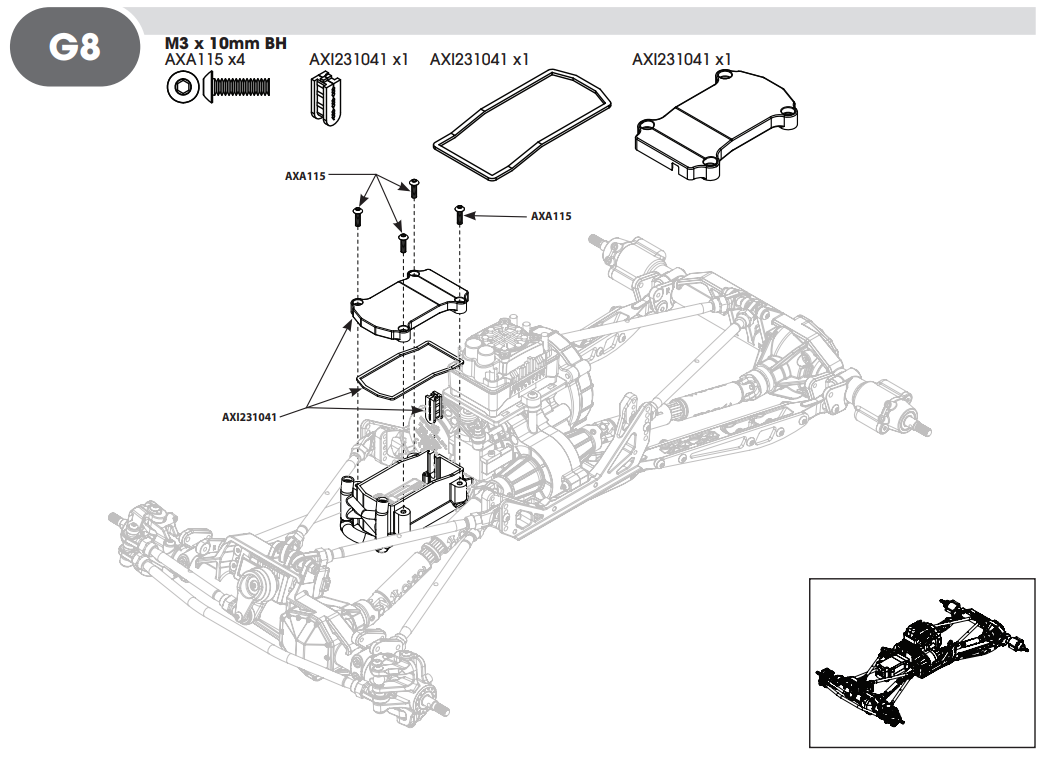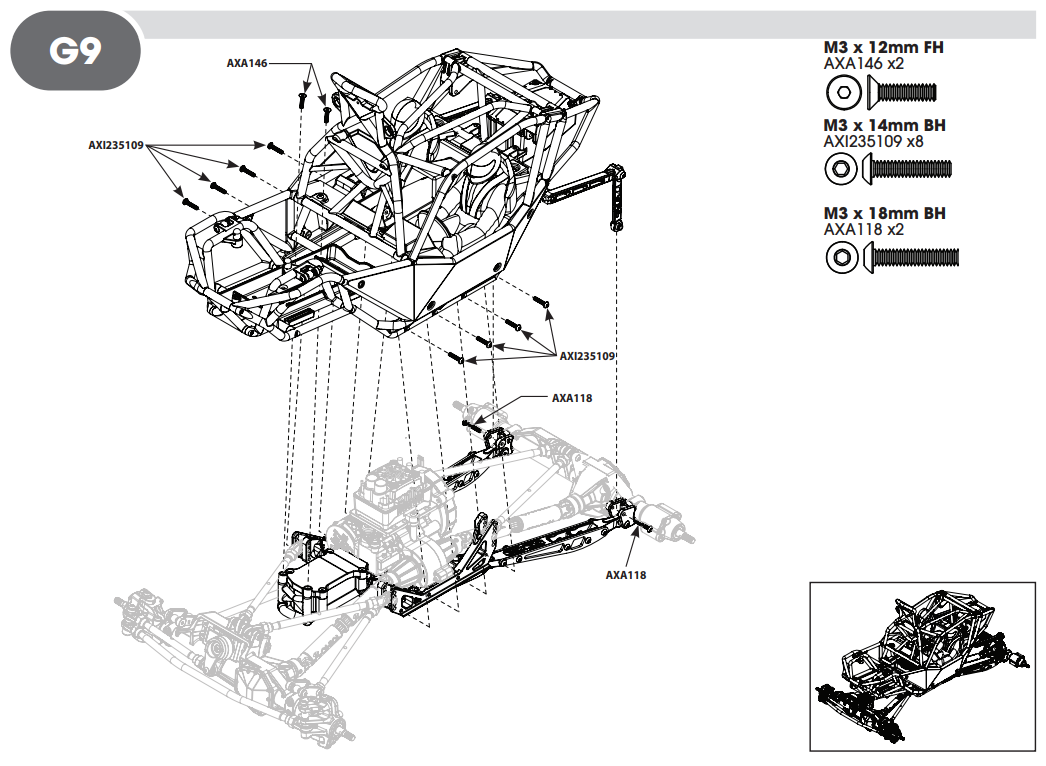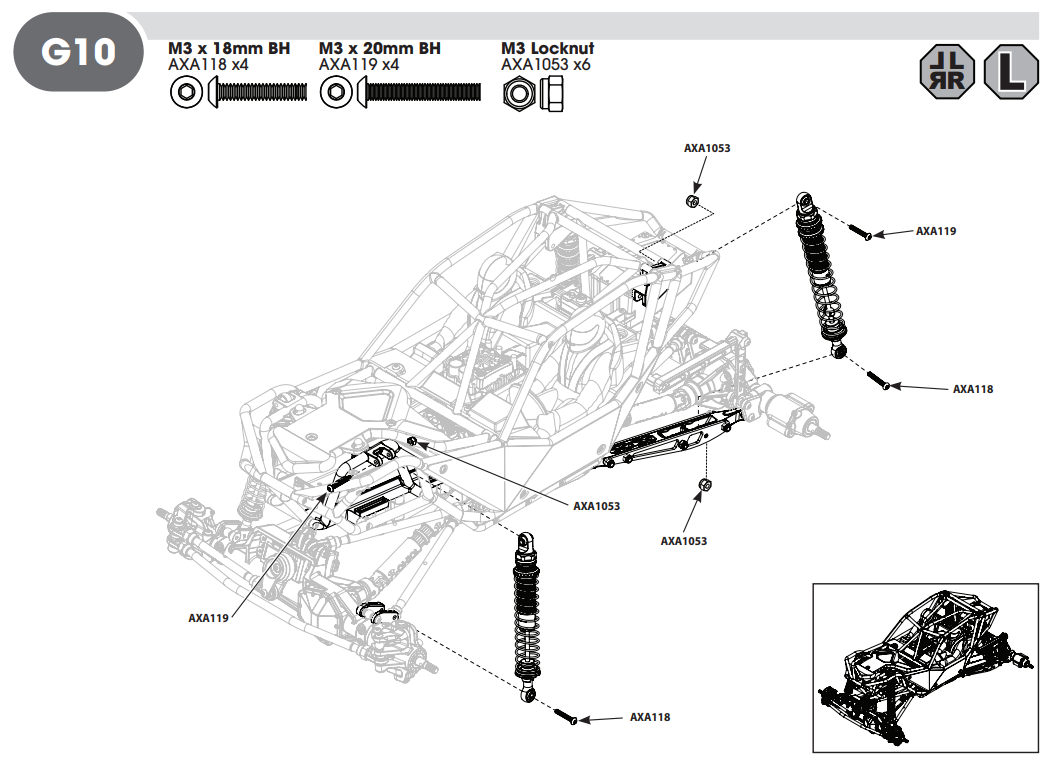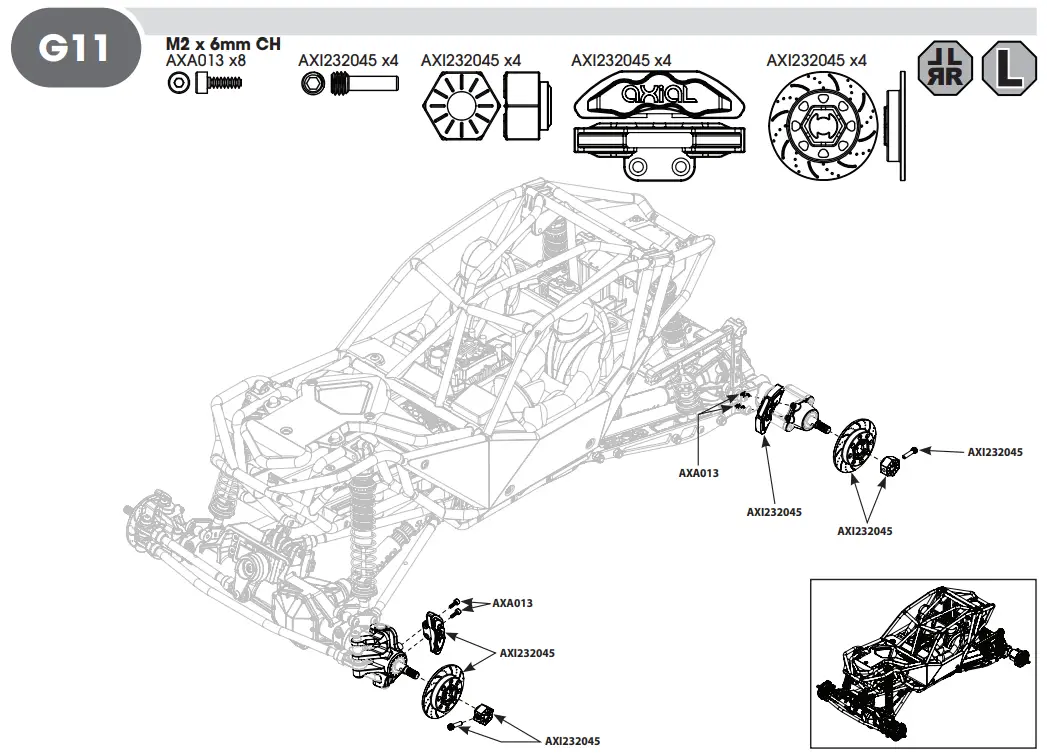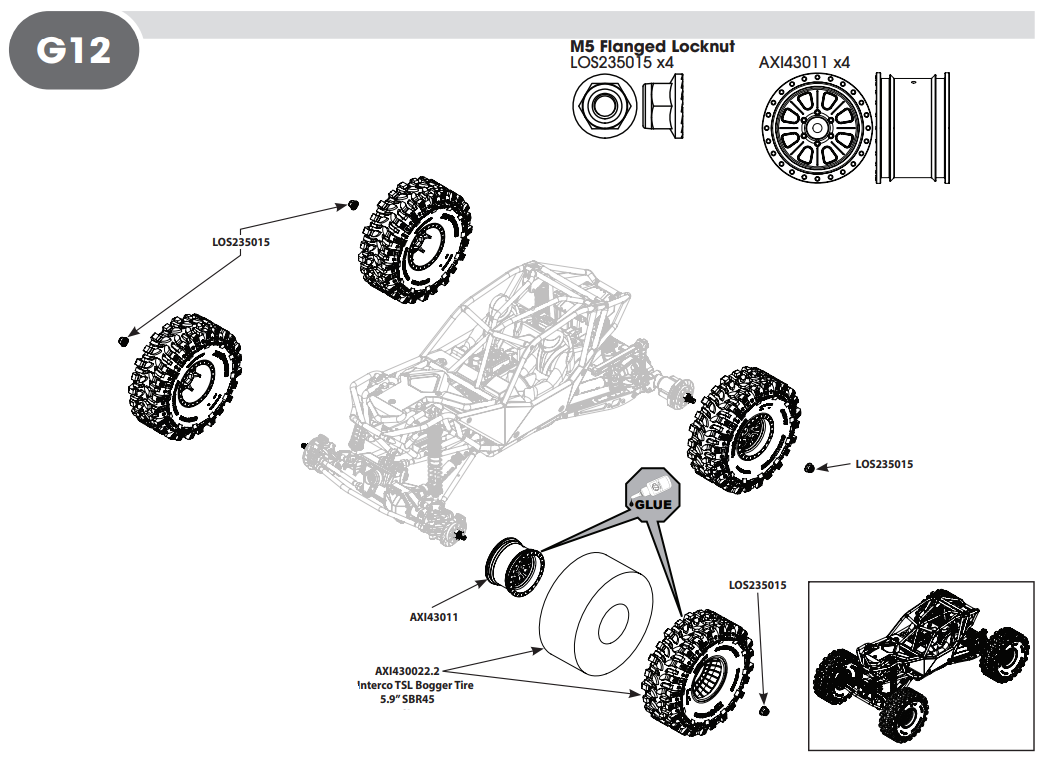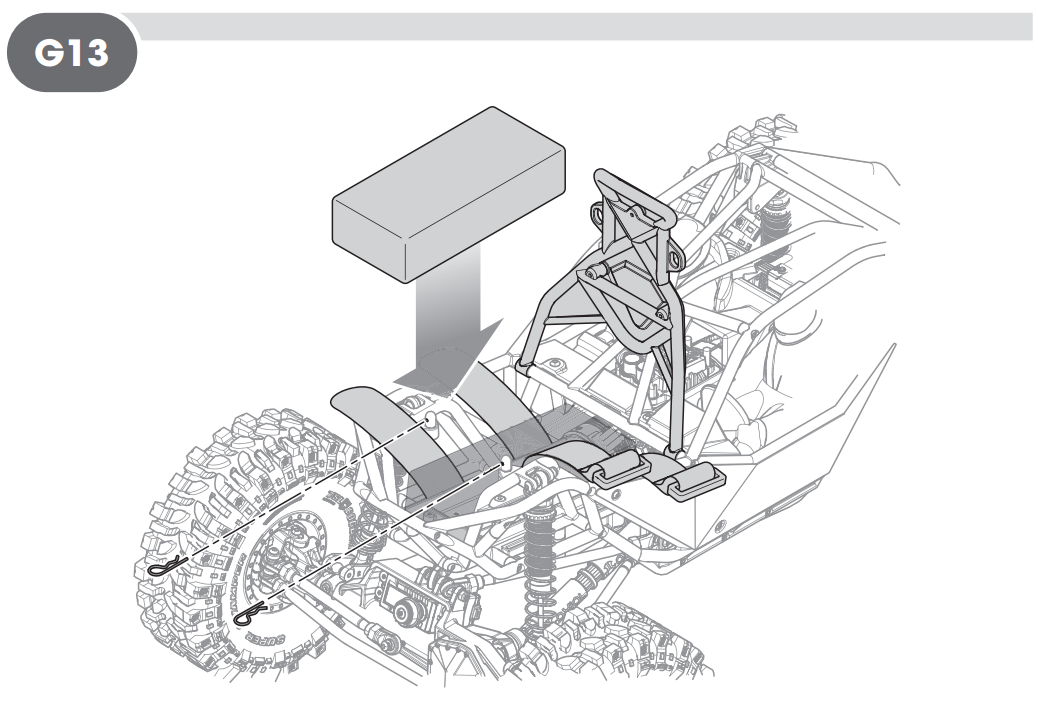 PARTS DIAGRAM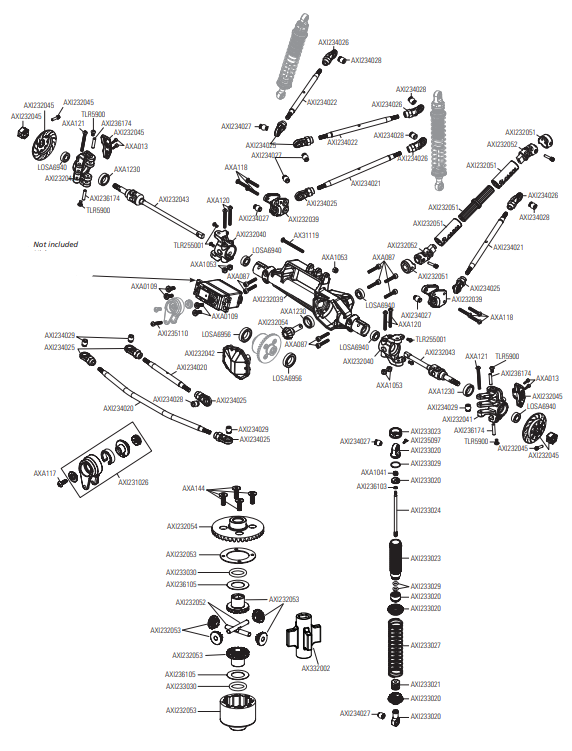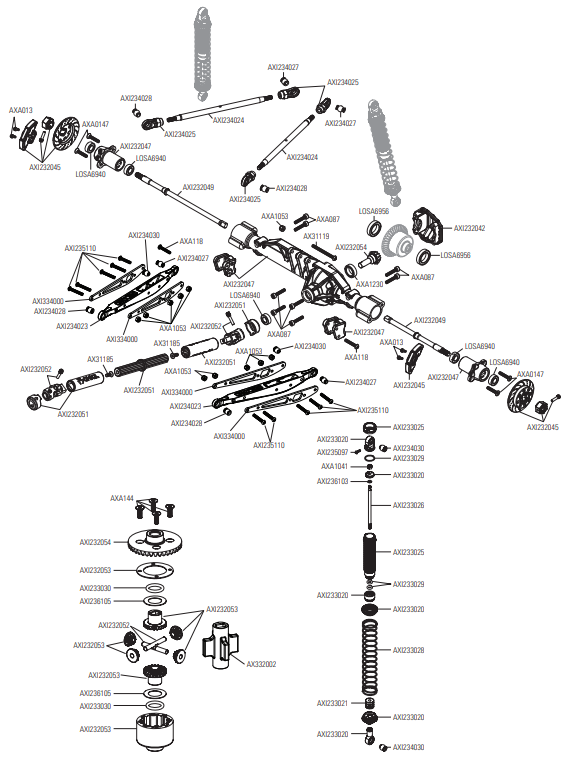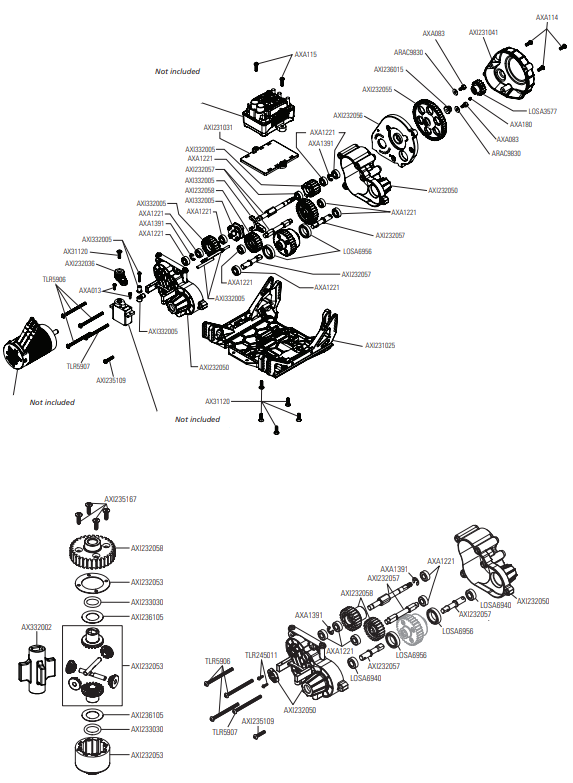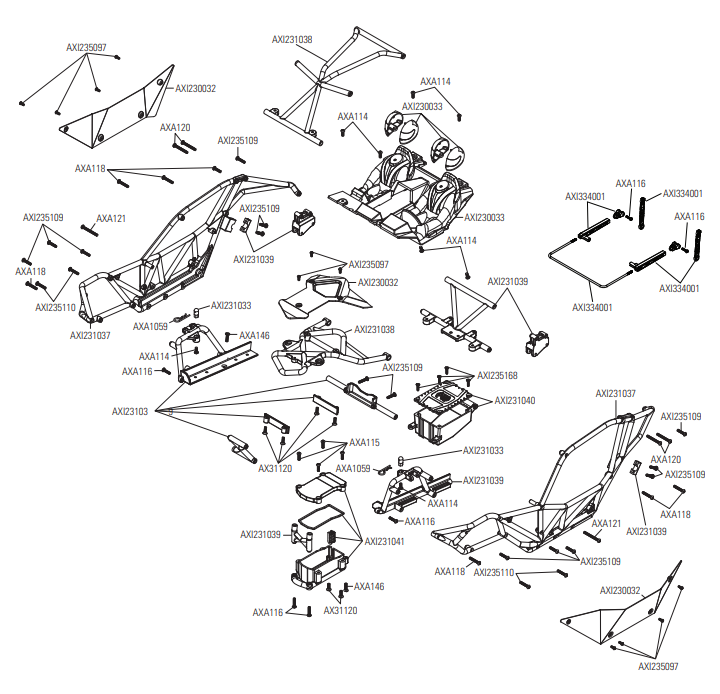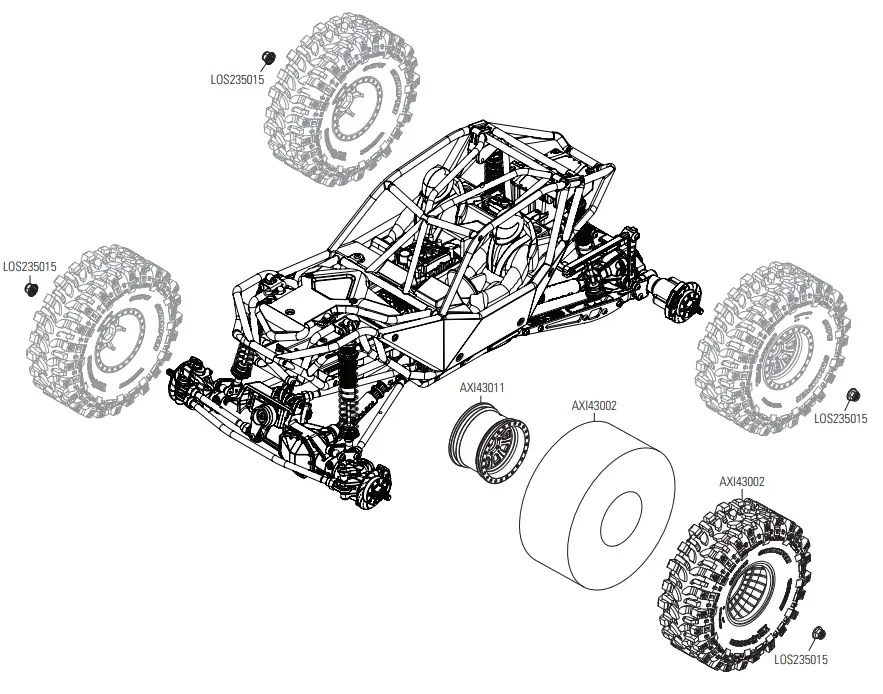 REPLACEMENT PARTS
Part #
ARAC9830
AR709003 Washer 3x8x0.5mm (10)
AXI230032
Body Panel Set (Clear): RBX10
AXI230033
Interior Set (Clear): RBX10
AXI230034
Hook & Loop Strap 17 x 270mm
AXI231025
Chassis Skid Plate: RBX10
AXI231026
Servo Saver: RBX10
AXI231037
Cage Sides, L R (Gry): RBX10
AXI231038
Cage Roof, Hood (Gray): RBX10
AXI231039
Cge Sprts, Btt Try (Gry): RBX10
AXI231040
Cage Fuel Cell (Gray): RBX10
AXI231041
Cge Rdo Bx, Spr Cvr (Gry): RBX10
AXI232039
AR14B Axle Housing Front: RBX10
AXI232040
AR14B C-Hub: RBX10
AXI232041
AR14B Steering Knuckle: RBX10
AXI232042
AR14B Metal Diff  Cover: RBX10
AXI232043
AR14B Unvrsl Axle Set: RBX10
AXI232045
Hex Rtr Clpr Pin Set (4): RBX10
AXI232047
AR14B Axle Housing Rear: RBX10
AXI232049
AR14B Straight Axle (2): RBX10
AXI232050
Transmission Housing Set: RBX10
AXI232051
WB11 Driveshaft  Set: RBX10
AXI232052
WB11 Driveshaft  Cplr (2): RBX10
AXI232053
Diff , Gears, Housing: RBX10
AXI232054
Front Rear Ring 38T, Pinion 13T,MOD 1: RBX10
AXI232055
Spur Gear, 53T MOD 1: RBX10
AXI232056
Transmissoin, Motor Plate: RBX10
AXI232057
Transmission, Shaft  Set: RBX10
AXI232058
Trans, Gears, (Hi Speed): RBX10
AXI233020
Shock Parts, Molded: RBX10
AXI233021
Shock Parts Bump Stop (4): RBX10
AXI233023
Shck Bdy, Cap 10 x 53.5 (2): RBX10
AXI233024
Shock Shaft , 66.7mm (2): RBX10
AXI233025
Shck Bdy, Cap 10 x 59.5 (2): RBX10
AXI233026
Shock Shaft , 77.7mm (2): RBX10
AXI233027
Spring 15 x 85mm 2.20lbs/in (2)
AXI233028
Spring 15 x 105mm 1.75lbs/in (2)
Part #
AXI233029
O-Ring, Shock Set: RBX10″
AXI233030
O-Ring 9×1.9mm (10)
AXI234020
SS Steering Links (2): RBX10
AXI234021
SS Link M6 x 114mm (2): RBX10
AXI234022
SS Link M6 x 105mm (2): RBX10
AXI234023
Rear Trailing Arm (2): RBX10
AXI234024
SS Link M6 x 132.5mm (2): RBX10
AXI234025
Rod Ends, Strght, M4 (10): RBX10
AXI234026
Rod Ends, Angled, M4 (10): RBX10
AXI234027
Pvt Ball 3 x 6.8 x 9.5mm (10):RBX10
AXI234028
Pivot Ball, 8 x 7mm (10): RBX10
AXI234029
Pvt Ball,3 x 6.8 x 7.6mm(10):RBX10
AXI234030
Pvt Ball,3 x 6.8 x 7.5mm (10):RBX10
AXI235097
M2.5 x 6mm, BHS (10)
AXI235109
M3 x 14mm, Button HeadScrew(10)
AXI235110
M3 x 16mm, Button HeadScrew(10)
AXI235167
M2.5 x 8mm Flat Head Screw (10)
AXI235168
M2.5 x 10mm Flat Head Screw (10)
AXI235329
M3 x 25mm, Set Screw (10)"
AXI236103
2.5 x 4.6 x 0.5mm Washer (10)
AXI236174
M3 x 14mm Pin (6)
AXI332005
2-Speed Set: RBX10
AXI334000
Lower Link Plate Rear (4): RBX1
AXI334001
Sway Bar Set: RBX10
AXI43002
2.2 Interco TSL Bogger 5.9″ (2)
AXI43011
2.2 Raceline Monster Blk
AXIC0005
AXA0113 Hex Skt Butn HdM3 x 6mm
AXIC0012
AXA120 Hex Socket Btn HdM3 x 25mm
AXIC0013
AXA013 Cap HdM2 x 6mm Blk Oxide
AXIC0014
AXA121 Hex Socket Btn HdM3 x 30mm
AXIC0087
AXA087 Cap Hd M3 x 16mmBlk Oxid
AXIC0114
AXA114 Hex Skt Butn Hd M3 x 8mm
AXIC0115
AXA115 Hex Skt But Head M3 x10mm
AXIC0116
AXA116 Hex Skt Butn Hd M3 x12mm
AXIC0118
AXA144 Hex Flt Hd M3 x 8mm Blk10
AXIC0146
AXA146 Hex Skt Flat Hd M3 x 12mm
AXIC0147
AXA0147 Hex Skt Flt Hd M3 x 16mm
OPTIONAL PARTS
Part #
AXIC0180
AXA180 Set Screw M3 x 3mm BlkOx
AXIC0221
AXA1221 Bearing 5 x 11 x 4mm
AXIC0230
AXA1230 Bearing 10 x 15 x 4mm
AXIC0830
AXA083 Cap Head M3 x 6mm Blk(10)
AXIC1009
AXA0109 Hex Skt OversizeM3x10mm
AXIC1041
AXA1041 Nylon Locknut 2.5 (10)
AXIC1053
AXA1053 Nylon Lock Hex Nut M3(10)
AXIC1119
AX31119 Hex Skt Btn 3x35mm(10)
AXIC1120
AX31120 Hex Skt Flat 3x10mm(10)
AXIC1180
AXA118 Hex Socket BtnHdM3 x 18mm(10)
AXIC1181
AXA119 Hex Socket Btn HdM3 x 20 (10)
AXIC3151
AX31051 Nylon Lock Hex Nut4mm (10)
AXIC3231
AX31231 Body Clips 8mm (10)
LOS235015
Locknut Flanged M5 Serrated (10)
LOSA3577
1.0 Module Pitch Pinion, 17T: 8E,SITE
LOSA6940
6 x 12 x 4mm Sealed Ball Bearing(4)
LOSA6956
12 x 18 x 4mm Ball Bearing (2)
TLR245011
Button Head Screws, M2 x 6mm(10)
TLR255001
Button Head Screws, M2.5 x 5mm(10)
TLR5900
Button Hd Screws, M3 x 5mm (10)
TLR5907
Button Hd Screws, M3 x 40mm (4)
Part #
AXI231007
23T Metal Servo Horn
AXI231012
Servo Horn, Metal 23T: SCX10III
AXI231027
Cage Sides, L R (Org): RBX10
AXI231028
Cage Roof, Hood (Orange): RBX10
AXI231029
Cge Sprts, Btt Try (Org): RBX10
AXI231030
Cage Fuel Cell (Orange): RBX10
AXI231031
Cge Rdo Bx, Spr Cvr (Org): RBX10
AXI231032
Cage Sides, L R (Blk): RBX10
AXI231033
Cage Roof, Hood (Black): RBX10
AXI231034
Cge Sprts, Btt Try (Blk): RBX10
AXI231035
Cage Fuel Cell (Black): RBX10
Part #
AXI231036
Cge Rdo Bx, Spr Cvr (Blk): RBX10
AXI332002
Differential Spool: RBX10
AXI333000
Spring 15 x 85mm 2.50lbs/in (2)
AXI333001
Spring 15 x 85mm 1.95lbs/inPurple(2)
AXI333002
Spring 15 x 105mm 2.20lbs/in (2)
AXI333003
Spring 15 x 105mm 1.95lbs/in (2)
DYNB5035H5
11.1V 5000mAh 3S 50C LiPo,Hardcase:EC5
DYNB5045H5
14.8V 5000mAh 4S50 CLiPo , Hrdcs: EC5
SPM5200
DX5 Rugged DSMR TX w/SR515
SPM9068
DX3 Wheel
SPM9070
DX3 Cell Phone Mount
SPMR5010
DX5 Pro DSMR Tx Only
SPMR5115
DX5C SMART 5CH DSMR TX ONLY
SPMR5200G
DX5 Rugged DSMR TX OnlyGreen
SPMR5200O
DX5 Rugged DSMR TX OnlyOrange
SPMSS6250
S6250 U-T / H-S Digital HV WP Servo
SPMSS6280
S6280 U-T / H-S Digital HV WP Servo
SPMX50003S100H5
5000mAh 3S 11.1V Smart 100C; IC5
SPMX50003S50H5
5000mAh 3S 11.1V Smart 50C; IC5
SPMX50004S100H5
5000mAh 4S 14.8V Smart 100C; IC5
SPMX50004S30
5000mAh 4S 14.8V Smart LiPo 30C IC5
SPMX50004S50H5
5000mAh 4S 14.8V Smart 50C; IC5
SPMXCA200
Avian Firma Smart ESC Programmer
SPMXPS4
Smart PowerStage Bundle 4S
SPMXPS8HC
Smart Powerstage Bundle 8S
SPMXSE1150
Firma 150A Brushless Smart ESC
2 YEAR LIMITED WARRANTY
What this Warranty CoversHorizon Hobby, LLC, (Horizon) warrants to the original purchaser that the product purchased (the "Product") will be free from defects in materials and workmanship for a period of 2 years from the date of purchase.What is Not Covered This warranty is not transferable and does not cover (i) cosmetic damage, (ii) damage due to acts of God, accident, misuse, abuse, negligence, commercial use, or due to improper use, installation, operation or maintenance, (iii) modifi cation of or to any part of the Product, (iv) attempted service by anyone other than a Horizon Hobby authorized service center, (v) Product not purchased from an authorized Horizon dealer, (vi) Product not compliant with applicable technical regulations, or (vii) use that violates any applicable laws, rules, or regulations.OTHER THAN THE EXPRESS WARRANTY ABOVE, HORIZON MAKES NO OTHER WARRANTY OR REPRESENTATION, AND HEREBY DISCLAIMS ANY  AND ALL IMPLIED WARRANTIES, INCLUDING, WITHOUT LIMITATION, THE IMPLIED WARRANTIES OF NON-INFRINGEMENT, MERCHANTABILITY, AND FITNESS FOR A PARTICULAR PURPOSE. THE PURCHASER ACKNOWLEDGES THAT THEY ALONE HAVE DETERMINED THAT THE THE PRODUCT  WILL SUITABLY MEET THE REQUIREMENTS OF THE PURCHASER'S INTENDED USE.Purchaser's RemedyHorizon's sole obligation and purchaser's sole and exclusive remedy shall be that Horizon will, at its option, either (i) service, or (ii) replace, any Product determined by Horizon to be defective. Horizon reserves the right to inspect any and all Product(s) involved in a warranty claim. Service or replacement decisions are at the sole discretion of Horizon.  Proof of purchase is required for all warranty claims. SERVICE OR REPLACEMENT AS PROVIDED UNDER THIS WARRANTY IS THE PURCHASER'S SOLE AND  EXCLUSIVE REMEDY.Limitation of LiabilityHORIZON SHALL NOT BE LIABLE FOR SPECIAL, INDIRECT, INCIDENTAL OR CONSEQUENTIAL DAMAGES, LOSS OF PROFITS OR PRODUCTION OR  COMMERCIAL LOSS IN ANY WAY, REGARDLESS OF WHETHER SUCH CLAIM IS BASED IN CONTRACT, WARRANTY, TORT, NEGLIGENCE, STRICT  LIABILITY, OR ANY OTHER THEORY OF LIABILITY, EVEN IF HORIZON HAS BEEN ADVISED OF THE POSSIBILITY OF SUCH DAMAGES. Further, in no event, shall the liability of Horizon exceed the individual price of the Product on which liability is asserted. As Horizon has no control over use, setup, fi nal assembly, modifi cation or misuse, no liability shall be assumed nor accepted for any resulting damage or injury. By the act of use, setup or assembly, the user accepts all resulting liability. If you as the purchaser or user are not prepared to accept the liability associated with the use of the Product, purchaser is advised to return the Product immediately in new and unused condition to the place of purchase.LawThese terms are governed by Illinois law (without regard to confl ict of law principles). This warranty gives you specifi c legal rights, and you may also have other rights which vary from state to state. Horizon reserves the right to change or modify this warranty at any time without notice.WARRANTY SERVICESQuestions, Assistance, and ServicesYour local hobby store and/or place of purchase cannot provide warranty support or service. Once assembly, setup or use of the Product has been started, you must contact your local distributor or Horizon directly. This will enable Horizon to better answer your questions and service you in the event that you may need any assistance. For questions or assistance, please visit our website at www.horizonhobby.com, submit a Product  Support Inquiry, or call the toll-free telephone number referenced in the Warranty and Service Contact Information section to speak with a Product Support representative.
Inspection or ServicesIf this Product needs to be inspected or serviced and is compliant in the country you live and use the Product in, please use the Horizon Online Service Request submission process found on our website or call Horizon to obtain a Return Merchandise Authorization (RMA) number. Pack the Product securely using a shipping carton. Please note that original boxes may be included, but are not designed to withstand the rigors of shipping without additional protection. Ship via a carrier that provides tracking and insurance for lost or damaged parcels, as Horizon is not responsible for merchandise until it arrives and is accepted at our facility. An Online Service Request is available at http://www.horizonhobby.com/content/_service-center_render-service-center. If you do not have internet access, please contact Horizon Product Support to obtain an RMA number along with instructions for submitting your product for service. When calling Horizon, you will be asked to provide your complete name, street address, email address and phone number where you can be reached during business hours. When sending products into Horizon, please include your RMA number, a list of the included items, and a  brief summary of the problem. A copy of your original sales receipt must be included for warranty consideration. Be sure your name, address, and RMA number are clearly written on the outside of the shipping carton.  NOTICE: Do not ship LiPo batteries to Horizon. If you have any issue with a LiPo battery,please contact the appropriate Horizon Product Support office.Warranty RequirementsFor Warranty consideration, you must include your original sales receipt verifying the proof-of-purchase date.Provided warranty conditions have been met, your Product will be serviced or replaced free of charge. Service or replacement decisions are at the sole discretion of Horizon.Non-Warranty ServiceShould your service not be covered by warranty, service will be completed and payment will be required without notifi cation or estimate of the expense unless the expense exceeds 50% of the retail purchase cost. By submitting the item for service you are agreeing to payment of the service without notifi cation. Service estimates are available upon request. You must include this request with your item submitted for service. Non warranty service estimates will be billed a minimum of ½ hour of labor. In addition, you will be billed for return freight. Horizon accepts money orders and cashier's checks, as well as Visa, MasterCard, American Express, and Discover cards. By submitting any item to  Horizon for service, you are agreeing to Horizon's Terms and Conditions found on our website http://www.horizonhobby.com/content/_service-center_render-service-center. ATTENTION: Horizon service is limited to Product compliant in the country of use and ownership. If received, a non-compliant Product will not be serviced. Further, the sender will be responsible for arranging return shipment of the un-serviced Product, through a carrier of the sender's choice and at the sender's expense. Horizon will hold non-compliant Products for a period of 60 days from notifi cation, after which it will be discarded.
WARRANTY AND SERVICE CONTACT INFORMATION
Instructions for disposal of WEEE by users in the European Union

This product must not be disposed of with other waste. Instead, it is the user's responsibility to dispose of their waste equipment by handing it over to a designated collection oint for the recycling of waste electrical and electronic equipment. The separate collection and recycling of your waste equipment at the time of disposal will help to conserve natural resources and ensure that it is recycled in a manner that protects human health and the environment. For more information about where you can drop off your waste equipment for recycling, please contact your local city offi ce, your household waste disposal service or where you purchased the product.

AXI03009Updated 03/2021 62909.3© 2021 Horizon Hobby, LLC. Axial, the Axial logo, Ryft, Firma, Avian, EC5, IC5, and the Horizon logo aretrademarks or registered trademarks of Horizon Hobby, LLC.The Spektrum trademark is used with the permission of Bachmann Industries, Inc.All other trademarks, service marks or logos are property of their respective owners.

| | |
| --- | --- |
| EU Manufacturer of Record:Horizon Hobby, LLC2904 Research RoadChampaign, IL 61822 USA | EU Importer of Record:Horizon Hobby GmbH,Hanskampring 9D 22885 Barsbüttel, Germany |
[xyz-ips snippet="download-snippet"]