HYGROCLIP Digital RMS-HCD Instruction Manual
1 GENERAL DESCRIPTION
Your Rotronic RMS-HCD is a leading-edge product that meets all established standards. It will work perfectly for years if you follow the assembly andoperating guidelines below.
2 CONNECTION
Plug the RMS-HCD on the mating connector of the transmitter or connection cable. Make sure that the catches are aligned correctly. Tighten the knurled nut by hand.

Only properly assembled and fixed connection assures the IP protection rating.
The RMS-HCD is compatible with the following RMS products:
RMS-LOG-L, Data logger LAN
RMS-LOG-868, Data logger wireless 868 MHz
RMS-LOG-915, Data logger wireless 915 MHz
3 MOUNTING
The probe should be immersed in the climate that is to be measured.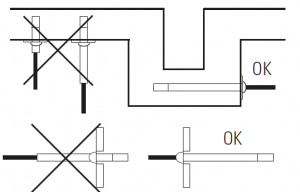 4 ADJUSTEMENT / CALIBRATION
The probes are adjusted in the factory before delivery. We recommend, depending on the application, a calibration after 1 year of use. We provide calibration and adjustment services or you can do this yourselves on-site with the Rotronic SCS humidity standards or our humidity generators HG2-S. Further information regarding calibration and adjustment can be obtained at www.rotronic.com or by contacting us or one of representatives.
5 TECHNICAL DATA
Device type
HygroClip Digital
Humidity Sensor
Hygromer HT-1
Temperature Sensor
PT 1000, class 1/3 B (RMS-HCD-S) PT 100, class 1/3 B (RMS-HCD-IC)
Operating humidity
0…100 %RH
Operating temperature
-40…+85 °C        RMS-HCD-S electronic

-40…+85 °C        RMS-HCD-IC electronic

-100…+200 °C1 RMS-HCD-IC sensor head

Accuracy
±0.8 %RH @ 23°C

±0.1 K @23°C

Supply voltage
2.8…5.5 VDC (RMS-HCD-S) / 3.3…. 5.5 VDC (RMS-HCD-IC)
Current consumption
0.5 mA (RMS-HCD-S)

< 3 mA (RMS-HCD-IC)

Protection rating
IP65 (except the sensor area)
Digital communication
UART
Peak load: 100h. Maximal permissible continuous load: 190 °C.
Read More About This Manual & Download PDF:
References
[xyz-ips snippet="download-snippet"]