iHome iB39 QSG Bluetooth Earbuds User Manual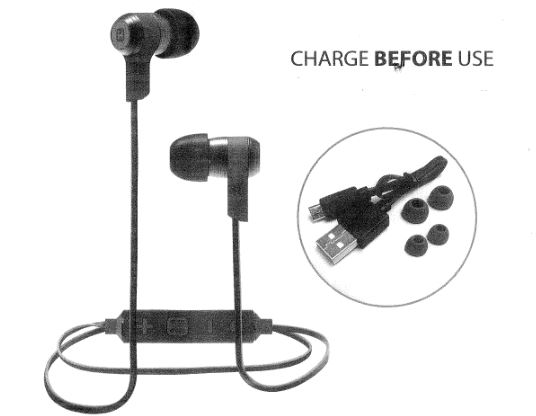 Questions? Visit www.ihome.com or call 1-800-288-2792 Toll Free
What's Included
iB39 with control dongle
Silicon Ear Cushions
USB Charging Cable
Getting Started
Charging your earbuds
Earbuds must be charged before use.
Lift rubber USB port cover on right side of dongle
Connect small plug of USB charging cable to USB port and connect the other end to a powered USB port.
Indicator will glow red while charging and turn off once charged.
Earbuds should provide about 4 hours of audio when fully charged.
Basic Controls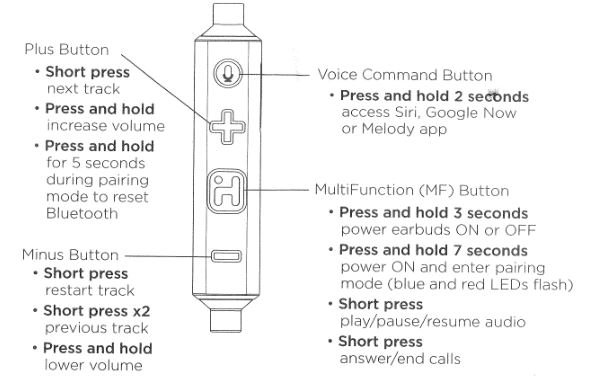 Note: Noise isolation ear buds like the iB39 are designed to provide a good seal in your ears arid block outside sounds. You should not use noise isolation ear buds in situations that require you to hear outside warning sounds.
BLUETOOTH
Pairing establishes a unique communication connection between your Bluetooth device and the earbuds. Once paired, you will be able to stream audio wirelessly to your iB39 earbuds.
The FIRST TIME EARBUDS ARE POWERED ON they enter auto-pairing mode. The LED indicator on the dongle will flash blue and red and a voice prompt will announce "power on", then "pairing".
Turn on Bluetooth mode on your device (under Settings, Connections or similar)
Select "iHome iB39" on your device's menu of Bluetooth devices. When pairing is successful, a voice prompt will announce "your device is connected". If prompted for a password, enter "0000" on your device. You can now begin to stream audio and calls from your device.
For manual pairing or to pair other devices, press and hold the Multifunction Button for 7 seconds. The earbuds will power on, attempt to autolink to a previously paired device, then enter pairing mode. Pair your device per step 3 above.
VOICE COMMANDS
Press and hold the Voice Command Button for 3 seconds to access Siri, Google Now or Melody voice assistant functions.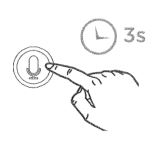 EAR CUSHIONS
The iB39 comes with 3 sets of ear cushions to ensure a satisfying fit. If the current ear cushions do not suit you, remove them and replace with smaller or larger ear cushions.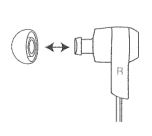 iHome iB39 QSG Bluetooth Earbuds User Manual – iHome iB39 QSG Bluetooth Earbuds User Manual –
[xyz-ips snippet="download-snippet"]