SFB150Stryder Fanless Bi-Color 150 Watt Fresnel LED
Quick Start Guide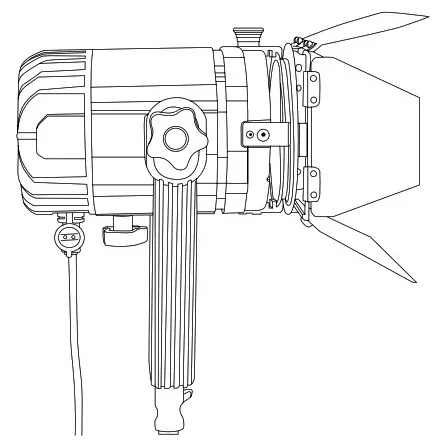 What's Included
1 x 4″ Fresnel Light Fixture 1 x Controller Box w/ V-Mount Plate 1 x Barn Door 1 x Yolk w/ Baby 5/8″ Adapter 1 x Power Adapter
Getting Started
Thank you for buying the HF150 Fresnel Light from ikan. Please carefully read the instructions and guide before operating the products. The guide includes product usage and maintenance. When you operate the product, please make sure that you have read the instructions carefully.All the content of the manual is based on up-to-date information; technical data subject to change without notice.
Overview
Absolute lighting control is right at your fingertips with this Stryder Fanless 150 watt LED Fresnel Light with DMX. The impressive daylight LED features a 4″ Fresnel lens with a spot to flood beam range of 15 to 65°. Toss in the ability to accurately shape light with removable barn doors, dimming capabilities between 0-100% (controlled in increments 5), and its ability to use traditional gel rings, mean that this workhorse of a light will undoubtedly become a staple in your kit.
Structure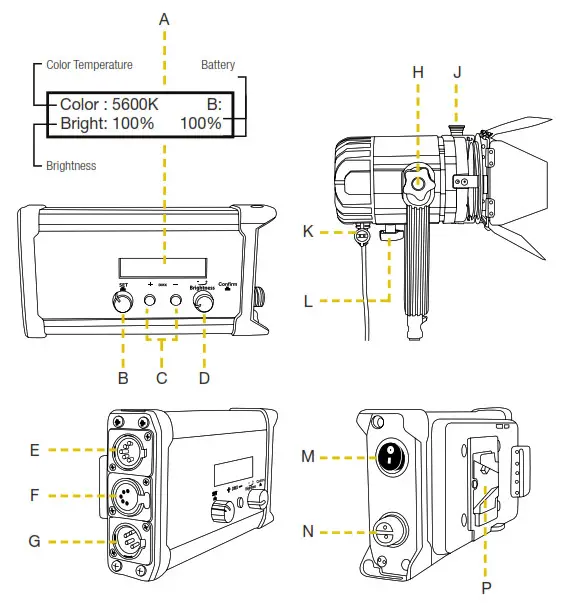 A. LCD Display
F. DMX Output
L. Focusing Knob
B. Color Temperature/Confirmation Knob
G. XLR Power Port
M. Power Switch
C. DMX Channel Adjustment
H. Yoke Adjustment Knob
N. Power Out (to light fixture)
D. Brightness Knob
J. Barn Door Locking Pin
P.  V-Mount Battery Plate
E. DMX Input
K. Power Input (from control panel)
Notice & Maintenance
Products must be placed on a stable, dry, flat surface. Avoid exposure to sunlight and operating in an environment with high humidity or explosive gas.
Don't cover the fan vent. It will shorten the working life of the fixture.
Don't knock or shake the lighting equipment during the operation.
If the SFB150 isn't working normally, please contact the Ikan repair department. Please don't disassemble/re-assemble by yourself.
Please place the SFB150 in a cool and dry place when you don't use it for an extended period of time.
Specifications
| | |
| --- | --- |
| Beam Angle | 15 – 65 degrees |
| Build Material | Aluminum |
| Control | Local Knob Control and DMX In/Out |
| Cooling System | Fanless Passive Cooling |
| Dimming | Flicker Free Dimming, Onboard Dimming Knob 10%-100% (minimal color shift) |
| Focusing | Push Focus from 15 – 65 |
| Head Type | 3200K – 5600K |
| Lens | 4″ Acrylic Fresnel |
| Light Source | 1 x 150 watt LED Bi-Color |
| Power Consumption | 98W |
| Power Supply | 110-240VAC; Output: |
| Yoke | Baby 5/8″ |
Optional Accessories
Some other products that work well with the Stryder SFB150 available from Ikan include:
| | |
| --- | --- |
| HD-STND-V2 | Heavy Duty Light Stand |
| KCP-703 | Stage Clamp w/ 16mm Stud |
| SW-04 | Safety Wire |
Learn More
More dynamic information at official website: www.ikancorp.com
Support
Contact email: [email protected]
CONDITIONS OF WARRANTY SERVICE
Free service for one year from the day of purchase if the problem is caused by manufacturing errors.
The components and maintenance service fee will be charged if the warranty period is expired.
Free Service will not be Provided in the Following Situations: (Even if the product is still within the warranty period.)
Damage caused by abuse or misuse, dismantling, or changes to the product not made by the company.
Damage caused by natural disaster, abnormal voltage, and environmental factors, etc.
©2020 Ikan International. All rights reserved.www.ikancorp.com | 1.713.272.8822 | [email protected]

because we're filmmakers too
References
[xyz-ips snippet="download-snippet"]