iLuv Bubble Gum True Wireless Air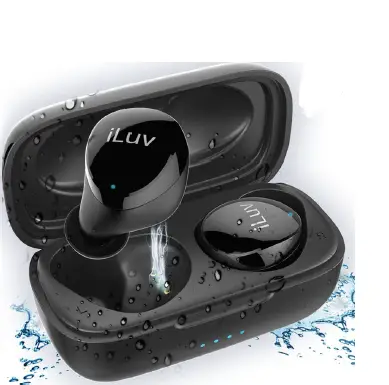 WHAT'S INCLUDED
POWER ON AND PAIRING
Before UsingPlease Charge your bubble gum true Wireless air before use. Features with minimalistic buttonless tap control, simply take the earbuds out of the charging case and wear to start using. Bubble Gum True Wireless Air will be automatically powered on shortly and wait to be paired.
Wear Earbuds
Each Earbud is marked With L for the left and R for the right ear and differently angled for each ear shape. Insert them into your ears and adjust to snug comfortably. To choose the best fit, try different sizes of ear tips too.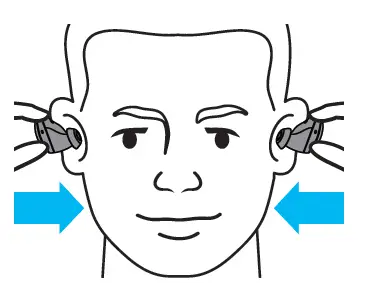 Power On and Pairing
Bubble Gum True Wireless Air earbuds will be automatically turned on when removed from the charging case while you put them into your ears.
While power-on takes place automatically in the first few seconds, Poweron "will be heard and the earbuds will be ready to be paired.
When previously paired device is not found, you will hear "Please pair to your deviate.
Turn on Bluetooth on your device.
Scan for and select "iluv BBGUMTWS AIR':
Wait to be connected.
LISTENING TO MUSIC
Once paired, open music app on your mobile device to play/control music and adjust volume to your desired level. Earbud volume buttons are removed to provide IPX6 water proof.

DOUBLE TAP
To play/pause your music on the go, simply tap twice either earbud:
to play/pause music
to answer an incoming call or hang up during the call
Note. Tapping sensitivity has been tuned to accept wide range of patterns of individuals. Please try your tapping style with a little bit more speed and pressure to be familiarized with better recognition.
CHARGING
To charge your earbudsTo keep the earbuds charged, put them in the case while not using.
To charge your casePlug the micro USB cable into the micro USB connector on your case. Then plug the other end of the cable into a standard USB charger or port.
Checking the Charge Status

Earbuds

Earbud LEDs will show charge status while being charged in the case
When fully charged, earbud LEDs will be turned off

Charging case

LED will show the charge level of the case while connected to charger
All LEDs will light on solid when charging is completed.
LED will show the battery level of the case for 8 seconds when the earbud is put back in the case.
BATTERY LIFE
Use all day with 20 hours battery life. Get up to 6 hours of battery on a single charge, and up to 20 hours in total with the included compact charging case. For a quick charge, just put earbuds back in the case for 20 minutes and get more than 2 hours of listening time.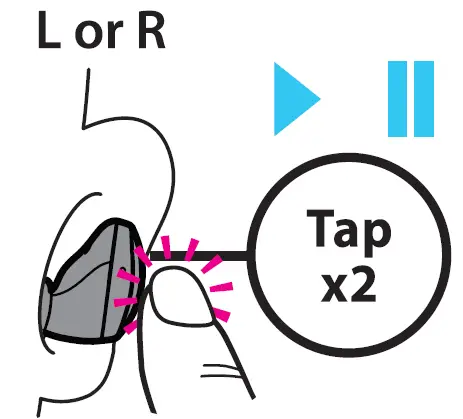 ** On a single charge at 80% volume.
POWER ON/OFF
Power On the Earbuds
Power Off the EarbudsSimply put the earbuds in the charging case and close the lid.
Auto Power Off

To conserve battery, earbuds will be automatically powered off when it is out of range of your device for 5 minutes.
To power on the earbuds again, put them in the charging case and take them out.
TROUBLESHOOTING
As a simple tweak to resolve any problems including UR channel disconnection or pairing/connectivity issues with the mobile device, place the earbuds to the charging case and leave the lid closed for 15 seconds, and take them out.

FAQ (FREQUENTLY ASKED QUESTIONS)
How can I turn on or off the buttonless earbuds?Earbuds will be automatically turned on when removed from the charging case and turned off when placed back to the charging case.
How can I play/pause music or receive a call on earbuds?Simply double tap either earbud to play/pause music while it's playing, or take a call while ringing or hang up during the call.
How can I control volume on music playback or a call?Use the volume+- buttons on your mobile device to control volume.
What will affect to the playtime?Specified playtime is measured at 80% volume in the lab condition. Actual playtime can be varied by the volume level and acoustics of the content. Connection status with the device can also affect.'
ONE YEAR LIMITED WARRANTY 
EUROPEAN UNION TWO YEARS LIMITED WARRANTY.
[xyz-ips snippet="download-snippet"]