imperii Bamboo Wireless Charging Dock Instruction Manual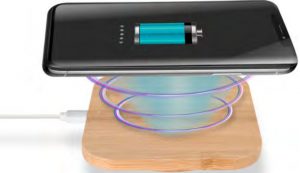 Use steps
Connect the USB MICRO cable between the charger and the power adapter, Plug the power adapter power (white light for 2 seconds)
Standby no indicator light(Save energy and environmental.)
QI-compatible receiving devices placed on a launched note at the charge zone)charger QI after receiving device is detected, begin to power a device, a green light Brightness relative to receive the size of the output power of the device.
The receiving device is removed from the charger, the blue light off, recover to standby.
During use, such as the power adapter under voltage, over-voltage; over current, stop charging, the red light flashes after a period of time to go back to step 2.
Light starts
White light: On
Blue light: Stand-by
Green light: Loading
Red light blinking: voltage/ current/ temperature anomaly.Note: different models and versions of the product, presentation of the light varies.
Notes
This product must be used as required, otherwise it will cause a fire, explosion or other danger risk.
Before use, check the power adapter parameters are appropriate and reliable quality, security Authentication, check whether the output current charging current is 1,5times larger than the receiving device, as this may cause does not charge or low charging current and may even damage the power adapter.
Check the USB cable is suitable connectors for connections, the device charging current is large, use a 1.5-2.0A USB cable, it may cause cannot be charged, negative phenomena such as frequent start.
To ensure that no debris on the charging platform, sensitive equipment and other non-metals or electromagnetic QI articles should not be placed on the charging platform.
Ensure the device meets the QI and suitability of location, location doesn't fit can result in not charging, negative phenomena such as frequent start.
Ensure charging platforms and devices are not overheating, such as overheating, please cut off the power supply, to cool before attempting to charge.
Keep the device dry, do not store or use a device in hot and cold environment.
Do not attempt to open, throw, hit or shake the device.
Medical device manufacturers recommended distance between a wireless device and an implanted medical device at least 15.3cm, to avoid potential interference with the medical device, if there is any reason to suspect that interference occurs, please cut off the power, Follow the device manufacturer, instructions, you have any questions, Please consult the relevant personnel and equipment suppliers.
Technical parameters:
Product name: Wireless charger mouse pad
Product number: BM-30
Fit standard: the QI standard compliant V1.0N1.1
Number of coils: one
Chargingdistance: <5mm
Input voltage: 1500-2000mA
Driven load:<SW
Charging efficiency:<70%
Operating temperature: 0-40
Humidity range: 45-85%RH
Wireless charger manual
This product is compatible with Wireless charging protocol of Qi (V 1 O&V 1.1 )WPC.
Can be fit for Qi standard receiving equipment (with SW) rechargeable, easy and fast.
Without the trouble of charging cable the wiring and a different interface, be easier to safeguard equipment and power full, it will be the direction of Charger development in recent years.
List
Specification
wireless charger
The USB MICRO cable
Note: Not included in the standard configuration the power supply adapter, DCSV 1.SA are recommended over quality and reliable USB adapter
Interface: USB MICRO
Input voltage: DCSV(4 6-5.SV)
Input current. 1500-2000mA
TECHNICAL SERVICE
Visit: http://www.imperiielectronics.com/contactus

imperii Bamboo Wireless Charging Dock Instruction Manual – imperii Bamboo Wireless Charging Dock Instruction Manual – imperii Bamboo Wireless Charging Dock Instruction Manual –
[xyz-ips snippet="download-snippet"]