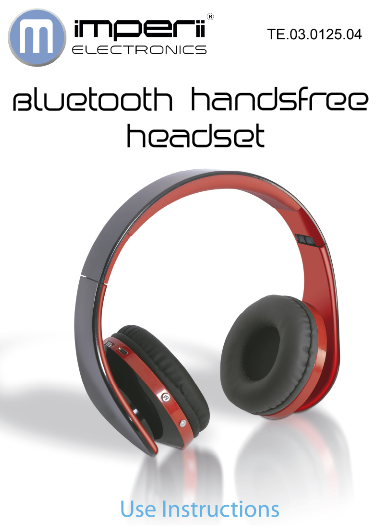 Product
BT9026 Bluetooth headphones, it is stereo headband Bluetooth headphones with excellent audio sound quality. It could be used for phone calls, listening to music, etc. It is also available to be used as the wired headphones. In order to better enjoy the superior performance of this product and ensure the safety of use,  longevity, please read this instruction carefully before using the appliance and save it for future use and reference, regarding the specific operations, consult the random instructions.
Function introduction
Bluetooth function: V4.0 version Used for music, calling, and games With built-in high-quality microphone Foldable, adjustable design Be able to match all 3.5 mm audio plug. It is workable using a 3.5 mm plug cable when the power of as wired headphones.
Usage
Power on or off: Press the "Power on or off" button.
Pairing: Press the "Power on or off" button, until the red-blue light flashes alternately, open the mobile phone's Bluetooth function, and search Bluetooth devices. After a search, select "BT9026" to pair. When pair successfully, the blue light flashes slowly.
Play/Pause: Press the button one time to stop when playing music, and press the button again to play when pause.
Answer/End call: Press the button one time to answer a phone call and press the button again to end the call.
Volume up or next song: Press the button shortly for the next song, and press a long time for volume up.
Volume down or the Previous song: Press the button shortly for the previous song, and press a long time for volume down. 7) Mode: Radio mode and Bluetooth shift.
Specifications
Bluetooth Version: V4.0Effective range: 10 metersWorking time: Music: Up to 5 hours; Talk: Up to 4 hoursStandby time: Up to 200 hoursVoltage: DCSV Electricity 500ma/HCharging time: Approx. 3 hoursWorking voltage: 3.5V-4.2VMicrophone: Bulid-inRechargable: USB cableMaterial: ABS Driverunit: 40 mmRated input power: 20mWMax input power: 50mWImpedance: 32ohm (at 1 KHZ)Speaker sensitivity: 105db (at 1 KHZ)Frequency reponse: 20HZ-20KHZPlug: 3.5 mm Battery: 250mAh
Attention
Full charge when first time using.
Keeping away from wet.
Please charge on the USB port of a computer or the output of the 5V charger.
Unused for long periods, charge and discharge once a week.
When it is the first time to play music, please turn down the volume in order to better function and have a long-term excellent audio quality.
Please charge when the headphones are off.
Accessories
3.5 mm plug cable: 1 pcUSI3 Cable: 1 pc
Warning
Must choose charger which produced by certified manufacturer.
Please charge in time if never used for more than one year.
TECHNICAL SERVICE: http//www.imperiielectronics.com/contactenos
imperii Bluetooth Handsfree Headset Instruction Manual – imperii Bluetooth Handsfree Headset Instruction Manual – imperii Bluetooth Handsfree Headset Instruction Manual –
[xyz-ips snippet="download-snippet"]