imperii External Battery Quick Charger 2.0 Instruction Manual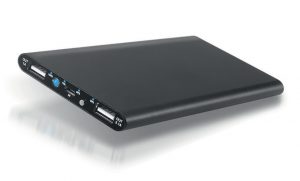 General information about the product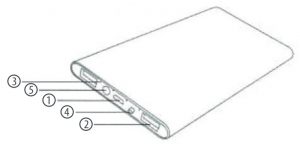 Port of entryThe interface of this port is of type Micro USB.
Output portThe interface of this port is USB type A.
LED IndicatorsFour batteries to indicate battery status.Discharge indicators: The lights will remain on while charging your devices. The number of lights on will indicate the amount of charge remaining.Charging Indicators: All four lights will flash alternately when charging the battery. Once the charger is complete, the four lights will stay on without blinking.
Power button and 5. Flash light

Press the power button twice so that the flash light comes on.
Press this button for 3 to 5 seconds to stop the download.
Charge the external battery
Use the cable with Micro USB connector to charge the external battery, either through the electric current (using the adapter) or by connecting it to the computer.
When the battery is fully charged, all four LEDs will remain lit.
Charging other devices
The external battery is compatible with most mobile phones and portable devices with DC-SV.
While charging your phones or devices, the LED indicator will blink to report that the battery is fully charged. When the device is charged, the external battery will automatically shut down.
TECHNICAL CHARACTERISTICS
Battery Type PolymerOutput 1: DCSV/lOOOmAOutput 2: DC SV / 2100 mAInput: DC SV /2000 mACapacity: 8000mAhSize: 15.3 x 7.6 x 0.9cmWorking temperature: -20°c-so•c
Accessories
Charger
Micro USB cable
Product Manual
Warning
Do not get wet and away from water and high temperatures.
Do not disassemble or attempt to repair the battery by yourself as it may burn or explode.
Do not overload the device as it may burn or explode.
Please use the external battery properly and complying with current law.

imperii External Battery Quick Charger 2.0 Instruction Manual – imperii External Battery Quick Charger 2.0 Instruction Manual – imperii External Battery Quick Charger 2.0 Instruction Manual –
[xyz-ips snippet="download-snippet"]