imperii HDTV WiFi Dongle User Manual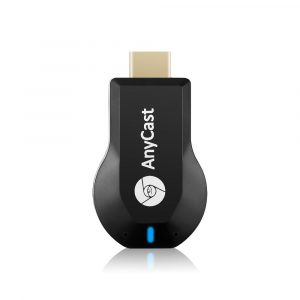 I. Warnings
This manual includes safety instructions and instructions on how to correctly use this device. Please read these indications to prevent accidents.
Please do not expose this product to high temperatures, moisture or dust.
Prevent this device from falling or suffering sharp bumps.
Do not unplug when the device is charging or discharging, it could lead to a format error.
Please do not disassemble product and avoid contact with alcohols or solvents.
The App does not update automatically.
lmperii Electronics offers technical service, but accepts no responsibility for the misuse or incorrect use of this device.
This device is not water resistant.
The pictures on this manual serve only as a reference.
II. Components
lmperii HDTV WiFi Dongle.
USB cable and HDMI cable
User Manual
III. Device introduction
The lmperii HDTV WiFi Dongle device can be used with LCD and LED screens, projectors or monitors with HDMI input.
It is compatible with the following operating systems: iOS, Mac OS, Android and Windows.
It transmits, receives and reads contents sent from a deviceconnected to its same WiFi network, such as computers, Smartphones or Tablets.
If your device uses Miracast technology, lmperii HDTV Wifi Dongle will also use it.
This device is controlled with the free App Ezcast, developed by Vsmart.
You can transmit I reproduce contents in 1080p.
IV. How to connect and synchronise
Connect your lmperii HDTV WiFi Dongle to your TV using the HDMI cable included.
Switch on your TV and choose the appropriate channel for the HDMI port (e.g.: HDMl.1)
Connect your lmperii HDTV WiFi Dongle to power supply through the Micro USB port. You can use the USB port on your TV or any other power source. Make sure amperage is 1 A.
The following information will show on your screen: SSI D: EZCAST- 6A0C; Password: 253014; IP: 192.168.111 .2
For Windows or Mac OS, download software from: http://www.iezvu.com/download
You can also download the software for iOS by scanning the QR code. Or you can go to your App Store and download the "EZCast" App.
You can also download the software for Android by scanning the QR code. Or you can go to your Google Play and download the "EZCast" App."EZCast"
Open the EZCast App after installing it.
Go to your device settings and connect SSID on the list of WiFi networks.
The EZCastApp will open again.
V. Mirroring mode in Windows
This manual applies for both Windows 7 and Windows 8. The only differences have to do with the location of tools.
Go to desktop and select the "Settings" tool
Click on PC settings.
Select "PC and devices"
Select "Devices" and the "Add a device".
The system will automatically search the "Miracast" device.
Next it will ask for the PIN code of your Imperii HDTV WiFi dongle, which is 1234567890 by default.
Finally, a window like the one below will display indicating that setting is finished.
VI. EzCast for smart devices
Open the EZCastApp once the SSID is connected.
6 different functions will display on your screen.
Photo

Click on "Photo" and then choose a photo saved on your Smartphone o Tablet.
Click on to edit photo, and on to save changes

Files

It supports the following file formats: PDF, DOC, PPT, Excel, Mac OS Page, MAC OS Numbers and Mac OS Keynotes.
Click on "Office" and choose the file you wish to open.
Click on to edit, and on to save changes.

Browser

Click on browser.
Enter URL and the device will show the website on your TV.

Camera

Click on camera.
The image that your Smartphone or Tablet camera captures will now display on your TV.

Streaming

Click on "music" or on "video".
You can now view your Smartphone or Tablet contents on your TV.
IV. DLNA for Android devices
In DLNA mode, click on  to activate the DNLA function
If you wish to view streamed content, please make sure the app you have installed has the DLNA function.
If you wish to view local content, please exit the EZCast app by pressing on the "Start" button of your Smartphone or Tablet, and then choose a video to play and activate the DLNA button to send it to your TV.
VIII. AirPlay for iOS devices
AirPlay can only be used with iOS devices. This function will allow you to link any content from your iOS device with your TV the same way as with DLNA.
IX. Miracast for Android devices
This function allows you to completely see your screen on your TV, not only contents. Please, make sure your device has the certified Miracast function before using it. The following example shows a Samsung Galaxy SIV; if you have a different terminal, please, check your Smartphone manual.
Activate Mira cast function on your Smartphone.
X. Settings Function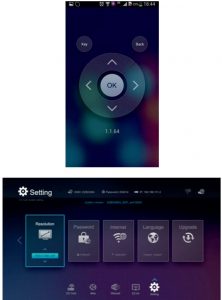 Resolution: It supports 1920×1080 24P; 1280×720 60P
You can choose your own password.
Internet: WiFi
Language: Multi-language
It supports OTA upgrades.
XI. Frequent Questions
Frame Skipping or no smooth resolution: Please, make sure your lmperii HDTV WiFi Dongle device is not hidden behind your TV and that it has good WiFi reception
A "low intensity" message displays on TV: Make sure the USB port on your TV is 1A. Otherwise, please connect the device to power network with a 220V-MicroUSB cable, such as a phone charger.
Cannot use Miracast: Please, check that your phone has the Miracast certificate.
Remains on "Buffering" mode: The WiFi signal the device receives is not enough. Please, orient the router so that your device receives the best possible signal.
If your problem is not among those listed above, please contact us at the following address [email protected]
Limited Warranty
✓ This product is warranted for two years from the time of its purchase.✓ The warranty comes into force at the time of submission of the commercial invoice of the establishment properly filled and sealed.✓ Should there be a problem with the product, the user must contact IMPERIi ELECTRONICS at Once received, the doubts, incidents and problems will be solved by email. If this is not possible and the problem persists, the warranty will be processed in accordance with the applicable law.✓ The warranty is extended to 2 years, referring only to manufacturing defects.✓ The shipping to the nearest technical service or to our headquarters must be carried out with prepaid postage. The article must arrive well packaged and with all its components.✓ We deny any responsibility for data that may arise from misuse of the product.✓ The warranty does not apply in the following cases:
If the instructions have not been followed correctly
If the product has been tampered with
If it has been damaged by improper use
If the defects have arisen as a result of faults in the electrical supply
PRODUCT _________________MODEL____________________SERIES_____________________

imperii HDTV WiFi Dongle User Manual – imperii HDTV WiFi Dongle User Manual – imperii HDTV WiFi Dongle User Manual –
[xyz-ips snippet="download-snippet"]