imperii LCD Writing Tablet Instruction Manual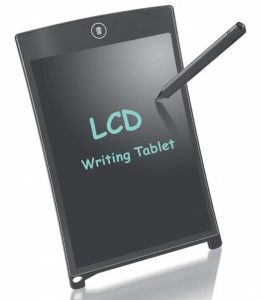 LCD Writing Tablet
Digital Writing Board
Message Board
Portable Drawing Tablet
How to Use
Remove the stylus.
Write in the write-enabled area.
Press the delete button to delete the content.
Replace the battery if pressing the delete button does not remove the contents.
CHARACTERISTICS
| | |
| --- | --- |
| Name | LCD Writing Tablet |
| Size | 221 x 46 x 4.5 mm |
| Material | LCD and ABS |
| Support | Flexible LCD panel |
| Battery | CR2016 button cell |
ACCESSORIES INCLUDED
1 x 12 ' LCD Writing Tablet
1 x Pencil
1 xBox
Note
Operating temperature between 0 ° C and 40 ° C.
Avoid contact with water and other liquids.
Avoid sharp objects that can scratch the surface.
Use a clean cloth to clean the surface.
Use the appropriate batteries.
WHY CHOOSE THE LCD SCREEN TABLET?
1. It is an economic writing system that takes care of the environment. An eco-friendly alternative to traditional paper that allows you to type and erase using a single button.
It is a useful tool for children to study and explore their creativity, perform mathematical operations draw or practice their spelling. In addition, they can be used virtually anywhere (at home, in the car … ) and gives them a good example of environmental commitment.
Open the mind to other forms of communication, especially with deaf people. Sign language is not too widespread and thanks to this whiteboard solves many of the difficulties of communication with a person with hearing problems.
Keep the family informed at all times through notes and notes, shopping lists, reminders …
It allows you to keep your work space tidier, leaving your cuttings and papers for good.
It is a very practical accessory as a complement to some table games (bingo, hanged, three in a row … ). In short, it is a multifunctional tool of the most useful.
It is a light and compact blackboard that fits without problems in a backpack.
It allows you to make very varied drawings, with different line thicknesses and colors.
It is made of durable material, long lasting and non-toxic.
Develop your creativity with this drawing and writing tablet.
Children will have more fun during study hours.
It is a safe device for sight.
It can be used on the plane to make your journeys more entertaining when you can not have other electronic devices.
It is a portable slate that can be carried anywhere.
SPECIFICATIONS
| | |
| --- | --- |
| Material | ABS |
| Color | Red, blue, white, black |
| Writing surface size | 12′ |
| Digital slate size | 28 x 18.5 x 0.5 cm |
| Writing pressure | 10 – 20 g |
| Power | Button cell |
| Content | Writing board and pencil |

imperii LCD Writing Tablet Instruction Manual – imperii LCD Writing Tablet Instruction Manual – imperii LCD Writing Tablet Instruction Manual –
[xyz-ips snippet="download-snippet"]