QUICK SETUP GUIDE
3-Port HDMI Switch
NS-HZ335
PACKAGE CONTENTS
3-Port HDMI switch
Power adapter (Micro USB)
Quick Setup Guide
Back view

Top view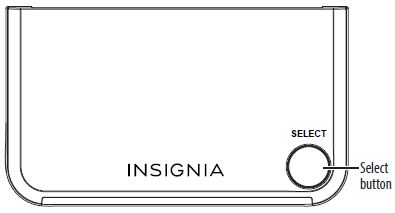 FEATURES
HDMI® 3D & 4K video format supported
HDMI® 2.0 / HDCP 2.2 compliant
DTS-HD®, Dolby® TrueHD lossless compressed digital audio compliant
Plug-and-Play, installs in seconds
Connect up to three HDMI sources using only one HDMI port on your TV
Supports full 4K HDR signals up to 18 Gbps
Push-button selection for easily changing the input
Note: HDMI cable(s) not included Your 3-Port HDMI Switch supports the latest 4K video and next-generation audio signals.
Note: In the unlikely event that a feature is not supported, neither the picture nor the sound quality would be degraded.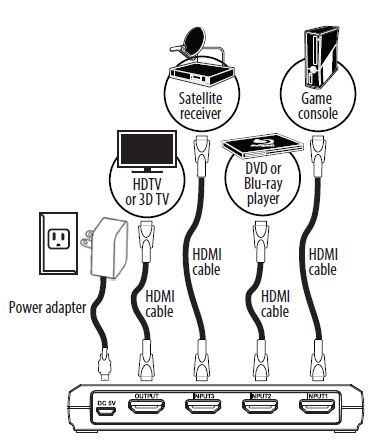 SETTING UP YOUR SWITCH
Connect HDMI cables (not included) from your source devices to the switch's INPUT ports.
Connect an HDMI cable from your TV (or projector) to the switch's OUTPUT port.
Connect the power adapter from the DC 5V port to a power outlet. The power LED and an input LED light up.
USING YOUR SWITCH
Turn on your TV and source device.
To select a source device, press the SELECT button repeatedly until the LED indicator lights for the source device you want.
Use your source device as usual to play video and audio.Note: You may leave the power on while not in use.
SPECIFICATIONS
Dimensions (L × W × H): 5.1 × 2.9 × 0.8 in. (13 × 7.6 × 2.1 cm)
Weight: 0.21 lbs. (96.3g)
Power supply with micro USB connector: 5V DC/600mA
Resolution: 480p, 720p, 1080p, and 4K (up to 4K at 60Hz or 1080p at 120Hz)
Frame Rate: Up to 4k at 60 Hz (1080p at 120 Hz)*
Color: Deep Color, HDR, and other expanded color spaces
Audio: Works with all audio formats supported by the HDMI standard
*Note: TVs with high internal refresh rates (such as 240 Hz) are compatible. The specifications refer to source signal and not TV refresh rate.
TROUBLESHOOTING
No video and/or audio
Make sure that all connections are correct and secure.
Make sure that the switch is plugged in and turned on.
Make sure that the switch is set to the correct source device.
Make sure that your TV (or projector) is set to the input/source that your switch is connected to.
Make sure that the audio and video formats (such as a Blu-ray disc) are supported by the source device and display that you are using.
Unplug the switch's power cable, wait 10 seconds, then plug it back in again.
Make sure that your TV or projector supports the video resolution that your source device is using.
Make sure that your HDMI cable is not damaged. Try connecting a different HDMI cable.
Long HDMI cables may cause signal loss. Try a different, shorter HDMI cable.
HDCP error
Unplug your switch's power cable, wait 10 seconds, then plug it back in.
If you connect any output to your video recorder, the HDCP may automatically lock up audio. Make sure your video recorder supports HDCP.
The input source will not change
Unplug the HDMI cable and plug it in again.
My display does not show 4k or 3D content
Make sure that your source device and display support 4K or 3D content and that you have 4K or 3D content on your source device.
Note: For maximum compatibility, this device will not relay CEC commands between devices. Power, input switching, and other controls must be done on individual devices.
NOTICE
Manufacturer reserves the right to make changes in the hardware, packaging, and any accompanying documentation without prior written notice.
HDMI®, the HDMI® Logo, and High-Definition Multimedia Interface are trademarks or registered trademarks of HDMI® Licensing LLC.
NS-HZ335 incorporates HDMI® technology.
Trademarks and brand names are the properties of their respective owners.
LEGAL NOTICES
FCC Statement
1. FCC Caution – §15.21:
Changes or modifications not expressly approved by the party responsible for compliance could void the user's authority to operate the equipment.
2. FCC Statement – §15.105(b):
This equipment has been tested and found to comply with the limits for a Class B digital device, pursuant to part 15 of the FCC Rules. These limits are designed to provide reasonable protection against harmful interference in a residential installation. This equipment generates, uses, and can radiate radio frequency energy and, if not installed and used in accordance with the instructions, may cause harmful interference to radio communications. However, there is no guarantee that interference will not occur in a particular installation. If this equipment does cause harmful interference to radio or television reception, which can be determined by turning the equipment off and on, the user is encouraged to try to correct the interference by one or more of the following measures:
Reorient or relocate the receiving antenna.
Increase the separation between the equipment and receiver.
Connect the equipment into an outlet on a circuit different from that to which the receiver is connected.
Consult the dealer or an experienced radio/TV technician for help.
ONE-YEAR LIMITED WARRANTY
Visit www.insigniaproducts.com for details.
CONTACT INSIGNIA:
For customer service, call 1-877-467-4289 (U.S. and Canada)or 01-800-926-3000 (Mexico)www.insigniaproducts.com
INSIGNIA is a trademark of Best Buy and its affiliated companies. Distributed by Best Buy Purchasing, LLC 7601 Penn Ave South, Richfield, MN 55423 U.S.A.©2018 Best Buy. All rights reserved.Made in Taiwan
INSIGNIA NS-HZ335 3-Port HDMI Switch Quick Setup Guide – INSIGNIA NS-HZ335 3-Port HDMI Switch Quick Setup Guide –
[xyz-ips snippet="download-snippet"]