IOGEAR Video Capture Adapter / HDMI® to USB-C™ Quick Start Guide
GUV301PART NO. Q1569
Package Contents
1 x GUV3011 x USB-C to USB-A Adapter1 x Quick Start Guide1 x Warranty Card
The terms HDMI, HDMI High-Definition Multimedia Interface, and the HDMI Logo are trademarks or registered trademarks of HDMI Licensing Administrator, Inc.
System Requirements
Operating System:Windows 7 and above with UVC v1.1 supportMac OSX 10.13+ with UVC support(UVC = USB Video Class)
System Requirement:CPU: Intel® CoreTM i3 Core 2.8 GHz or higherMemory: 4GB or moreOne USB-A or USB-C 3.1 portStream software with UVC device support
Stream Software Support*:YouTube, Facebook, and TwitchOBS: https://obsproject.comXsplit: https://www.xsplit.com
*Above lists some examples of supported video recording/live streaming software. The listed examples are for reference only and are not affiliated in any way with IOGEAR or ATEN. All trademarks are property of their respective owners.
Overview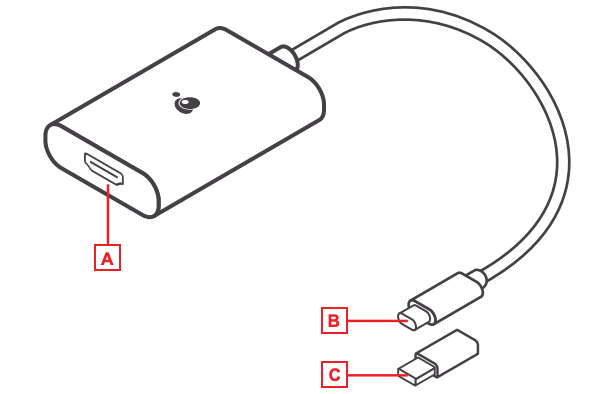 A. HDMI PortB. USB-C ConnectorC. USB-C to USB-A Adapter
Installation
Power on your host (e.g. laptop) and connect the USB-C Connector to the host.
If your laptop only has a USB-A interface, connect the (included) USB-C to USB-A adapter between the host and the USB-C Host connector.
Connect your HDMI source device to the GUV301 HDMI port**.
Please download and install stream software from "Stream Software Support list" to enable recording or streaming function for GUV301.
**GUV301 cannot display or capture HDCP protected content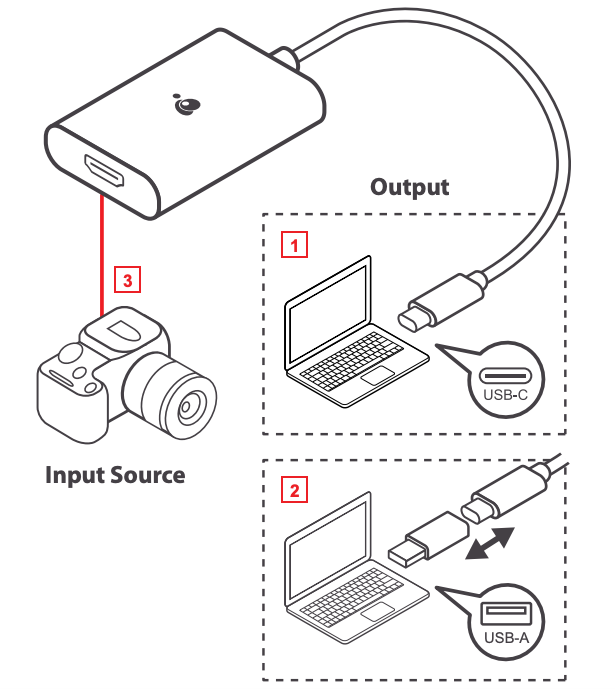 References
[xyz-ips snippet="download-snippet"]