Jackery 3839087 SolarSaga 60W Solar Panel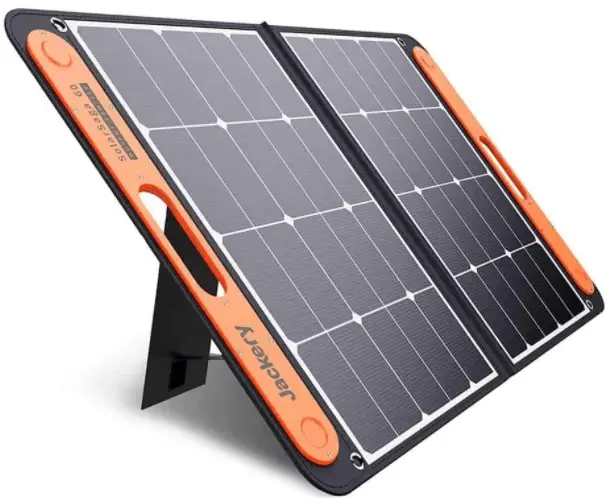 Jackery Inc.TM and 2019 Jackery Inc. All rights reserved.Made in China www.jackery.com
Technical Parameters
Model                                              SolarSaga 60Peak Power                                      68 WCell Efficiency                                   23%Power Voltage                                   22VPower Current                                  3.09AOpen Circuit Voltage                        26.4VShort Circuit Current                        3.36AUSB-A Output                                  5V 2.4AUSB-C Output                                   5V 3AOperating Temperature Range           -10-65℃Dimensions (unfolded)                       855x535x5mmDimensions (folded)                           425x535x35mm
Safety Tips
Do not bend the solar panel(the angle is more than 30°) or the panel will be broken.
Do not immerse the Solar Panel in water.
Do not clean the solar panel with water , with the wet cloth gently scrub it.
Do not use or store the Solar Panel near sources of heat such as a fire or heater.
Do not put the Solar Panel into a fire or apply direct heat to it.
Do not pierce the Solar Panel casing with a nail or other sharp object, break it open with a hammer, or step on it.
Do not attempt to disassemble the Solar Panel in any way.
This product cannot contact with strong corrosive objects.
Do not charge automotive battery directly.
Customer Service
24 – month limited warrantyLifetime technical support[email protected]1-888-502-2236丨Mon-Fri 9:00-5:00 PST (US)
Warranty
The product is covered by a limited warranty from Jackery for the original purchaser that covers the product from defects in workmanship and materials for 24 months from the date of purchase ( damages from normal wear and tear, alteration, misuse, neglect, accident, service by anyone other than authorized service center, or act of God are not included). During the warranty period and upon verification of defects, this product will be replaced when returned with proper proof of purchase
Frequently Asked Questions
Q: What kind of battery can be charged by these solar modules?
Jackery Explorer series
Sealed lead-acid battery
Colloidal lead-acid batteries
The open lead-acid batteries
Q: How to clean the solar surface?Dust and dirt on the surface should first be removed using a soft brush. Use a damp cloth to wipe the surface of the solar module to remove any remaining dust or dirt. Any guano or other adhesive should be removed as soon as possible from the solar surface to avoid a reduction in performance.
Q: Are the foldable solar modules waterproof?To Maximize the lifespan of the module, it should not get wet.
Contact usFor any inquiries or comments concerning our products, please send an email to , and we will respond to you as soon as possible. If there is any quality related issue with the product, you may request a replacement or refund by submitting a request form at www.jackery.com/support/.

References
[xyz-ips snippet="download-snippet"]