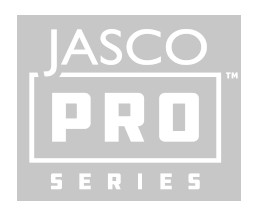 MANUAL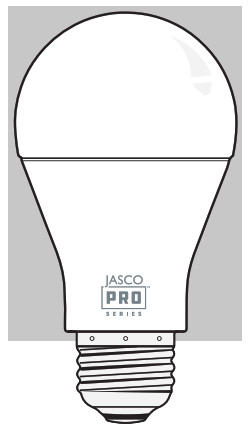 64637 ZW7106, 60W EquivalentSmart LED Bulb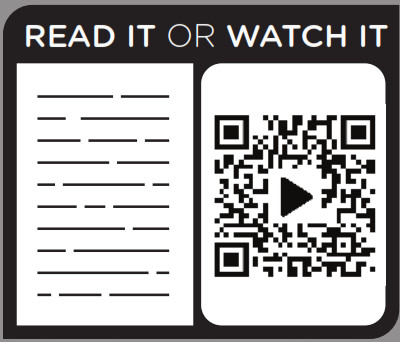 Read instructions or watch the easy-to-follow videos. Scan QR code or visit https://byjasco.com/64637i.




DO NOT RETURN THIS PRODUCT TO THE STORE NE RETOURNEZ PAS CE PRODUIT AU MAGASIN NO DEVUELVA ESTE PRODUCTO A LA TIENDA
If you have any problems or questions, contact our U.S.-based Consumer Care at 1-800-654-8483, option 1, Monday–Friday, 7AM–8PM  Central Time.For the most up-to-date product support, accessories, electronic (PDF) format manuals and more, visit www.byjasco.com/support.
No user-serviceable parts in this unit.
WARNING
NOT FOR EMERGENCY LIGHTING
RISK OF ELECTRIC SHOCK
RISK OF FIRE
RISK OF BURNS
USE IN DRY LOCATIONS ONLY
ONLY USE THE CONTROL PROVIDED WITH OR SPECIFIED BY THESE INSTRUCTIONS TO CONTROL THIS LAMP. THIS  LAMP WILL NOT OPERATE PROPERLY WHEN CONNECTED TO A STANDARD (INCANDESCENT) DIMMER OR DIMMING CONTROL
NOT FOR USE IN TOTALLY ENCLOSED LUMINARIES
WARRANTY
Jasco Products Company warrants this product to be free from manufacturing defects for five years from the original date of consumer purchase.  This warranty is limited to the repair or replacement of this product only and does not extend to consequential or incidental damage to other products that may be used with this product. This warranty is in lieu of all other warranties, expressed or implied. Some states do not allow limitations on how long an implied warranty lasts or permit the exclusion or limitation of incidental or consequential damage, so the above limitations may not apply to you. This warranty gives you specific rights, and you may also have other rights which vary from state to state. Please contact our U.S.-based Consumer Care at 1-800-654-8483 (option 1) between 7 AM – 8 PM, M-F, Central Time, or www.byjasco.com if the unit should prove defective within the warranty period.
SPECIFICATIONS
Power: 120VAC, 60Hz, 9WSignal (frequency): 908.4/916MHzZ-Wave Range: Up to 150ft. line of sight between the wireless controller and the closest Z-Wave receiver moduleOperating temperature range: 32-104° F (0-40° C)For indoor use onlySpecifications are subject to change without notice due to continuing product improvement.
Getting to know your new Z-WaveBrightness: 750 lumens (equivalent to 60W incandescent bulb)Power consumption: 9W Color temperature: 2700K• Replaces A19 light bulbs• Remote ON/OFF and brightness control via the Z-Wave controller• This Z-Wave device has advanced features that allow you to customize your experience.These features can only be adjusted by aZ-Wave enabled controller that supports theZ-Wave configuration command class. For a complete list of adjustable configurations, visit www.ezzwave.com/config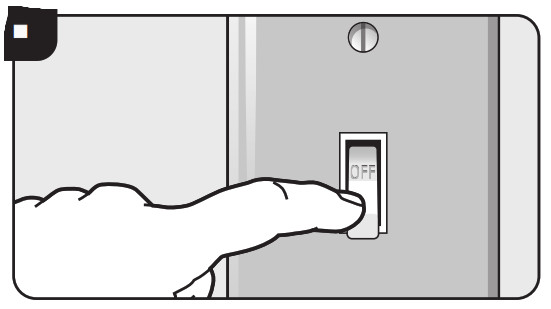 1. Turn off power to the light bulb socket where the installation will occur.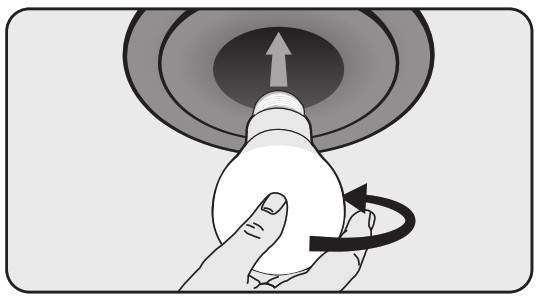 2. Screw in the smart LED bulb to the socket.

Adding your device to a Z-Wave network
Follow the instructions for your Z-Wave certified controller to add the LED smart bulb to the Z-Wave network.
 Once the controller is ready to add your LED smart bulb, turn on the power to the socket. The LED smart bulb is automatically added to your network within 30 seconds, and the smart bulb flashes twice when added to the network.
You have complete control to turn ON/OFF your lamp or set dim levels according to groups, scenes, schedules, and interactive automation programmed by your controller. If your Z-Wave certified controller features remote access, you can control your lighting from your mobile devices.
SWITCH LOCKWithout power, the smart bulb cannot be turned ON remotely or function as a signal repeater in your Z-Wave network. To avoid accidentally removing power from the smart bulb, install the included clear switch cover.
Designed for toggle and rocker-style switches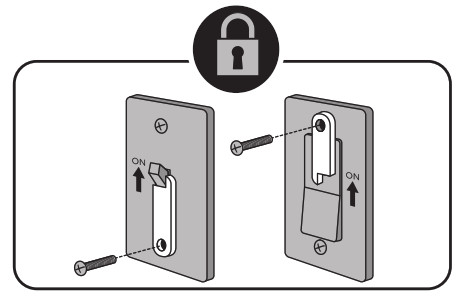 Switch lock moves for manual control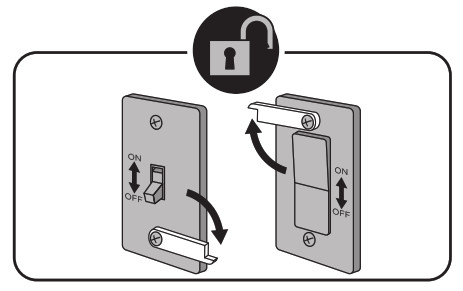 MANUAL ControlIf your Z-Wave controller/hub is unresponsive, you can manually control the smart bulb with your switch. Follow the steps below to manually turn ON/OFF the light without disabling power to the smart bulb.
To turn the light bulb ON: turn the light switch OFF, then ON (OFF/ON).

To turn the light bulb OFF: turn the light switch OFF then ON twice (OFF/ON, OFF/ON).

To remove and reset the device
 Start with the bulb powered off at the wall switch.
 Follow the instructions for your Z-Wave certified controller to remove the smart bulb from the Z-Wave network.
 Once the controller is ready to remove your smart bulb, turn ON the light switch. The smart bulb will flash twice when removed from the network.

To return your smart bulb to factory defaultsStarting with the bulb on, cycle the wall switch OFF/ON four times.
Turn OFF the switch, pause one second and turn ON again.
 Repeat three times (four times total).
The smart bulb flashes twice when reset.
NOTE: This should only be used in the event your network's primary controller is missing or otherwise inoperable.
FCC/IC
This device complies with Part 15 of the FCC and Industry Canada license-exempt RSS standards. Operation is subject to the following two conditions: (1) this device may not cause harmful interference, and (2) this device must accept any interference received, including interference that may cause undesired operation.
FCC NOTE: The manufacturer is not responsible for any radio or TV interference caused by unauthorized modifications to this equipment. Such modifications could void the user's authority to operate the equipment.
NOTE: This equipment has been tested and found to comply with the limits for a Class B digital device, pursuant to Part 15 of the  FCC Rules. These limits are designed to provide reasonable protection against harmful interference in a residential installation. This equipment generates, uses, and can radiate radio frequency energy, and if not installed and used in accordance with the instructions, may cause harmful interference to radio communications. However, there is no guarantee interference will not occur in a particular installation. If this equipment does cause harmful interference to radio or television reception, which can be determined by turning the  equipment off and on, the user is encouraged to try to correct the interference by one or more of the following measures:— Reorient or relocate the receiving antenna.— Increase the separation between the equipment and receiver.— Connect the equipment into an outlet on a circuit different from which the receiver is connected.— Consult the dealer or an experienced radio/TV technician for help.Important note: To comply with the FCC RF exposure compliance requirements, no change to the antenna or the device is permitted.  Any change to the antenna or the device could result in the device exceeding the RF exposure requirements and void user's authority to operate the device.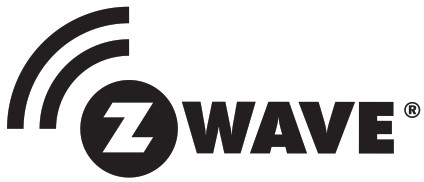 Z-WAVEINTEROPERABILITYThis product can be added and operated in any Z-Wave network with other Z-Wave certified devices from other manufacturers and/or other applications. All non-battery-operated nodes within the network will act as repeaters regardless of vendor to increase the reliability of the network.
This device supports Lifeline (association group 1) supporting 5 nodes for lifeline communication. Group 1 must be assigned the node ID of the primary controller where unsolicited notifications will be sent. The Z-Wave controller should set this association automatically after inclusion. Lifeline association only supports the "Device Reset Locally" function. Refer to the instructions of your controller for any available details on how this can be set.
References
[xyz-ips snippet="download-snippet"]