JBL Link 10 Manual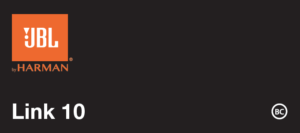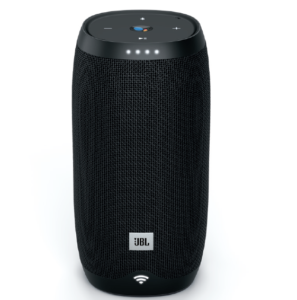 Product Tour Front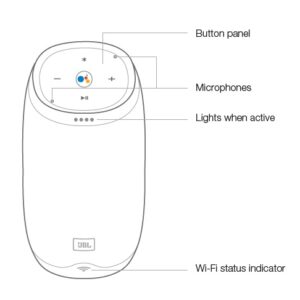 Top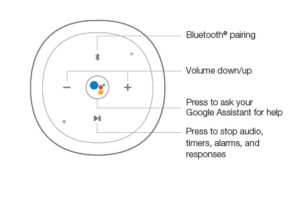 Back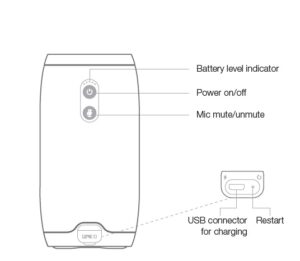 Micro USB cable

Get Started


Download and run the Google Home app on a phone or tablet.Set up your JBL Link 10 in the Google Home app.
IPX 7 Waterproof
JBL Link 10 is IPX7 waterproof.IPX7 waterproof is defined as the speaker can be immersed inwater up to 1m for up to 30 minutes.IMPORTANT: To ensure that the JBL Link 10 is waterproof, pleaseremove all cable connections and tightly close the cap; exposingthe JBL Link 10 to liquids without doing so may result inpermanent damage to the speaker. And do not expose JBL Link10 to water while charging, as doing so may result in permanentdamage to the speaker or power source.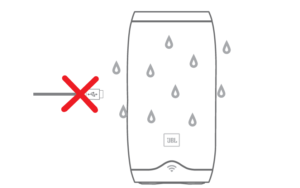 Specification
Transducer: 2 x 40m
 Output power: 2 x 8W
Frequency response: 65Hz-20kHz
Signal-to-noise ratio: >80dB
Battery type: Lithium-ion Polymer (3.7V, 4000mAh)
Battery charge time: 4 hours @5V 1A
Music play time: up to 5 hours (varies by volume level andcontent)
Wireless network: 802.11b/g/n/ac (2.4/5GHz)
Bluetooth version: 4.2
Supported audio formats: HE-AAC, LC-AAC, MP3, Vorbis,WAV (LPCM), FLAC, Opus
Dimensions (Dia x H): 86 x 169 mm
Weight: 710g

Google, Google Play, Chromecast, Chromecast built-in, Google Homeand other related marks and logos are trademarks of Google Inc.Chromecast built-in may require subscription(s).* Requires compatible device. Availability and performance of certainother features and services are service, device and network-dependentand may not be available in all areas; subscription(s) may be required,and additional terms, conditions and/or charges may apply.The Bluetooth® word mark and logos are registered trademarksowned by Bluetooth SIG, Inc. and any use of such marks byHARMAN International Industries, Incorporated is under license. Othertrademarks and trade names are those of their respective owners.The Wi-Fi CERTIFIED Logo is a certification mark of the Wi-Fi Alliance.This equipment complies with FCC/IC RSS-102 radiation exposurelimits set forth for an uncontrolled environment. This equipmentshould be installed and operated with minimum distance 20cmbetween the radiator & your body.
Read More About This Manual & Download PDF:
JBL Link 10 Manual – JBL Link 10 Manual –