Instruction Manual JH-115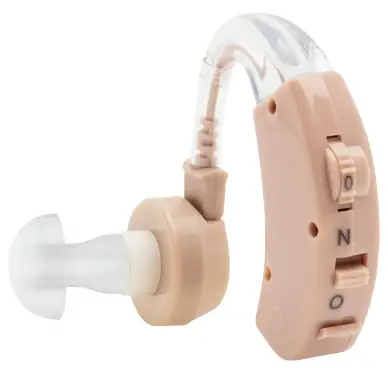 Please read this user manual thoroughly and completely before using the product.Please read every single word of the instructions carefully before operating the product.Thanks for purchasing our product. The product can help you hear the sound clearly when you are watching a  movie, meeting, or taking a class.It will be a good choice if you want to hear very slight sounds. Just like you hear the chirping of birds in the forest.
NOTICE
1.1 What is hearing loss?A speech frequency pure-tone average (average of hearing thresholds at 0.5, 1, 2, and 4 kHz) of greater than 25  B hearing level (HL) in both ears was defined as hearing loss per World Health Organization criteria, and this s  the level at which hearing loss begins to impair communication in daily life. (Extracted from the literature of world Health Organization Prevention of Blindness and deafness(PBD) program. Prevention of Deafness  nd Hearing Impaired Grades of Hearing Impairment)
1.2 What's a hearing aid?This hearing aid was used the air-conduction type to compensate for impaired hearing. It is a wear sound-amplifying device. The fundamental operating principle of a hearing aid is to receive, amplify, and transfer sound to the eardrum of a hearing-impaired person.
INTENDED USE
2.1 Medical purposeThe hearing aid was intended to compensate for impaired hearing.2.2 Intended patients and environment hearing aid expect used indoor and outdoor environment, any patients, if need hearing compensated decided by the doctor, can be using but the patients must over than 36 months old.2.3 Side effects  – For the patient's skin sensitivity with a silicon material, maybe caused ear canal pruritus. – First use may cause the ear canal to appear temporary maladjustment, such as slight pain.
 IMPORTANT SAFETY INSTRUCTIONS
Read all the information in the instruction manual and any other literature included in the box before using the device. This hearing aid only be used for compensating the patients with hearing loss, does not have any hearing therapeutic value.3.1 CONTRAINDICATION

Warning The device is not allowed to use in the following situations:– Patients with chronic suppurative otitis Warning media, congenital ear atresia. (the information source,see Attachment 5 for details.)– Infants under 36 months old.
3.2 WARNINGS

Warning– Keep small parts (hearing instrument,  battery, and detachable parts) that can be swallowed out of children's reach. It will do harm to them.– Dropping, immersing in liquid, strong electromagnetic fields or excessive heat will damage the hearing aid. If parts remain in the ear, please go to see a doctor as soon as possible, do not take it out by yourself.– Do not take out the accessories when it remains in your ear by chance.
– Remove the battery to avoid leakage from a battery when you don't use it.– Remove the sealing on the positive side of the battery before loading. The battery operates normally for about 1 minute after the sealing is removed. – Open the battery compartment lid. Load a battery compartment with correct polarity, the plus mark+on the battery and the lid should be on the same side.– Close the battery compartment lid. Waste batteries and hearing aids should reserve and throw out according to battery recycling management. Could not throw it into the fire.– Batteries are harmful when swallowed.
Always store batteries out of reach of children.3.3 Notice

Warning– Don't use it at high volume for a long time. Otherwise, it will injure your ear. If you feel uncomfortable, please stop using.– Please maintain the products from time to time, avoid ear plug and sound collecting holes being blocked by foreign objects. It will affect the effect of the sound amplifier.– Avoid shocking or throwing the product. Don't keep or use it in an environment of humidor high-temperature (such as a sauna room).
– Don't throw the scrapped battery as common rubbish, it should be handled by special equipment.– Don't use the product in potentially explosive or dangerous environments.– Don't use in an oxygen-rich environment, and continue use hearing aid long time– Do not lend your hearing aid to other persons. Using a hearing aid designed for someone else can result in earing damage.– Monitor any unusual skin reaction. In some instances, wearing a hearing aid can cause an allergic reaction reading to itchiness or rashes. If you notice any unusual skin condition, stop wearing the hearing aid and see a  medical specialist.– Do not touch the hearing aid to the magnetic thing. A hearing aid may be broken when it is touched by a magnetic thing.– Do not use it when it is not working and please turn to VI to check the possible case.– DO not take it apart by yourself, it will make a bad effect.– Do not leave your hearing aid in a car, when it is totally closed.– Do not use the hearing aid together with a cell phone.– Radio wave emissions from mobilephones can cause noise in the hearing aid or result in a reduced volume.– Please contact the MANUFACTURER:• For assistance, if needed, in setting up, using, or maintaining the HEARINGINSTRUMENT; or to report unexpected operations or events.
KNOW ABOUT YOUR DEVICE
Key components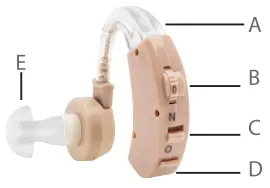 A. Sound Collecting HoleB. Volume AdjusterC. O-ND. Battery CartridgeE. Ear Plug
"N" means "Power On""O" means "Power off""+" Positive electrode of Battery"-" Negative electrode of Battery"1~4" Volume grade, "1" Min,"4" Max
How to Use
Open the cartridge cover, put the battery in the correct direction. Zinc-Air Battery is the best choice and has longer life.

1. Before use, make sure the power is turned off, or make the volume to "1".

2. Put the ear hook on your ear, plug in the earplug tightly. (Note: The unit is in the "off" position. And volume s on "1", otherwise, the instant sound will make you uncomfortable).
3. Turn on the power and adjuster the sound volume to get a clear sound.

4. If you hear the whistling sound, please check whether you have plugged in the earplug tightly, please changethe other size plug.

MAINTENANCE AND CLEAN
6.1Daily maintenanceIt is important to keep your instrument clean and dry. On a daily basis, clean the hearing instruments using a soft cloth or tissue.

In order to avoid damage due to humidity or excessive perspiration, the use of a drying kit is recommended.
6.2Care and maintenance Operate the controls with care. Do not press hard.
If the hearing aid is dropped in water, wipe it with a dry cloth and ask the dispenser for the check.
TROUBLESHOOTING
Check the following if the device should fail during operation.
| | |
| --- | --- |
| Problem | Cannot hear the sound well |
| Cause | 1) Is the battery exhausted |
| Remedy | 1) Replace with a new battery. |
| | |
| --- | --- |
| Problem | No sound |
| Cause | 1) If you turn on the power.2) If you fit the battery in the correct direction.3) If the battery power has been used up.4) If the earphone is damaged.5) If the lead is broken.6) What to do if the hearing aid was dropped in water?7) If the hearing aid was accidentally dropped in water or other liquid.8) Never attempt to dry the hearing aid in a microwave oven, a dish dryer, or with a hairdryer. This may damage the hearing aid. |
| Remedy | 1) Turn on the devices;2) Remove and re-install the battery;3) Replace the new battery;4/5) Contact your distributor;6) Wipe off, then have it tested;7) Carefully wipe it off with a soft, dry cloth. Then have it tested by your hearing aid dispenser as soon as possible. Compliance with the user manual to use. |
| | |
| --- | --- |
| Problem | The sound is very weak and vague |
| Cause | 1) Battery power isn't enough.2) If something is wrong with earphones.3) Is the battery holder closed well? |
| Remedy | 1)Replace the new battery;2)Contact your distributor;3)Close the battery holder well. |
| | |
| --- | --- |
| Problem | Volume level set too high |
| Cause | If the receiver of the hearing aid does not fit the ear properly, or a whistling unpleasant noise may be heard(which is caused by acoustic feedback). |
| Remedy | 1) Turn the hearing aid off and reposition it properly in the ear.2) If the receiver does not fit your ear properly, try replacing it with another type. The use of a correctly fitted ear mold is recommended. Please consult your hearing aid dispenser. |
TECHNICAL SPECIFICATION
| | |
| --- | --- |
| Model | JH-115 |
| Output. OSPL90 Max. | ≤133+3dB |
| FOG50 MAX Gain | ≤37+3dB |
| EQ Input Noise | ≤33+3dB |
| Frequency Range(Not narrower than ) | 320Hz-3200Hz |
| Working Current | ≤4.5mA |
| Total Harmonic Distortion | ≤7+3% |
| Rated Voltage | d.c 1.5v |
| Battery Size | LR754 |
Notes:This hearing aid is produced under the strict quality system of Huizhou JINGHAO Medical technology., Ltd. The device fulfills the provisions of the EC directive 93/42/EEC (Medical Device  Directive) and the harmonized Standard as IEC 60601-1, IEC 60601-2-66, IEC 60118-7, IEC 60118-13, EN  ISO10993-1/-5/-10, and EN ISO 14971.
NORMALIZED SYMBOLS
| | |
| --- | --- |
| | Follow operating instructions |
| | B type applied part |
| | Disposal in accordance withDirective 2002/96/EC (WEEE) |
| | |
| --- | --- |
| | Complies with the European Medical Device Directive(93/42/EEC and amended Directive 2007/47/EC.  Notified Body is SGSBelgium. |
| | Manufacturer information: The manufacturer is: Huizhou Jinghao Medical Technology Co., Ltd. |
| | Shanghai International Holding Corp. GmbH (Europe) Address:  Eiffestrasse 80,20537 Hamburg, Germany |
| | Date of manufacture |
| | Serial number |
| | Warning/ Danger: Improper use might cause serious injuries. |
| IP21 | IP code of the device: this device's grade of against the ingress of solid foreign objects – the access probe of ≥ φ12.5mm shall not penetrate; the grade of waterproof is vertically falling drops shall have no harmful effects. |
MAINTENANCE, STORAGE, AND DISPOSAL
10.1 Maintenance1) We do not authorize any institution or individual to maintain and repair the product. If you suspect that the products have any problems, please contact the manufacturer or distributor to handle the case.2)The user must not attempt any repairs to the device or any of its accessories. Please contact the retailer for repair.3)Opening of the equipment by unauthorized agencies is not allowed and will terminate any claim to warranty.warning: No modification of this equipment is allowed!
10.2 Storage1)If you don't use it, turn off the hearing aid, take out the batteries, and then put it into the storage box.2)Don't put the device under the sunshine, high temperature, and moist environment or someplace which maybe get in touch with fire or is vulnerable to vibration.3)Keep the device storage in the following environmental ranges:  -20~55℃, ≤95%RH, 700-1060hPa10.3  disposal

Please dispose of the device in accordance with the directive 2002/96/EC – WEEE (Waste Electrical and Electronic Equipment). If you have any
GUARANTEE
queries, please refer to the local authorities responsible for waste dis- osal. We grant you a two-year guarantee after the date of purchase. Any damage caused by improper handling shall not be covered by the guarantee.  Batter and packaging are also excluded from the guarantee. All other damage claims are excluded. A guarantee claim must be submitted with the purchase receipt. Please pack your defective instrument well and send it with sufficient postage to the distributor.

Huizhou Jinghao Medical Technology Co., Ltd. Address: Floor 6, Huicheng Industry Building, No.9  uifeng Dong'er Road, Zhongkai High-tech Zone, Huizhou City, Guangdong Province, China. Tel: +86-752-2266961 Website: www.jinghao.cc E-mail: [email protected]

Shanghai International Holding Corp. GmbH(Europe) Eiffestrasse 80,20537 Hamburg, Germany Tel  +49-40-2513175 Fax: +49-40-255726

The life cycle of a product is three yearsVER: 115-20200903-V01
References
[xyz-ips snippet="download-snippet"]