kogan Powerband (118W) with PD and Quick Charger 3.0 User Guide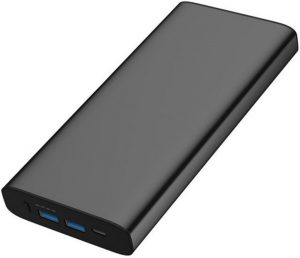 SAFETY & WARNINGS
Handle with care and inspect regularly to ensure product is in good working order. If this product, power supply cord or plug shows any signs of damage: stop use, unplug the product and contact Kogan.com support.
Read all of the following instructions before use. Keep this user guide for future reference.
This device contains small parts which are not intended for use by persons (including children) with reduced physical, sensory or mental capabilities, or lack of experience and knowledge, unless they have been given supervision or instruction concerning use of the device by a person responsible for their safety. This device is not suitable for children under 5 years of age.
Do not put the device into fire or water, as this will destroy it and may pose an electrical hazard.
Do not use in high-temperature or high-humidity environments
Do not disassemble, squeeze, or puncture the device.
This appliance contains no user-serviceable parts. If it suffers any failure or damage, cease usage and contact Kogan.com
Fully charge the power bank once before first use.
To ensure the durability of the battery during irregular use, charge and discharge the power bank once every three months.
Charging by unsupervised, short circuit, or mechanical damage may cause overheating and fire risk.
Handle with care. Any impacts, vibrations, or falls from a height may damage the product.
Modifying or dismantling the product may pose a safety risk.
COMPONENTS LIST
26800MAH Powerbank
USB Type-C to USB Type-C Cable
User Guide
OVERVIEW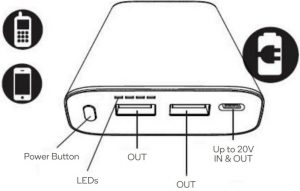 OPERATION
To charge devices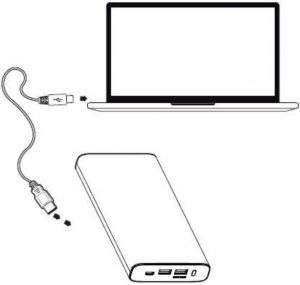 Charging Indicators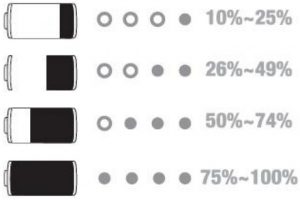 Connect the powerbank to an additional device using any of the three "OUT" ports (x2 USB type A, x1 USB type C), and press the power button.
Charging will commence once the power bank is powered on.
LED status indicates battery percentage as shown in the image.
CHARGING THE POWERBANK
Connect the powerbank to a device able to provide USB power (such as an AC adaptor or computer USB port) via the 'IN' port (USB-C).
The LEDs will blink while charging.
When fully charged, all indicator LEDs will be illuminated.
SPECIFICATIONS
Input USB Type-C

5V⎓3A, 9V⎓3A, 12V⎓3A 15V⎓3A, 20V⎓3A (Max 60W)

Output USB Type-C

5V⎓3A, 9V⎓3A, 12V⎓3A 15V⎓3A, 20V⎓5A (Max 100W)
Output Quick Charge 3.0

5V⎓3A, 9V⎓2A, 12V⎓1.5A (Max 18W)

 

Total Max Output

118W
Battery Capacity

3.6V 26,800mAh 96.5Wh

Dimensions

189.6 x 87.4 x 23.5mm
Weight

Approx. 670g
Note: When the battery level is lower than 50% or the battery temperature exceeds45°C, Type-C output will be limited to PD 60W maximum.
Contact Us
Need more information?
We hope that this user guide has given you the assistance needed for a simple set-up.For the most up-to-date guide for your product, as well as any additional assistance you may require, head online to help.kogan.com

[xyz-ips snippet="download-snippet"]