LIFESPAN Corsair Freerun 100 Curved Treadmill User Manual
I. IMPORTANT SAFETY INSTRUCTIONS

WARNING: Read all instructions before using this machine.It is important your machine receives regular maintenance to prolong its useful life. Failing to regularly maintain your machine may void your warranty
Read the entire owner's manual before operating the
Save this manual for future
Assembly of Technical Items: Assembly of the treadmill should be performed by a qualified A significant amount of technical knowledge is required for the safe and complete assembly of the unit.
Do not use accessory attachments that are not recommended by Lifespan Such attachments may cause injuries.
Assemble and operate the treadmill on a solid, leve
All warning labels attached directly to the treadmill must remain If a warning label becomes illegible or damaged, please contact Lifespan Fitness for a replacement.
Maintain the treadmill to keep it in good working condition, as described in this Inspect the treadmill for incorrect, worn, or loose components, and then correct, replace, or tighten prior to use.
If you plan to move the treadmill, obtain help and use proper lifting
Do not attempt to service the treadmill yourself, except to follow the maintenance instructions in this
Move the treadmill with 2 person and use proper lifting technique to avoid injury
II. IMPORTANT OPERATING INSTRUCTIONS
Do not use while under the influence of alcohol, drugs, or
Do not allow children, or people unfamiliar with the operation of this treadmill, on or near Do not leave children unsupervised around the treadmill.
Do not allow children under the age of 16 to use the treadmill without
Do not allow animals on the
Examine the treadmill for loose or worn parts before each Tighten/replace any worn or loose components prior to use.
Do not use outdoors or in high

WARNING: The treadmill is non-motorized and means the user initiates and controls the speed of the running belt. There is no emergency stop feature and the treadmill will slow to a stop on its own.

WARNING: The belt moves freely in only one direction. Grasp the handrails whenever mounting and dismounting the treadmill.
Do not operate the treadmill without the handrail
Do not use the treadmill with walking poles or other devices not specifically approved by Lifespan
Never jump onto the Never jump from the treadmill. Never enter the treadmill from the front. Operate treadmill only when facing forward. Never attempt to mount or dismount the treadmill while the belt is moving.
Hold on to the handrail with one hand whenever you operate the console keys with the other Face the console and do not lean on or pull on the console at any time.
Never drop or insert objects into any
Keep hands away from moving
Wear proper exercise clothing and shoes for your workouts and avoid loose or dangling clothing. Tie long hair back. Do not wear shoes with heels and check the soles of your shoes to remove any dirt and embedded stones. The running surface is not intended for cleats or running
Save these
III. PARTS LIST

Some items on this list may come pre-installed on your equipment. If you feel like you're missing anything, please double check your equipment.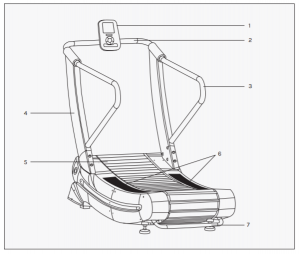 | | |
| --- | --- |
| Part No. | Name |
| 1 | Screen |
| 2 | Head |
| 3 | Handle |
| 4 | Upright |
| 5 | Running Belt |
| 6 | Side Rail |
| 7 | Transport Handles |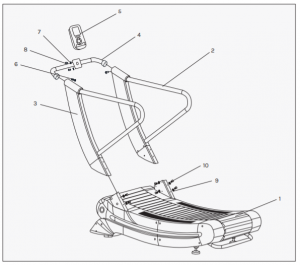 Item
Part Name
Specification
Qty.
1
Frame
1
2
Main handrail frame (right)
1
3
Main handrail frame (left)
1
4
TZ-04-SP03-0412 Console holder
1
5
TZ-06-SP03-0616 Console
1
6
M10X15L-N2 Hexagon socket head screw
15mm long
1
7
Spacer
2
8
M5X12l-A1 Cross head bolt
12mm long
4
9
Spacer
4
10
N10X20L-N2 Hexagon socket head screw
20mm long
10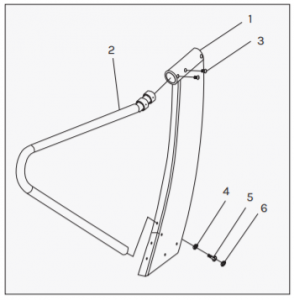 Item
Part Name
Spec.
Qty.
1
Stud welding
1
 

2

TZ-04-SP03-0410

Handrail frame welding set

 

1

 

3

M5X12L-A2 Hexagon socket head screw
 

12mm long

 

2

4
Spacer
1
 

5

Hexagon socket cap screws
 

1

 

6

601 Plastic cap screws
 

1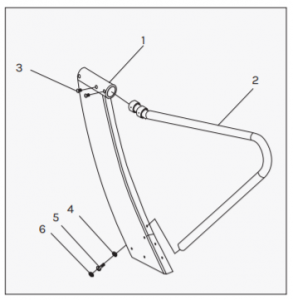 Item
Part Name
Spec.
Qty.
1
Stud welding
1
 

2

TZ-04-SP03-0410

Handrail frame welding set

 

1

 

3

M5X12L-A2 Hexagon socket head screw
 

12mm long

 

2

4
Spacer
1
 

5

Hexagon socket cap screws
 

1

 

6

601 Plastic cap screws
 

1
Important Note:
As a result of the large size of the treadmill, please select the location where the treadmill will be placed and ensure there is enough space around
Place all parts of the treadmill in the empty area and remove all packing Do not discard the packing materials until the assembly work is completed.
All bolts must be tightened during the assembly process unless otherwise stated, and all bolts must be tightened when the assembly work is
When assembling the treadmill, please make sure all parts are assembled according to the assembly drawing.
IV. ASSEMBLY INSTRUCTIONS
STEP 1
Remove the L/R columns from the packing
Attach the columns to the main frame as shown in theNOTE: The magnetic wire will need to be connected, see below where cables are located.
STEP 2
Connect the magnetic wire line for the console holder to the magnetic wire line of the upright.
STEP 3
Connect the magnetic wire line for the console to the magnetic wire line of the console
After connecting magnetic wire line, place the console at the joint and fasten with the
Check the running belt is running smoothly and turn on the display to check the data is counting
Ensure all bolts are tightened
Using the treadmill
Step on the running belt and start your exercise, g. walking, jogging, running. Turn on the console by pressing the power button.
To stop, hold on to the handles and slow down to a walking Once at a slower pace, you can step on the side rails.
V. DISPLAY INSTRUCTIONS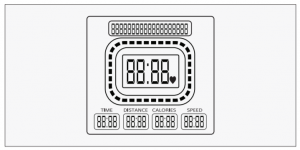 1. Home page
Interface displays time, distance calories and speed

Start/Stop button: In standby mode, all numbers will start counting only when you click the button.

Numerical + key: Used to adjust the data value.

Numerical – key: Used to adjust the data value.

Program setting key: Click this key to start program settings.

Reset key: Hold button for 3 seconds to clear settings. Hold this key for more than 3 seconds to return to initial interface – all data will be reset.

Enter key: Enter key to select data and program selection.
VI. EXERCISE GUIDE
PLEASE NOTE:
Before beginning any exercise program, consult your physician. This is important especially if you are over the age of 45 or individuals with pre-existing health problems.The pulse sensors are not medical devices. Various factors, including the user's movement, may affect the accuracy of heart rate readings. The pulse sensors are intended only as an exercise aid in determining heart rate trends in general.
Exercising is great way to control your weight, improving your fitness and reduce the effect of aging and stress. The key to success is to make exercise a regular and enjoyable part of your everyday life.The condition of your heart and lungs and how efficient they are in delivering oxygen via your blood to your muscles is an important factor to your fitness. Your muscles use this oxygen to provide enough energy for daily activity. This is called aerobic activity. When you are fit, your heart will not have to work so hard. It will pump a lot fewer times per minute, reducing the wear and tear of your heart.So as you can see, the fitter you are, the healthier and greater you will feel.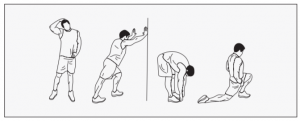 WARM UP
Start each workout with 5 to 10 minutes of stretching and some light exercises. A proper warm-up increases your body temperature, heart rate and circulation in preparation for exercise. Ease into your exercise.After warming up, increase the intensity to your desired exercise program. Be sure to maintain your intensity for maximum performance. Breathe regularly and deeply as you exercise.
COOL DOWN
Finish each workout with a light jog or walk for at least 1 minute. Then complete 5 to 10 minutes of stretching to cool down. This will increase the flexibility of your muscles and will help prevent post- exercise problems.
WORKOUT GUIDELINES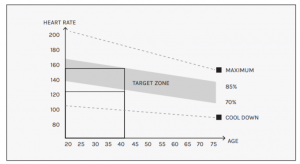 This is how your pulse should behave during general fitness exercise. Remember to warm up and cool down for a few minutes.
VII. MAINTENANCE INSTRUCTIONS
Reasonable cleaning/lubricating should be made to extend the lifetime of this unit. Performance is maximized when the belt and mat are kept as clean as possible.
WARNING:
The mat/deck friction may lay a major role in the function and life of your treadmill and that is why we recommend you constantly lubricate this friction point to prolong the useful life of your Failing to do this may void your warranty.
1. GENERAL CLEANING
Use a soft, damp cloth to wipe the edge of the belt and the area between the belt edge and A mild soap and water solution along with a nylon scrub brush will clean the top of the textured belt. This task should be done once a month. Allow to dry before using.
Vacuum underneath the treadmill for dust and debris.
2. GENERAL CARE
Check parts for wear before
Pay particular attention to the fixing knobs and make sure they are
Always replace the mat if worn and any other defective
If in doubt do not use the treadmill and contact us.

Take care to protect carpets and floor in case of leakages. This product is a machine that contains moving parts which have been greased/lubricated and could leak.
IX. WARRANTY
AUSTRALIAN CONSUMER LAW
Many of our products come with a guarantee or warranty from the manufacturer. In addition, they come with guarantees that cannot be excluded under the Australian Consumer Law. You are entitled to a replacement or refund for a major failure and compensation for any other reasonably foreseeable loss or damage.You are entitled to have the goods repaired or replaced if the goods fail to be of acceptable quality and the failure does not amount to a major failure. Full details of your consumer rights may be found at www.consumerlaw.gov.au. Please visit our website to view our full warranty terms and conditions:http://www.lifespanfitness.com.au/warranty-repairs
WARRANTY AND SUPPORT
Any claim against this warranty must be made through your original place of purchase. Proof of purchase is required before a warranty claim may be processed.If you have purchased this product from the Official Lifespan Fitness website, please visithttps://lifespanfitness.com.au/warranty-form
For support outside of warranty, if you wish to purchase replacement parts or request a repair or service, please visit https://lifespanfitness.com.au/warranty-form and fill in our Repair/Service Request Form or Parts Purchase Form.Scan this QR code with your device to go to lifespanfitness.com.au/warranty-form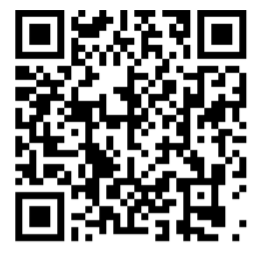 Read More About This Manual & Download PDF:
References
[xyz-ips snippet="download-snippet"]