Smart Ceiling Light User Manual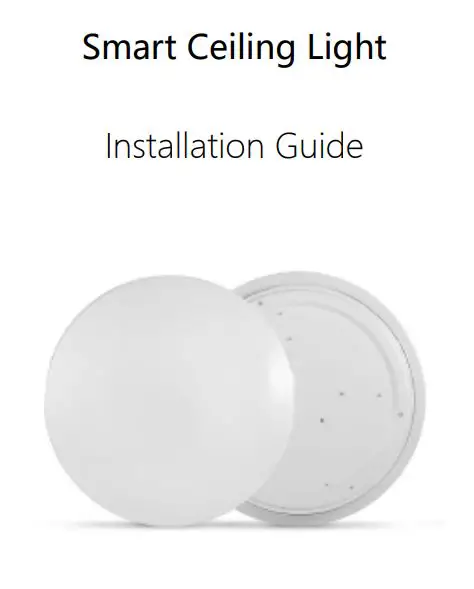 LED CEILING LIGHT
This LED Ceiling Light is suitable for any indoor location (e.g. home, office, warehouse, workshop, garage, and etc.).
Specifications
Input Voltage: 100-240V / 50-60HzInput Power: 18W / 24WMax Luminous Flus: 1800LM / 2400LMColor Temperature: 2700K-6500KColor: RGB, Cool White, Warm WhiteNet Weight: 0.65 / 0.75kgGross Weight: 0.85 / 0.95kgDimension: 300mm / 400mmApplicable Scene: bedroom, living room, children's room
Important Safety Instructions
Please read the following safety information before use.To reduce risk of fire, electric shock, or injury to persons:
Turn OFF the main power at the fuse or circuit breaker before installing the light fixture or making any electrical connection.
Make sure this light fixture is adequately grounded. To ensure proper grounding, there must be a separate ground wire (bare copper) contact between this light fixture and the ground connection of your main power supply panel. Do not connect the bare or green insulation fixture ground wire to the black (hot) current-carrying wire or the white(neutral) wire. Connection of the bare or green fixture ground wire to the black or white wires may cause metal parts of the fixture to carry electrical currents, and may cause electrical shock, which could cause serious injury or death.
Do not suspend any fixture by the house wires. Suspending a fixture by the house wires and wire connectors may result in thefixture falling, possibly causing personal injury and the danger of electrical shock or fire.
It is recommended that a qualified electrician perform all wiring connections. All electrical connections must be in accordance with all national and local electrical codes.
This light fixture is designed for a 100 –240VAC, 50/60Hz fuse circuit. Not for use on a dimming circuit.
For indoor use only.
Installation Procedures
Rotate the cover anticlockwise to detach it from the lamp body .
Fix the mounting cross bar to the junction box.
The AC line comes out through the inner keyhole slots.
Tighten the short mounting screws to ensure the lamp body is secured against the bracket.
AC Wire connections(L/N/E) Make the following spliced wire connections using wire nuts(US Standard).• White (Neutral Line) supply wire to Blue light fixture wire• Black (Live Line) supply wire to Red light fixture wire• Green (Earth Line) supply wire to Yellow light fixture wiresTips: Another way through electroprobe to checkL / N / E lineHigh voltage: LIVE lineLow voltage: NULL lineAlmost no volatge: Earth line
Attach the cover to the Lamp body, and rotate the cover clockwise to secure in place. Warning: Never connect the Ground/Earth Wire to the black or white power supply wires.
Packing List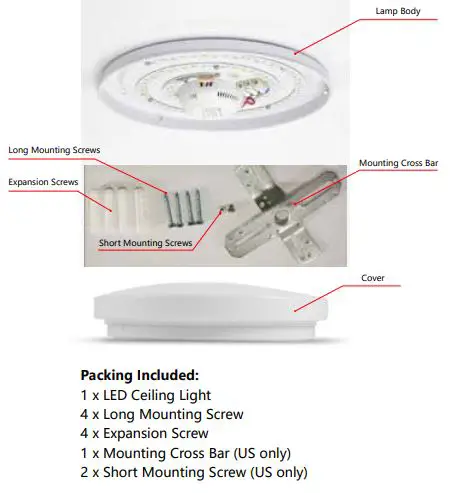 Bracket Installation for US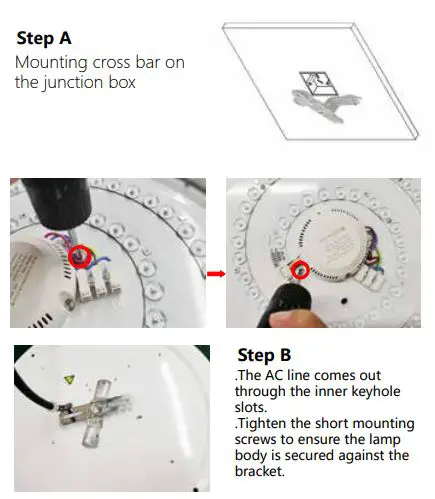 Screw Installation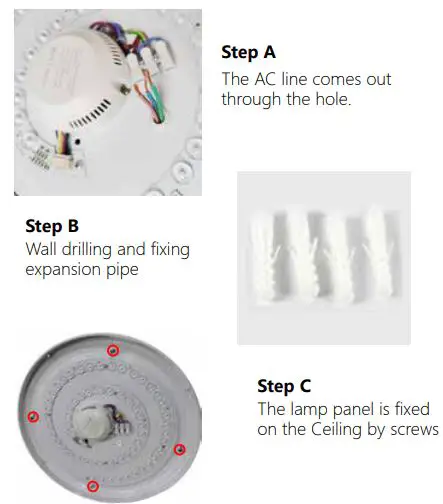 Hardwire for US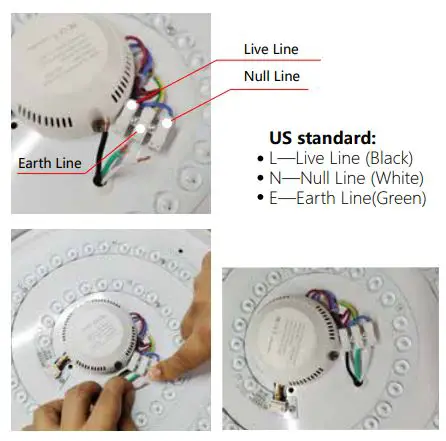 Hardwire for EU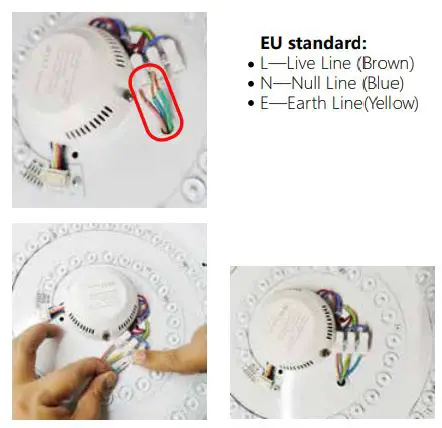 Installation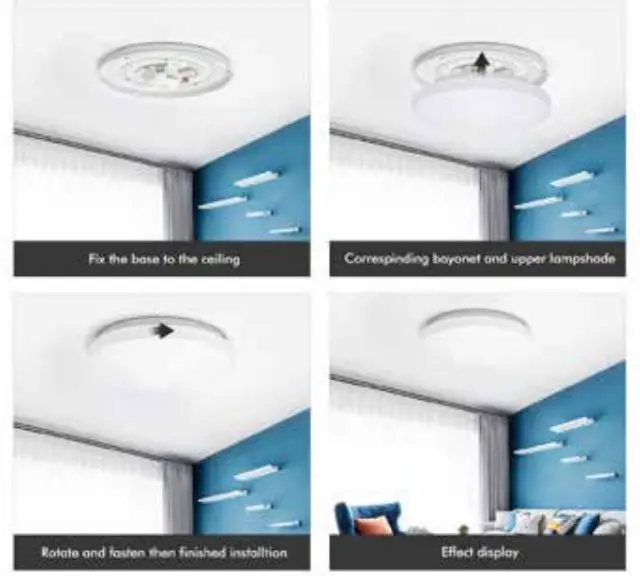 Troubleshooting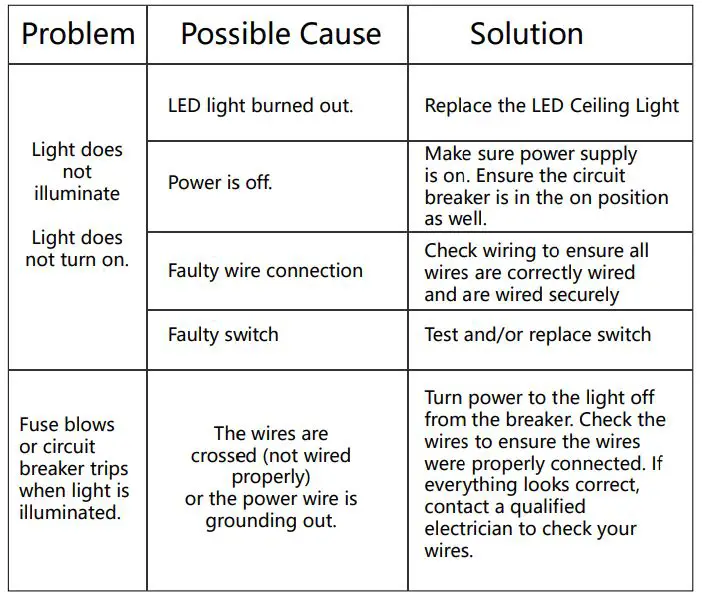 Warning
LED light output is strong enough to injure human eyes. Precautions must be taken to prevent looking directly at the LEDs without installing the diffuser (cover) for more than a few seconds.
If the lighting light fixture is damaged, it shall be exclusively replaced by the manufacturer or the service agent or qualified person in order to avoid a hazard.
Do not tamper with or attempt to repair the LED component or fixture.
The warnings, precautions, and instructions discussed in this manual cannot cover all possible conditions and situations that may occur. The operator must understand that common sense and caution are factors which cannot be built into this product
Do not install this LED with a dimmer. Doing so may damage the driver inside if used with a dimming circuit.
This device does not have a plug; rewiring is required. If you are unsure how to rewire this light, please read the instruction or contact a qualified electrician to install.
Always shut the power from the fuse (breaker) when conducting any type of maintenance on the light even after the LEDlifespan runs out. Cleaning:
Clean the outside of the fixture with a soft, dry cloth or slightly dampened clean cloth.Never use a cleaner with chemicals, solvents, or harsh abrasives to clean the product. Before Installation:Please turn OFF the main power at the fuse or circuit breaker before installing the light fixture or making any electrical connection. You may use a non-contact voltage tester to ensure no power running to the wires.Warning: Failure to disconnect the power supply prior to installation may result in serious injury or death.
[xyz-ips snippet="download-snippet"]