LightningBolt Machine Battery
SAFETY NOTICE
CLASS III SYMBOLA Class III appliance is designed to be supplied from a separate/safety extralow voltage (SELV) power source. The voltage from a SELV supply is low enough that under normal conditions a person can safely come into contact with it, without the risk of electrical shock. The extra safety features built into Class I and Class II appliances are, therefore, not required. For medical devices, compliance with Class III is not considered sufficient protection, and further more-stringent regulations apply to such equipment.
TECHNICAL DATAOperating Voltage: 5-12 V DCCurrent: UP TO 1.5 AAmbient Temperature: +10 to +35 °CRelative Humidity: 30 to 75%Dimensions (Ø X L): H56 x W49 X L27 mmWeight: Approx. 58g (2oz)Charging Port: USB-C
BARRIER PROTECTING YOUR MACHINEWe strongly suggest the use of barrier products to protect your machine. For a visual demonstration of barrier protection methods, please visit our YouTube channel FK Irons.
LIGHTNING INTRO
THE LIGHTNING BOLTUnleash Your PowerThe first wireless battery featuring complete Bluetooth connectivity, and a whole new sense of freedom.
OVERVIEW
SPECIFICATIONS
Output Voltage: 5 – 12 V
Increment/decrement voltage interval: 0.5 V
Maximum output current: 1 A
Charger Input: USB-C / 1.5 A
Size: H56mm x W49mm x L27mm
Weight: 58g (2 oz)
Battery Life: ~ 6-10 Hours (based on operating parameters)
FEATURES
Higher energy density to provide high reliability and stability
Dynamic power path management: USB-C Li-Ion battery
Auto shutdown (State of Charge (SoC) < 3%)
Automatic jumpstart feature
Fast charging speed: up to 1.5 A
Extremely compact, convenient to carry
Compatible with FK Irons and Darklab products
Bluetooth enabled, pair with Darklab app
Device firmware update functionality via app
Shipping mode functionality
Software reset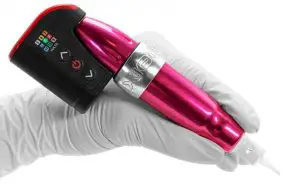 Compatible with Xion, Xion S and Xion G.
GETTING STARTED
For your safety, this power unit has been shipped disabled. To activate, plug into a USB-C power source and charge completely until the LED light remains solid green. It's important to charge for a minimum of 3 hours prior to first use.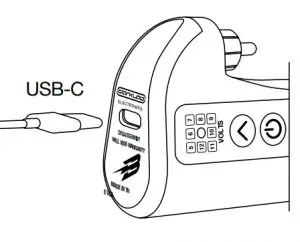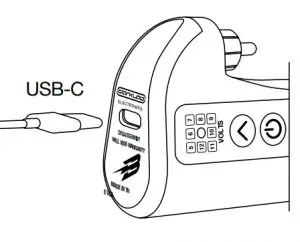 LED Indicator:Single blink = Whole Value Double blink = Half Increment Ex. Solid green indicates 10V  Flashing green indicates 10.5VBattery Level Check:Press and hold power button till white. On release color = %Note:LED flashes while battery charges. Once < 15% is reached, a red light will blink alternately with voltage.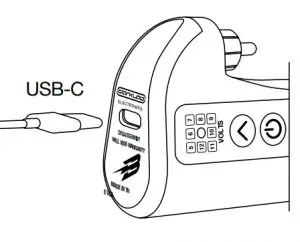 Automatic Fault Detection:Overcharge Detection (OVP)Over-Discharge Detection (UVP)Charge Overcurrent Detection (OCC)Discharge Overcurrent Detection (OCD)Load Short-Circuit Detection (SCP)
Menu Modes:Press and hold power button.Bluetooth on:Hold the power button until the LED indicator turns blue, then release the power button.Bluetooth off:Hold the power button until the LED indicator turns yellow, then release the power button.Hard shut off:Hold the power button until the LED indicator is red, battery is now disabled.To re-activate the battery, plug into any USB-C power source.Device reset: 

E-GIVE ADJUSTMENT
With this feature you'll be able to control the amount of "give" or resistance of the needle upon impact with the skin. This enables the artist to take advantage of the softness or hardness of hit to achieve specific results. 0 no effect, 5 maximum amount of E-give.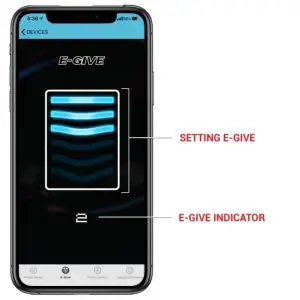 SETTING E-GIVE:There are 6 settings for E-give, 0 through 5. Change the setting by swipping down and up on the bars. The higher the setting the higher the amount of give. 0 = no give, 5 = maximum give.E-GIVE INDICATOR:The number displayed is the current E-give setting
ADDITIONAL INFORMATION
VOLTAGE PARAMETERS
While voltage is a parameter that will vary from artist to artist, the LightningBolt has been tested to operate at a minimum voltage of around 5-Volts with a maximum voltage of 12-Volts.Depending on the type of needle configuration, or brand you use, feel free to adjust the voltage to obtain the desired performance.NOTE: Some machines require a minimum voltage to operate correctly, please check your machine manufacturer's requirements.
WARRANTY
Darklab warrants that the device will perform efficiently when used as intended. Should this product prove to be defective due to manufacturing issues, Darklab will repair/replace the device – free of charge. This warranty will be void if the device shows signs of having been tampered, disassembled, handled roughly, dropped, overexposed to moisture or damage resulting in compromised functionality.
HANDY TIPS
The following tips will help you get the most out of your LightningBolt and avoid potential issues:
Do not exceed the suggested voltage.
Use only quality cables. A good connection will ensure consistent performance.
Use only FDA-approved cold sterilization solutions for disinfection.
NOT AUTOCLAVABLE.
TROUBLESHOOTING
Machine ManufacturerFK Irons: 1771 NW 79th Avenue, Doral, Florida 33126
Servicing Your MachineAs for any mechanical device, FK Irons strongly suggests that you service your device once a year to ensure all working parts are working as expected. This ensures the optimal condition of all working parts including internal machine clean up and fresh lubrication.Routine servicing will ensure that your machine remains functioning like the very first day. Service is subject to fees.
WarningDisconnect machine from any power before making any adjustments.
For service inquiries, please contact: [email protected].For additional tips and tutorials, please visit: Youtube.com/fkirons
LightningBolt Machine Battery User Manual – LightningBolt Machine Battery User Manual –
[xyz-ips snippet="download-snippet"]