Link2Home Wireless Remote Control Outlet Outdoor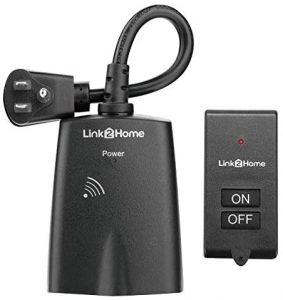 Wireless Remote Control
Remove the plastic battery tab from the battery compartment 3. in the back of the remote control to activate the pre-installed battery.
Plug the receiver into a standard AC electrical wall socket.Plug the appliance into the receiver outlet.
To manually turn ON or OFF outlet, press ON or OFF button on the remote control.When the battery is running low, the indicator light on the transmitter will dim. Simply open the battery holder and replace with a CR2032, 3V battery.
Remote Battery Replacement
If operation of the receiver units becomes erratic, it may be necessary to replace the battery in the hand-held remote unit. To do this, first remove the battery compartment cover. Press the tray release button on the back of the remote. Next, remove the depleted battery and discard according to local ordinances. Be sure the correctly install the new battery. Replace battery compartment cover and test by using it to control the Indoor Remote Outlets.
Important: Install only new batteries of the same type in your product.Failure to insert batteries in the correct polarity, as indicated in the battery compartment, may shorten the life of the batteries or cause batteries to leak.Do not mix old and new batteries. Do not mix Alkaline, Standard (Carbon Zinc) or Rechargeable (Nickel Cadmium)or (Nickel Metal Hydride) batteries. Danger of explosion if battery is incorrectly replaced.
Batteries should be recycled or disposed of as per state and local guidelines.
WARNING: This product contains a button battery. If swallowed, it could cause severe injury or death in just two hours. Seek medical attention immediately.
Power input: 125V/60Hz
Power output: 1250W/10A (Max.)
Transmitter frequency: 433.92MHz
Remote transmitter battery: DC CR2032, 3V battery 1pc
Transmission range: up to 80ft
Caution
Appliances to be connected to the remote control socket MUST NOT exceed the voltage and frequency ratings as in "Specifications".
Install the cord and unit above ground level at least 5ft with the receptacle facing downward.
Operation is subject to the following two conditions:(1) this device may not cause harmful interference,(2) this device must accept any interference received, including interference that may cause undesired operation.
Both for indoor and outdoor use and storage. Do not immerse into the water.
Weather, radio frequency interference;
Low transmitter battery may lower the distance between the transmitter and the receiver.
1 YEAR LIMITED WARRANTY
IMPORTANT: Proof of Purchase is required to obtain warranty serviceParagon Group USA Inc. warrants to the original owner that our products will be free from defect in workmanship and material for a period of ONE YEAR from the date of purchase.Should any unit(s) prove to be defective during this period, Paragon Group USA Inc. will be responsible for replacement of the defective unit(s) only. Paragon Group USA Inc. is not responsible for labor charges or any incidental or consequential expenses.Not Covered – Batteries are not covered by this warranty.Repair service, adjustment and calibration due to misuse, abuse or negligence are not covered by this warranty.Unauthorized service or modification to this product or of any furnished components will void this warranty in its entirety.
This warranty does not include reimbursement for inconvenience, installation, set-up time, loss of use, postage, unauthorized service, or other products used in conjunction with Link2Home products.For warranty service, please contact Paragon Group USA Inc. Customer Service by Phone: 1-888-783-6082 or e-mail: [email protected].This warranty gives you specific legal rights, and you may also have other rights which vary from state to state.
Paragon Group USA Inc.Link2Home Product DivisionEnglewood, NJ 07631USAlink2home.com

References
[xyz-ips snippet="download-snippet"]