little tikes Rescue Tales Scrub 'n Groom Bathtub Instruction Manual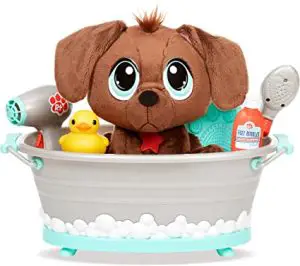 CONTENTS
A. Plush PetB. BathtubC. Shower HeadD. BrushE. Shampoo BottleF. Rubber DuckG. Hair Dryer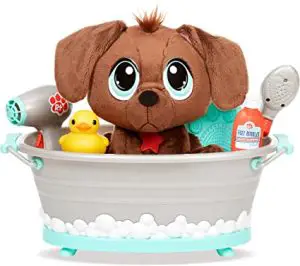 Illustrations are for reference only. Styles may vary from actual contents. Please remove all packaging including tags, ties & tacking stitches before giving this product to a child
Sign your pet's adoption certiffcate
QUICK START
Before beginning, cover the play area to prevent possible water damage.
Slightly wet a cloth (not included) and wipe away the tear on your pup's eye.
Fill the bathtub with water up to the middle of the markers. Then, place your plush pet in the bathtub.
Insert the heart end of the shower head into the water. Aim the shower head towards your plush pet. Then, repeatedly press the pump to bathe your pet.
DRYING YOUR PLUSH PET
 Squeeze out the water from the plush.
Allow the plush to air dry thoroughly or place in the dryer.USING A DRYER:Insert the plush in a pillow case and set the dryer on a gentle cycle.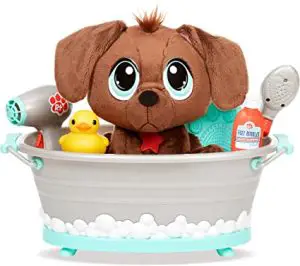 WARNING
Adult supervision is required when children are playing around water.
Do not allow children to play with water near an electrical source or apparatus in order to avoid electric shock and/or electrocution.
Do not leave items filled with water near electrical devices.
IMPORTANT INFORMATION
Always make sure your plush pet is completely dry before storing or wetting the plush again.
Only use clear water to bathe your plush pet.
Do not use soap or shampoo when bathing your plush.
Only use the included plush and accessories with the bathtub. Do not use other toys or real pets.
Please keep this manual as it contains important information.
© The Little Tikes Company, an MGA Entertainment company.LITTLE TIKES® and RESCUE TALES™ are trademarks of Little Tikes in the U.S.and other countries. All logos, names, characters, likenesses, images,slogans, and packaging appearance are the property of Little Tikes.Printed in China0221-0-E/INT
Little Tikes Consumer Service2180 Barlow Road Hudson, Ohio 44236U.S.A.1-800-321-0183
MGA Entertainment UK Ltd.50 Presley Way, Crownhill, Milton Keynes, MK8 0ES, Bucks, UK0800 521 558
MGA Entertainment (Netherlands) B.V.Baronie 68-70, 2404XGAlphen a/d Rijn, The NetherlandsTel: +31 (0) 172 758038
Imported by MGA Entertainment Australia Pty LtdSuite 2.02, 32 Delhi RoadMacquarie Park NSW 21131300 059 676
www.littletikes.comwww.littletikes.co.ukwww.littletikes.com.au
References
[xyz-ips snippet="download-snippet"]