logitech C270 HD 720p Webcam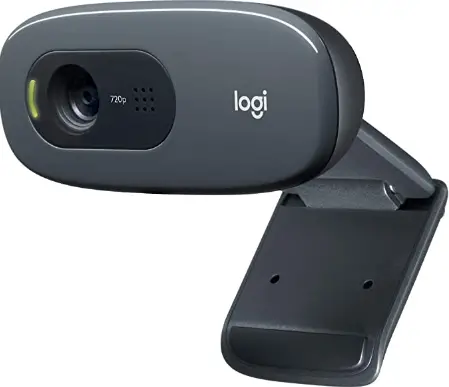 logitech C270 HD 720p Webcam
Complete Setup Guide
MODEL: C270 HD WEBCAM
KNOW YOUR PRODUCT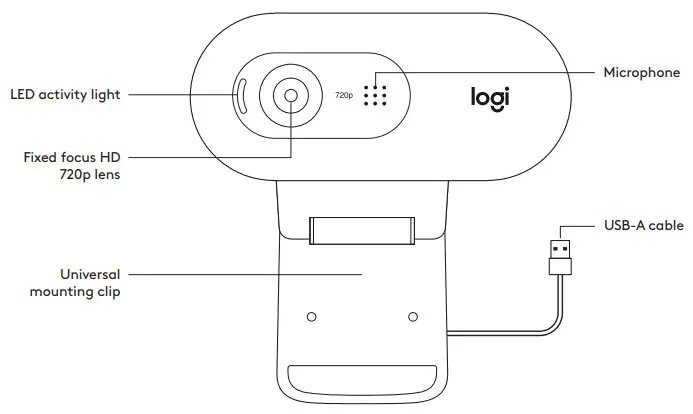 WHAT'S IN THE BOX
Webcam with 5 ft (1 5 m) attached USB-A cable
User documentation

SETTING UP THE WEBCAM
Place your webcam on a computer, laptop, or monitor at a position or angle you desire
Adjust the webcam to make sure the end on the universal mounting clip is flush with the back of your device
Manually adjust the webcam up/down to the best position to frame yourself
CONNECTING THE WEBCAM VIA USB-A
Plug the USB-A connector into the USB-A port on your computer

SUCCESSFUL CONNECTION
LED activity light will light up when the webcam is in use by an application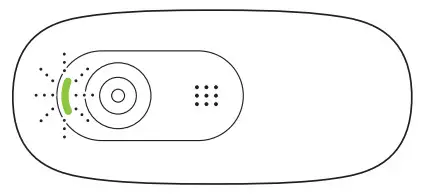 DIMENSIONS
INCLUDING FIXED MOUNTING CLIP:
Height x Width x Depth:
1 26 in (31 91 mm) x 2 87 in (72 91 mm) x 2 62 in (66 64 mm)
Cable Length: 5 ft (1 5 m)
Weight: 2 65 oz (75 g)
© 2020 Logitech
DOWNLOAD RESOURCES
[pdf] Installation Guide C270, HD 720p Webcam, 720p Webcam, Webcam, HD Webcam
Read more:
FAQ'S
Does Logitech 720p webcam have microphone?
Built-in mic with noise reduction.
Is Logitech C270 good for zoom?
Furthermore, the video quality is decent, and the microphone is really good, even when you're far away from the camera. That makes it an excellent choice for those who have to learn from home and participate in video calls on apps like Zoom or Microsoft Teams.
Does Logitech Webcam C270 have a speaker?
Logitech C270 HD Webcam sound is also good.The Logitech C270 HD Webcam is only equipped with a built-in microphone, and therefore only transmits in mono. But that is not bad, because you can generally question how useful a stereo recording is when you are the only one speaking in front of the camera.
Why does my webcam have a green light?
The green light on the webcam indicates that the webcam is connected to your computer.
Why does my webcam have a red light?
The red light on the webcam indicates that the camera is in use by an application.
Do I need headphones with a webcam?
However, there is more to using a webcam than just capturing video. The accompanying audio is frequently even more important. While capturing good-quality audio is important, you don't need to wear a headset to do it.
What is the difference between Logitech C270 and C310?
The Logitech C270 has very similar specifications to the C310. As I'll demonstrate, the real difference between the two devices is slightly improved saturation and colors on the C310 and better microphone audio quality.
How do I know if my Logitech camera is working?
Type webcammictest.com into your browser's address bar. Click the Check My Webcam button on the website's landing page. When the pop-up permission box appears, click Allow. Your webcam's feed should then appear in the black box on the right-hand side of the page, indicating that the camera is working.
Why is webcam not working?
A non-working webcam may be due to malfunctioning hardware, missing or outdated drivers, issues with your privacy settings, or problems with your antivirus software. Windows usually installs device drivers automatically when it detects new hardware.
Why is my camera just a black screen?
If your phone is still showing a black screen after a hard reset, then the problem is caused by a hardware related issue. This means that the camera application has malfunctioned or the lens is broken. If this is the case, take your smartphone for repair.
Why does my Logitech camera keep turning off?
Open up its Properties and head over to the Power Management tab. Here, uncheck the 'Allow the computer to turn off this device to save power' setting and save these settings. After applying the aforementioned change, reboot your PC and check if the issue has been solved.
How do I change my webcam settings?
Open your web cam in a chat program, such as Skype.Choose the "Camera Settings" option and another window will open, labeled "Properties." There are more options here that can be adjusted.
VIDEO

References
[xyz-ips snippet="download-snippet"]