LONPOO LP-D01 Portable CD Boombox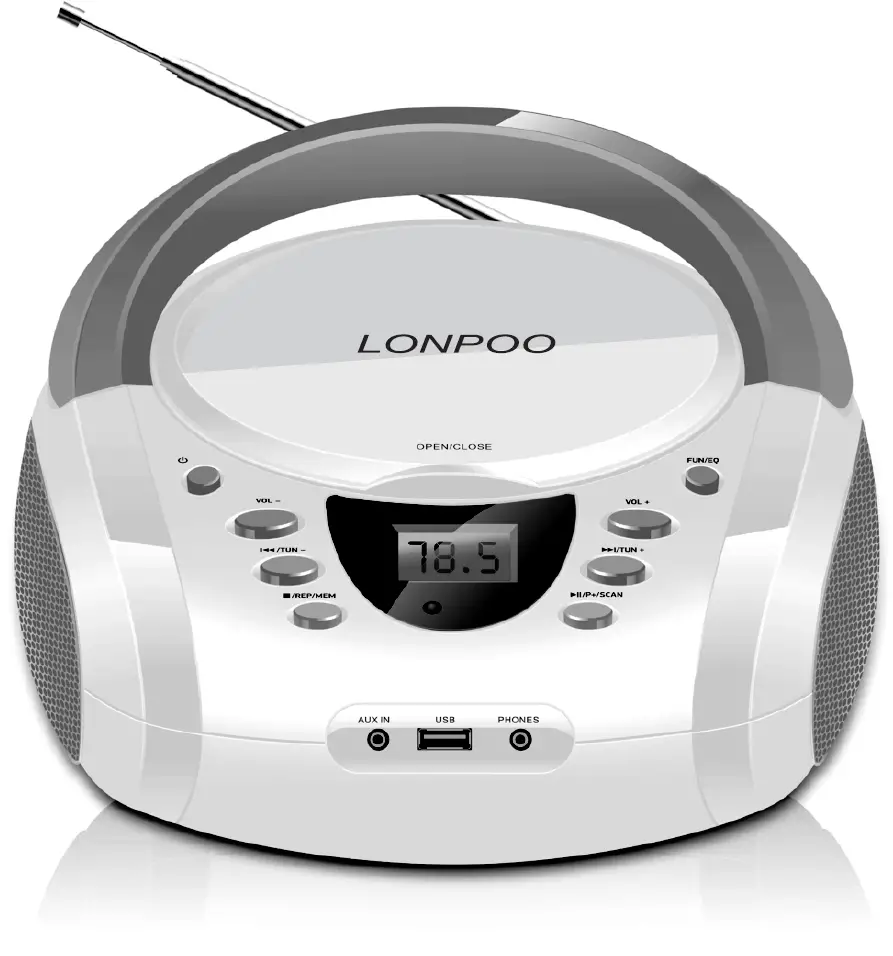 General Safety Precautions
Always place the appliance on a solid, flat and dry surface.Ensure that your hands are dry when operating appliances, Switches or removing the plug.Keep electrical appliances out of reach of children.The machine is mains or battery operated(4 *type C-not included)Don't use the appliance in wet and Humid places(e.g. in the bath or shower).
Features
CD Player: CD, CD-R/RW
FM Tuner–Radio Frequency: 87.5-108MHz
USB-M P3/WMA
AUX in–connect other external devices
Phones–connect your headphones
4-Digit LCD screen
AC Power: detachable AC cord (AC100-240V ~so/60Hz)
DC Power: requires 4*C Batteries (not included)
Sound output: 2W*2
Max consumption: 13W
Dimensions: 21.0*23.3*11.8cm
Powering the Unit
AC Power
Plug the detachable AC cord into a standard AC outlet (100-240~50/60Hz)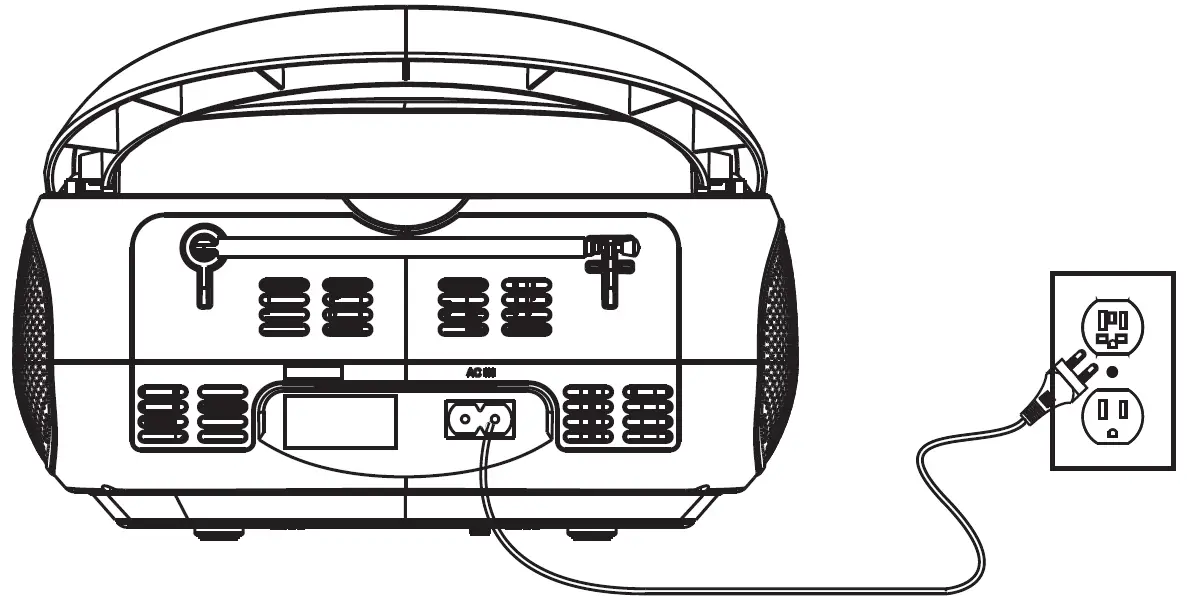 Battery Power
Require 4 C batteries, not included(Please remove the batteries out to kill the power, when do not use it.)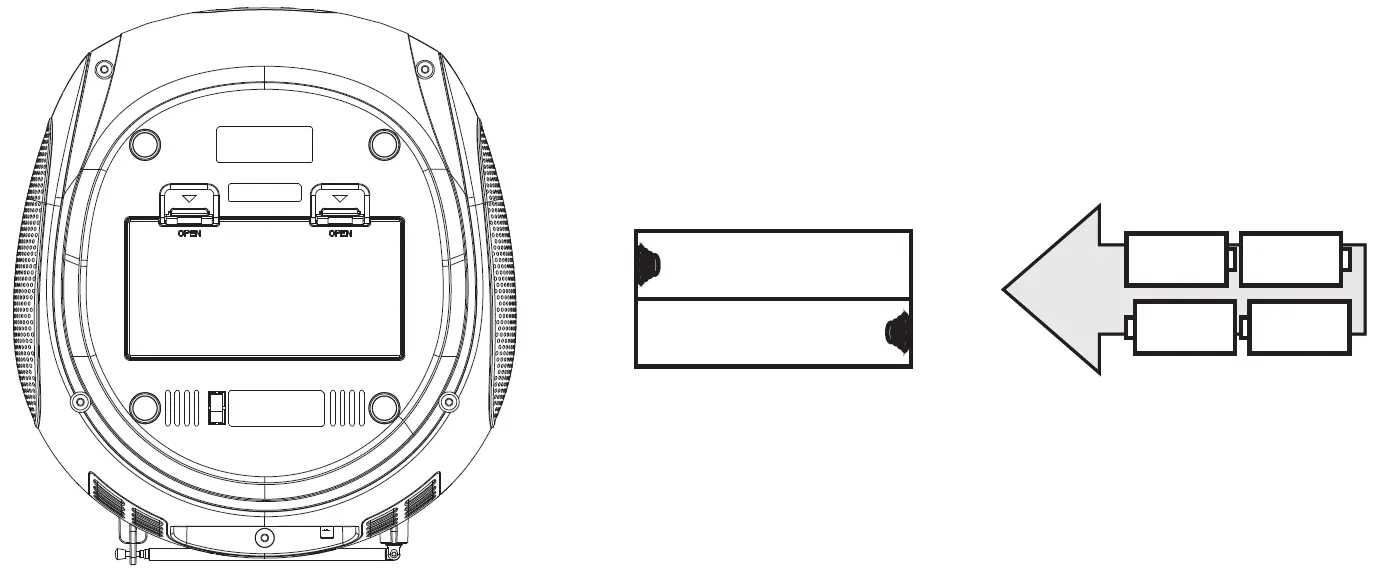 Product Overview
PowerPower on/off.
Backward/Tun-/Forward/Tun+ (Backwards/Previous/Forward/Next)On CD, short press for Previous/Next track. Long press for Backwards/Forward.On radio, Long press TUN-/+ for manual searching.Short press Tun-/+ to jump to previous or next available station.
Function/EQFunction (Radio /CD/ USB/ AUX/ Bluetooth). Short press for Function.EQ (Pop/ Classic/ Rock/ Flat /Jazz). Long press for EQ.
Volume-/Volume+
11>11 /P+/SCAN (Pause/Programming/Scan)On CD, Play/Pause.On radio, long press to auto Searching, and save automatically.Short press to next saved station.
■ /REP/MEM (Stop/Repeat/Memory)On CD, short press for Stop.Long press for Repeat ( ONE/ALL/OFF).On Radio, short press for memorized a frequency.
Microphone jack
USB port
AUX in
Open/Close
AC Power input
Using the USB port
Insert a USB (Max 32GB)
Adjust the function to USB mode with FUN
Press FORWARD or BACKWARD button to select the next or Previous
Play a CD
Open the lip and place a CD, CD-R/RW Disk.
Adjust the function to CD mode with FUN Note: Remove the card on CD before playing.
Using the AUX input
Connect a 3.5mm Audio Cable to the AUX input and Audio output to the external device (Smart phone )
Adjust the function to AUX mode with FUN
Tuning the FM Radio
Adjust the function to FM mode with FUN(Extend the FM antenna to improve FM radio reception.)
long press SCAN button to auto Searching, and save (Max save 20 Radio stations)
Long press TUN-/+ for manual searching
Short Press Tun-/+ to jump to previous or next available
RE: Memorized the station you

Choose a station you want to memorized.
Short press MEM, when see a "P" on LCD screen, then short press twice MEM button continuously.(Note: only can memorized one frequency.)
For Bluetooth Connection
Adjust the function to BLUETOOTH mode with FUN
Search and choose Bluetooth name" LP-D0l" on your device
1 Year Guarantee! Any support, pis contact [email protected]Shenzhen Longping Electronics Co., Ltd Rich experince on Audio and Vidio productwww.lonpoo.com ADD: Build 3, Fuhai industrial Zone, Fuyong, Baoan, Shenzhen, China

[xyz-ips snippet="download-snippet"]