MEGA20WCode: 95-2000RECHARGEABLE 20W MEGAPHONE WITH RECORD FUNCTIONUSER MANUAL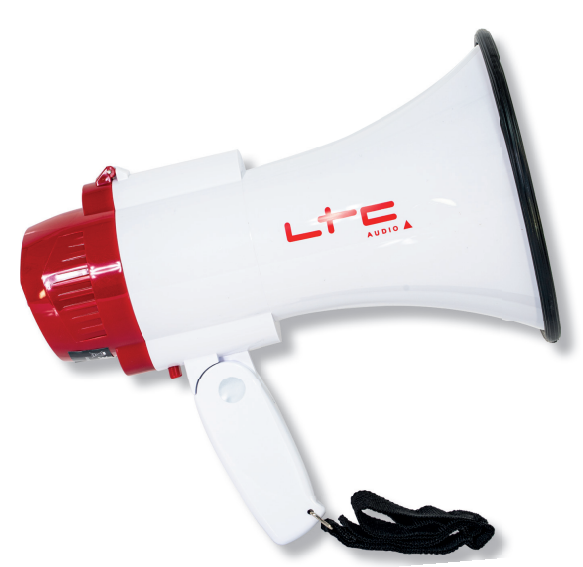 | | | |
| --- | --- | --- |
| | | |
| Imported from China by LOTRONIC S.A.Avenue Zénobe Gramme 9 B-1480 Saintes | https://www.facebook.com/pg/LTC-audio-107281584018506/Any problems or questions? Visit us on Facebook | https://www.lotronic.net/MEGA20W-QRCODEView the product on our website |
RECHARGEABLE 20W MEGAPHONE WITH SIREN & RECORD FUNCTION
OPERATING INSTRUCTIONS

In accordance with the requirements of CE standard
RECOMMENDATIONS FOR BATTERIES

This symbol indicates that used batteries should not be disposed of with household waste but deposed correctly in accordance with your local regulations. Batteries shall not be exposed to excessive heat such as sunshine, fi re or the like. When the internal batteries are not to be used, remove them to avoid damage caused by battery leakage or corrosion.
IMPORTANT NOTE: Appliances containing Lithium-ion batteries 
PRIOR to using the unit for the first time, please charge fully the battery
Charge the battery regularly after each use. Don't wait until it is discharged!
DON'T allow the battery to discharge completely, otherwise, it will lose 20% of its capacity or even be totally damaged! If the voltage becomes too low, the internal circuits are not powered anymore and it will become impossible to recharge the battery!
If you don't use the unit for a longer period of time, it is recommended to charge it at 40% of its capacity and check/charge it once per month.
The lifetime of the battery depends on the observance of these recommendations.** BATTERIES ARE NOT COVERED BY THE WARRANTY **We cannot be held responsible for damaged batteries further to the non-observance of these basic rules.
Charging the batteryOpen the back of the megaphone to access the battery compartment (Fig. 1).Unplug the battery pack from the megaphone (Fig. 2).Remove the battery pack and plug the USB connector into a USB socket delivering a voltage of 5V 2A (Fig. 3).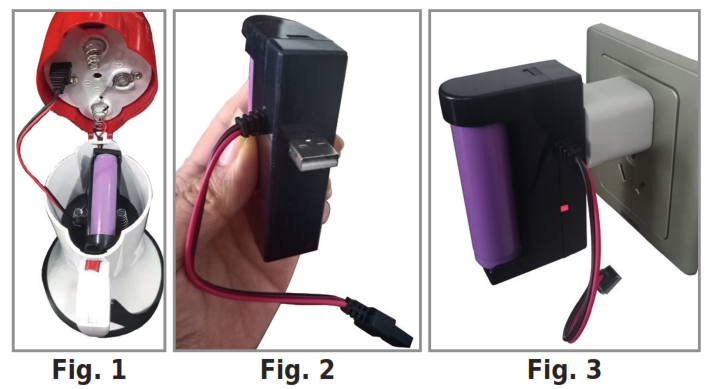 Operation
To switch on the megaphone, press the ON/OFF Button (4) on the Back Cover. The power light (1) lights up.Speak as close as possible into the microphone (2).Adjust the Volume Control (8) to the desired level without causing any howling or feedback.
Record FunctionAdjust the volume control (8) to the min. before recording. Press the RECORD button (6) and the indicator light (3) will light up. Speak your message into the microphone. The longest recording time is about 8 secs. Press the REC button when you've finished. When the memory is full, the RECORD button will pop up automatically and the indicator light (3) will go off. Press the PLAY Button (7) to play the recorded message.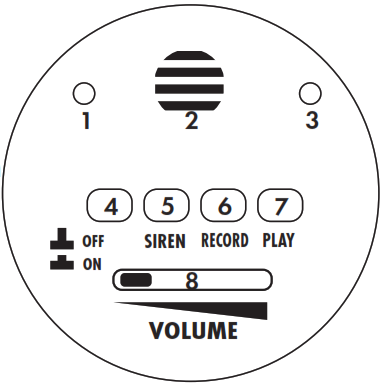 Siren FunctionPress the SIREN button (5) to activate the built-in siren. Press again to switch the siren off.
SPECIFICATIONS
Power:…………………………………………………….. 20WDims: ………………………………………………………diam.155 x 245mmPower supply: …………………………………………..Rechargeable Lithium battery (included) 3.7V 1500mAhWeight: ……………………………………………………. 0.60KgRange: ………………………………………………………approx. 250m

This marking indicates that this product should not be disposed of with other household wastes throughout the EU. To prevent possible harm to the environment or human health from uncontrolled waste disposal, recycle it responsibly to promote the sustainable reuse of material resources. To return your used device, please use the return and collection systems or contact the retailer where the product was purchased. They can take this product for environmentally safe recycling.
References
[xyz-ips snippet="download-snippet"]