AC Master Inverter Control Panel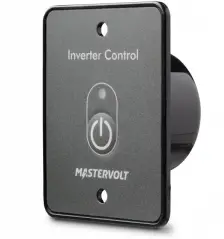 USER AND INSTALLATION MANUAL10000012750/01
AC Master Inverter Control Panel ­ User and Installation Manual
1. Features
Remote ON/OFF inverter operation with status LED indicator
Optional Ignition Lockout Function or Remote Override Function
2. Specifications
Operating Temperature 0 ­ 40 °C, 32 ­ 104 °FStorage Temperature -30 ­ 70 °C, -22 ­ 158 °FStand-By Current Draw  < 40 mAInput voltage AUX port (optional) 10.5 ~ 31.0 VdcApplicable Models AC Master 700 / 1000 / 1500 / 2000 / 2500 / 3500
3. Product description

| | | |
| --- | --- | --- |
| 1 | Status LED | Red, onInverter is ONRed, slow blinkingIgnition Lockout Function is activatedRed, fast blinkingRemote Override Function is activated |
| 2 | ON/OFF button | Switches the connected AC Master unit on/off |
| 3 | Remote port | Connects to the inverter with the RJ-11 cable |
| 4 | AUX. | Optional connection to an auxiliary input wire, e.g. from the boat/vehicle's ignition switch. This is only required when Remote Override or IgnitionLockout is used. |
| 5 | Jumper | The internal jumper is used to select one of the following optional features:• Remote override (the jumper covers one pin; this is the default position): the AC Master switches ON when the control panel receives power on the auxiliary input. Typical use: switching on together with the electrical system.• Ignition lockout (the jumper covers both pins): the AC Master switches OFF when the control panel receives power on the auxiliary input. Typical use: switching off during engine start. |
AC Master Inverter Control Panel – User and Installation Manual
4. Installation
Check the contents of the delivery: Inverter Control Panel, 7,5 m (82 ft) RJ-11 cable, this manual.
Use the following screw hole and cutout dimensions for mounting of the panel.
Optional: a) In case of Ignition Lock: remove the circular back cover, by removing the two screws, and position the jumper over both pins. Replace the back cover. b) In case of Remote Override or Ignition Lock: run a wire from the boat/vehicle's ignition switch to the AUX. input. Note: this wire must be protected by a fuse. See chapter 3.
Route the RJ-11 cable, provided with the panel, from the RJ11 port on the back of the AC Master Inverter Control Panel through the cutout.
Position the remote into the cutout and secure it with two screws.
First switch the AC Master unit OFF, then connect the RJ11 cable to AC Master unit. After that put its main switch in the "REMOTE" position, see user and installation manual of your AC Master unit.
Press the ON/OFF switch on the remote control panel to switch the AC Master unit ON.
Verify the status LED is on, both on the remote control panel and the AC Master unit.
5. Correct disposal of this product
This product is designed and manufactured with high quality materials and components, which can be recycled and reused. Please be informed about the local separate collection system for electrical and electronic products.Please act according to your local rules and do not dispose of your old products with your normal household waste. The correct disposal of your old product will help prevent potential negative consequences to the environment and human health
Copyright © 2020 Mastervolt. All rights reserved.Reproduction, transfer, distribution or storage of part or all of the contents in this document in any form without the prior written permission of Mastervolt is prohibited.
Europe, Middle East & AfricaCustomer Service T: +31 (0) 20 34 22 100 E:
Americas & CaribbeanCustomer Service T: +1 800 307 6702, Option 1 E:
Asia PacificCustomer Service T: +64 9 415 7261 Option 1 E: Technical Support T: +31 (0) 20 34 22 100 E: Technical Support T: +1 800 307 6702, Option 2 E: Technical Support T: +64 9 415 7261 Option 3 E: epmarine.comLocation & Shipping Mastervolt Snijdersbergweg 93 1105 AN Amsterdam The NetherlandsLocation & Shipping Power Products, LLC N85 W12545 Westbrook Crossing Menomonee Falls, Wisconsin 53051 United StatesLocation & Shipping BEP Marine 42 Apollo Drive Rosedale, Auckland 0632 New Zealand
[xyz-ips snippet="download-snippet"]