MATEIN Micro USB Cable User Manual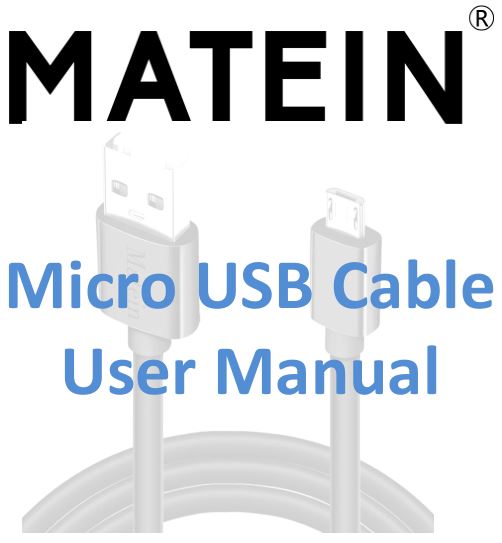 Product Specification:
Brand: MateinModel No: YO-cable-5003Connector 1: Micro B (male)Connector 2: USB A 2.0 (male)Length: 15 Feet Color: BlackBend Lifespan: 5000+Data Speed Max: 480 MbpsInput Current Max: 2.4ASurface Material: Environmental PVCPackage: Retail Plastic BagPackage Include: MATEIN USB Micro Cable 15FT (1 PACK)Compatibility – Support most Android Tablets, Cell Phone and Windows Phone tablets and many other devices including Samsung / Nexus / HTC / MP3 players, tablets, computers / Motorola / Nokia / LG / Sony / OnePlus / Blackberry / PS4/ Xbox / PS Vita / Nintendo DS / GPS devices/ Bluetooth speakers / wireless key boards / cameras/ camcorders/ hard drives / e-readers/ printers / handheld game consolers

Instruction:
Before use, please check if the product is in good condition, if any defects were found, please stop using the product immediately.
Plug the Micro B connector into Micro B port of your electronic devices, make sure it stay plugged in and won't fall out of your electronic devices. Then plug the USB A connector into wall charger or outlet.
If your electronic devices are fully charged, plug out the connector from your electronic devices and remember to switch off the power source that connected to the USB A connector. 4) Please use a dry towel or tissue to clean the product.
Warning:
Do not use a unmatched or defective wall charger or adaptor to connect with the product. e.g. Input current of wall charger > Input Current Max of the product
Avoid from water, sun exposure, hot or cold temperature
Stop using the product if any tear and wear were shown
Keep the product away from babies and children
Do not use the product as a rope and toy
Do not disassemble the product
After Sales Service
MATEIN offers the best product and customers for cutomers. Product is covered by (1) year limited warranty. To reach out for further assistance or any question, please feel free to contact our after sales service team by writing an email to

[email protected]

One year limited warranty only in non-human product damage. Product damaged by human will not be responsible for

Manufacturer: Shen Zhen Shi Di Yun Dian ZiKe Ji You Xian Gong Si
Manufacturer Address: Shen Zhen Shi Long Gang Qu Heng Gang Jie Dao SiLian She Qu 228 Gong Ye Qu Qian Cheng Lu2 HaoB Dong 201
Made in China
Compatible Devices:
I am a Micro USB cable. Not for any Type-C devices.
For Samsung Galaxy S7 Edge / S7 / S6 Edge / S6 / S5 / S4 / S3, Note 5 / Note 4 / Note 3, J5 (2016/2017) / J5 Prime / J6, A3 (2016) / A5 (2016) / A6 (2018) / A6+ (2018) / A7 (2016) / A7 (2018) / A8 (2016) / A9 (2016) / A10 / M01 (Note: It is not compatible for Samsung A01 / S9 / Samsung GalaxyTab S5 / A10s)
For Samsung Galaxy J7 2015 / J7 2016 / J7 2017 / J7 2018, J7v / J7 Star / J7 Crown / J7 Prime / J7 Perx / J7 Skypro / J7 Refine / J7 Emerge, J3 (2016/2017/2018) J337A / J3v / J3 Star / J3 Prime / J3 Aura / J327A / J3 Emerge J327P / J3 Eclipse J327V / J3 Luna Pro / J3 Orbit / GALAXY J2 / J2 Core/ J2 Pro
For Samsung Galaxy Tab A 10.1 (2016) [SM-T585, SM-T580, SM-P580, SM-P585] / Tab A 8.0 [SM-T350, SMT355, SM-T387V, SM-T290, SM-T295] / Tab A 9.7 [SM-T550, SM-T555, SM-P555, SM-P550] / Tab A 7.0 (2016) [SM-T280, SM-T285] / Tab E 9.6 / Tab E 8.0 [SM-T375, SM-T377, SM-T377P, SM-T377R] / Tab S2 8.0 / Tab S2 9.7 / Tab 4 7.0
For Amazon Kindle Fire and E-readers with micro usb port: Fire TV Stick / Fire 7 / Fire 7 Kids Edition Tablet/ Kindle Paperwhite (Note: Do not fit Amazon Fire HD 10 / Fire HD 8 / Fire HD 8 plus ) For Echo Dot(2nd Generation) / For PS4 Controller / PS Vita/ Xbox One Controller / DualShock 4 Controller / Games Consoles
For LG(LG K20 / K20 Plus / K30 (2019) / K40 / K40S / K50 / K10 / K11 Plus / K8, G4 / G4 Stylus / G3 / G3 Stylus / G2 / Stylo 3 / Stylus 3 / Stylus 2 / V10 / X4+ / LG Flex 2 / LG Optimus) For Motorola: Moto G6 Play [Not for G6, G6 Plus] / G5 / G5 Plus / G5S / G5S Plus / G4 / G4 Plus / E4 / E4 Plus / E5 / E5 Plus / E5 Play / E6 / E6 Plus / E6 Play / E6s (2020), Moto Turbo / Moto X / Moto G / Moto E (2020)
For Nokia 6/ 5/ 3/ Lumia 520/ 525/ 530/ 620/ 630/ 638/ 720/ 730/ 820/ 830/ 920/ 925/ 930 / NOKIA X Series
For Huawei: Mate SE, P8/P8 Lite,Honor 7X
For Blackberry Q10/ Q20/ Z30 / DTEK 50/ DTEK 60 / Z10
For Sony PS 4/ 3/ Z5/ Z4/ Z3/ Z2
For HTC One M8/M9/E8 / One A9 / One Remix / One/S/V/X/X+/ HTC Desire 626/ HTC Desire 626S / 626 G/ 630/ 828/ 830
For Windows Phones / Windows notebooks, for Google Nexus 10/Nexus 9/Nexus 7
For Roku Device / WiFi security camera (eufy k2)
For Portable Charger / Hard Drives / Printers / Portable Charger / Wireless keyboards / Wireless Charger / GPS devices / Wireless keyboards / Cameras, Camcorders / Bluetooth speakers with micro USB port
[xyz-ips snippet="download-snippet"]