MAXIMUM 20V max Rechargeable Battery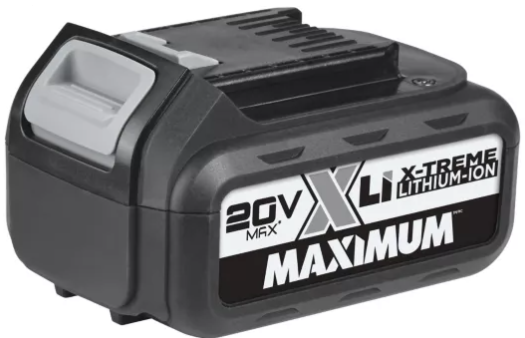 SPECIFICATIONS
IMPORTANT: Please read this manual carefully before using this product, and save it for reference.
POWER: 054-3203-2: 20V max* (2.0 Ah) X-treme lithiumion054-3206-6: 20V max* (4.0 Ah) X-treme lithiumionBATTERY CHARGE TIME: 35/65 minutesBATTERY CHARGER: Dual-voltage battery charger (054-3204-0; sold separately)WEIGHT: 13 oz (0.37 kg) and 1 lb 8 oz (0.67 kg)
*Maximum battery voltage without workload; with workload nominal voltage is 18V.
WARNING! To reduce the risk of injury, read the instruction manual.
SAVE THESE INSTRUCTIONS: This manual contains important safety and operating instructions. Read all instructions and follow them with use of this product.
SAFETY INFORMATION
Carefully read this manual and all labels affixed to the battery before using. Keep this manual available for future reference.
IMPORTANT: This battery should only be serviced by a qualified service technician.
WORK AREA SAFETY
Keep the work area clean and well lit. Cluttered and dark areas invite accidents.
Do not operate power tools in explosive atmospheres, such as in the presence of flammable liquids, gases or dust. Power tools create sparks which may ignite the dust or fumes.
Keep children and bystanders away while operating a power tool. Distractions can cause you to lose control.
ELECTRICAL SAFETY
Avoid body contact with earthed or grounded surfaces such as pipes, radiators, ranges and refrigerators. There is an increased risk of electric shock if your body is earthed or grounded.
Do not expose power tools to rain or wet conditions. Water entering a power tool will increase the risk of electric shock.
BATTERY TOOL USE AND CARE
Recharge only with the charger specified by the manufacturer. A charger that is suitable for one type of battery may create a risk of fire when used with another battery.
Use power tools only with specifically designated batteries. Use of any other battery may create a risk of injury and fire.
When the battery is not in use, keep it away from other metal objects such as paper clips, coins, keys, nails, screws or other small metal objects that can make a connection from one terminal to another. Shorting the battery terminals may cause burns or a fire.
Under abusive conditions, liquid may be ejected from the battery; avoid contact. If contact accidentally occurs, flush with water. If liquid contacts eyes, also seek medical help. Liquid ejected from the battery may cause irritation or burns.
SERVICE
Have your battery serviced by a qualified repair person using only identical replacement parts. This will ensure that the safety of the power tool is maintained.
SPECIFIC SAFETY RULES FOR BATTERY
Use battery only with MAXIMUM® 20V charger that sold together with the MAXIMUM® 20V cordless tools or MAXIMUM® multi-voltage charger 054-3204-0.
Know your power tool. Read the instruction manual carefully. Learn the tool's applications and limitations, as well as the specific potential hazards related to this tool. Following this rule will reduce the risk of electric shock, fire, or serious injury.
Battery-operated tools do not have to be plugged into an electrical outlet; they are always in operating condition. Be aware of possible hazards when not using your battery-operated tool or when changing accessories. Following this rule will reduce the risk of electric shock, fire or serious personal injury.
Do not place battery-operated tools or their batteries near fire or heat. This will reduce the risk of explosion and possible injury.
Do not crush, drop or damage the battery. Do not use a battery or charger that has been dropped or received a sharp blow. A damaged battery is subject to explosion. Properly dispose of a dropped or damaged battery immediately.
Batteries vent hydrogen gas and can explode in the presence of a source of ignition, such as a pilot light. To reduce the risk of serious personal injury, never use any cordless product in the presence of open flame. An exploded battery can propel debris and chemicals. If skin is exposed to battery debris or chemicals, flush with water immediately.
Do not charge the battery in a damp or wet location. Following this rule will reduce the risk of electric shock.
For best results, your battery should be charged in a location where the temperature is greater than 50°F (10°C) and less than 104°F (40°C). Do not store outside or in vehicles.
Under extreme usage or temperature conditions, battery leakage may occur. If liquid comes in contact with your skin, wash immediately with soap and water, then neutralize with lemon juice or vinegar. If liquid gets in your eyes, flush them with clean water for at least 10 minutes, and then seek immediate medical attention. Following this rule will reduce the risk of serious personal injury.
Do not let gasoline, oils, petroleum-based products, etc. come in contact with plastic parts. These substances contain chemicals that can damage, weaken or destroy plastic.
Save these instructions. Refer to them frequently and use them to instruct others who may use this tool. If you lend someone this tool, ensure they read these instructions also to prevent misuse of the product and possible injury.
PARTS LIST
BATTERY RELEASE BUTTON
ELECTRICAL CONTACTS
WARNING!Remove the product and any accessories from the package. Inspect the battery carefully to make sure no breakage or damage occurred during shipping.Do not discard the carton or any packaging material until all parts have been examined.
OPERATING INSTRUCTIONS
KNOW YOUR BATTERYBefore attempting to use the battery, familiarize yourself with all of its operating features and safety requirements.
BATTERY PROTECTIONThe battery circuitry protects the battery from extreme temperature, over-discharge, and over-charge. To protect the battery from damage and prolong its life, the battery circuitry will turn off the battery if it becomes overloaded or if the temperature becomes too high during use. This may happen in extremely high-torque, binding, and stalling situations. This intelligent system will shut down your battery if its operating temperature exceeds 176°F (80°C) and will begin normal operation when it returns to 32°F (0°C)–122°F (50°C).
COLD WEATHER OPERATIONThis lithium-ion battery will provide optimal performance in temperatures between 32°F (0°C) and 104°F (40°C). When the battery is very cold, it may "pulse" for the first minute of use to warm itself. Put the battery on a tool and use the tool in a light application. After about a minute, the battery will have warmed itself and will operate normally.
WHEN TO CHARGE THE BATTERYThe lithium-ion battery can be charged at any time and will not develop a "memory" if it is charged after only a partial discharge.It is not necessary to completely discharge the battery before recharging. Remove the battery from the tool and recharge it when it is convenient or when it is not in use.To check the remaining power of the battery, you need to install it to a tool that matches. Press the switch of the tool; the power indicator on the tool will show the remaining power.It is recommended that the battery be brought up to full charge before starting a big job or using it for an extended period of time. This lithium-ion battery delivers fade-free power; the only time it is necessary to charge it is when the battery has reached the end of its charge. The power delivered to the tool will drop quickly when the battery is at the end of its run time and needs to be charged. Charge the battery as needed.
NOTICE: A significantly reduced run time after fully charging the battery indicates that the battery is near the end of its usable life and must be replaced.NOTICE: This lithium-ion battery is shipped partially charged. Before using it the first time, fully charge the battery.
HOW TO CHARGE THE BATTERY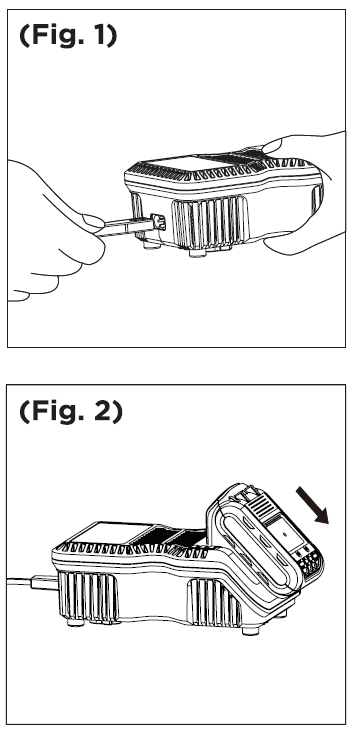 Connect the plug cable to the charger, and then plug into an appropriate outlet before inserting battery. All three charging lights will be on for two seconds and then off. (Fig. 1)
Insert the battery into the charger, making sure it is fully fully seated in the charger. (Fig. 2) During the charging process, the charging lights will indicate the charging status as follows:

Less than 30% charged: all three charging lights will blink in sequence.
Less than 60% charged: one light will stay on, while the other two lights will blink in sequence.
Over 60% charged: two lights will stay on, while the remaining light will blink continuously.
Fully charged: all three lights will remain on continuously.
MAINTENANCE
GENERAL MAINTENANCEAvoid using solvents when cleaning plastic parts. Most plastics are susceptible to damage from various types of commercial solvents and may be damaged by their use. Use clean cloths to remove dirt, dust, oil, grease, etc.MAINTENANCE AND STORAGEStore your battery in a cool, dry place. As a general practice, it is best to unplug battery chargers and remove batteries when not in use. No battery damage will occur, however, if the charger and battery are left plugged in.CLEANINGBefore cleaning or performing any maintenance, remove the battery from the tool. For safe and proper operation, always keep the tool and its ventilation slots clean. Always use only a soft, dry cloth to clean your battery; never use any detergent or alcohol.WARNING! To reduce the risk of injury, always unplug the charger and remove the battery from the charger before performing any maintenance. Never disassemble the battery.
Maximum Canada will repair or replace the batteries/chargers which have worn beyond reasonable use due to normal use of such items, for a period of three (3) years from the date of original purchase. Any defects with such battery and/or charger will be subject to repair or replacement as determined by the Service Provider. For proper servicing, both the battery and charger will require diagnosis to evaluate warranty requirements and therefore must both be provided tothe Service Provider at the time of service request.The following is excluded from this 3-Year Battery/ Charger Repair Warranty:
Damages that are a result of abuse or misuse
Any wear and tear that does not affect the core function of the product.

Made in ChinaImported byMastercraft Canada Toronto, Canada M4S 2B8
[xyz-ips snippet="download-snippet"]