USER MANUAL
MUSIC ENJOYMENT FOR EVERYONE

BTC1 BLUETOOTH WIRELESS ADAPTER FOR M6.PRO IN-EAR MONITORSwww.MEEaudio.com/BTC1
BLUETOOTH SUPPORT PAGEPlease visit the Bluetooth Support page at MEEaudio.com/Bluetooth for video setup guides and troubleshooting information.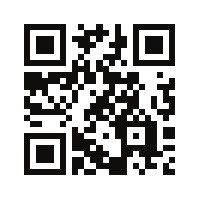 https://goo.gl/Zrqt1p
POWERED BY


BTC1 PRODUCT OVERVIEW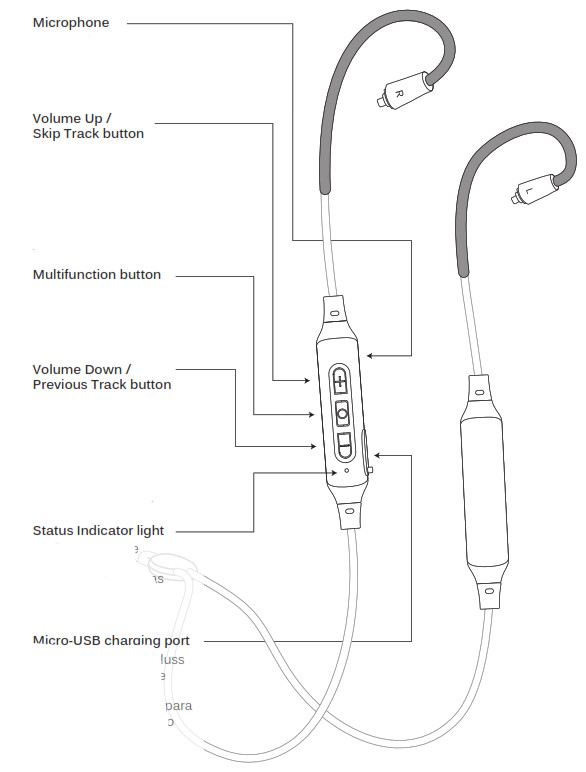 STEP 1 – CHARGING
Connect the Micro-USB charging cable to any powered USB port and to the charging port of the BTC1.The status indicator light will turn blue once the BTC1 is charged and ready for use.Close the USB port cover completely after charging for maximum sweat resistance.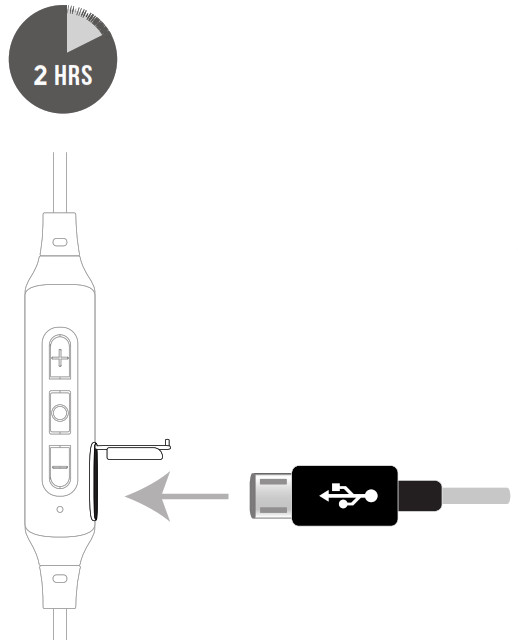 STEP 2: INSTALLING EARPIECES
Make sure to attach the cable connector marked "R" to the right earpiece and the connector marked "L" to the left earpiece.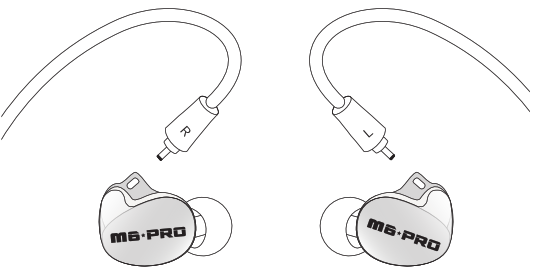 Attach the cable by lining up the grooves on the connector with the earpieces as shown. Push connectors in until they fit securely.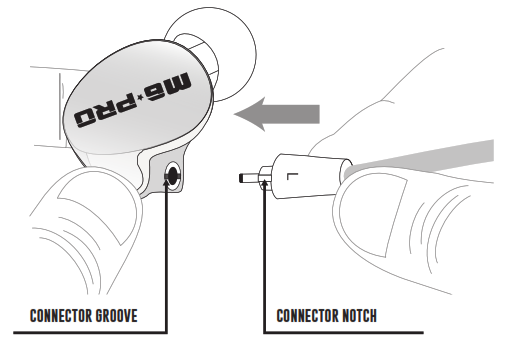 To detach the cable, grasp the earpiece and cable connector firmly, and pull straight apart without twisting.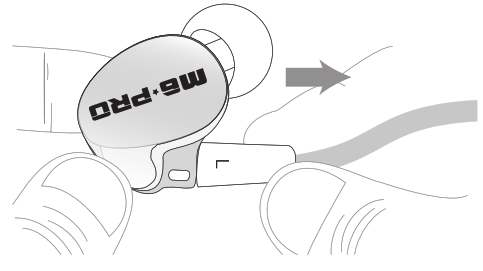 STEP 3: PAIRING
Press and hold the Multifunction button for about 5 seconds until you hear the headset say "Pairing" and the light flashes red and blue.

Open the Bluetooth menu on the device you wish to pair (usually located in Settings > Bluetooth). If needed, select "search for devices", "add new device", or "refresh".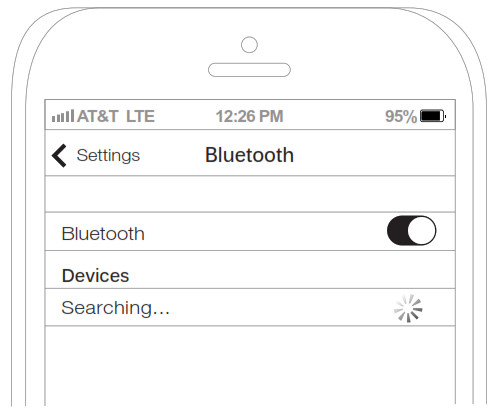 Select "MEE audio BTC1" and allow pairing to complete. Use "0000" if a pin is required. Visit the Bluetooth Support Page at MEEaudio.com/Bluetooth for additional Bluetooth pairing and setup information.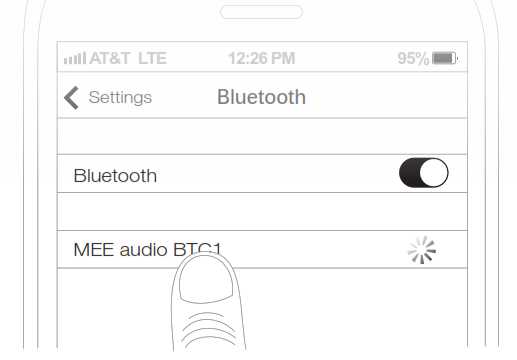 STEP 4: WEARING THE BTC1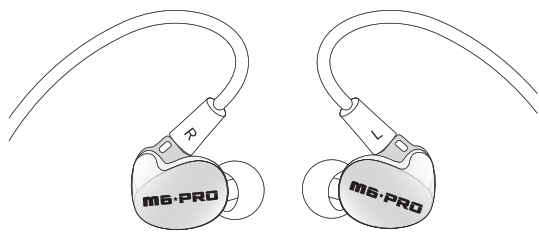 Identify the right and left earpieces.Place the cable behind your neck and route the earhooks over your ears.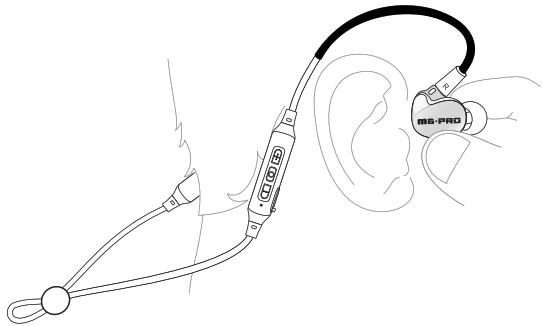 Place the earpieces in your ears. Adjust each earpiece until it fits flush in your ear and the eartip seals the ear canal.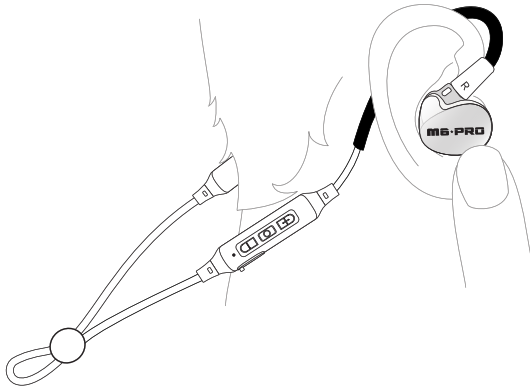 Tighten the sliding cable cinch for the most secure fit.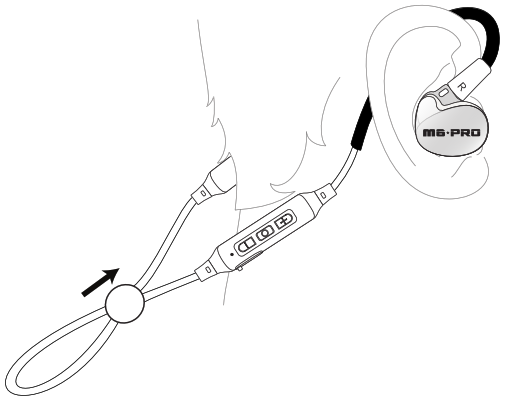 FUNCTIONALITY AND CONTROLS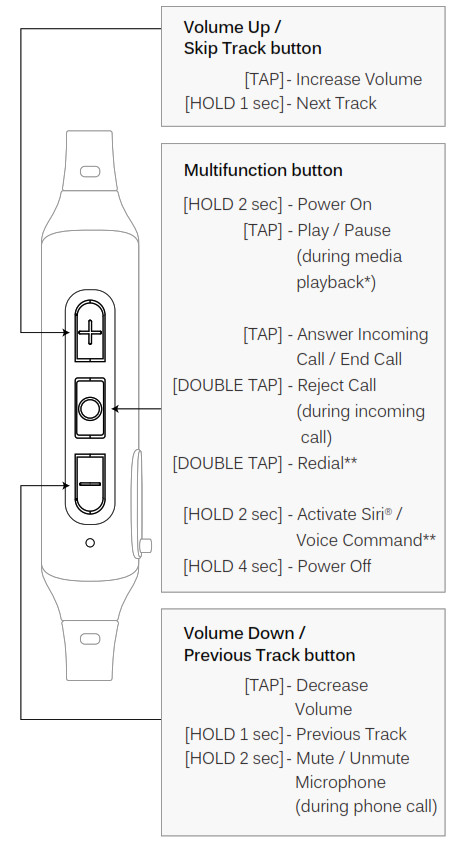 * You may need to bring your music player application up on the screen for media playback to start** Not all devices support this functionality
FACTORY RESET
To perform a full reset, first put the BTC1 in standby mode (headset is powered on but not connected to any devices). Make sure to turn off Bluetooth or delete the "MEE audio BTC1" pairing from any nearby devices that have previously been paired with the BTC1.Once in standby mode, press and hold the volume up and volume down buttons simultaneously for 2 seconds until you hear two tones. All previously paired devices will be cleared from memory and a new pairing will need to be created before the BTC1 can be used.
WARNING
Using headphones at high to moderate volumes for extended periods of time will result in permanent hearing damage. It is advised you keep volume levels moderate to low at all times for your safety. Do not use while driving a car, cycling, operating machinery, or performing other activities that require hearing surrounding sounds. Keep the device and packaging out of reach of children.
ADDITIONAL INFORMATION
FOR ADDITIONAL SUPPORT• Visit our Bluetooth Support Guide at MEEaudio.com/Bluetooth for additional Bluetooth setup information.• View additional FAQs and troubleshooting guides at MEEaudio.com/Support.• Contact us at
WARRANTY
MEE audio products purchased from authorized resellers are covered by a 1-year manufacturer warranty. For more information, visit MEEaudio.com/Support.Have a question?Email


MEE audio and its logo are registered trademarks of S2E, Inc. All rights reserved. Siri® is a registered trademark of Apple Inc. The Bluetooth® word mark and logos are registered trademarks owned by Bluetooth SIG, Inc. and any use of such marks by MEE audio is under license. Other trademarks and trade names are those of their respective owners. Qualcomm® aptX™ is a product of Qualcomm Technologies International, Ltd. Qualcomm is a trademark of Qualcomm Incorporated, registered in the United States and other countries, used with permission. aptX is a trademark of Qualcomm Technologies International, Ltd., registered in the United States and other countries, used with permission
QUESTIONS?WE'RE HERE TO HELP!Phone Support: 626-965-1008 x31Monday ~ Friday 9am to 5:30pm PSTEmail Support: All emails are responded to within 2 business days

MEE audio BTC1 Bluetooth Wireless Adapter For M6 PRO In-Ear Monitors User Manual – MEE audio BTC1 Bluetooth Wireless Adapter For M6 PRO In-Ear Monitors User Manual –
[xyz-ips snippet="download-snippet"]