USER MANUAL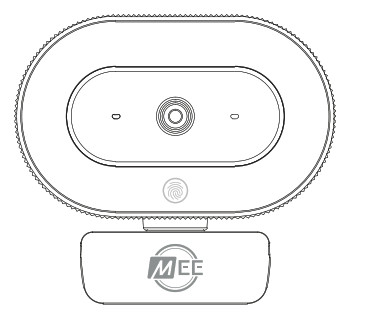 100880p USB CAMERA with LED RING LIGHTModel: CAM-202LSETUP GUIDETo learn more about using your camera, scan the QR code or enter the URL below into your web browser: MEEaudio.com/CameraHelp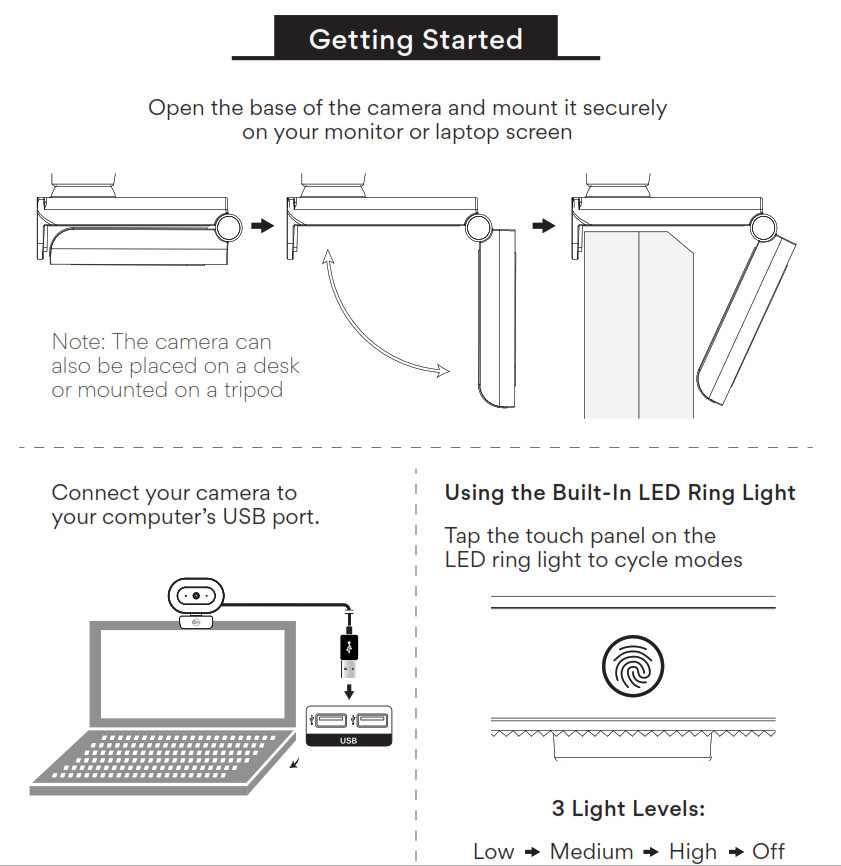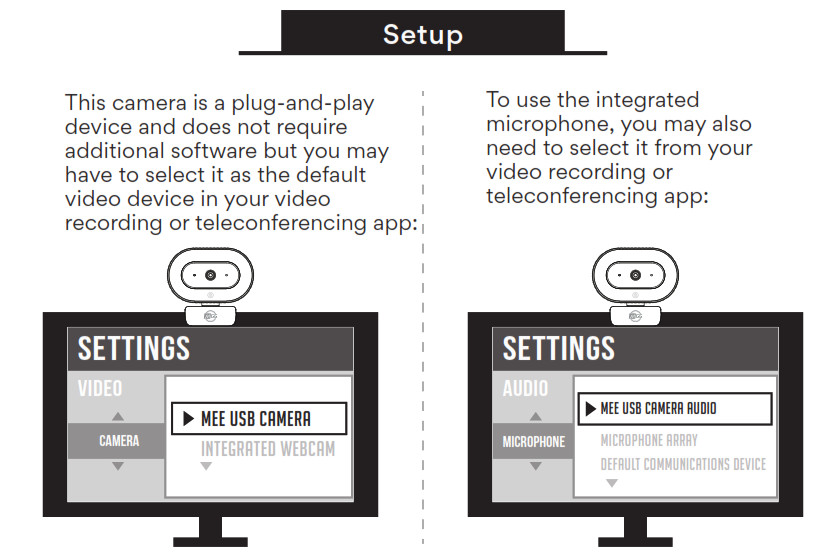 For more information about using your camera with different applications, scan the QR code or enter the URL below into your web browser: MEEaudio.com/CameraHelp

Note: If the computer does not automatically recognize the camera, try plugging it into a different USB port. If the issue persists, restart your computer.
Additional Information
Safety and Care
Avoid touching the camera lens with your fingers, sharp objects, and coarse materials
Use a clean, soft cloth to clean the camera if needed. Do not use chemical cleaners.
Avoid dropping the camera as impact may damage its internal components or scratch its lens
There are no user-replaceable/reparable parts in this device. Disassembling it will void your warranty.
Disposal and RecyclingDispose of this product in accordance with all local laws and regulations. Because this product contains electronic components, it must be disposed of separately from household waste. Contact local authorities to learn about disposal and recycling options.
WarrantyMEE audio products purchased from authorized resellers are covered by a 1-year manufacturer warranty. For more information, visit MEEaudio.com/support
WarningsThis device is designed and manufactured to operate within its defined design limits. Misuse may result in electric shock or fire. Read and follow these instructions carefully.
To prevent fire or shock hazards, do not expose this unit to rain or moisture. If the device comes in contact with liquids, quickly wipe away. If submersed in water, do not turn the device on until completely dried.Note: liquid submersion voids the warranty.
Only use attachments/accessories specified by the manufacturer
Changes or modifications to this unit not expressly approved by MEE audio could void the user's authority to operate the equipment.
Keep the device and packaging out of reach of children.
For Additional Support
View MEEaudio.com/CameraHelp for easy-to-follow setup videos and the latest troubleshooting information.Still Have Questions?Email Support:
MEE audio and its logo are registered trademarks of S2E, Inc.All rights reserved.Microsoft® Windows® is a registered trademark of Microsoft Corporation in the United States and other countries.©2018 Google LLC All rights reserved. Chrome OS™ operating system is a trademark of Google LLC.macOS® is a registered trademark of Apple Inc.All other trademarks are the property of their respective owners.

WARNING: Cancer and Reproductive Harm – www.P65Warnings.ca.govFor more information about this warning visit MEEaudio.com/prop65
MEE audio CAM-202L 1080P USB Camera With LED Ring Light – MEE audio CAM-202L 1080P USB Camera With LED Ring Light –
[xyz-ips snippet="download-snippet"]