MEE audio KJ35M Safe Listening Headphones for Kids User Guide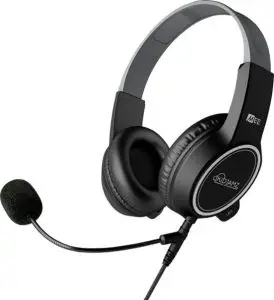 ABOUT OUR VOLUME-LIMITING TECHNOLOGY
Regular headphones and earphones can easily exceed safe listening volumes by as much as 30% when used with portable audio devices, and may cause permanent hearing damage with lengthy or repeated exposure. KidJamz headphones utilize an integrated volume limiter to maintain the sound pressure level (SPL) at 85dB* as recommended by most medical organizations, protecting young ears and helping create lifelong good listening habits.
85dB limit is based on an industry-standard 1mW audio output of a typical portable audio device
SAFE LISTENING VOLUME FOR ALL AGES: 85 dB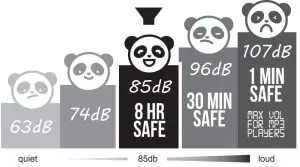 VOLUME LIMITER ON/OFF SWITCH
KidJamz feature a concealed switch on the left ear cup that allows the volume limiter to be disabled in noisy environments.
There are two positions for the switch: volume-limited (85dB), designated by

and unlimited, designated by

. Any long and thin object, such as a toothpick, can be used to operate the switch.
Note: Using headphones at higher volume levels for extended periods of time may result in listening fatigue and hearing damage. When using the KidJamz in unlimited mode, set the volume on the connected phone, computer, or mp3 player to the minimum before connecting the headphones, then gradually raise the volume until an acceptable volume level is reached. Children should take a 10-minute break every hour of listening in unlimited mode.
no volume limit 
volume limit: 85db
CABLE INSTALLATION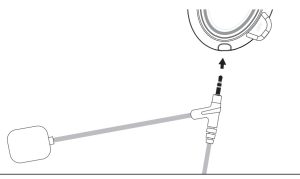 CONTROLS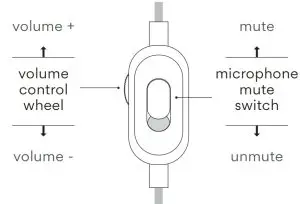 Note: Maximum volume is limited based on the position of the volume limiter switch
CARE INSTRUCTIONS
Clean with a soft cloth, damp with diluted soap water solution if necessary.Do not use chemical cleaners
If the device comes in contact with liquids, quickly wipe away. If submersed in water, do not turn the device on until completely dried.

Note:

liquid submersion voids the warranty.
WARRANTY
MEE audio products purchased from authorized resellers are covered by a 1-year manufacturer warranty. For more information, contact your local MEEaudio dealer or visit MEEaudio.com/support.
QUESTIONS?WE'RE HERE TO HELP!
Phone Support: 626-965-1008Monday ~ Friday 9:00 am to 5:00 pm PST
Email Support: [email protected]All emails are responded to within 2 business days
MEE audio and its logo are registered trademarks of S2E, Inc. All rights reserved.
iPhone®, iPad®, iPod®, and Siri® are registered trademarks of Apple Inc.Android™ is a registered trademark of Google Inc.

References
[xyz-ips snippet="download-snippet"]