milwaukee M18 HOAL High Performance Area Light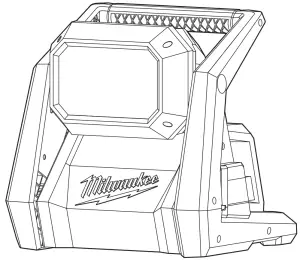 WARNINGTo reduce the risk of injury, user must read and understand operator's manual.
IMPORTANT SAFETY INSTRUCTIONS
Read all safety warnings, instructions, illustrations and specifications provided with this power tool. Failure to follow all instructions listed below may result in electric shock, fire and/or serious injury.Save all warnings and instructions for future reference. The term "power tool" in the warnings refers to your mains-operated (corded) power tool or battery-operated (cordless) power tool.
WORKAREA SAEETY
To reduce the risk of injury, close supervision is necessary when an appliance is used near children.
Store idle light out of reach of children. Warm lights can become hazardous in the hands of children.
Do not use outdoors.
ELECTRICAL SAFETY
Caution, risk of electric shock
Power cord plugs must match the outlet. Never modify the plug in any way. Do not use any adapter plugs with earthed (grounded) power tools. Unmodified plugs and matching outlets will reduce risk of electric shock.
Avoid body contact with earthed or grounded surfaces, such as pipes, radiators, ranges and refrigerators. There is an increased risk of electric shock if your body is earthed or grounded.
Do not expose light to rain or wet conditions. Water entering a light will increase the risk of electric shock.
To reduce the risk of electric shock, do not put light in water or other liquid. Do not place or store appliance where it can fall or be pulled into a tub or sink.
Do not abuse the cord. Never use the cord for carrying, pulling or unplugging the power tool. Keep cord away from heat, oil, sharp edges or moving parts. Damaged or entangled cords increase the risk of electric shock.
Do not unplug by pulling on the cord. To unplug, grasp the plug, not the cord.
Unplug the cord from outlet when not in use and before servicing or cleaning.
Always use a suitable extension cord to reduce the risk of electric shock.
When using light on battery only, remove power cord from inlet.
If operating a light in a damp location is unavoidable, use a residual current device (RCD) protected supply. Use of a RCD reduces the risk of electric shock.
PERSONAL SAFETY
Do not overreach. Keep proper footing and balance at all times. This enables better control of the light in unexpected situations.
Do not use on a ladder or unstable support. Stable footing on a solid surface enables better control of the light in unexpected situations.
BATTERY TOOL USE AND CARE
Recharge only with the charger specified by the manufacturer. A charger that is suitable for one type of battery pack may create a risk of fire when used with another battery pack.
Use power tools only with specifically designated battery packs. Use of any other battery packs may create a risk of injury and fire.
When battery pack is not in use, keep it away from other metal objects, like paper clips, coins, keys, nails, screws or other small metal objects, that can make a connection from one terminal to another. Shorting the battery terminals together may cause burns or a fire.
Under abusive conditions, liquid may be ejected from the battery; avoid contact. If contact accidentally occurs, flush with water. If liquid contacts eyes, additionally seek medical help.Liquid ejected from the battery may cause irritation or burns.
Do not use a battery pack or tool that is damaged or modified. Damaged or modified batteries may exhibit unpredictable behavior resulting in fire, explosion or risk of injury.
Do not expose a battery pack or tool to fire or excessive temperature. Exposure to fire or temperature above 130°C (265°F) may cause explosion.
Follow all charging instructions and do not charge the battery pack or tool outside the temperature range specified in the instructions. Charging improperly or at temperatures outside the specified range may damage the battery and increase the risk of fire.
SERVICE
Have your power tool serviced by a qualified repair person using only identical replacement parts. This will ensure that the safety of the tool is maintained.
Never service damaged battery packs. Service of battery packs should only be performed by the manufacturer or authorised service providers.
READ AND SAVE ALL INSTRUCTIONS FOR FUTURE USE.
ADDITIONAL BATTERY SAFETY RULES
To reduce the risk of fire, personal injury, and product damage due to a short circuit, never immerse your tool, battery pack or charger in fluid or allow a fluid to flow inside them. Corrosive or conductive fluids, such as seawater , certain industrial chemicals, and bleach or bleach-containing products, etc., can cause a short circuit.
Do not charge non-rechargeable batteries.
SPECIFIC SAFETY RULES FOR FLOOD LIGHT
Always use common sense and be cautious when using tools. It is not possible to anticipate every situation that could result in a dangerous outcome. Do not use this tool if you do not understand these operating  instructions or you feel the work is beyond your capability; contact MILWAUKEE® Tool or a trained professional for additional information or training.
The light source contained in this luminaire shall only be replaced by the manufacturer or his service agent or a similar qualified person.
Maintain labels and nameplates. These carry important information. If unreadable or missing, contact a MILWAUKEE® service facility for a replacement.
SYMBOLOGY
| | |
| --- | --- |
| | Volts |
| | Direct Current |
| | Alternating Current |
| | Double Insulated |
| | Read Operator's Manual |
| | Do not stare at the operating light source. |
| | Regulatory Compliance mark (RCM). This product meets applicable regulatory requirements. |
| | Do not dispose of electric tools together with household waste material. Electric tools and electronic equipment that have reached the end of their life must be collected separately and returned to an environmentally compatible recycling facility. |
SPECIFICATIONS
Cat. No
M18 HOAL
Battery Type
M18™
Charger Type
M18™
AC Input Volts
220-240V AC
Hertz
50-60 Hz
AC Input Amps
50W
DC Input Volts
18V DC
DC Input Amps
36W
Recommended Ambient
Operating Temperature
-17°C to 51°C
EXTENSION CORDS
Extension cords should be selected with care.
Before use, the extension cord should be carefully inspected to ensure there is no damage to the cord, plug or connector. Replace a damaged extension cord immediately or have it repaired oy a qualified electrical worker.
Select an extension cord suitable for the job.
Having excess length of cord can present an unnecessary trip hazard.
Select a suitable cord for the product. Ensure that the light and cord are not exposed to water, sharp objects or mechanical hazards.
Extension cords should be selected so that there is not an excessive length used. The longer an extension cord, the greater the voltage drop over the length of the cord and the performance of the light can be reduced.
Recommended maximum extension cord lengths for this light are:– 1.0mm2 25m– 1.5mm2 35m
ASSEMBLY
Recharge battery only with the charger specified for the battery. For specific charging instructions, read the operator's manual supplied with your charger and battery.
Inserting/Removing the Battery
Insert the battery pack by sliding battery pack into the tool. Insert the battery pack until the battery latches lock.
Inserting/Removing Power Cord
To operate on AC power, connect a suitable extension cord to the AC inlet. To remove, unplug the extension cord from the inlet.
Only use accessories specifically recommended for this tool. Others ma be hazardous.
OPERATION
To reduce the risk of injury, do not stare at the operating light source.Press and hold the ON/OFF button

to turn ON.Use the MODE button to cycle through High, Medium, Low. Press and hold the ON/OFF button

to turn OFF immediately. Rotate light head to desired angle.
MAINTENANCE
To reduce the risk of injury, always unplug the charger and remove the battery pack from the charger or tool before performing any maintenance. Never disassemble the tool, battery pack or charger. Contact a MILWAUKE® service facility for ALL repairs.
Maintaining Tools
Keep your tool in good repair by adopting a regular maintenance program. Inspect your tool for issues such as undue noise, misalignment or binding of moving parts, breakage of parts, or any other condition that may affect the tool operation. Return the tool to a MILWAUKEE® service facility for repair. After six months to one year, depending on use, return the tool to a MILWAUKEE® service facility for inspection.
To reduce the risk of personal injury and damage, never immerse your tool, battery pack or charger in liquid or allow a liquid to flow inside them.
Cleaning
Clean dust and debris from vents. Keep handles clean, dry and free of oil or grease. Use only mild soap and a damp cloth to clean, since certain cleaning agents and solvents are harmful to plastics and other insulated parts. Some of these include gasoline, turpentine, lacquer thinner, paint thinner, chlorinated cleaning solvents, ammonia and household detergents containing ammonia. Never use flammable or combustible solvents around tools.
Repairs
For repairs, return the tool, battery pack and charger to the nearest authorised service centre
ACCESSORIES
Use only recommended accessories. Others may be hazardous.For a complete listing of accessories, go online to milwaukeetool.com.au / milwaukeetool.co.nz or contact a distributor.
WARRANTY – AUSTRALIA and NEW ZEALAND
Please refer to Australian and New Zealand warranty supplied with tool. This warranty applies only to product sold by authorised dealers in Australia and New Zealand.
SERVICE – AUSTRALIA and NEW ZEALAND
MILWAUKEE® prides itself in producing a premium quality product that is Nothing But Heavy Duty™.Your satisfaction with our products is very important to us! If you encounter any problems with the operation of this tool, please contact your authorised MILWAUKEE® dealer.For a list of MILWAUKEE® dealers, guarantee or service agents please contact MILWAUKEE®
Customer Service or visit our website.(Australia Toll Free Telephone Number 1300 645 928)(New Zealand Toll Free Telephone Number 0800 645 928)or visit milwaukeetool.com.au/milwaukeetool.co.nz.
Milwaukee Electric Tool Corporation13135 West Lisbon Road, Brookfield, Wisconsin U.S.A. 53005
Milwaukee Tool (Australia)21 Kelletts Road, Rowville, VIC 3178 Melbourne, Australia
Milwaukee Tool (New Zealand)274 Church Street, Penrose, Auckland, 1061, New Zealand
DESIGNED BY MILWAUKEE ELECTRIC TOOL CORP.PROFESSIONALLY MADE IN CHINA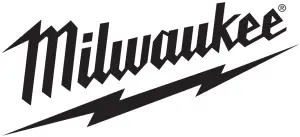 References
[xyz-ips snippet="download-snippet"]