User Manual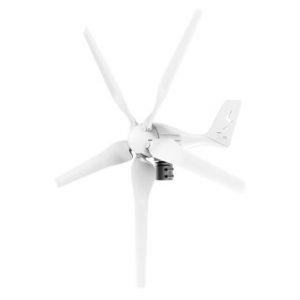 minleaf ML-WT1
ATTENTION
For the correct installation and use of this equipment, please read carefully the requirements and strictly follow the instructions.
Basic requirements:
Do not disassemble the equipment by yourself. Please contact a specialized serviceman if the equipment is out of order.
Do not under any circumstance modify the structure, safety features, or blade design without guidance from a specialized serviceman.
Obey local laws and regulations when using this product.
Assembly Requirements:
Read the user manual before assembling the wind generator or starting maintenance.
 Don't install the wind turbine on a rainy day or when the wind scale is at Level 3 or above.
After opening the package, it is advised to short circuit the three leads of the wind turbine (the exposed copper parts should be screwed together).
Before the installation of the wind turbine, lightning grounding must be prepared. Follow grounding according to national standards, or according to the local environment and soil condition.
When assembling the Wind turbine, all parts should be fastened only with the fasteners specified.
The battery must be connected before the wind turbine is connected to the controller.
AT A GLANCE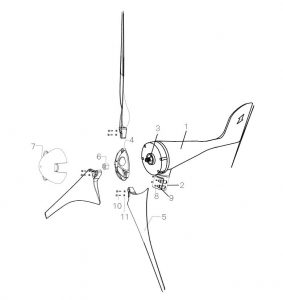 Body frame
Hoop seat
Axis
Hub
Blade
Anti-slack nut
Fairing
Bolt for hoop
Elastic washer
Bolt for blades
PRODUCT LIST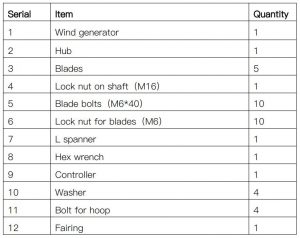 SPECIFICATIONS
Model: ML-WT1
Power: 1000 W
Voltage: 12 V/24 V
Starting wind speed: 2.0 m/s
Rated wind speed: 13.0 m/s
Number of blades: 5
Generator type: Three-phase AC permanent magnet synchronous generator
Blade material: Nylon fiber
Host weight: 10.3 kg
INSTALLATION
Use 5 blade bolts to fix blade and hub.
Tighten blade bolts and nuts with the L wrench.
Connect 3 wires to the transmission cables; make sure they are long enough to bepulled out from the bottom of the tower.
Attach the hoop on top of the tower and tighten the screws with an L wrench (not included in the package)
Insert a nut into the hexagonal hole on the hub to fix the hub onto the generator; tighten up by holding the wrench with your left hand and rotating the hub clockwise with your right hand.
Tighten the cone onto the hub.
Connect the controller to a battery, then attach transmission cables from the tower to the controller.
MAINTENANCE
Wind turbines are always exposed, regularly check if the turbine moves in the wind and that the cables are connected. Use a telescope for extra visibility if required.
Timely inspection should be made after a heavy storm. If there is any damage, put down the tower for maintenance. If mounted on a streetlight, an electrician should safely climb the pole to check if the generator is not short circuited and is operating properly.
Maintenance-free batteries should be kept clean.
[xyz-ips snippet="download-snippet"]