TALON TRAVEL COVER8 FT, 10/12FT & 15 FT1810247, 1810248 & 1810249
THANK YOUWhen you fish with us, you fish with an edge. With a passion. With experience. You're fishing with a Minn Kota. It was born in Mankato, Minnesota. It was built by people who love this sport and want you to do more of it. It's got our reputation behind it and years of good fishing ahead of it. Thank you for fishing with us.
Item /Assembly
Part #
Description
Qty.
2
2376487
COVER-TRAVEL, 8′ TALON BT
1
2376488
COVER-TRAVEL, 10712. TALON BT
1
2376489
COVER-TRAVEL, 15′ TALON BT
1

INSTALLATION
ITEM(S) NEEDED

a. Take the Travel Cover (Item #2) and unzip and disconnect the zipper. Unsnap all of the snaps. Take a look at the Talon from the back or stern of the boat looking onboard.  Notice the MotorHousing protruding further from the Talon on the Starboard side of the boat.b. Set the Talon Travel Cover on the top of the Talon with the Talon logo facing Outboard so that the pocket for the Motor Housing fits the larger housing on the Starboard side. The top mold of the Travel Cover should rest firmly in place on the top of the Talon.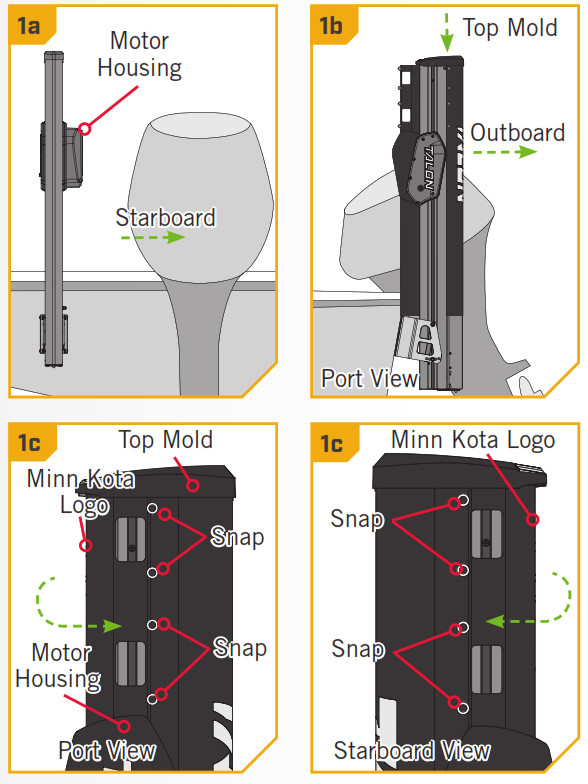 c. Pull the cover around the Inboard facing portion on the Talon and secure the snaps alternately on each side of the Talon. Work from the Motor Housing to the top of the  Talon by pressing them together firmly. The Travel Cover should have the Minn Kota logo facing Inboard.d. Once all snaps are secure, make sure the Power Cord sits inside the track along the side of the Talon on the Starboard side. Along the Port side, at the bottom of the Talon just above the Mounting Bracket, attach each half of the zipper together. Pull up until the zipper is secured just below the Motor Housing.

RECOMMENDED ACCESSORIES
Talon Wireless Foot Switch Gives you hands-free control of your Talons, including control of Anchoring Modes.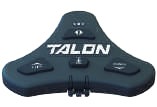 Installation BracketsOur extruded aluminum brackets are built with a reinforced construction so they can hold Talon securely to your boat – no matter what. Our brackets are designed to fit almost any transom orientation and outboard style and can be adjusted and tweaked on two pivot points to the perfect orientation.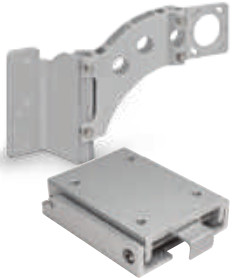 Talon Stomp SwitchThese individually mountable, large target controls allow for automatic up/down control of Talon from the bow of your boat.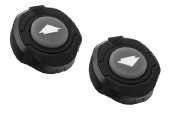 Quick Disconnect Cable 
This heavy-duty, waterproof connector features an all-inclusive screw-lock design.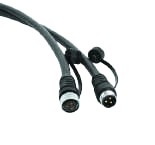 Talon Mobile AppControl all the functions of your Talon plus software updates.

minnkotamotors.com©2021 Johnson Outdoors Marine Electronics, Inc.
References
[xyz-ips snippet="download-snippet"]