Welcome, and thank you for your purchase!
Gerard Clement SmitFounder and Designer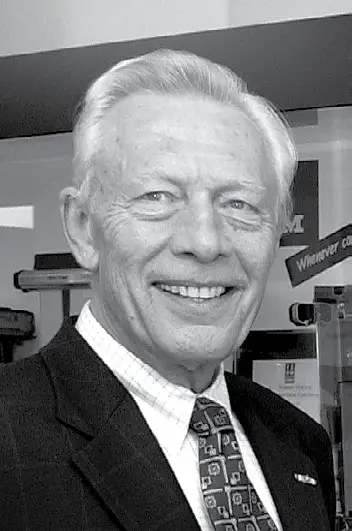 We're so glad you've joined the Moccamaster family. We believe your new Moccamaster coffee brewer will give you the best coffee brewing experience available. Our consistent quality is the result of innovative engineering driven by a passion for good coffee. From our copper heating element to the shape of our brew basket, every thoughtfully designed component of the Moccamaster works together to brew delicious coffee to industry standards every time.Since 1968, when founder Gerard Clement Smit designed the first Moccamaster coffee brewer, every Moccamaster has been handmade and tested in our factory in the Netherlands. Our brewers are energy-efficient, long-lasting, and recyclable. We are committed to providing our customers with superior service, so you can be sure that your Moccamaster experience will be exceptional for years to come.
Industry-Leading5-Year Warranty

Handmade in theNetherlands

Meets ECBC and SCAGOLDEN CUPBrewing Standards for 4T's:

TEMPERATUREBrews at 196°-205°F, Holds at 175°-185°F

TURBULENCECreates perfect bloom and even extraction

TIMEFull carafe in 4 to 6 minutes

TOTAL DISSOLVED SOLIDS (TDS)Solubles between 18-22%

Recyclable, Repairable, Sustainable, Cleanable, BPA/BPS/BPF and Phthalate Free
All Moccamaster coffee brewers are certified to brew to the strict standards of the European Coffee Brewing Center (ECBC) and the Specialty CoffeeAssociation (SCA); certifications awarded only after extensive and rigorous quality control and laboratory testing. moccamaster.com
Directions For Use
Get started with your Moccamaster coffee brewer following the steps below. For instructions on your specific model, please refer to the brewer guides on the opposite page. We recommend running two brew cycles of plain water before brewing your first pot of coffee.
Set power switch to off.
Firmly attach outlet arm to silicone gasket at the top of the cool water reservoir; the fit should feel snug. Caution: outlet arm is HOT while brewing.
Fill cool water reservoir to the desired level with fresh, cool water. Place lid on the cool water reservoir.
Place paper filter in brew basket. Refer to your specific brewer's guide for correct filter type. Caution: Do not remove lid while brewing; scalding may occur.
Add ground coffee. Refer to the chart below for the recommended formula.
Place brew basket on bracket; position outlet arm over center of brew basket. Place lid on brew basket. For manual-adjust brew basket models, adjust slide to open position.
Place carafe into position. For Cup-One, ensure mug is pressed against studs or nested in the mug tray.
Plug into grounded outlet. Set power switch to "ON" position.
Brewing will begin quickly; water will be brought to a boil, rise through the brewer across the outlet arm, and into the brew basket. Refer to your brewer guide for brew times.Now experience the real taste of coffee, perfectly brewed with your new Moccamaster!
RecommendedWater-to-Coffee RatioThe industry standard for optimal flavor is 2 tbsp. of ground coffee to every 6 oz. of water

WATER VOLUME (Note: European cup size is 4oz)
MOCCAMASTER 2 TBSP SCOOP
GRAMS(+/- 5)
1.8L
15-Cup (Grand)
60oz
10 level scoops
99
1.25L
10-Cup
40oz
7 level scoops
69
1L
8-Cup
32oz
6 level scoops
55
3/4L
6-Cup
24oz
4 level scoops
41
1/2L
4-Cup
16oz
3 level scoops
28
0.3L
Cup-One
10oz
2 level scoops
17
Best Practices for Best Results
| | |
| --- | --- |
| | Grind SizeUse a medium to medium-coarse grind. We suggest grinding your co‑ ee either at the time of purchase or at home with a Moccamaster grinder. Note that most pre-ground, bagged co‑ ee tends to be too fi nely ground for ideal operation. |
| | FiltersCheck your brewer guide for replacement fi later size. We recommend using oxygen-whitened fi lters. We advise against using gold-mesh or other reusable fi lters, as they can cause inconsistent extraction times and are difficult to clean properly. |
| | WaterIf it tastes good to drink, it will make good coffee. We recommend fresh tap, filtered, or bottled water. We do not recommend using reverse osmosis filtered water or distilled water, as it can damage the brewer's boiling element. |
| | What's In The CupThe water-to-co‑ ee ratio we recommend is the approved industry standard, but your taste preferences may vary. If your co‑ ee is too strong, add hot water to your finished cup. If it's too weak, DO NOT add more coffee – instead, try a different coffee roast or growing region. |
| | Brewing at High AltitudesMoccamaster's unique copper element brings water to a boil. At sea-level, the boiling temperature is 212°F. The boiling temperature can be as low as 198°F at higher elevations, resulting in cooler brewing temperatures. Rest assured, the brewer is still making great coffee! |
| | Minimum Brew VolumeWe recommend brewing no less than 4 cups (16 oz.) in all 8- to 10-cup brewers. |
REPLACEMENT PARTSReplacement parts are available through many retailers, online at www.moccamaster.com, or through Customer Service at 855.662.2200.
Cleaning & Maintenance
Basic CleaningClean the exterior of your brewer regularly with a moist cloth, wiping dry. Handwash carafe and brew basket with mild dishwashing detergent after each use. Rinse thoroughly. Carafes are not dishwasher safe. Remove coffee oil stains from thermal carafes by placing a small amount of dishwasher detergent and water in the carafe and allowing it to soak overnight, or use Urnex® or Durgol® cleaning products (follow manufacturer directions).
Descaling Your BrewerDescale your brewer every 100 cycles (easily remembered after every box of 100-count filters), or a minimum of every three months. We recommend Urnex® or Durgol® descaling products (follow manufacturer directions). You must descale your coffee brewer regularly to maintain performance and warranty coverage. After descaling, always brew 2 full reservoirs of water through the brewer to clear out any remaining descaling product.
Extended Storage and Anti-Frost ProtectionIf storing the brewer, or if leaving the unit unused for longer than 1 week:
Turn the brewer off and unplug from the electrical outlet.
Remove the outlet arm.
Empty any remaining water within the brewer by holding it upside down over the sink.
Replace the outlet arm before using the brewer again.
WHAT IS DESCALING?Over time, minerals from water accumulate inside the Moccamaster's boiling element, forming scale. This buildup can slow and eventually stop the flow of water. It also can affect the brewing temperature and saturation time. If not descaled regularly, the brewer can become permanently damaged.Descaling products break down the mineral buildup inside your brewer, ensuring consistent brewer functionality and great coffee.
NOTE: We do not recommend descaling with vinegar. It may not effectively remove buildup and can be difficult to thoroughly rinse, resulting in a lingering odor that could affect future brews.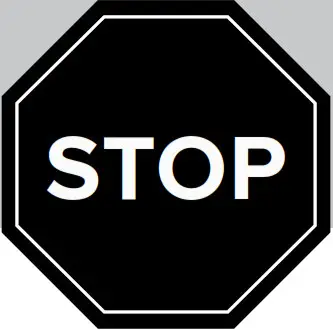 Do Not Return to Store!FOR IMMEDIATE ASSISTANCE WITH ASSEMBLY, USE, OR TROUBLESHOOTINGPLEASE CONTACT US!
WARRANTY REGISTRATIONTo register your brewer, please visit the following URL: MOCCAMASTER.COM/REGISTER-PRODUCT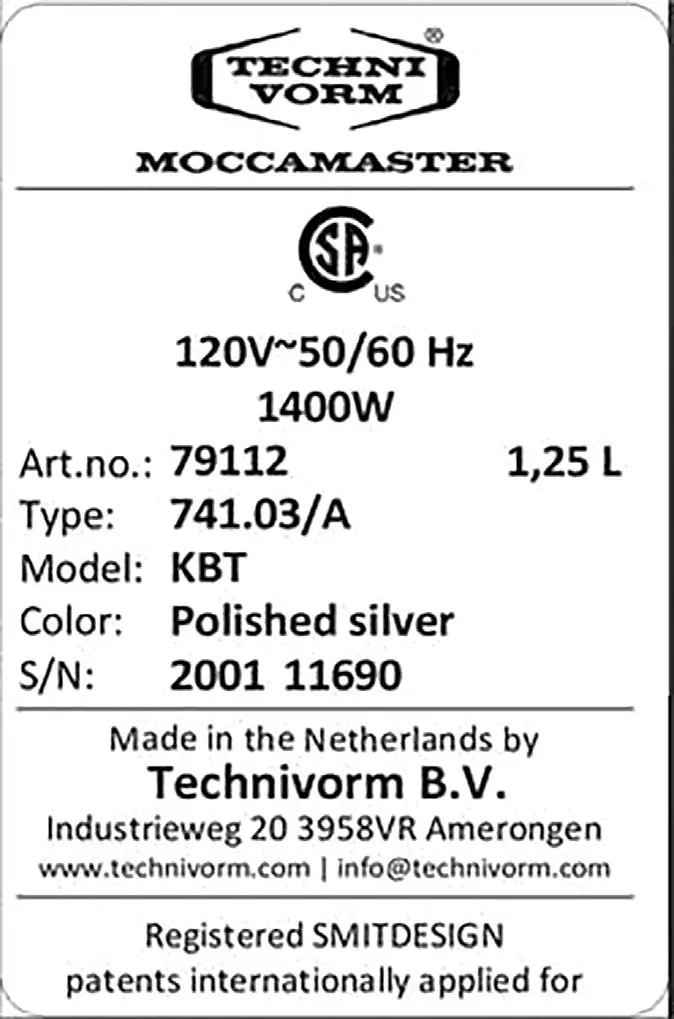 To register your product and request repairs, please have your Art.no. and Serial Number (S/N) ready for Customer Service. This information is found on the base plate of the brewer and will look like the sample image to the left.HOW TO CONTACT US Email [email protected]Phone 855.662.2200Find Help Online moccamaster.com/supportBusiness Hours Monday – Friday, 8AM-5PM CSTWe look forward to hearing from you!
Warranty
5-Year Limited Warranty
This Moccamaster Brewer, excluding carafe and parts, is warrantied by Moccamaster USA to be free from defects in materials and workmanship existing at the time of manufacture and appearing within one of the following warranty periods:Five (5) years from the date of purchase of a NEW BREWER. One (1) year from the date of purchase of a REFURBISHED BREWER.
If Moccamaster USA inspects the brewer and finds it to be defective, it will be repaired or replaced without charge to you. If a replacement product is provided, it will assume the remaining warranty of the original product, as described above.This warranty does not apply to any defect arising from a buyer or user's misuse of the product, including negligent handling, lack of descaling, failure to follow manufacturer's instructions, modification, alteration, or repair not authorized by Moccamaster USA. If you choose to have someone other than an authorized service center service your brewer, THIS WARRANTY WILL AUTOMATICALLY BECOME NULL AND VOID. Any liability is expressly limited to an amount equal to the purchase price paid, and all claims for special, incidental, or consequential damages are hereby excluded.Unless otherwise specified, Moccamaster USA makes no other warranty of any kind, expressed or implied, as to the merchantability or fitness of any product for any particular purpose. Moccamaster USA
expressly disclaims all warranties and conditions not stated in the limited warranty. Moccamaster USA is not liable for any claim made by a third party or made by a buyer or user for a third party.This warranty gives you specific legal rights, and you may also have other legal rights, which vary from state to state. Some states do not allow the limitation or exclusion of incidental or consequential damages, so the above limitation or exclusion may not apply to you.If you believe your brewer is defective, return it to the location of purchase (within first 30 days) or contact Moccamaster USA Customer Service at [email protected], or 855.662.2200.KEEP ORIGINAL SALES RECEIPT OR INVOICE AS PROOF OF PURCHASE FOR WARRANTY PURPOSES.For out-of-warranty product repair services visit moccamaster.com
Important Safeguards
When using electrical appliances, always follow basic safety precautions, including:
READ ALL INSTRUCTIONS
Unwrap the coffee brewer with care. Remove all packaging materials. Keep plastic and cardboard packaging out of reach of children.
Confirm the voltage of the brewer matches your main voltage. The brewer must be plugged into a socket with safety grounding.
Place the brewer on a flat surface in a frost-free room.
Do not touch hot surfaces. Use handles or knobs.
Do not place cord, plugs, or brewer in water or other liquids.
This brewer is not fit for use by adults or children with physical, mental, or sensory disabilities, or a lack of knowledge or experience, unless supervised or instructed on its use by a person who is held responsible for the aforementioned individual's safety.
Unplug from outlet when not in use and before cleaning. Allow brewer to cool before cleaning and before putting on or taking off parts.
Do not operate brewer with a damaged cord or plug, or if the brewer malfunctions or is damaged in any way. Return brewer to the nearest authorized service facility for examination, repair, or adjustment.
Using an accessory not recommended by the manufacturer may cause injury or fire.
Do not use outdoors.
Do not let cord hang over table or counter edges, and do not let it touch hot surfaces.
Do not place on or near a hot gas or electric burner or in a heated oven.
To disconnect, turn power switch to "OFF" position, then remove plug from wall outlet.
Do not use brewer for any purpose other than its intended use.
Do not remove brew basket or carafe while brewing.
Do not pour any liquids other than water or recommended cleaning products into water reservoir.
Always place all lids in the correct position, as shown in the descriptive images. Scalding may occur if any of these parts are removed during brewing cycles.
WARNING: Do not remove bottom panel of brewer; doing so will void warranty. No user-serviceable parts inside. Repair must be done by authorized personnel only.
GLASS CARAFE
Glass carafe is designed for use with this appliance.
Do not set a hot carafe on a cold surface.
Never place carafe over open flame, hot range cook-top, or other heat source.
Do not use a cracked carafe or a carafe with loose handles.
Do not clean carafe with abrasive cleansers, steel wool pads, or similar materials.
Never place carafe in an oven or a microwave.
NOT DISHWASHER SAFE.
THERMAL CARAFE
Do not use thermal carafe for storing dairy products or baby food, as these will curdle if kept hot for a longer period of time.
Do not use for carbonated beverages.
Do not transport carafe in a horizontal or upside-down position, as it can lead to leakage. Use special travel lid for transporting.
WARNING: Do not drink directly from thermal carafe. Liquid from carafe may be very hot.
Never place thermal carafe on a hot/ warm cooking ring, gas cooker, or other heat source.
Never place carafe in an oven or a microwave.
Do not clean carafe with abrasive cleansers, steel wool pads, or similar materials.
NOT DISHWASHER SAFE.
SAVE THESE INSTRUCTIONS

RISK OF FIRE AND ELECTRICAL SHOCK DO NOT OPENWARNING. TO REDUCE THE RISK OF FIRE OR ELECTRIC SHOCK, DO NOT REMOVE COVER, NO USER-SERVICEABLE PARTS INSIDE. REPAIRS SHOULD BE DONE BY AUTHORIZED SERVICE PERSONNEL ONLY.
BEFORE USEBefore the first use of your new coffee brewer, or if it has not been used for some time, we recommend running two brew cycles of plain water to rinse the water receptacle.
POWER SUPPLY CORDThe power supply cord is short to reduce risks resulting from becoming entangled in or tripping over a longer cord. If using an extension cord, its marked electrical rating must be at least as great as the coffee brewer's electrical rating. The extension cord must be a grounding type 3 cord. The extension cord should not drape over the counter or tabletop where it can be pulled over by children or tripped over.
ENVIRONMENTAL RECOMMENDATIONSDispose of filters and coffee grounds in an organic waste container or compost heap where available. If not available, filters and grounds may be disposed of in normal household waste. Please recycle all packaging and parts responsibly.

References
[xyz-ips snippet="download-snippet"]