TWO-HANDLE LAVATORY FAUCET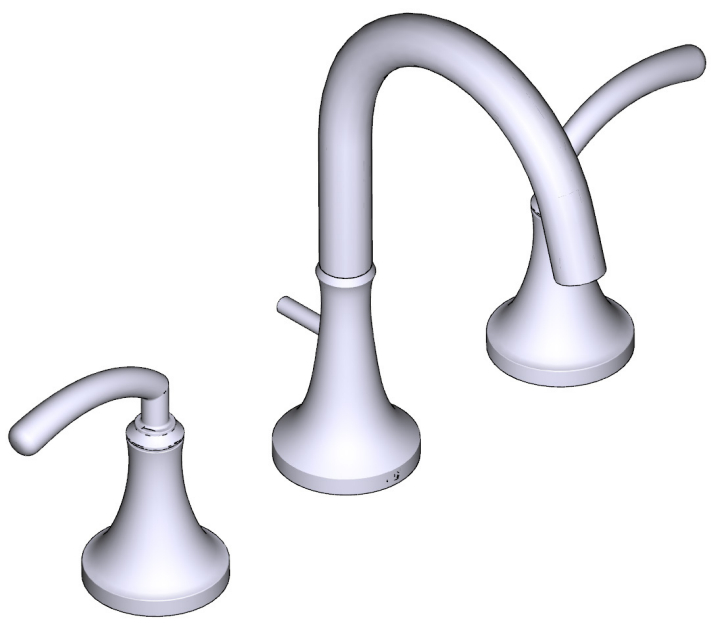 The image is for reference only(Style varies by model)
PLEASE CONTACT MOEN FIRSTFor Installation Help, Missing or Replacement Parts(USA) 1-800-BUY-MOEN (1-800-289-6636) www.moen.com(Canada) 1-800-465-6130 www.moen.ca
HELPFUL TOOLSFor safety and ease of faucet replacement, Moenrecommends the use of these helpful tools.

Required for Optional Hardwire Installation
Parts List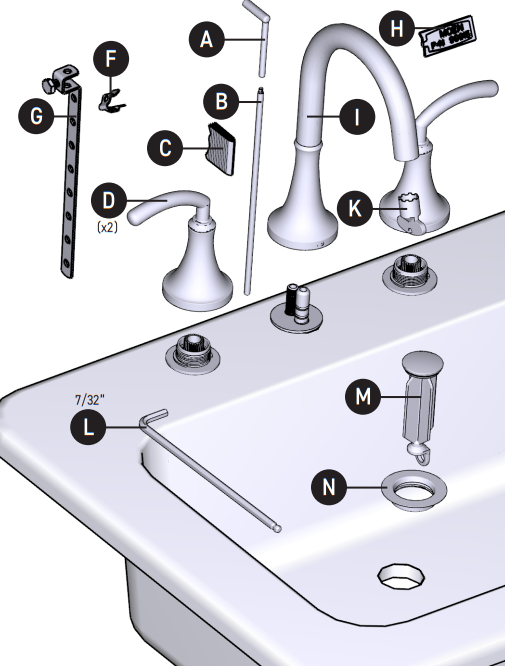 For the T6222 model, some finishes include an extra handle & spout escutcheons to choose which finish you prefer.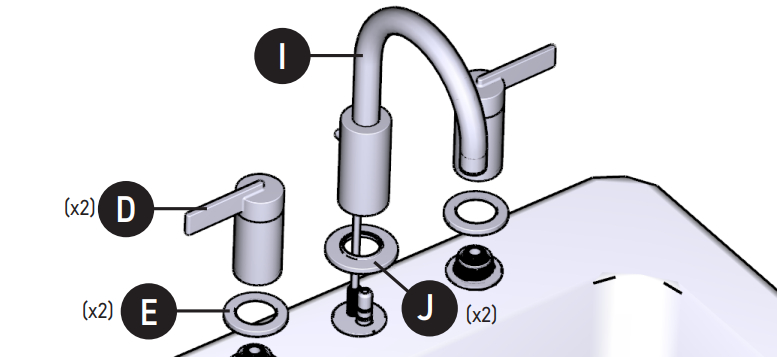 Always turn the water supply OFF before removing the existing faucet or disassembling the valve. Open faucet handles to relieve water pressure and ensure that complete water shut-off has been accomplished.
| | |
| --- | --- |
| A. Upper Lift Rod | H. Lubricant |
| B. Lower Lift Rod | I. Spout |
| C. Cardboard Piece – 2" X1.5" (Not included) | J. Spout Escutcheon (x2) |
| D. Handle Assembly (x2) | K. Aerator Tool |
| E. Handle Escutcheon (x2) | L. Hex Wrench (7/32") |
| F. Pivot Rod Clip | M. Drain Plug |
| G. Lift Rod Strap | N. Drain Waste Seat |
Icon Legend

INS10595B – 07/21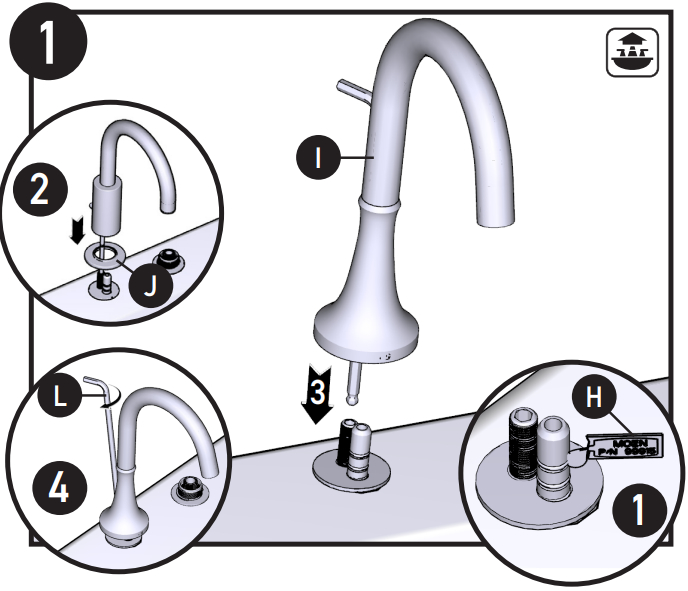 Apply Lubricant (H) to o-rings on rough-in.
Place Spout Escutcheon (J) onto rough-in (separate escutcheon for some models) .
Place Spout (I) onto spout rough-in.
Insert Hex Wrench (L) through Spout Body and tighten to rough-in.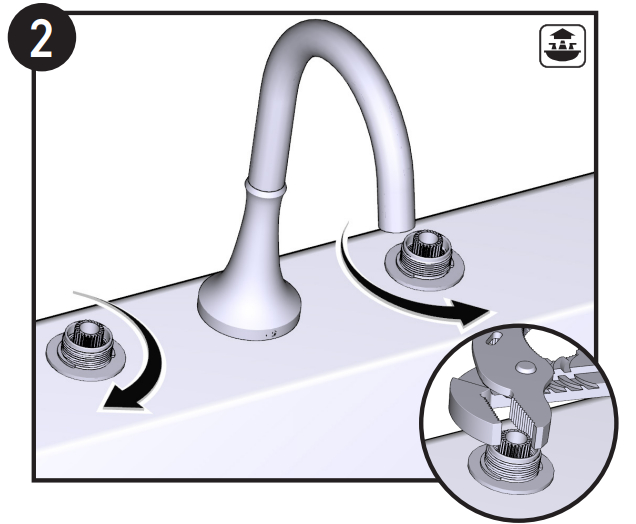 Turn stems to off until they stop.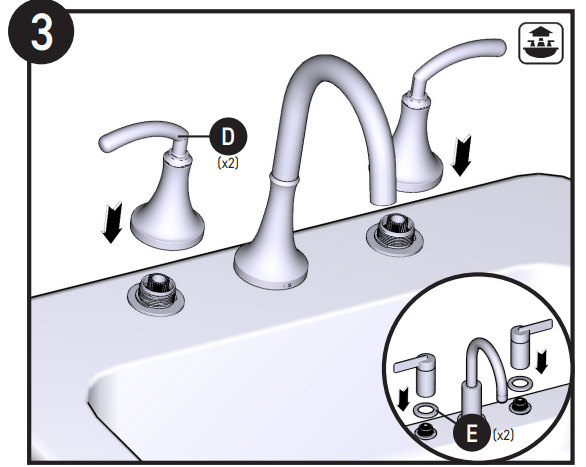 Place Handle Escutcheon (E) (x2) onto rough-in (separate escutcheon for some models) . Install Handle Assembly (D) (x2) to valve bodies.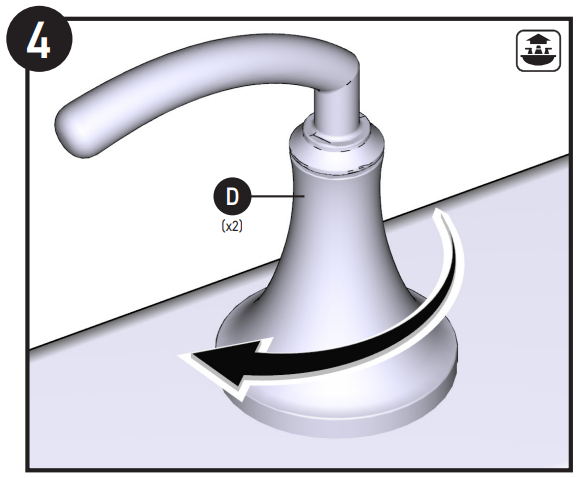 Hold Handle Assembly (D) (x2) in close position, aligning brush direction, if applicable. Tighten base of Handle Assembly (D)  (x2) to deck until secure.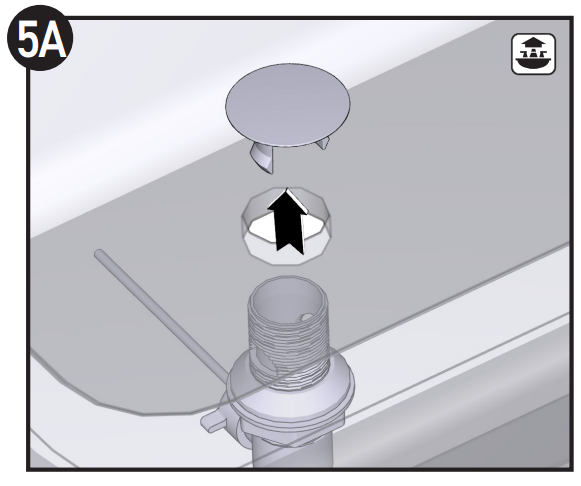 To complete waste connection, remove drain snap-in holder.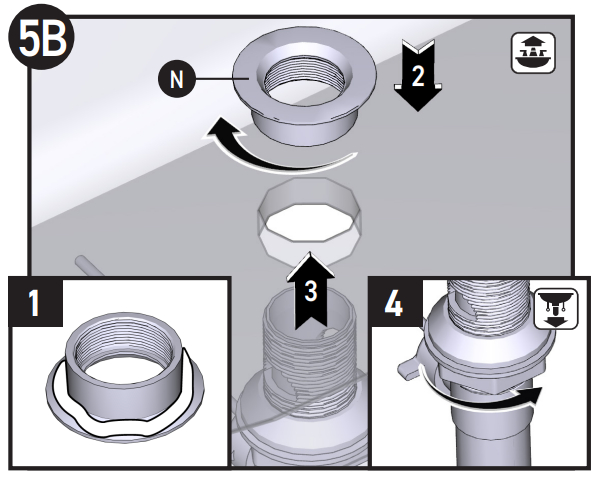 Apply sealant to underside of Drain Waste Seat (N)
Insert Drain Waste Seat (N) into the sink drain opening.
Thread Drain Waste Seat (N) onto drain assembly.
Tighten by hand.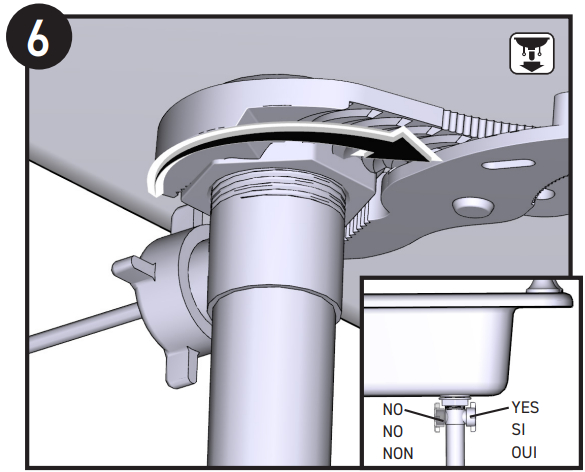 Make final tightening of drain nut with channel locks or an adjustable wrench.
Ensure drain body opening faces back of sink as shown in inset illustration.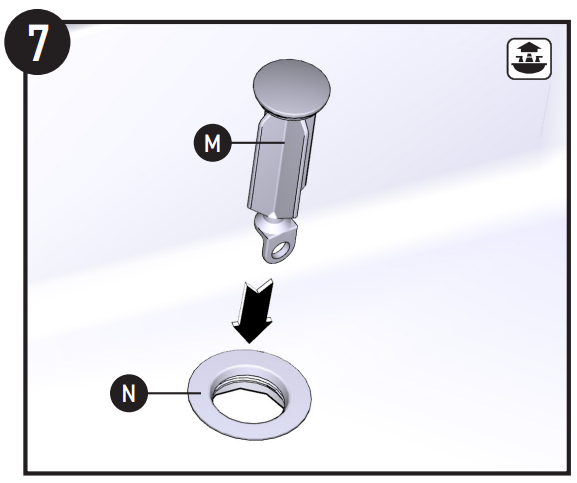 Insert Drain Plug Body (M) into Drain Waste Seat (N)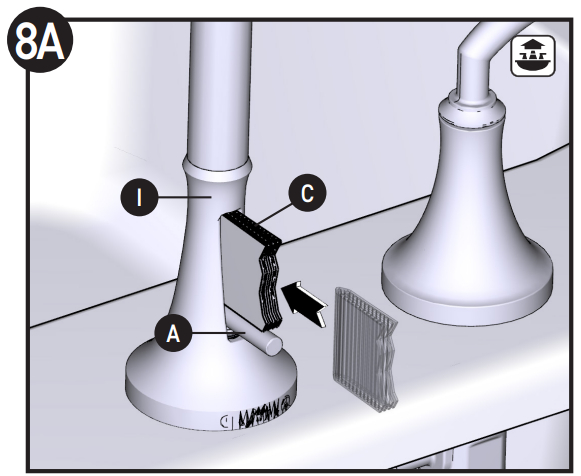 Insert Upper Lift Rod (A) thru Spout (I) slot.
Place Cardboard (C) into Spout slot above Upper Lift Rod (A).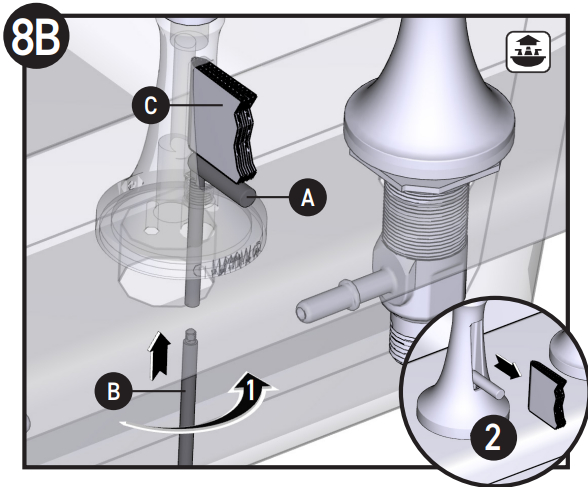 From under deck, thread Lower Lift Rod (B) into Upper Lift Rod (A).
Remove Cardboard (C).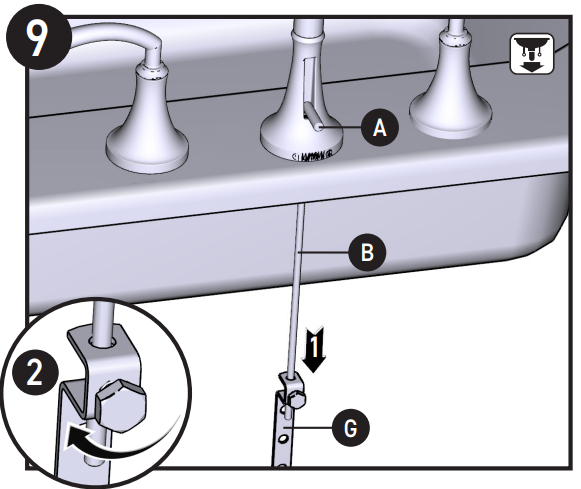 Insert Lift Rod (A/B) into Lift Rod Strap (G).
Tighten Lift Rod Strap (G) by hand.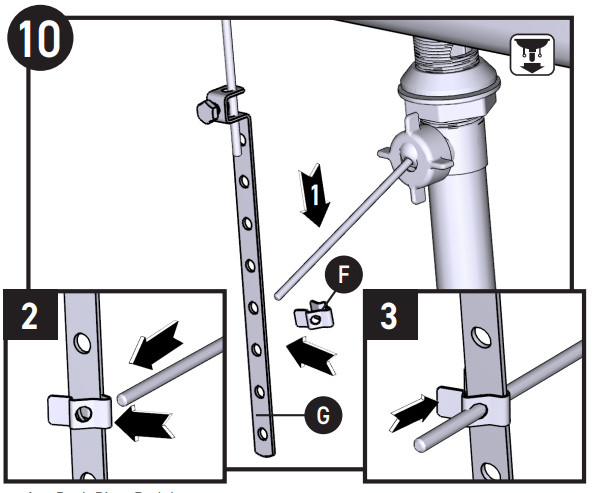 Push Pivot Rod down.
Place Pivot Rod Clip (F) over the closet hole on Lift Rod Strap (G).
Squeeze Pivot Rod Clip (F) and slide Pivot Rod through the clip and strap holes.
Loosen bolt-on Lift Rod Strap (G).
Adjust Lift Rod (A/B) so Drain Plug Cap (M) is open 1/2" when lift rod seat is seated on Spout Body (I) .
Tighten the bolt with a wrench.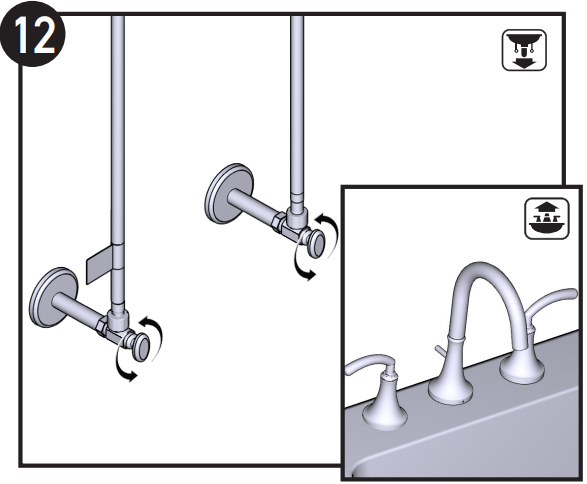 Turn on water, check for leaks. Installation is complete.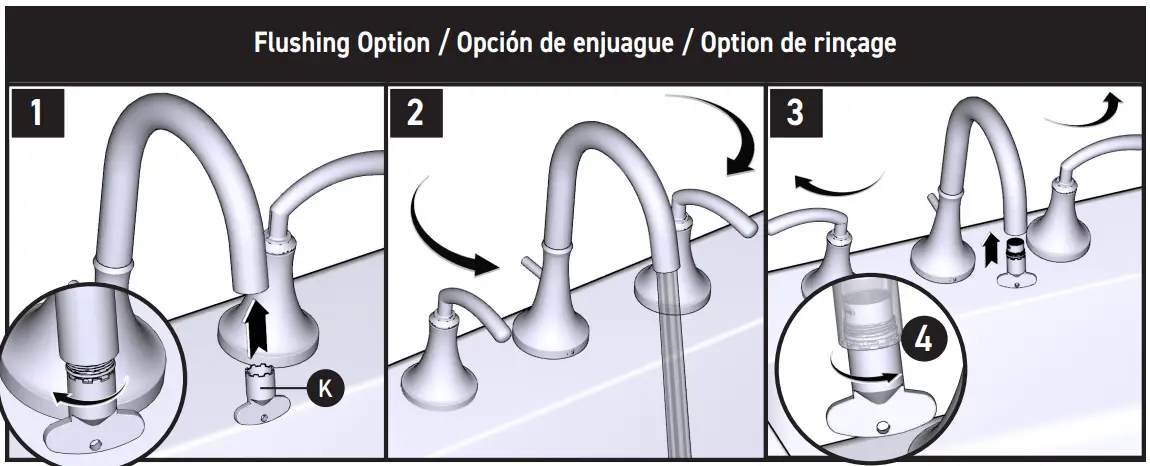 To flush debris from the plumbing system: Remove the aerator by using the included Aerator Tool (K) .
Run hot and cold water for 15 seconds.
 Turn off handles.
Replace the aerator.
Moen Limited Lifetime Warranty
Moen products have been manufactured under the highest standards of quality and workmanship. Moen warrants to the original consumer purchaser for as long as the original consumer purchaser owns their home (the "Warranty Period" for homeowners),  that this product will be a leak- and drip-free during normal use, and all parts and finishes of this product will be free from defects in material and manufacturing workmanship. All other purchasers (including purchasers for industrial, commercial, and business use) are warranted for a period of 5 years from the original date of purchase (the "Warranty Period" for non-homeowners).
If this product should ever develop a leak or drip during the Warranty Period, Moen will FREE OF CHARGE provide the parts necessary to put the product back in good working condition and will replace FREE OF CHARGE any part or finish that proves defective in material and manufacturing workmanship, under normal installation, use and service. Replacement parts may be obtained by calling 1-800-2896636 (Canada 1-800-465-6130), or by writing to the address shown. Proof of purchase  (original sales receipt) from the original consumer purchaser must accompany all warranty claims. Defects or damage caused by the use of other than genuine Moen parts is not covered by this warranty. This warranty is applicable only to products purchased after December 1995 and shall be effective from the date of purchase as shown on the purchaser's receipt.
This warranty is extensive in that it covers the replacement of all defective parts and finishes. However, damage due to installation error, product abuse, product misuse, or use of cleaners containing abrasives, alcohol, or other organic solvents, whether performed by a contractor, service company, or yourself, are excluded from this warranty. Moen will not be responsible for labor charges and/or damage incurred in installation, repair or replacement, nor for any indirect, incidental, or consequential damages, losses,  injury, or costs of any nature relating to this product. Except as provided by law, this warranty is in lieu of and excludes all other warranties, conditions, and guarantees, whether expressed or implied, statutory or otherwise, including without restriction those of merchantability or of fitness for use.
Some states, provinces, and nations do not allow the exclusion or limitation of incidental r  consequential damages, so the above limitations or exclusions may not apply to you. This warranty gives you specific c legal rights and you may also have other rights which vary from state to state, province to province, nation to nation. Moen will advise you of the procedure to follow in making warranty claims. Simply write to Moen Incorporated using the address below. Explain the defect and include proof of purchase and your name, address, area code, and telephone number.

Moen Inc.2816 Bristol CircleOakville, Ontario L6H 5S7Canada
References
[xyz-ips snippet="download-snippet"]