CONCERTSERIES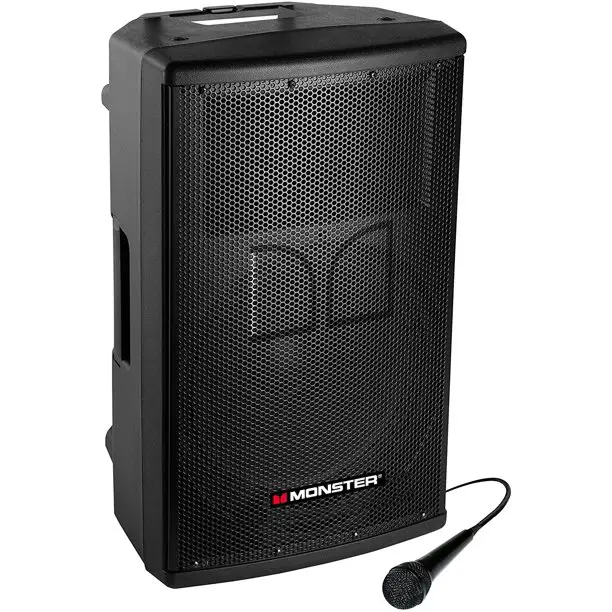 PA X – 500All-In-One Portable PA Speaker
WARNING
To reduce the risk of fire or electric shock, do not expose this apparatus to rain or moisture.
CAUTIONUse of controls or adjustments or performance of procedures other than those specified may result in hazardous radiation exposure.
CAUTION: These servicing instructions are for use by qualified service personnel only. To reduce the risk of electric shock do not perform any servicing other than that contained in the operating instructions unless you are qualified to do so.
CAUTIONDanger of explosion if battery is incorrectly replaced. Replace only with the same or equivalent type.
FCC Warning Statemen
Changes or modifications not expressly approved by the party responsible for compliance could void the user's authority to operate the equipment.This equipment has been tested and found to comply with the limits for a Class B digital device, pursuant to Part 15 of the FCC Rules.
These limits are designed to provide reasonable protection against harmful interference in a residential installation. This equipment generates, uses, and can radiate radio frequency energy and, if not installed and used in accordance with the instructions, may cause harmful interference to radio communications. However, there is no guarantee that interference will not occur in a particular installation. If this equipment does cause harmful interference to radio or television reception, which can be determined by tuming the equipment off and on, the user is encouraged to try to correct the interference by one or more of the following measures:
Reorient or relocate the receiving antenna.
Increase the separation between the equipment and receiver.
Connect the equipment into an outlet on a circuit different form that to which the receiver is connected.
Consult the dealer or an experienced radio/TV technician for help.
FCC Radiation Exposure Statement:This equipment complies with FCC radiation exposure limits set forth for an uncontrolled environment. In order to avoid the possibility of exceeding the FCC radio frequency exposure limits, Human proximity to the antenna shall not be less than 20cm (8 inches) during normal operation.
UNPACKING
Check that you have all of the following items.If any item is missing, please contact the customer service hotline for assistance.The hotline number is printed on the cover page of this user manual.
Monster PAX-500 PA Speaker
Wired microphone
Tripod Stand
Manual/Warranty
Remote control
AAA battery
FM Antenna
Quick start guide
Power cable
IMPORTANT SAFETY INSTRUCTIONS
TO PREVENT FIRE OR SHOCK HAZARD, DO NOT USE THIS PLUG WITH AN EXTENSION CORD, RECEPTACLE OR OTHER OUTLET UNLESS THE BLADE SCAN BE FULLY INSERTED TO PREV-ENT BLADE EXPOSURE. TO PREVENT FIRE OR SHOCK HAZARD, DO NOT EXPOSE THIS APPLIANCE TO RAIN OR MOIST.
| | | |
| --- | --- | --- |
| The Ighining flash with arrowhead symbol, within an equilateral triangle, is intended to alert the user to the presence of uninsulated 'dangerous voyage within the product's enclosure that may be of sufficient magnitude to constitute a risk of dleotic shock lo persons. | WARNING: TO REDUCE THE RISK OFELECTRIC SHOCK DO NOT REMOVE COVER (OR BACK) NO USER  SERVICEABLE PARTS. INSIDE REFER SERVICING TO QUALIFIED SERVICE PERSONNEL. | The exclamation pol within an 'equilateral triangle is intended to alert the user lp the presence ofimportant operating and maintenance (servicing) instructions in the literature 'accompanying the appliance. |
READ INSTRUCTIONS – All the safety and operating instructions should be read before the product is operated.
RETAIN INSTRUCTIONS -The safety and operating Metructions should be retained for future reference.
HEED WARNINGS – All warnings on the product and in the operating inetructions should be adhered to.
FOLLOW INSTRUCTIONS – All operating and use instructions should be followed.
CLEANING – Unplug this product from the wall outlet before cleaning. Do not use liquid cleaners or aerosol cleaners. Clean only with a dry cloth.
ATTACHMENTS – Do not use aitachments not recommended by the product manufacturer as they may cause hazards.
ACCESSORIES – Do not place this product on an unstable cart, stand, tripod, bracket, or table. The product may fall, causing serious injury to a chiki or adult, and serious damage to the product. Use only. with a cart, stand, tripod, bracket, or table recommended by the manufacturer, or sold with the product. Any mounting of the product should follow the manufacturer instructions and should use 8 mounting accessory recommended by the manufacturer. A product and cart combination should be moved care-quick stops excessive force and uneven surfaces may cause the product and cart combination to overturn.
VENTILATION – Slats and openings in the cabinet are provided for ventilation and to ensure: reliable operation of the product and to protect Wl from overheating. and these openings must not be blocked or covered. The openings should never be blocked by placing the product on a bed, sofa. ng of other similar surface. This product should not be placed in a built-in installation, such as a bookcase or rack, unless proper ventilation is provided or the manufacturer*isiructions have been adhered to.
POWER SOURCES – This product should be operated only from the type of power source indicated on the marking label. If you are not sure of the type of power supply to your home, consult your product dealer or local power company. For products intended to operate from battery power, or other sources, refer to the operating instructions.
GROUNDING OR POLARIZATION – This product may be equipped with a polarized alternating-current line plug(a plug having one blade wider than the other). This plug will fit into the power outlet only one way. This is a safety feature: If you are unable to insert the plug fully into the outlet, try reversing the plug. If the plug should still fail $0 Mt, contact your electrician to replace your obsolete outlet. Do not defeat the safety purpose of the polarized plug.
POWER-CORD PROTECTION – Power-supply corde should be routed so that they are not likely to be walked On OF pinched by items placed upon or against them, paying particular attention to cords at plugs, convenience receptacies, and the point of exit from the product.
NOWE-USE PERIOOS – The power cord of the product should be unplugged from the outlet when left unused for long periods of time.
Do not use this apparatus near water.
Do not install near any heat sources such as radiators, heat registers, stoves, or other apparatus (including amplifiers} that produce heat.
Refer all servicing to qualified service personnel. Servicing is required when the apparatus has been damaged in any way, such as power – supply cord or plug is damaged, liquid has been spilled or objects have fallen into the apparatus, the apparatus has been exposed to rain or moisture, does not operate normally, or has been dropped.
Mains plug is used as disconnect device and it should remain readly operable during intended use. In order to disconnect the apparatus from the mains completely, the mains plug should be disconnected from the mains socket outlet completely.
Battery shall not be exposed to exceesive heat such a6 sunshine, fire, or the like.
CONTROLS AND CONNECTIONS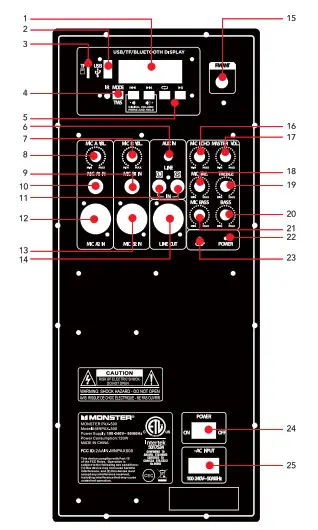 | | |
| --- | --- |
| 1. LED Display2. USB PORT3. SD Card Slot4. Mode Button5. Control Buttons6. Aux In7. Mic B Volume Knob8. Mic A Volume Knob9. Mic B Input10. Mic A Input11. RCA Line In12. XLR Mic A2 Input13. XLR Mic B2 Input | 14. XLR Line Out15. FM Antenna Input16. Mic Echo Knob17. Master Volume Knob18. Mic Treble Knob19. Treble Knob20. Bass Knob21. Mic Bass Knob22. Power ON/OFF LED23. Clip LED24. On/OFF Power Switch25. AC Input |
MONSTER PAX-500All-In-One Portable PA Speaker
Feature:
Versatile PA Loud Speaker Sound System
Bluetooth Wireless Music Streaming Ability
Active 2-Way Full Range Stereo Sound
Heavy Duty, Rugged & Reliable
FM Radio with Automatic Station Recognition
USB Flash & SD Memory Card Readers
Includes Wired Microphone
(2) 1/4″ Microphone Input
Independent Adjustable Mic Volume Controls
RCA (L/R) Line Input Connector Jacks
Ability to Connect External Devices
Rear Panel Button & Rotary Knob Control Center
Volume, Bass and Treble Adjustment
* Wired Microphone Compatible
Digital LCD Display
Engineered Fortified Molded Cabinet
Convenient Rolling Wheels and Extendable Carry Handle
35mm Speaker Stand Mount
Mode Function:
* Press the MODE selection button to select other function.
Without USB/TF Card Short press "MODE" button to switch between BT>AUX>FM>BT
 Plug-in the USB/TF Card,Short press "MODE" button to switch between USB>TF card>AUX> FM>BT>USB
 Turn on two speaker simultaneously, then Long press the MODE then turn on the TWS function
TF Card/USB
* This speaker system can play back music from USB or TF card ( only MP3 format ) Connect a USB flash driver or TF card with music file.
The music on the connected USB flash driver or TF card will start playing automatically.
Use the remote control, adjust and select the music.
Before removing the USB/TF card, switch to AUX.
Bluetooth Wireless Streaming:
Instantly Stream Music from Your Bluetooth Devices
Works with All Your Favorite Bluetooth Devices (iPhone, Android, Smartphone, iPad, Tablet, PC, etc.)
Bluetooth Version: 4.2
Bluetooth Wireless Range: 30'+ Feet
Radio Function:
* Press the MODE selection button to select other function.
Press the MODE button to select FM between.
Press the Play/Pause button will be AUTO scanning and store all available FM radio stations.
When this is completed, short press the "PREV" " NEXT™ to select the preset radio station.
Long press the "PREV" * NEXT" button will adjust volume
Unit can store more than 20 station.
Technical Spacs:
RMS Power Output: 500 Watt
Subwoofer Frequesncy: 30Hz-20KHz
Subwoofer: 15″ -inch
Tweeter: 1″-inch
Impedance: 4 Ohm
Sensitivity: 95dB (+/-2dB)
S/N Ratio: 265dB
T.H.D.: 10% 75 watts
Frequesncy Response: 30Hz–20KHz
Power: 100-240 Volt
Maximum USB/TF Card Support: 16GB
Digital Audio File Support: .mp3
Dimensions 16.9W*14.1D*27.5H
Limited Warranty
Model: MNP AX-500
This Monster-branded product, marketed as new, in the original carton to the original purchaser ("Product'), is warranted by Russell Distribution Company, LLC against manufacturing defects in materials and workmanship for a limited warranty period of Ninety (80) Days for Labor and One (1) year for Parts. This Limited Warranty is conditioned upon proper use of Product by you, the Purchaser.
This Limited Warranty does not apply to store display products and product sokd as a "marked down" special, in "as is" condition, "close outs', "liquidation and clearance sales", "open box", products missing accessories, or no-fault found.
Proof of purchase in the form of a Bill of Sale, Races, or Receipted Invoice is evidence the Product is within the limited warranty period. The Gill of Sale, Receg or Receipted Invoice must be presented as 3 pre-condition to obtaining the limited warranty service.
This limited warranty begins on the original date of purchase and is valid only on Products purchased through authorized dealers and used in the United States, and Puerto Rico, by the Original Purchaser. To receive warranty service, the Purchaser must first contact us for problem determination and service procedures. The original dated bill of sale, receipt o feceipted invoice must be presented upon request as proof of purchase.
We will repaa your product or df repairs cannot be made, we will replace it at no charge with [he same or similar product. the Product is defective as specified in this limited warranty during the limited warranty period, we may use new or remanufactured parts to repair the Product. All replaced parts and products become our property and must be ratumed to us. Replacement parts and products assume the remaining original limited warranty, or ninety (90) days, whichever is longer.
Product freight must be prepaid by you, the onginal Purchaser, and shipped in either its original packaging or packaging affording an equal degree of protection. We will not be responsible for or obligated to replace damaged Products.
If the Product is received damaged, it is your responsibility as the consumer to file a claim against the carer. We will only 'store the damaged Product for 30 days and reserve the right, in our sole discretion, to dispose of the damaged Product o ship it back to you at your expense after 30 days.
This limited warranty covers manufacturing defects in materials and workmanship encountered in normal, and except to the extent otherwise expressly provided for in this statement, noncommercial use of this Product. and shall not apply to the following, including, but not limited to: Damage which occurs in shipment: delivery and installation; applications and uses for which this product was not intended; altered Product or serial numbers; cosmetic damage or exterior finish, accidents. abuse. neglect, fire, water, lightning, or other acts of nature; use of products, equipment, systems, utilities, services, hardware, supplies. accessories. applications, installations, repairs, external wiring, or connectors not supplied or authorized by us or the manufacturer, which damage thés Product or result in service problems; incorrect electrical line voltage, fluctuations, and surges; customer adjustments and failure to follow operating instructions, cleaning, maintenance and environmental instructions that are covered and prescribed in the inetruction book, reception problems, and distortion related to noise, echo, interference or other signal transmission and delivery problems: burned-in sages. Uninterrupted o error-free operation of the Product is not warranted.
THERE ARE NO EXPRESS OR IMPLIED WARRANTIES OTHER THAN THOSE LISTED AND DESCRIBED ABOVE. AND NO WARRANTIES WHETHER EXPRESS OR IMPLIED, INCLUDING, BUT NOT LIMITED TO, ANY IMPLIED WARRANTIES OF MERCHANTABILITY OR FITNESS FOR A PARTICULAR PURPOSE SHALL APPLY AFTER THE EXPRESS WARRANTY PERIOOS STATED ABOVE, AND NO OTHER EXPRESS WARRANTY OR GUARANTY GIVEN BY ANY PERSON, FIRM, OR CORPORATION WITH RESPECT TO THIS PRODUCT SHALL BE BINDING ON US. REPAIR OR REPLACEMENT AS PROVIDED UNDER THIS LIMITED WARRANTY IS YOUR EXCLUSIVE REMEDY ASTHE CONSUMER. WE SHALL NOT BE LIABLE FOR ANY INCIDENTAL, OR CONSEQUENTIAL DAMAGES FOR BREACH OF ANY EXPRESS OR IMPLIED WARRANTY ON THIS PRODUCT, EXCEPT TO THE EXTENT PROHIBITED BY APPLICABLE LAW, ANY IMPLIED WARRANTY OF MERCHANTABILITY OR FITNESS FOR A PARTICULAR PURPOSE ON THIS PROOUCT IS LIMITED FOR THE DURATION OF THIS LIMITED WARRANTY. THIS LIMITEDWARRANTY SHALL NOT EXTEND TO ANYONE OTHER THAN THE ORIGINAL PURCHASER OF THIS PRODUCT, NONTRANSFERABLE AND STATES YOUR EXCLUSIVE REMEDY.
Some states do not allow limitations on how long an implied warranty lasts or the exclusion or limitation of incidental or consequential damages, so the above limitations or exclusions may not apply to you. This limited warranty gives you Specific legal rigs, and you may also have other rights which vary from state 1p state. Any provision contained herein which is found contrary to state or local laws shall be deemed null and void and the remaining provisions shall continue in full force and effect.
'To obtain warranty service:Telephone: 800-976-0677


Monster and the Monster logo are registered trademarks of Monster Inc, and its subsidiaries in the U.S. and other countries, used under license. Pure Monster Sound is a trademark of Monster, Inc. and its subsidiaries in the U.S. and other countries, used with permission.
The Bluetooth® word mark and logos are registered trademarks owned by Bluetooth SIG, Inc. Other trademarks and trade names are those of their respective owners.Printed in ChinaVersion: 1.0
[xyz-ips snippet="download-snippet"]