MORPHEUS 360 1056657926 BT5750 Series Wireless Sound-Ring Portable Speaker User Guide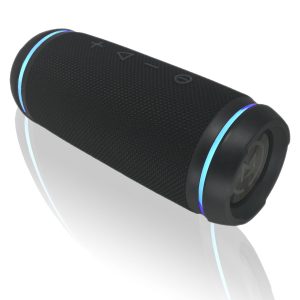 WARRANTY
Creative Marketing Inc. warrants that this product shall be free from defects in materials and workmanship for one year from the day of purchase. If the product is defective, the sole obligation of Creative Marketing Inc. under this warranty shall be at its election, subject to the terms of this warranty, to repair or replace any parts deemed defective. This warranty is for the exclusive benefit of the original purchaser and is not assignable or transferable. THIS WARRANTY IS MADE IN LIEU OF ALL OTHER WARRANTIES, EXPRESS OR IMPLIED, AND ANY IMPLIED WARRANTIES, INCLUDING THE IMPLIED WARRANTIES OF MERCHANTABILITY AND FITNESS FOR A PARTICULAR PURPOSE, ARE LIMITED TO THE TERMS OF THIS   WARRANTY, UNLESS OTHERWISE PROHIBITED BY LAW.
Exclusions
To the fullest extent permitted by law, Creative Marketing Inc. expressly disclaims and excludes from this warranty any liability for damages, including but not limited to general, special, indirect, incidental, consequential, aggravated, punitive or exemplary damages, and economic loss (even if Creative Marketing Inc. is informed of their possibility), third party claims against you, including for any loss or damages, and claims or damages related to loss of, or, damage to, your records or data. This warranty does not apply to any product the exterior of which has been damaged or defaced. This warranty will be voided by misuse, improper physical environment, improper repair, acts of God, war or terror, commercial use, and improper service, operation or handling.
Technical Support
Creative Marketing Inc. provides Technical Support through email. Please make sure you have available the Model # (located on the front page of your User's Manual), problem with the product described in detail included in the email written to our support team at [email protected]
Return Merchandise for Service
Any claim under this warranty must be made in writing to Creative Marketing Inc., at the address provided by our technician, within 30 days after the owner discovers the circumstances giving rise to any such claim, and must include a copy of this warranty document, a receipt or copy of your invoice marked with the date of purchase, and the original packaging. You may obtain service by after the technician has issued a Return Merchandise Authorization (RMA) number. The RMA number must be prominently displayed on the outside of the shipping carton and the package must be mailed to Creative Marketing Inc. with postage prepaid.
Package Contents
1x Wireless SOUND-RING Portable Speaker
1x Bicycle Mount
1x AUX Cable (Ф3.5mm)
1x USB Charging Cable
1x Users Guide
Speaker Overviews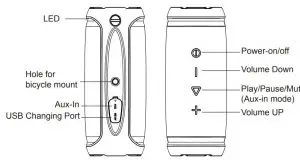 Charging
Prior to first use, fully charge the speaker.
Connect the included Micro-USB Cable to theMicro-USB port of the speaker, connect the other end to the USB port of a computer or USB adapter.


| | |
| --- | --- |
| SOUND-RING Indicator | Battery Status |
| Flashing Blue & Green | Low battery(<10%) |
| Solid Red | Charging |
| Red LED Turns Off | Full charged |
Note: When battery has less than 3% power remaining, the speaker will power off automatically
Power On
Press the button until you hear a rising tone and the LED indicators light on.
Power off
Press the button until you hear a decending tone and the LED indicators turn off.
Bluetooth connection
Make sure that the speaker is within 10 meter from your mobile device
When your speaker is turned off, press and hold the button until you hear a rising tone and the LED indicators turn blinking blue.
Go to the Bluetooth settings on your mobile device, search and select "BT5750" from the list of device(s).
Once paired, the LED indicators turn solid blue.
Note:
When powered on, the speaker automatically reconnects to the previously connected device. (The speaker has memories of up to 8 paired devices.
The speaker will automaticaly shut down after 10 minutes if not in use.
Music Control
Play / Pause Click
Volume Down Click +
Volume Down Click–
Next track Press and Hold +
Previous track Press and Hold–
Switch Bluetooth mode/Aux-in mode Click
Speakerphone (in Bluetooth Connection)
Answer an incoming call Click 
Reject an incoming call Press and Hold 
End the current call Click 
Redial last-called number Press and Hold 
Bluetooth Disconnection
Press "+", "—r buttons simultaneously until LED Indicator fast blinking blue to disconnect the current connected device, and go into new Bluetooth-paring mode.
TWS (True Wireless Stereo) FunctionThe TWS technology enables you to use two speakers pairing via Bluetooth to create a wireless dual-channel system to deliver true stereo sound effect.
TWS connection operation
TWS connection operation
Place the two speakers near each other (the distanceshould not be over 10 meters).
Power on the two speakers, double click the  button button on one speaker as MASTER speaker (playback left channel ), the LED indicator fast blinking blue and green, then the two speaker will pair to each other automatically (The other speaker will be as SLAVE speaker and playback right channel)
Once paired, the MASTER speaker LED indicator slow flash blue.
Disconnect the TWS connectionPress"+ ",_ " " button on one of the speaker simultaneously until LED Indicator fast blinking blue to disconnect the TWS connection.
Listening to music through AUX-in
Power on the speaker.
Using the AUX Cable, connect your external device to the AUX-in port on the speaker.
The speaker will automatically turn into AUX-in mode, the LED Indicators turn solid green.

NOTE:

The control buttons do not work when connected in AUX-in mode.
Specifications
Bluetooth® Version 4.2
Unit driver: 2*40mm
Output Power: 10W (2*5W)
Frequency Response: 160Hz-15KHz
Signal to Noise Ratio: 80dB
Battery Type: Li-Ion 2000mAh/3.7V
Playing Time: Up to 8 hours
CAUTION:
Keep the speaker and its accessories away from the reach of children to avoid choking or strangling.
Keep the speaker away from fire, water, liquids, extreme heat, and strong magnetic fields to avoide damage to the device.
Do NOT use this speaker at high volume for extended period of time as this may cause permanent hearing damage or hearing loss.
Do NOT drop or knock the speaker on hard surface.
Do NOT use chemical or detergent to clean the speaker.
Do NOT scratch or scrape the product with sharp object.
Do NOT make unauthorized alteration to this product.
[xyz-ips snippet="download-snippet"]