24×8 Cable Modem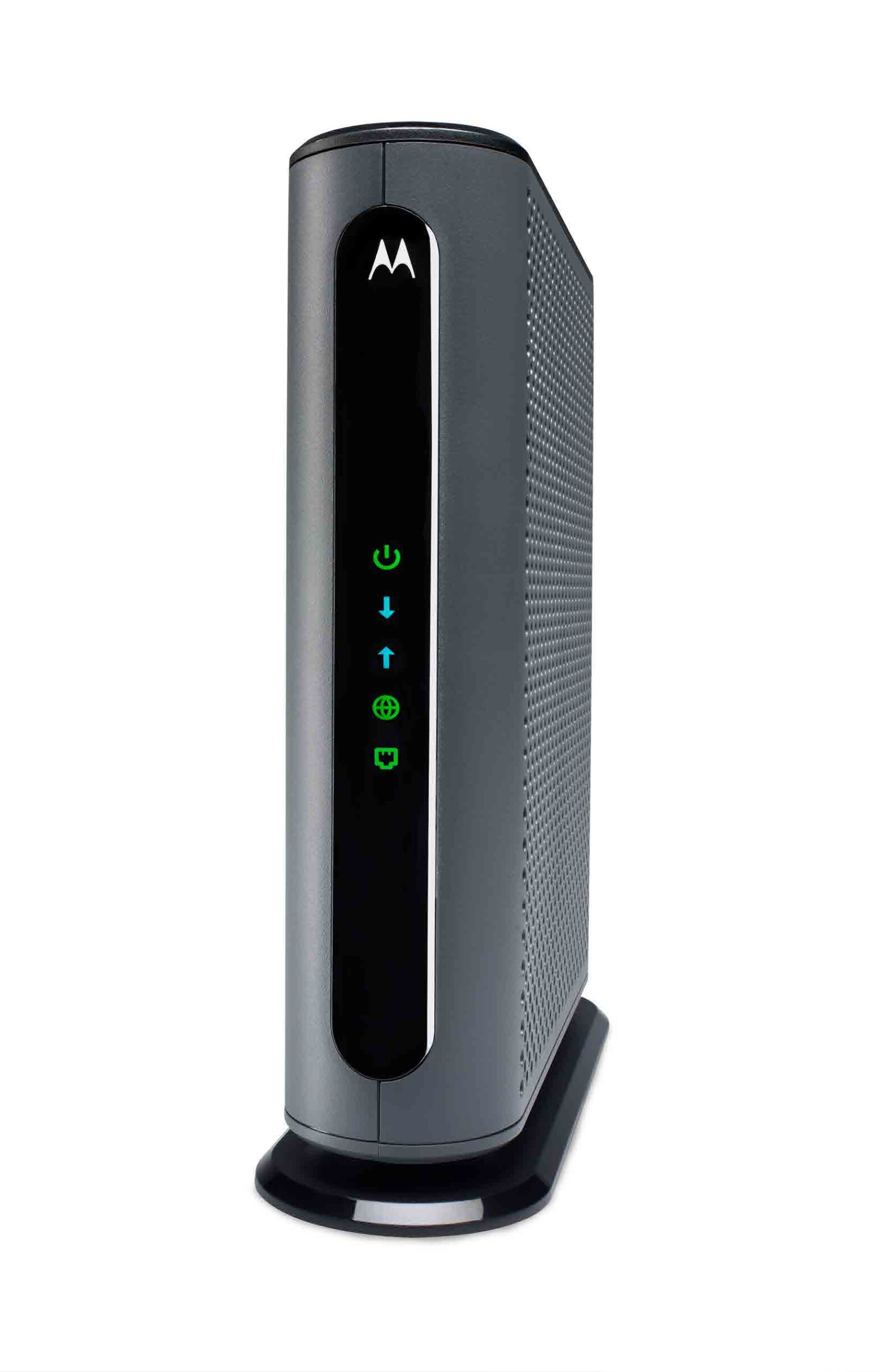 Model MB7621

24 downstream channels with Full-band Capture Digital TuningSave money! Eliminate monthly modem rental fees.
Important Features
Fast Internet24×8 DOCSIS 3.0. 24 bonded downstream channels, up to 24 times the speed of DOCSIS 2.0, and 8 bonded upstream channels*Full-band Capture Digital Tuning for high speeds and energy savingsGigabit Ethernet port for a high-speed plug-in connection to a router, computer, or other Internet-capable device
EasyInstalls in minutes using easy Quick StartConnects fast with just 3 connections – power, coax cable, and EthernetFast activation for XFINITY from Comcast and other popular service providers
FlexibleAttractive modem fits where you want it. (2 1/4″ wide by 7 1/4″ deep by 7 7/8″ tall)DOCSIS 3.0 cable modem compatible with all US cable servicesIPv6 and IPv4 network addressing for enhanced  compatibility
Saves moneyTypically saves $120 per year in cable modem rental fees. (See www.motorolanetwork.com/services to check savings for your service provider.)Motorola's superior quality and lightning protection protect your investment for years to come.Two-year warranty
Works great with routers and morePlugs easily into any router for shared high-speed Internet access by all your WiFi or Ethernet-capable devices.Ethernet port can instead provide a high-speed connection to a computer, HDTV, game station, or other Ethernet devices.
Note: This cable modem does not have a built-in wireless router and does not have telephone jacks for support of voice phone calls.
Specifications
General
Cable Modem Service Interface
•  F-type female 75 Ω  (standard coaxial connector)
Ethernet Interface
• 10/100/1000 Gigabit Ethernet LAN port, with Auto-MDI/MDIX
LEDs
• Front Panel: Power, Downstream, Upstream, Online, LAN
Dimensions
• 2 ¼" wide x 7 ¼" deep x 7 ⅞" tall (57 mm x 184 mm x 200 mm)
Weight
• 16.3 ounces
Power Adapter
• DoE-compliant Level VI energy-saving, UL-listed power adapter with 12 Volt DC, 1.5 Amp output and 100-240VAC universal input• NEMA 1-15 (North American style) 2-prong plug is provided in the US.
Operating Temperature
• 32° to 104° F (0° to 40° C)
Certifications
• FCC 15B, Bureau Veritas 60950-1 ITE safety, CableLabs®, cable service providers
Surge Protection
• Ruggedized cable and power lightning protection
Warranty
• Two years
Operating Parameters
DOCSIS Standards
• DOCSIS 3.0, 2.0, 1.1
Downstream
• Data Rate: Up to 1029 Mbps*• Bonded Channels: Up to 24 SCQAM• Frequency Range: 108 to 1002 MHz• Modulation: 64 or 256 QAM• Operating Level Range: -15 to +15 dBmV
Upstream
Data Rate: Up to 246 Mbps*• Bonded Channels: Up to 8 SCQAM• Frequency Range: 5 to 42 MHz• Modulation: QPSK, 8QAM, 16QAM, 32QAM, 64QAM,128QAM, 256QAM• Operating Level Range:
+65 dBmV (64 QAM, single channel)+57 dBmV (64QAM, 4-8 channels)+65 dBmV (16 QAM, single channel)
Network Protocols
• IPv4, IPv6, TCP, UDP, ARP, ICMP, DHCP, FTP, TFTP, SNMP, HTTP
Application Protocol
• SNMP v1/v2/v3
DHCP Client
• Automatically retrieves IP and DNS server address from DHCP server through WAN connection
Management
• Web-based management interface utility
Cable Modem Back Diagram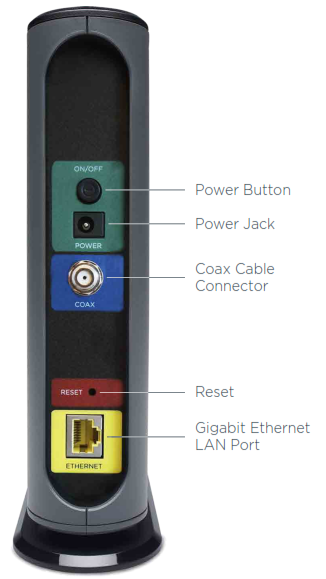 System Requirements
• The cable modem must be connected to a cable modem service that uses any of the DOCSIS standards – 3.0, 2.0, 1.1
Package Contents
• Cable Modem• Power Cube (UL listed)• Ethernet Cable (Cat 5e)• Velcro® Cable Tie• Coax Connection Tool• Quick Start Flyer
* 1029/246 Mbps is the maximum nominal download/upload speed for 24×8 DOCSIS 3.0 cable modems. Actual speeds depend on a number of factors including the speed of your cable modem service, and will typically be slower. Speeds cannot exceed the speed of the Gigabit Ethernet port.
MTRLC LLCPO BOX 121147 Boston, MA 02112-1147E-mail: Phone: 1-800-753-0772

© MTRLC LLC 2017. MOTOROLA and the Stylized M Logo are trademarks or registered trademarks of Motorola Trademark Holdings, LLC and are usedunder license. All other trademarks are the property of their respective owners. All rights reserved.
24×8 960 Mbps Cable ModemModel MB7621
Motorola 24×8 Cable Modem MB7621 Datasheet – Motorola 24×8 Cable Modem MB7621 Datasheet –