MPOW Surround Sound Gaming Headset User Guide
Packing List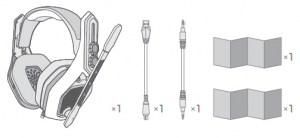 Diagram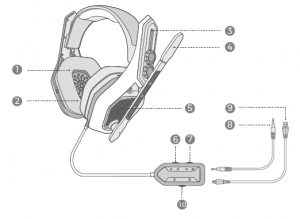 Glasses-Friendly Groove
Soft Memory-Protein Earpad
Adjustable Headband
Flip-up Mic
RGB Light
LED ON/OFF
Mic ON/OFF
3.5mm Audio Plug
USB Plug
Volume Control
Compatible Devices
PC/PS4/PS4 PRO/PS4 SLIM/MAC OS/Xbox one/Xbox One X

Note
You need an extra Microsoft Adapter (NOT INCLUDED) when connect with an old version Xbox One controller.
The microphone is UNAVAILABLE on Nintendo Switch
Instructions of Virtual 7.1Surround Sound
Instructions of Virtual 7.1Surround Sound
Go to https://www.xmpow.com/drivers to download Mpow Iron's software. Model: BH336A Using the software will enable the full feature set of Mpow Iron Surround Headset.Note: The virtual 7.1 surround sound is available only on windows PC
Instructions about ENC (Environmental Noise Cancellation)
Instructions about ENC (Environmental Noise Cancellation)
You can enable this function after successfully installed the driver software and it is available ONLY on Windows 7/8/8.1/10.
Please adjust the microphone 30~50mm (1.18~1.97in) to your mouth to pick up your voice more clearly and accurately.
PC Setup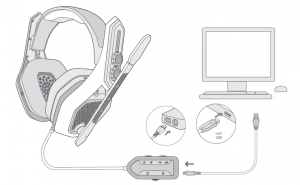 Open your sound settings from Control Panel >Sound. Set"USB-BH336A" to be the default device to play and record sounds.
IMac / Macbook Pro Setup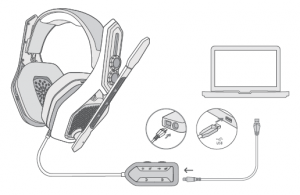 Ps4 Setup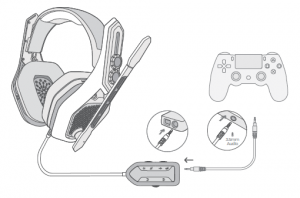 Connect the headset to the audio port of PS4 controller.
Go to the PS4 Settings
Devices
Audio Devices
Set Input & Output to headset connected to controller
Set Output to Headphones to All Audio
Xbox Setup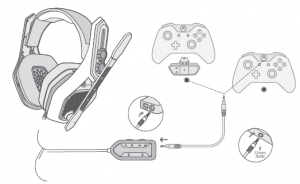 Connect the headset to the audio port of Xbox Controller.Note: You need an extra Microsoft Adapter (NOT INCLUDED) when connect with an old version Xbox One controller
Read More About This Manual & Download PDF:
References
[xyz-ips snippet="download-snippet"]