muse M-290 True Wireless Stereo Earbuds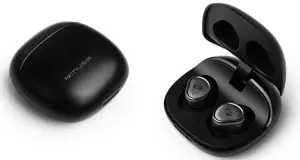 LOCATION OF CONTROLS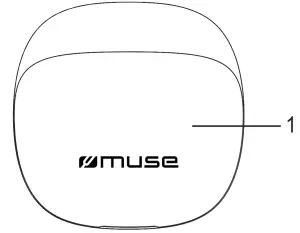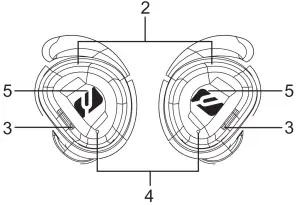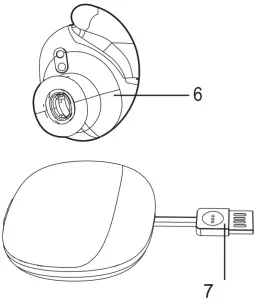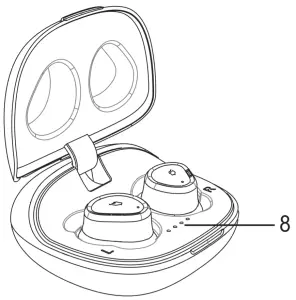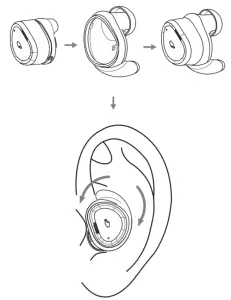 Charging case
Earbuds
Indicators of earbuds
Microphones
Touch control
Ear cap
USB charging cable
Indicator of charging case
POWER SUPPLY
The unit is powered by a built-in Lithium-ion polymer rechargeable battery. Charge the built-in battery for at least four hours before using the device for the first time. To charge the internal battery of charging case, connect the embedded USB charging cable to a powered USB jack on your computer or an AC power supply. The charging case indicator will blink white during charging and lights will turn off when the battery becomes fully charged. To charge the earbuds, insert the earbuds into charging case and close the top lid, battery charge automatically. The indicator lights on red and it will turn off when earbuds becomes full charged.
Warnings:
While using the built-in battery, the environmental temperature should be 5°C (41°F) to 35°C (95°F).
The built-in battery in this device may present a risk of fire or chemical burn if mistreated. Do not disassemble, heat above 100°C (212°F), or incinerate.
To get the longest service life of the built-in battery, charge at indoor-temperature.
Attention should be drawn to the environmental aspects of battery disposal.
Do not throw batteries in fire!
Battery shall not be exposed to excessive heat such as sunshine, fire or the like.
When earbud is low battery, the indicator will flash red with an indication voice.The unit will turn off automatically when the battery is too low to work.
When charging case is low battery, the indicator will flash white at intervals, and it will turn off when run out of battery.
TURNING ON/OFF THE UNIT
– Open the top lid of charging case, earbuds turns on and indicator blinks white for a few seconds. Then, it will enter into Bluetooth pairing mode automatically, and indicator will flash white and red alternately. – Insert the earbuds into the charging case and close the top lid, earbuds turns off and indicator flashs red for a few second.
HOW TO WEAR
The unit is equipped with large & small size ear caps as accessories. Choose and place proper ear caps on the earbuds as below. Then wear each earbuds to your both ears.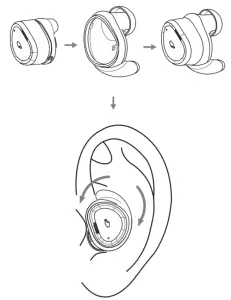 BLUETOOTH FUNCTION
The Bluetooth® word mark and logos are registered trademarks owned by Bluetooth SIG, Inc. and any use of such marks by New One S.A.S is under license. Other trademarks and trade names are those of their respective owners.
Pairing a Bluetooth Device
Open the top lid of charging case, earbuds turns on automatically. The indicator will flash white and red alternately, indicating it's in pairing mode.
On the Bluetooth device, enable Bluetooth and select "M-290 TWS" from the Device List.(Refer to the user manual of the device to be connected for detailed operations.) If the Bluetooth device prompts for a pass code, use "0000". Some Bluetooth devices will ask you to accept the connection. If the unit is paired properly, the indicators will stop blinking. If there is no pairing or pairing is not successful within 5 minutes, the earbuds will turn off automatically.
On some devices such as computers, once paired you must select the unit from the Bluetooth menu and choose "Use as Audio Device (stereo)" or similar.
Pairing remains intact when the unit and/or your Bluetooth device is taken out of communication range. An active connection will be re-established when your Bluetooth device returns within range.
When the unit is turned on again, it will automatically try to reconnect with the most recently paired Bluetooth device.
Using a Bluetooth Device
With a unit paired (see previous section), operate your Bluetooth device and its sound will be heard through the earbuds.
Touch once to pause playback. Touch again to resume playback.
Long press the right earbud to increase the volume, and long press the left earbud to lower the volume. You can also adjust the volume on the device you are paired with.
Touch the left earbud twice to skip to previous track. Touch the right earbud twice to skip to next track.
Touch three times on either earbuds to enter into voice assistant mode. (Note: this function is only available for "iOS" system)
Receiving a Phone
Call This unit is equipped with built-in microphones, which allows you to make or end calls of a connected mobile phone through this unit. Make sure your Bluetoothenabled mobile phone is paired with the unit. When there is an incoming call to the connected mobile phone, you will hear an incoming call alert tone from the unit.
Touch once to answer the incoming call. Touch again to end call.
To reject the incoming call, touch the earbud twice.
Hereby, NEW ONE S.A.S, declares that this MUSE M-290 TWS is in compliance with the essential requirements and other relevant provisions of Directive 2014/53/EU. The declaration of conformity may be consulted at www.muse-europe.com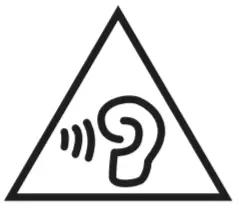 To prevent possible hearing damage, do not listen at high volume levels for long periods.
Maximum output voltage 150mVWide Band Characteristic Voltage 75mV
TROUBLESHOOTING GUIDE
Should this unit exhibit a problem, check the following before seeking service:
No Power
Power is not on; Turn on the unit again.
Make sure the battery is recharged.
No Sound ­ General
External device' s volume is set to minimum; raise volume.
The M-290 TWS' s volume is set to minimum; raise volume.
The Bluetooth device cannot pair or connect with the unit.
You have not activated the Bluetooth function of your device. Refer to the user manual of your device to activate Bluetooth function.
The unit is already connected with another Bluetooth device; disconnect that device and then try again.
The earbuds cannot pair with each other
When the indicator of earbud blinks white and red simultaneously or light doesn't work, indicating it's connect failure. In this case, please put both earbuds into charging case correctly and close the top lid to turn off the earbuds. When you turn them on again, they will connect each other automatically.
SPECIFICATIONS
RECHARGEABLE BATTERY
Earbuds Battery Type: 3.7V 40mAh Lithium-ion polymer BatteryCharging Case Battery Type: 3.7V 670mAh Lithium-ion polymer BatteryCharging Power: DC 5V 500mAEarbud Operating Time: Approx 4 hours after fully chargedCharging Time: Approx. 1~2 hours
BLUETOOTHBluetooth: 2.402 – 2.480GHzRF Output Power: 2.46 dBmBluetooth Version: V5.0 + EDRWorking Distance: Up to 10 meters measured in open space (wall and structures may affect range of device)
Specifications are subject to change without notice.
WARNING!
No naked flame sources, such as lighted candles, should be placed on the apparatus.
The use of apparatus in moderate climates.
The apparatus should not be exposed to dripping or splashing.
Ensure a minimum distance of 5cm around the apparatus for sufficient ventilation.
Do not place objects filled with liquids, such as vases, on the apparatus.
Under the influence of electrical fast transient or/and electrostatic phenomenon, the product may malfunction and require user to power reset.
Excessive sound pressure from earphones and headphones can cause hearing loss.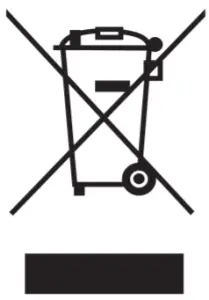 If at any time in the future you should need to dispose of this product please note that Waste electrical products should not be disposed of with household waste. Please recycle where facilities exist. Check with your Local Authority or retailer for recycling advice. (Waste Electrical and Electronic Equipment Directive)
NEW ONE S.A.S10, Rue de la Mission, 25480 Ecole Valentin, France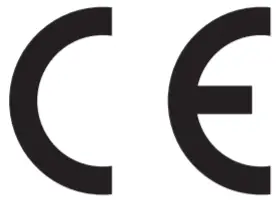 References
[xyz-ips snippet="download-snippet"]