NITECORE UCN5 Quick Charge USB Travel Charger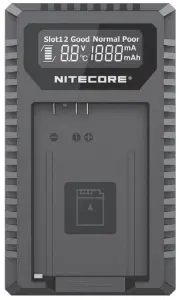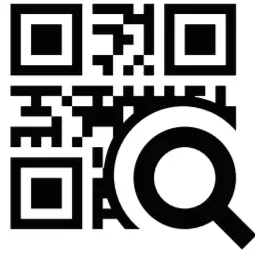 IMPORTANT NOTICE CONCERNING WARRANTY SERVICEThank you for purchasing! Before using this charger, please find your verification code on the package box, and go to http://charger.nitecore.com/validation (or scan the QR code beside the verification code to visit on your mobile phone). Type in your verification code and personal information as required, and submit the page. After verification, Nitecore will send you a warranty service email. This email and your registration email address are essential to your possible warranty application. Before you complete the warranty service registration, you cannot enjoy our warranty service for your purchase.
Features
Dual slot battery charger · Compatible with Canon LP-E17 camera batteries
QC input available
USB-C input port
Real-time information on battery voltage, charging current, battery temperature, charged volume and battery health · Automatically detects battery health
Reverse polarity protection and anti-short circuit protection
Automatic adoption for the optimal charging modes between CC and CV
Automatic selection for charging current
Automatic termination upon charging completion
Activates over-discharged batteries with protective circuits
Compatible with power banks, 5V solar panels and USB adapter
Made from durable and fire retardant PC materials
Optimal heat dissipation design
Insured worldwide by Ping An Insurance (Group) Company of China, Ltd.
Accessories
USB-C Charging Cable
Specifications
Input
DC 5V/2A or 9V/2A
Output Voltage
Slot 1 8.4V±1%Slot 2 8.4V±1%
Output Current
QC Mode: 750mA*1 (MAX), 750mA*2 (MAX)Standard Mode: 750mA*1 (MAX), 375mA*2 (MAX)
Interface
Input: USB-COutput: connector
Battery compatibility
Canon camera battery LP-E17
LP-E17 Compatible models:Canon EOS RP, Canon EOS 800D, Canon EOS 760D, Canon EOS 750D, Canon EOS 200D, Canon EOS 200D II, Canon EOS 77D, Canon EOS M6, Canon EOS M6 Mark II, Canon EOS M5, Canon EOS M3(Please refer to battery compatibility for more compatible models)
Dimensions
85mm×50mm×26mm (3.35″×1.97″×1.02″)
Weight
52.5g (1.85oz
UCN5
Operating Instructions
This product is designed specifically for Canon LP-E17 camera battery. It supports charging batteries in both slots simultaneously. The output current is adjusted automatically according to input current to reach the optimal charging setting. This product shall NOT be used with other batteries not specified in this manual.
Charging Modes
The UCN5 has 2 charging modes (QC Mode and Standard Mode).QC Mode: The UCN5 is QC input available. When connecting to a QC supported device (or adapter), it will automatically access the QC Mode (Input Voltage: 9V). In this status, it can charge 2 batteries simultaneously with a max output current of 750mA in either slot.Standard Mode: In this status (Input Voltage: 5V), it will charge the batteries with a max output current of 750mA.
Automatic Current Adjustment
The UCN5's actual output current depends on the maximum power supplied from the USB power source. The output current will be adjusted based on the actual power being inputted to the device, increasing its efficiency while shortening charging duration.
Battery Health Monitoring
Once the battery is inserted, the UCN5 will proceed with an initial low current test charge to diagnose the battery status. After the diagnosis, the battery status will be shown as Good, Normal or Poor. Note: Re-insert the battery when "Poor" appears on screen to eliminate the possibility of a poor battery contact, replace the battery if "Poor" comes up on screen consistently.
Reverse Polarity and Anti-Short Circuit Protection
The UCN5 makes use of the mechanical reverse polarity protection. Inserting incompatible batteries or incorrect battery installation will prevent the initiation of the charging process. DO NOT charge the battery when a short circuited battery is installed or an error occurs.
Over Discharged Battery Activation
The UCN5 will automatically activate over discharged battery caused by improper storage or misuse.NOTE: This function only available for batteries with protective circuit.
Cautions
The UCN5 is only compatible with Canon LP-E17 camera batteries. DO NOT attempt to charge other batteries.
Moderate heat from this product is to be expected during the charging process, which is normal.
Operating temperature: -10~40 (14~104), storage temperature: -20~60 (-4~140).
Carefully read all labels on the device to ensure batteries are installed correctly.
Please connect this charger to power supplies with the input voltage stated in the specifications of the user manual. If the input voltage is too low or too high, it may lead to malfunctions, or even a fire.
DO NOT charge batteries if there is any sign of faulty or short circuit.
The charger is designed for adults. Use of the charger by kids under age must be under supervision. Operation, using or cleaning of the charger may NOT be done by kids aged 8 years or younger.
DO NOT leave the product unattended while it is connected to a power supply. Unplug the product at any sign of malfunction and refer to the user manual.
Batteries of short lifespan should be replaced as soon as possible.
DO NOT expose the device to high temperature or incinerate, avoid using the device in environments where drastic changes in temperature are possible.
Store the device in ventilated areas. DO NOT uses the device in moist environment and keep away from any combustible materials.
Avoid any shock or impact to the device.
DO NOT place any conductive or metal object in the device to avoid short circuiting and explosions.
Unplug the device and remove batteries when it is not in use.
DO NOT disassemble or modify the device as doing so will render the product warranty invalid. Please refer to the warranty section in the manual for complete warranty information.
DO NOT misuse in any way! Use for intended purpose and function only.
Disclaimer
This product is globally insured by Ping An Insurance (Group) Company of China, Ltd. NITECORE shall not be held responsible or liable for any loss, damage or claim of any kind incurred as a result of the failure to obey the instructions provided in this user manual.
Warranty Details
Our authorized dealers and distributors are responsible for warranty service. Should any problem covered under warranty occurs, customers can contact their dealers or distributors in regards to their warranty claims, as long as the product was purchased from an authorized dealer or distributor. NITECORE's Warranty is provided only for products purchased from an authorized source. This applies to all NITECORE products. To be qualified for warranty, please refer to the "IMPORTANT WARRANTY NOTICE" section on top to validate your product. Any DOA / defective product can be exchanged for a replacement through a local distributor/dealer within the 15 days of purchase. After 15 days, all defective / malfunctioning NITECORE® products can be repaired free of charge for a period of 12 months (1 year) from the date of purchase. Beyond 12 months (1 year), a limited warranty applies, covering the cost of labor and maintenance, but not the cost of accessories or replacement parts. The warranty is nullified if the product(s) is/are:
broken down, reconstructed and/or modified by unauthorized parties
damaged from wrong operations (i.e. reverse polarity installation, installation of non-rechargeable batteries or failure to obey the warnings)
damaged by batteries leakage.
For the latest information on NITECORE® products and services, please contact a local NITECORE® distributor or send an email to [email protected].※ All images, text and statements specified herein this user manual are for reference purpose only. Should any discrepancy occur between this manual and information specified on www.nitecore.com, information on our official website shall prevail. SYSMAX Innovations Co., Ltd. reserves the rights to interpret and amend the content of this document at any time without prior notice.
SYSMAX Innovations Co., Ltd.
TEL: +86-20-83862000FAX: +86-20-83882723E-mail: [email protected]Web: www.nitecore.comAddress: Rm 2601-06, Central Tower, No.5 Xiancun Road, Tianhe District, Guangzhou, 510623, Guangdong, ChinaManufacturer: SYSMAX Power Technology, LLC

References
[xyz-ips snippet="download-snippet"]