NOSTALGIA NGCM6 Giant Gummy Candy Maker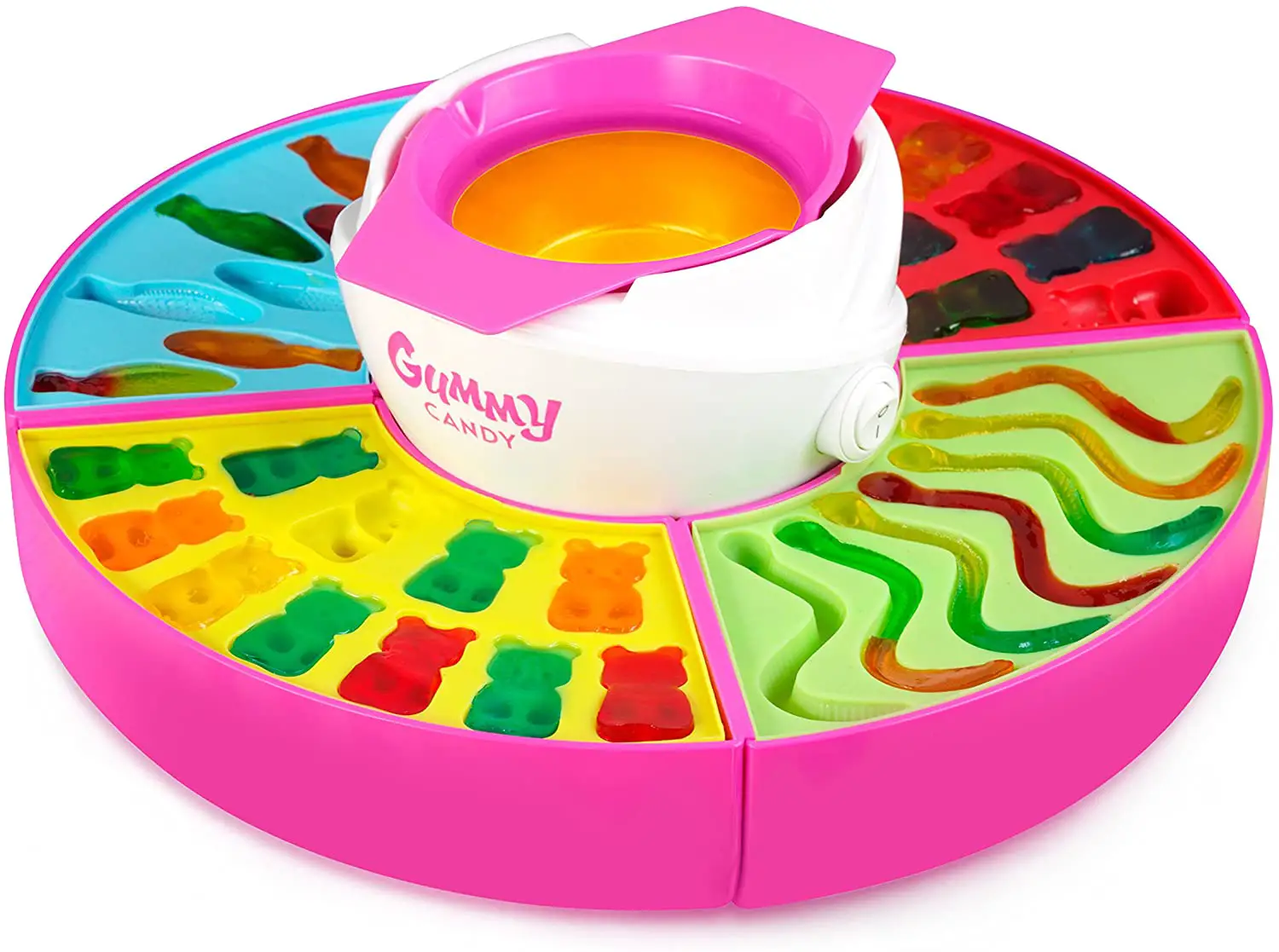 SAFETY
Your safety and the safety of others is very important.We have provided many important safety messages in this manual and on your appliance. Always read and obey all safety messages.
All safety messages will follow the safety alert symbol.All safety messages will tell you what the potential hazard is, tell you how to reduce the chance of injury, and tell you what can happen if the instructions are not followed.
Appliance Specifications: 120 Volts, 60 Hz, 40 Watts
THIS PRODUCT IS FOR USE IN 120V AC OUTLET ONLY.Refer to www.nostalgiaproducts.com/user-manuals/ for the most updated manual.
IMPORTANT SAFEGUARDS
A person who has not read and understood all operating and safety instructions is not qualified to operate this appliance. All users of this appliance must read and understand this Instruction Manual before operating or cleaning this appliance.When using electrical appliances, basic safety precautions should always be followed, including:
Read all instructions before operating this appliance.
DO NOT TOUCH the hot surfaces. Use handles or knobs.
This appliance is NOT A TOY.
Unsupervised young children and cognitively challenged individuals should never operate this appliance.
Close supervision is necessary when any appliance is used by or near children.
To protect against electrical shock do not immerse cord, plug or any part of this unit in water or other liquids.
Unplug from outlet when not in use, before removing parts and before cleaning. Allow to cool before putting on or taking off any parts, and before cleaning.
DO NOT operate any appliance with a damaged cord or plug, or after the appliance malfunctions, or if the appliance has been damaged in any manner. Return the appliance to the nearest repair shop for examination, repair or adjustment.
The manufacturer does not recommend the use of accessory attachments other than what is provided by the manufacturer. Use of attachments may cause injuries.
DO NOT use the appliance for other than its intended use.
DO NOT use outdoors. FOR HOUSEHOLD USE ONLY.
DO NOT place on or near a hot gas or electric burner, or in a heated oven.
DO NOT let cord hang over edge of table or counter, or touch hot surfaces.
NEVER leave unit unattended while in use or when plugged into an outlet.
Extreme caution must be used when moving an appliance containing hot food.
Always attach plug to appliance first, then plug cord in the wall outlet. To disconnect, turn any control to "off," then remove plug from wall outlet.
Operating Safety Precautions
NEVER put fingers or plastic utensils into the hot mixture.
Keep hands and face away from the opening of the pot.
During use, the appliance is very hot and remains hot for some time after being turned off. DO NOT touch hot surfaces like the heated base.
Steam may be released from food during cooking. For your safety, avoid contact with steam, as it is very hot and can cause burns.
Instructions for the Electrical Cord and Plug
This appliance has a polarized plug (one blade is wider than the other). To reduce the risk of electrical shock, this plug is intended to fit into a polarized outlet only one way.If the plug does not fit fully into the outlet, reverse the plug. If it still does not fit, contact a qualified electrician. Do not attempt to modify the plug in any way.
A short power supply cord is provided to reduce the risk resulting from becoming entangled or tripping over a long cord.
If a long detachable power-supply cord or extension cord is used:

Extension cords can be used if care is exercised in their use.
The marked electrical rating of the cord or extension cord should be at least as great as the electrical rating of the appliance.
When using a longer cord or extension cord, make sure that the cord does not drape over a countertop or tabletop where it can be pulled on or tripped over unintentionally.

The manufacturer does not recommend using this machine in countries that do not support 120V AC even if a voltage adapter, transformer, or converter is in use.
INTRODUCTION
Congratulations on your purchase of the Nostalgia GIANT GUMMY CANDY MAKER! Now you can make your very own ready-to-fill shot molds and ready-to-eat shooters! These edible treats are perfect for making an impressive dessert assortment for any occasion worth celebrating. Make your candies in your favorite flavors, and try out some gummy vitamins and energy chews!Features:
Makes fish, bear and worm gummy candies
4 silicone gummy candy molds and ice trays for quick-setting gummies
1 giant gummy bear candy mold
2 gelatin pots with easy-pour spouts
Heated base for melting gelatin mixture
Unit disassembles for cleaning
BPA free
PARTS & ASSEMBLY
Parts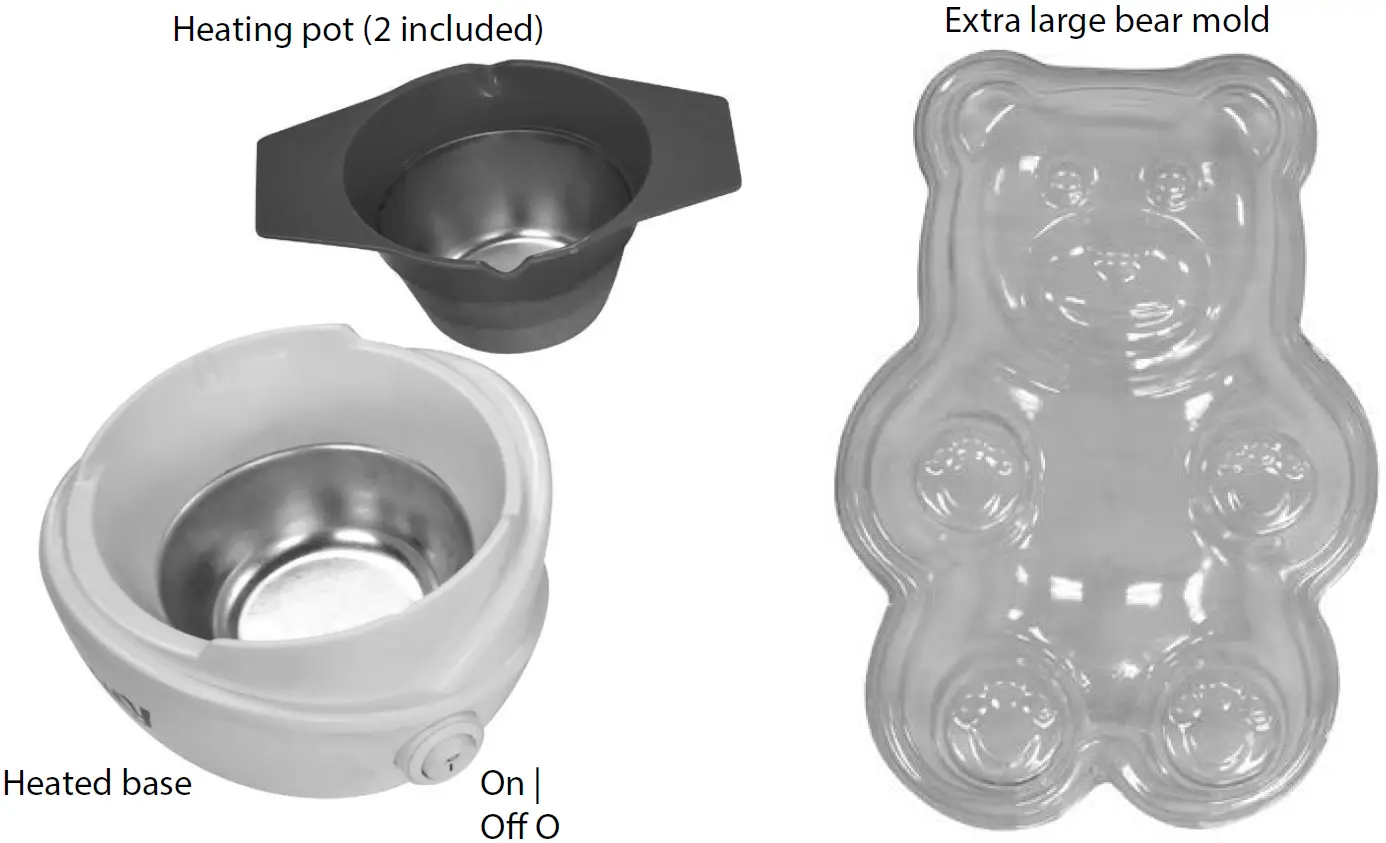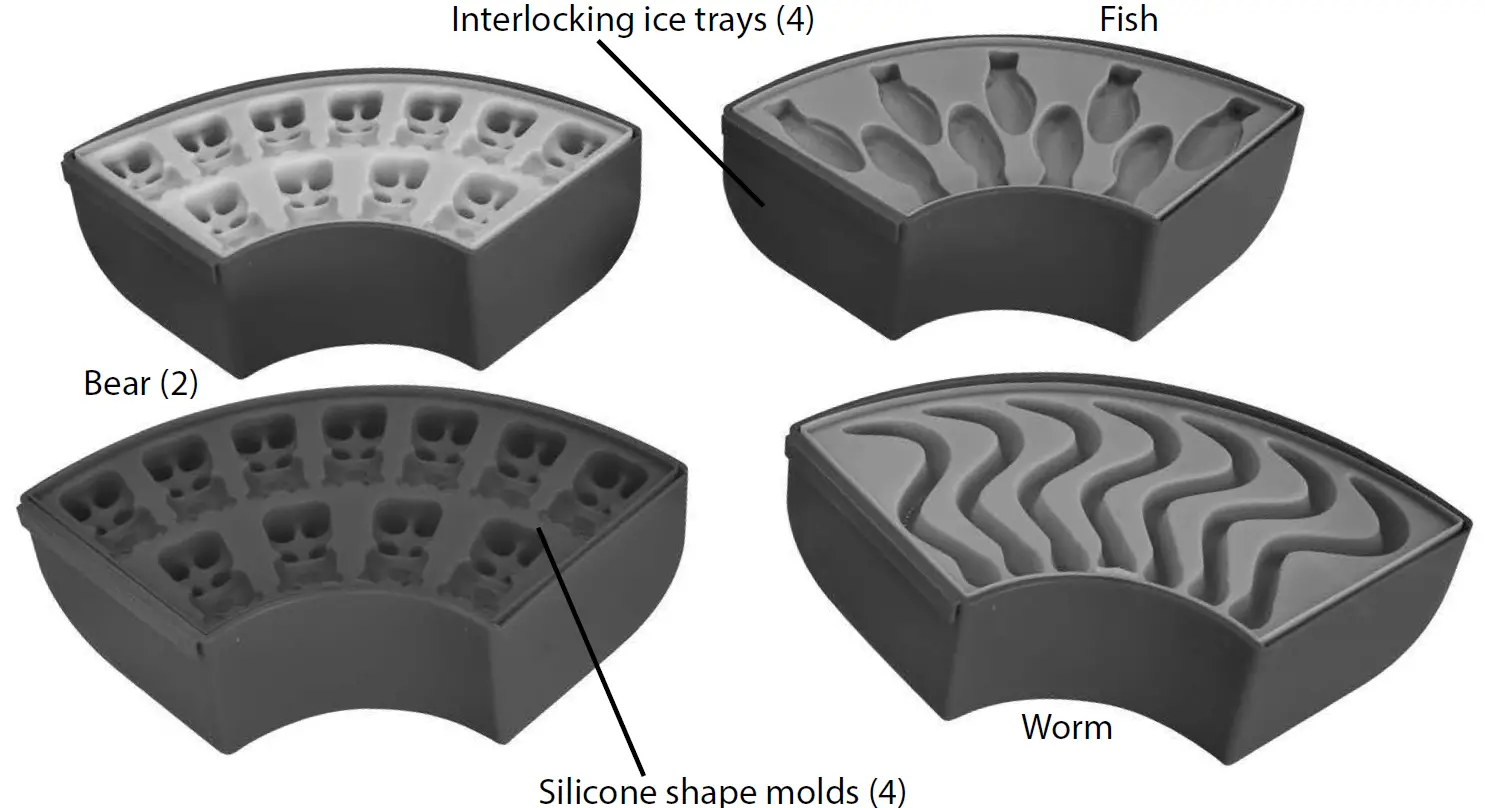 HOW TO OPERATE
Before first use, wipe down heated base, pots, trays and molds with a damp, non-abrasive cloth and dry thoroughly. Be very careful to notget any water in the heated base, or unit will not function.
Find a dry, heat-resistant, level surface near an electrical outlet.
Assemble the trays by connecting them into a full circle, then fill trays 3/4 full with ice.
Place molds over ice-filled trays.
Fit the heated base into its place on top of the trays and flip the switch to the on "|" position.
Place the pot on the heated base. Using your own recipe, or following recipe included in this instruction manual, prepare your gelatin mixture in the heating pot. Be very careful not to overfill the pan. DO NOT exceed maximum capacity, which is about 1 cup.
Steam may be released from food during cooking. For your safety, avoid contact with steam, as it is very hot and can cause burns.
Be careful to watch the pot and stir mixture if necessary. DO NOT let mixture boil over, as this could cause burns.
In five to ten minutes, when mixture is runny, carefully pour into the molds through the spout on the pot. If using the second pot to make a second flavored gummy, switch pots out so that the second is on the heated base.
When finished filling molds, flip the switch to the off "O" position and unplug the GUMMY CANDY MAKER.
In five to 10 minutes, your gummies will have solidified and will be ready to be removed from the silicone molds.
Once the appliance is cool, empty remaining gelatin mixture into a bag or trash receptacle and follow the directions in the Cleaning & Maintenance section to clean your GUMMY CANDY MAKER .
To use the large bear mold, double the ingredients in your recipe and place mold in freezer for 15 minutes or until the mixture has solidified.
CLEANING & MAINTENANCE
Please take care of your GUMMY CANDY MAKER by following these simple instructions and precautions.
Disconnect from the electrical outlet by unplugging the appliance.
Make sure the appliance is completely cool before cleaning.
Remove all parts from heated base.
Dispose of any remaining mixture by emptying into a bag or trash receptacle.It is not recommended that you pour the leftover mixture down the sink.
Hand wash pots, molds and trays in warm, soapy water with a non-abrasive cloth.
Dry parts thoroughly with a soft, non-abrasive cloth.
Wipe the heated base with a dry, non-abrasive cloth. Make sure that no water gets inside of the heated base.
DO NOT put any parts in a dishwasher, except for the silicone molds. The silicone molds may be washed in the dishwasher if you wish.
NEVER immerse heated base or cord in water.
RECIPES
Making sweet or sour gummy creatures is easy and fun for the whole family! In addition to traditional gummy candies, you can also make your own nutritious gummy vitamins or or energy-boosting gummies with electrolytes!NOTE: The capacity of your GUMMY CANDY MAKER is approximately 1 cup. The Giant Bear Mold has a capacity of 2 cups. To use the below recipes with the Giant Bear Mold, double the contents and place the mold in the freezer.
BASIC & SOUR GUMMY CREATURES
1/2 cup cold water
1 packet flavored gelatin (3 oz.)
4 packets unflavored gelatin (1 oz.)
Flip the "on" button on the heated base and allow the unit to warm up.Whisk together the juice, honey and gelatin in pot. Continue to heat and stir until mixture is runny.Remove from heat and stir in the amount of vitamins of your choosing.Carefully pour mixture into molds and let chill.
ENERGY GEL CHEWS
4 packets unflavored gelatin (1 oz.)
1/2 cup energy drink
Vitamin of your choice, (vitamin c, multi vitamins, probiotics, magnesium, etc.)
Flip the "on" button on the heated base and allow the unit to warm up.Whisk together the energy drink and gelatin in pot. Continue to heat and stir until mixture is runny .Remove from heat and stir in the amount of vitamins per day you wish to use times 4.Carefully pour mixture into molds and let chill.
RETURNS & WARRANTY
SHOULD YOUR UNIT NOT WORK OR IF DAMAGED WHEN YOU FIRST TAKE IT OUT OFTHE BOX, PLEASE RETURN IT TO THE PLACE OF PURCHASE IMMEDIATELY.
GUMMY CANDY MAKER / NGCM6
Should you have any questions, please contact us via email or at the customer service number listed below between the hours of 8:00 AM and 5:00 PM, Monday through Friday, Central Standard Time.
Distributed by:Nostalgia Products LLC1471 Partnership Dr.Green Bay, WI 54304-5685Customer ServicePhone: (920) 347-9122Web: www.nostalgiaproducts.com
Customer Service InquiryTo submit a Customer Service inquiry, go to www.nostalgiaproducts.com and fill out the Customer Service Inquiry form and click the Submit button.A representative will contact you as soon as possible.
Product Warranty TermsNostalgia Products LLC (the "Company") hereby warrants that for a period of one (1) year from the date of original purchase, this product will be free of defects in material and workmanship under normal home use, provided that the product is operated and maintained in accordance with the operating instructions. As the sole and exclusive remedy under this warranty, the Company will at its discretion either repair or replace the product found to be defective, or issue a refund on the product during the warranty period. This warranty is only available to the original retail purchaser of the product from the date of initial retail purchase, and is only valid with the original sales receipt, as proof of purchase date is required to obtain warranty benefits. All warranty claims must be brought to the attention of the Company within the warranty period and no later than 30 days of the failure to perform. This warranty does not cover normal wear or damage caused by shipping, mishandling, misuse, accident, alteration, improper replacement parts, or other than ordinary household use. You may be required to return the product (with shipping prepaid by you) for inspection and evaluation. Return shipping costs are not refundable. The Company is not responsible for returns damaged or lost in transit. Unless otherwise specifically permitted by the operating instructions, this warranty applies to indoor household use only. In order to obtain service under this warranty, please contact the Company at the telephone number listed above or by filling out the Customer Service Inquiry Form located at www.nostalgiaproducts.com. Warranty valid only in USA and Canada.
This warranty is in lieu of all other warranties, expressed or implied, including warranties of merchantability and fitness for a particular purpose, which are hereby excluded to the extent permitted by law. In no event shall the Company be liable for any indirect, incidental, consequential, or special damages arising out of or in connection with this product or the use thereof. Some states, provinces or jurisdictions do not permit the exclusion or limitation of incidental or consequential damages, so the foregoing exclusion or limitation may not apply to you.
This warranty does not apply to re-manufactured merchandise.Please read the operating instructions carefully. Failure to complywith the operating instructions will void this warranty.
For more information, visit us online at www.nostalgiaproducts.com.Like us on Facebook at www.facebook.com/NostalgiaElectrics.Follow our boards on Pinterest at www.pinterest.com/nostalgiaelctrx.Tweet along with us on Twitter at www.twitter.com/NostalgiaElctrx.

References
[xyz-ips snippet="download-snippet"]